"Live your life and forget your age" — Norman Vincent Peale
Recently I met a lady at the gym who was above 70 and was beaming with happiness. She was all dressed as if a teenage girl going to a party. She was busy working out cycling at the gym and smiled at me. As we chatted I asked her about how she feels dressing like a young girl with white and grey hair. She replied back instantly," I love to be a graceful senior citizen but I am still young at heart".
Well, that matches the above 'quote' to live your life as you wish and forget your age. One day we all have to become old because that is the law of life. Almost all the nations around the world honour their senior citizens and in US August 21 is the day to be celebrated as National Seniors Citizens day. It is this day to show your respect to your elders who have done so much for us and the community.
According to the World Health Organisation, there were 200 million people over 60 years old in 1950; by 2000 that number had tripled to nearly 600 million and by 2025 it is estimated that there will be over 1 billion older persons.
Some people celebrate Senior Citizens Day on August 14 as it was the day past US president Franklin Roosevelt signed the Social Security Act in 1935. It was on August 19, 1988, US President Ronald Reagan signed the Proclamation 5847, thereby declaring August 21 as National Senior Citizens Day.
So for all those who are privileged to be senior citizen it is time to have fun and enjoy your life.Here are best deals and discounts you can grab right from your daily needs to travel, movies, casinos, dining and have your day.
The Best Deals to Dine Out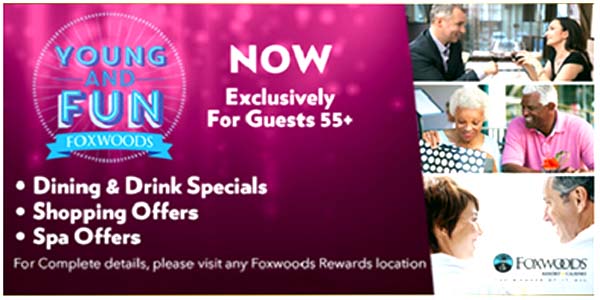 Applebee's gives a 10% discount to seniors age 60 and over who have the Applebee's Golden Apple Card.
Arby's gives 10% off for ages 55+.
Back Yard Burgers has a 10% senior discount for your order at participating locations, reasonably certain the age is 55 and over.
Burger King has a 10% discount for ages 60+, and additional discounts on coffee and soft drinks
Chili's is 10% off for ages 55+.
Denny's gives 10% off for age 55+. They will make it 20% off if you are an AARP member.
Dunkin' Donuts does 10% off for ages 55+. Or a free donut (doughnut) when buying coffee.
IHOP is 10% off for ages 55+.
Jack in the Box has a 20% beverage discount for seniors age 55 and over.
KFC will give you a free small drink with a meal if you are 55+, (this may vary)
Long John Silver's has various discounts for 55+. (Depends on location)
McDonald's has discounts on coffee and soft drinks for the 55+ crowd.
Outback Steakhouse has a 15% senior discount.
Roy Rogers Restaurants gives a 10% discount for seniors
Sonic gives a choice of free beverage or 10% off for folks 60 and older.
Subway is 10% off for ages 60+; (you need to ask)
Taco Bell is 5% off plus free beverages for ages 65 and over. Discount may be franchisee specific.
Wendy's is 10% off for ages 55+, though at least one Wendy's in Topeka, Kansas gave a free drink in place of the 10% discount.
The Best Deals To Travel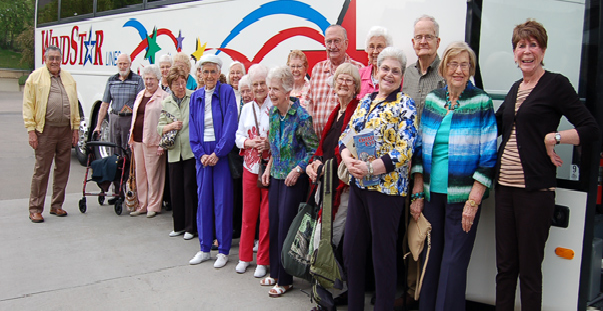 Alamo Car Rental has discounts and deals ranging up to 25% for AARP members.
Alaska Airlines was 10% off for ages 65+. It is now reported to be 50% off. Other fees, however, are unknownIt is always advisable to first call and ask about the discount and fees before making plans or booking.
American Airlines has discounts and deals for seniors 62 and up.
Amtrak has a 15% discount for seniors. Read their terms and conditions.
The Avis car rental company has discounts and deals ranging up to 25% for AARP members.
Best Western motels have a 10% discount for seniors age 55 and over.
Comfort Inn motels have discounts ranging from 20% to 30% off for seniors age 60 and over.
Southwest Airlines is reported to have various discounts for ages 65 and up. Advised to call first and know the rules.
The Best Deals On Retail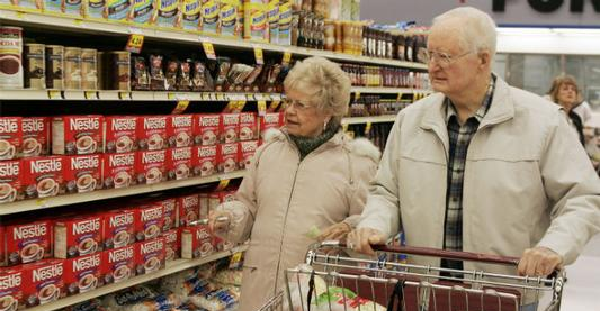 LensCrafters is reported to have a 30% discount for AARP members.
Goodwill gives 10% off one day a week so ask them which day.
Kohl's does 15% off on Wednesdays for folks 60 and over.
Ross Dress For Less, also known as Ross Stores, has an every Tuesday Club for customers age 55 and older. Just sign up at the customer service desk to receive a discount card. Folks with the discount card receive a 10% discount for in-person purchases made on Tuesdays.
The Salvation Army thrift stores give up to 50% off for folks 55 and over.
Grocery stores Albertsons and Kroger do 10% off, you need to ask the store manager for this.
Grocery Outlet (western states plus Pennsylvania) gives a 10% discount to people 55+ on Tuesdays or Thursday mornings, at some stores.
Great Clips has $3 off for haircuts for 60 +
Super Cuts has $2 off for haircuts again for 60+
Bally Total Fitness has a $100-off membership discount for age 62 and over.
At Lifeline phones you will save between $200 to $300 a year on your phone bill. But here you qualify based on your income, not age.
AT&T has a $19.99/month cell phone plan for seniors ages 65+, currently called the Special Senior Nation 200 Plan.
Jitterbug has a $10-a-month cell phone plan for users 50+.
Verizon Wireless has a $30/month plan for seniors ages 65 and over.
The Best Deals on Movie
AMC Theaters gives up to 30% off for ages 60+.
Regal Cinemas offers a 30% discount for seniors ages 60 and over though Not available for all performances.
The Best Pharmacy Deals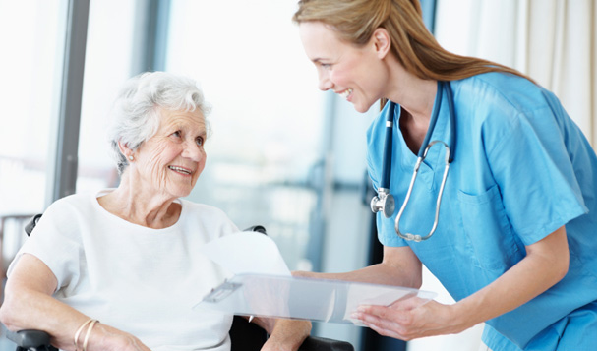 AARP: With the AARP Prescription Discount Card you can access an average savings of 38% off prescription drugs (regardless of age or health status). AARP boasts acceptance by 64,000 pharmacies nationwide.
Rite Aid: Sign up for the Rite Aid Rx Savings Program. Save 15% or more on thousands of brand name and generic prescription drugs. When you sign up, you'll receive Rx Savings Card that gives you access to special discounts at Rite Aid pharmacy.
Costco Member Prescription Program: The Costco Member Prescription Program is a prescription savings program for you and your family. It allows Members who have no prescription drug insurance or whose insurance does not cover all of their prescription medications. Save 2% – 40% at time of sale.
CVS Pharmacy: Enroll in the CVS ExtraCare Savings and Rewards program. You'll receive "ExtraSavings" through personalized coupons delivered on receipts, and online via the ExtraCare Coupon Center.
You can earn up to 2% back in ExtraBucks Rewards from your everyday purchases. Also, if you fill 10 prescriptions, your can earn $5 ExtraBucks Rewards through the ExtraCare Pharmacy & Health Rewards program.
Kmart: The Prescription Savings Club at Kmart (Pharmacy Savings Plus) is annually $15 per household or $10 per person. You and the family are then covered for certain generic drugs (starting at $5 for a 30-day supply and starting at $10 for a 90-day supply). The Drug Price lookup tool is an easy way to see if and how much you can save. You can even get discounts on pet medications with a prescription from your vet.
Target: Target pharmacies are being rebranded to CVS Pharmacy brand. You'll be able to access your records and refill your prescriptions at CVS.com/Target or by visiting CVS Pharmacy inside Target stores For general pharmacy questions, you can contact your local pharmacy or CVS Customer Relations: 1-800-SHOP-CVS (1-800-746-7287).
Walgreens Prescription Savings Club: Membership fee required $20 individual or $35 family per year. Walgreens Prescription Savings Club members get special discounts off the cash price of thousands of brand-name and generic medications as well as other benefits when they use their Prescription Savings Club Card.
Walmart Pharmacy Services: Walmart pharmacies offer low-cost generic prescription medications that can save you money. Walmart carries both generics where they boast $4 refills and branded drugs. Check out the Walmart drug list to see if you can save on your medications.
Narcup.com: Start saving money today with Narcup.com's prescription discount card for credit union members age 50 plus. By using their prescription discount card, a person can save up to 50% on FDA approved drugs. In addition to 18,000 independent pharmacies, large chains including Walgreens, Kmart, Target, CVS, Rite Aid, Publix, Winn-Dixie and Safeway also participate in the network. Narcup.com does not charge any membership dues or fees. You can print off a prescription card and use it immediately. You can request a durable card by mail.
The Best Deals on Hotels and Cruise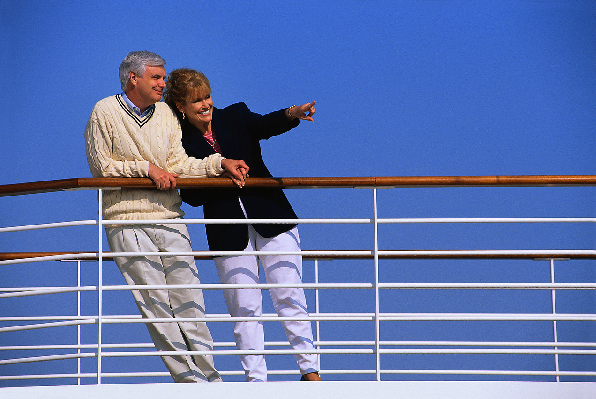 Best Western: 10% or more for AARP or senior guests (55+)
Cambria Suites: 10% off (60+)
Candlewood Suites: Discounts vary (62+)
Crown Plaza: Discounts vary (62+)
Days Inn: Discounts vary (60+)
Hampton Inn & Suites – AARP members save 10%
Holiday Inn: Discounts vary (62+)
Howard Johnson Hotels: Discounts off best available rate (60+)
Hyatt: Up to 50% off (62+)
Knights Inn: Up to 10% off (60+)
La Quinta Inns: Discounts vary (65+)
Marriott: 15% off (62+)
Motel 6: 10% off (60+), AMAC members 10% off by using code CP545906
Super 8: Seniors save 10% off (up to 20% with AARP card)
Travelodge: Discounts vary (60+)
Wyndham Hotels: Up to 20% with AARP card, AMAC members 20% off
Carnival Cruises– The cruise lines are always offering discounted fares for one reason or another. Make sure you call your cruise line to make sure you're getting the best deal for the month in which you're cruising. The big cruise lines like, Norwegian, Celebrity Cruises, and Royal Caribbean will offer discounts to those travelers that are 55 and older.
The Best Deals at the Casinos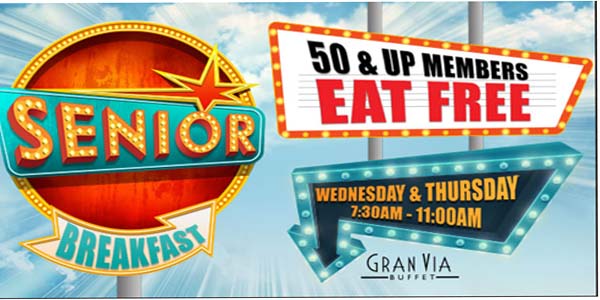 Casino Delsol– Join the casino and win Free Play, Free Bingo, Casino Comps and a chance at Cash Cube with $2,500 inside.
Winstar World Casino– Enjoy senior breakfast and gran via buffet each Wednesday and Thursday between 7:30 AM – 11:00 AM; Members 50 and Up Eat Free
Foxwood Resorts and Casino– For seniors 55 and over of age can savor a delicious meal with special food and beverage discounts, take a minute to relax at the G Spa & Salon with Sunrise and Sunset specials, or purchase special treat at the Tanger Outlets.
El Cortez –At the El Cortez casino every Wednesday those 50 and older get 50% off of their order from a special menu at Siegel's 1941.
The Four Queens– Their Club 55 offers seniors a 20% off discount on dining, rooms and gift shop purchases.
The Downtown Grand Casino– This casino has a Tuesday Senior program for those 60 and up with drawings, multipliers, and dining specials. If you earn 60 points on your senior rewards card, you can even get a free senior breakfast at S & O.
Total Rewards Players Club from Caesars Entertainment offers anyone 50 or older a senior discount on rooms at their Las Vegas properties.
Station/ Fiesta Casinos – All locations offer reduced prices for those 50 and up on movies, dining and more on certain days. Join their player's club to check out the rules for each location.
The M Resort – Join their 50+ Players Club and receive discounts on spa services, dining etc. There are even special draws and tournaments too
The Palms has the 50+ Sterling Advantage club that gives you discounts on Thursdays. You can get a half price buffet at Bistro Buffet and a special price on movies. They also have tournaments and monthly lounge acts.
Boyd casinos (Suncoast, Orleans, Gold Coast and Sam's Town) feature drawings, multipliers, and discounts on dining and movies for those over 50 on their "Young at heart" Wednesdays
The Silverton Casino features "Fab 50+ Senior Mondays" with special pricing on dining and also draws and slot tournaments.
Also you can find online casino deals and discounts in the form of coupon codes that you can avail and play slots, poker, table games and what all you like at these reputed casinos and spend your day for some fun and great wins.
The Best of Best Deals you can Offer to Senior Citizens
Take your grandfather or father or elder for coffee, movie, or walk and spend time with them. Chat and let them share their wisdom and life's achievements.
Make them feel appreciated and proud
Spend time at old age homes where seniors who have been left alone by their sons and daughters feel warmth of love from you. You can even sponser something for them or organise some event to make them happy.
Post your selfie with elders at Social media and make them feel happy with numerous likes.
Celebrate by inviting them to your home, make good food, cakes or drinks.
If you cannot go to your seniors be it your parents or teachers or senior neighbors send a personal note of thanks or good wishes to them.
Now say cheers to your elders and Happy Senior Citizens Day to all.