Black Friday this year is on 27th November officially but the craze to shop have already begun. The pandemic of coronavirus has though made things different these days and one should avoid the crowd at shopping malls. Black Friday early deals at various stores can be explored online to shop at various sites. When you think of shopping the Black Friday early deals now there are few benefits. First the shipping from these online stores might take time when you shop at the last moment so shopping ahead will get your things delivered on time.
Depending on what you're buying, it may not be worth waiting to purchase if your item doesn't arrive due to shipping snafus, as Salesforce estimates that the overall volume of packages will exceed shipping capacity by 5 percent globally.
Here according to BlackFriday.com team are some of the Black Friday early Deals at various stores to explore now
1. Amazon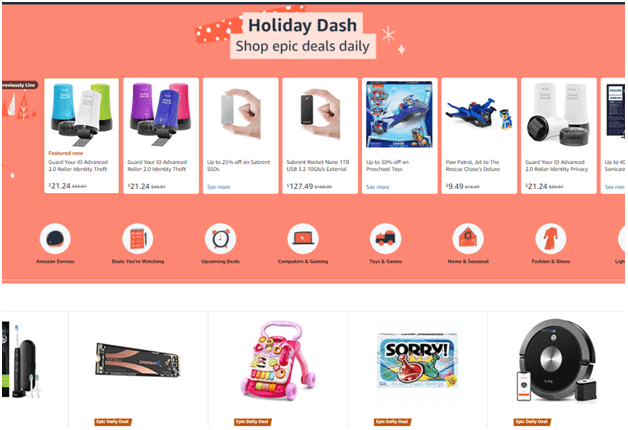 Amazon is holding its Holiday Dash event through Nov. 19. It features early holiday deals on tech, fashion, home goods, cameras, kitchenware, gaming accessories toys and more. New "Epic Daily Deals" drop each day, so be sure to check back.
2. Belk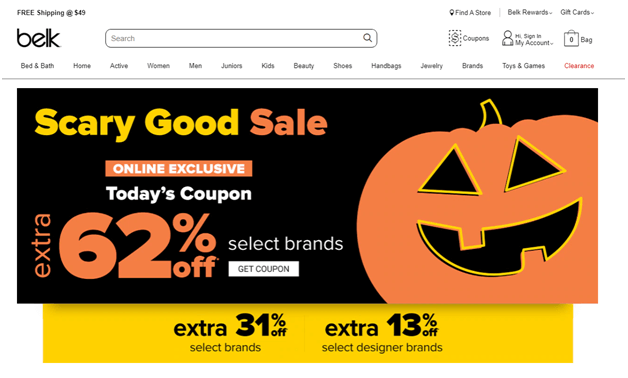 Belk has started Black Friday early deals which will go through Oct. 25th. You'll find discounts on everything from Beats by Dre and boots to Christmas trees and cookware. The retailer is also offering a variety of coupons to help you save even more, including a 65% off coupon. Click here to find the offers.
3. Best Buy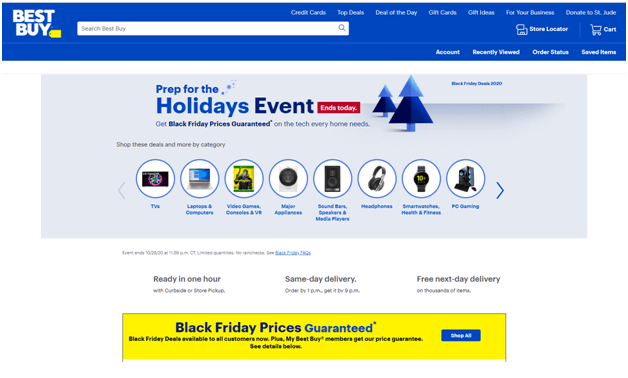 Best buy sales have started for Black Friday which will go through Oct. 28th. With "Black Friday Prices Guaranteed," you can find a wide variety of great gifts as well as items to spruce up your home for the holidays. You can also select curbside or store pickup within one hour, same-day delivery or free next-day shipping. During this sale, you will see the same great prices on the Echo Dot and the Echo show that were available on Prime Day.
4. Big Lots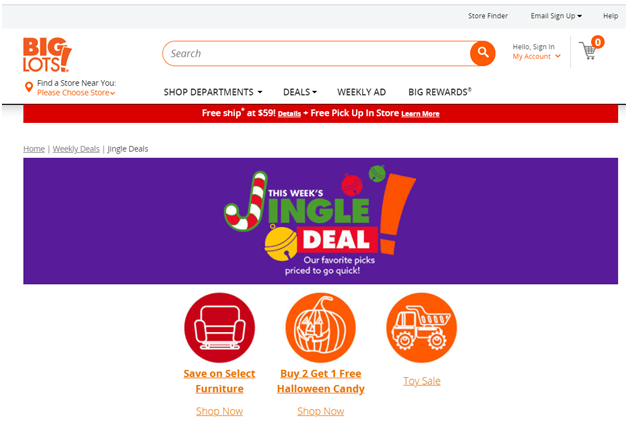 At Big Lots it seems like Christmas time with Jingle deals that go every week. You can save on cozy furniture to spruce up your home for the holidays, delicious candies and treats, and fun toys for the kiddos.
At your local Big Lots store, you can typically expect Black Friday furniture deals and mattress deals, as well as special savings on toys, electronics, and more!
Check out their Christmas Gift Shop for savings on fun gifts for the whole family! Shop online and save big on all kinds of exclusive deals! Get free shipping on orders over $99.
5. BJ's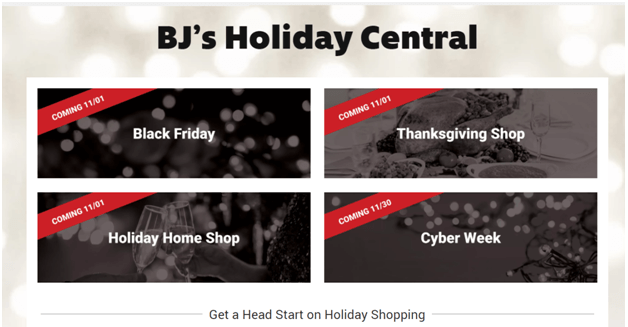 BJ's Wholesale has started the Holiday sales and you can explore the Black Friday sales that are up till November 30th. The retailer also announced that it will be offering convenient curbside and in-store pickup options, as well as a "treasure hunt experience."
You can shop on TVs, Electronics, Furniture, Toys, Fitness, Small Appliances and Housewares, Candy and Gift Baskets, Gift Cards as well as Tires for your vehicles. Click here to shop now.
6. Costco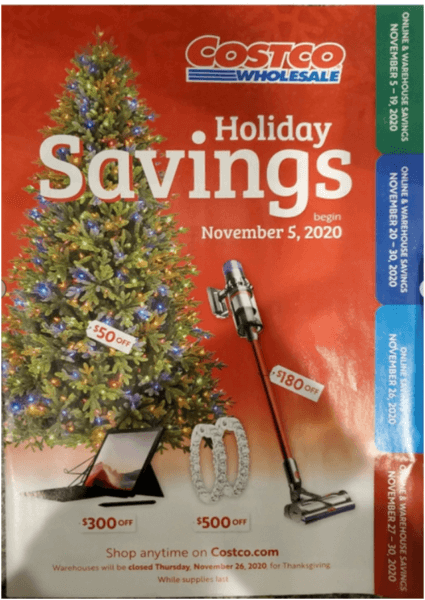 Costco has begun its Holiday sales including Black Friday deals. You'll find everything from food to enjoy during Thanksgiving (or to give as a gift) to high-tech gifts like TVs and laptops. You'll also find furniture, home goods, jewelry and apparel for the whole family.
You can find incredible bargains on gifts that range from Eddie Bauer sleepwear for every member of the family to deals on Disney Frozen II toys. There are also awesome bargains on tech, food, home goods and jewelry. Click here to explore now.
7. Dell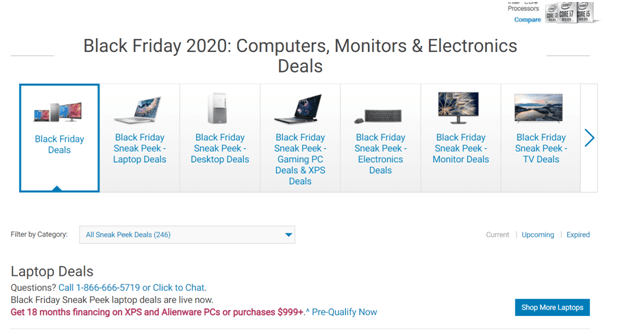 Dell always like each year is bringing early Black Friday deals which will up for sale till December 7th. Dell revealed that it will offer deals all season long (starting on Oct. 15 and running through Cyber Monday. Check out early deals here as they go live.
Black Friday doorbusters run Nov. 16 to 28. Cyber Monday deals run Nov. 29 through Dec. 7.
Dell's deals include:
Inspiron 15 5000 11th-Gen Core i7 Laptop (256GB SSD, 8GB RAM, 1080p screen)- $549.99 ($230 off).
Inspiron 15 3000 Laptop – $179.99 (Save $120).
XPS 15 (9th Gen Intel® Core™ i5 processor, Windows 10 Home, 8GB memory, 256GB SSD) – $799.99 (Save $200).
Alienware Aurora R10 Gaming Desktop – $999.99 (Save $280).
Alienware m15 R3 Gaming Laptop i7 |32|512|2070|FHD300Hz – $1,599.99 (Save $650).
8. Home Depot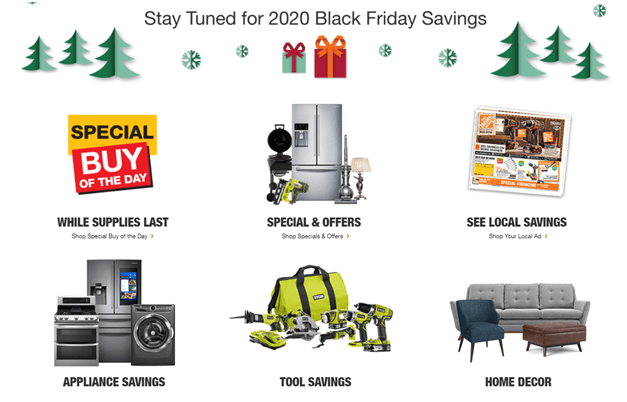 Home Depot sales will start from November 8th for Black Friday and will go through all the holiday seasons. The Home Depot Black Friday contains a wealth of deep discounts on everything from holiday decor to home appliances.
Whether you're stocking up on updates for your own home, shopping Black Friday tool deals for holiday gifts or doing a little of both, The Home Depot has it all at big savings. Find seasonal deals on everything from table saws to stocking stuffers and much more. Celebrate the tradition with fresh-cut trees, artificial Christmas trees, and indoor and outdoor Christmas lights. Check out latest specials and offers, browse their online Gift Center, weekly ad, and sign up for promotional emails and text alerts. Don't forget to 'like' us on Facebook, where you can find up-to-the-minute info on Home Depot
9. Kohl's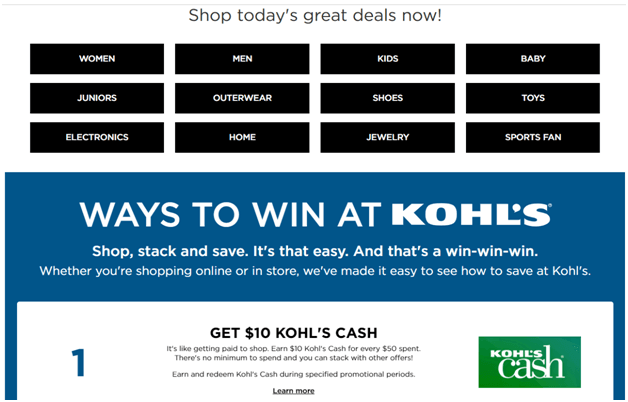 Kohl's is already starting its holiday deals, with its Dashing Deal Days. It's the perfect time to start your holiday shopping because you can find bargains on everything from boots and jackets for fans of the outdoors, to pajamas and cozy blankets for the homebodies. These deals might even entice to pick up some items for yourself. Click here to find more.
10. Lowe's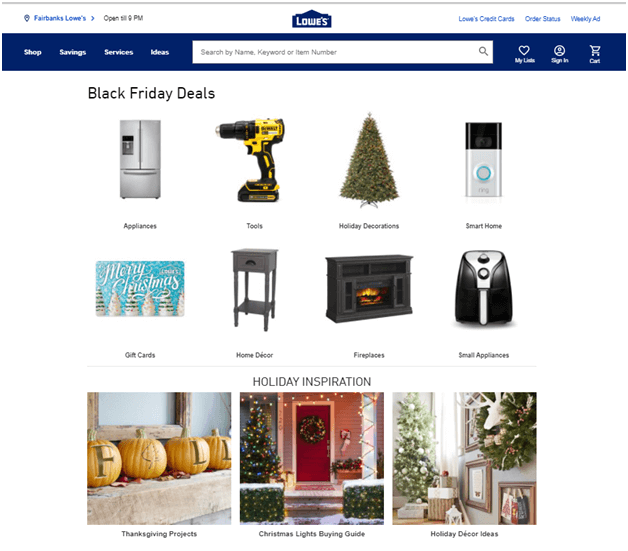 Lowe's have started offering best Black Friday sales from Oct. 22 and will go through December. You can find it's offering daily deals to help make your home even more comfortable.
When you make Lowe's your first choice for 2020 Black Friday shopping, you're getting great deals on the year's top gifts for all like electronic appliances, smart home appliances like Google Home and more.
Lowe's has great Black Friday deals on tools. Our Black Friday savings include discounts on their most popular hand tools and power tools from the brands you know and trust.
11. Macy's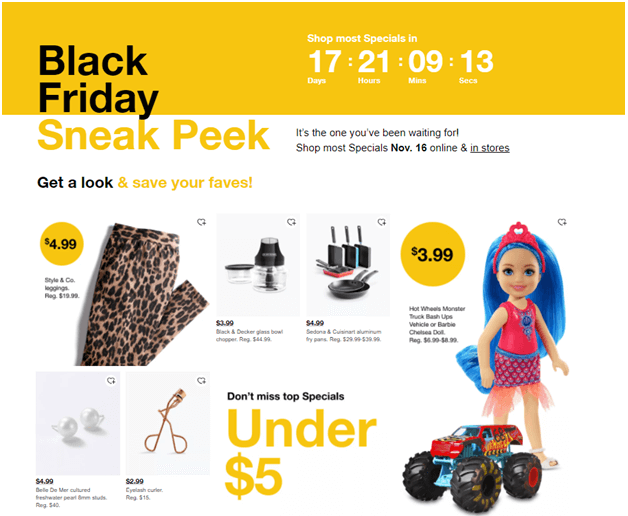 Macy's Black Friday sales start from November 16th. You will find some awesome deals and discounts at Macy's from clothes, shoes and accessories to home essentials and furniture—there's something for everyone. You can even pick up a Macy's Gift Card while you're at it. Click here to explore now.
12. Newegg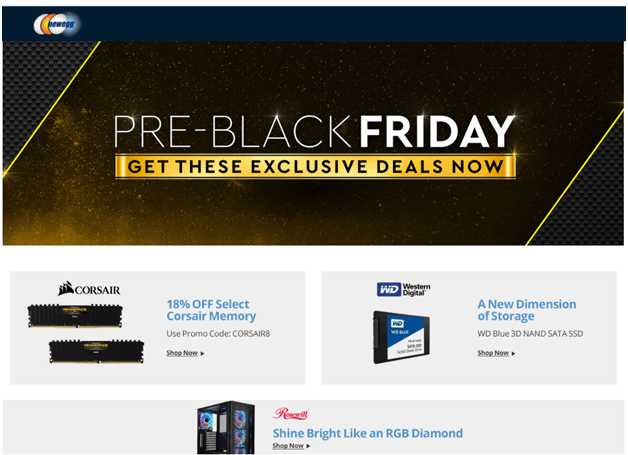 Newegg has started its Black Friday sales which will continue now. This retailer is offering a month of deals for gamers. You can play with more power because Newegg is offering up to $500 off on gaming PCs. In addition to gaming computers, you can also find deals on components, accessories and gaming desks. Click here to know more.
13. Nordstrom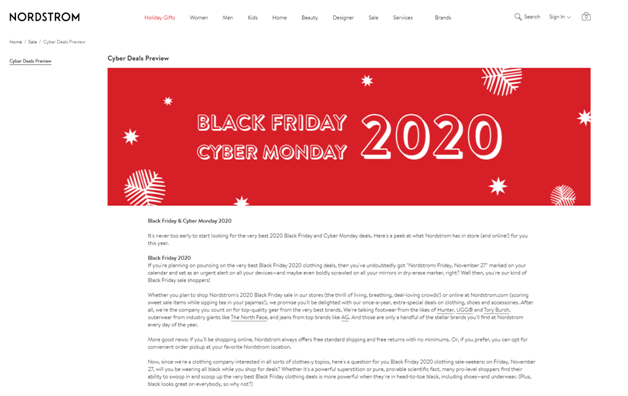 Nordstrom Black Friday sale starts from November 1st and will go through November 22nd. The Nordstrom pre-Black Friday sale will make you find discounts every day on great holiday gifts that have been selected by Nordstrom stylists and salespeople. As for the official Black Friday and Cyber Monday sales, they will run from Nov. 20 through Dec. 1.
Whether you plan to shop Nordstrom's 2020 Black Friday sale in stores or online at Nordstrom.com get extra-special deals on clothing, shoes and accessories. Get talking footwear from the likes of Hunter, UGG and Tory Burch, outerwear from industry giants like The North Face, and jeans from top brands like AG.
14. Rural King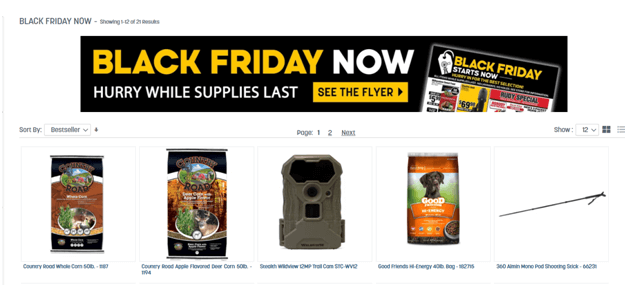 Rural King has launched its pre-Black Friday sale, and there are countless deals. From wood pellet grills to weighted blankets, there's something available for everyone. Just be sure to act fast though, because these deals are only available while supplies last. There's also no holds or layaway available on these deals. Click here to shop now.
15. Walmart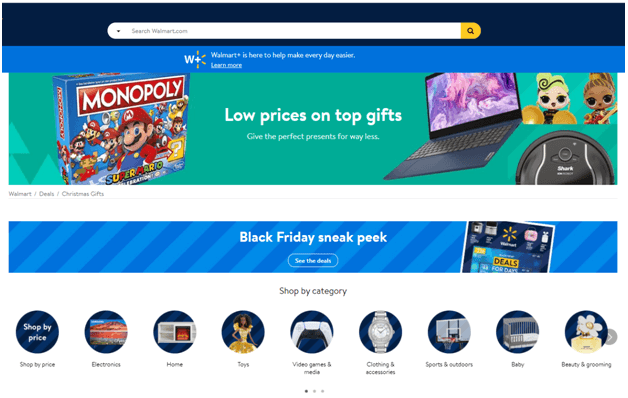 Walmart has so much in store both offline and online for Black Friday Shoppers. The sale starts on November 4th. Walmart is throwing three "Deals for Days" Black Friday shopping events, all of which start early. It's also throwing various events throughout the season. These events include:
Deals for Days Event 1 (Nov. 4-7).
Tire Event (Nov. 7-13).
Deals for Days Event 2 (Nov. 11-14).
Wireless phone event (starts Nov. 14).
Deals for Days Event 3 (Nov. 25-27).
16. Sam's Club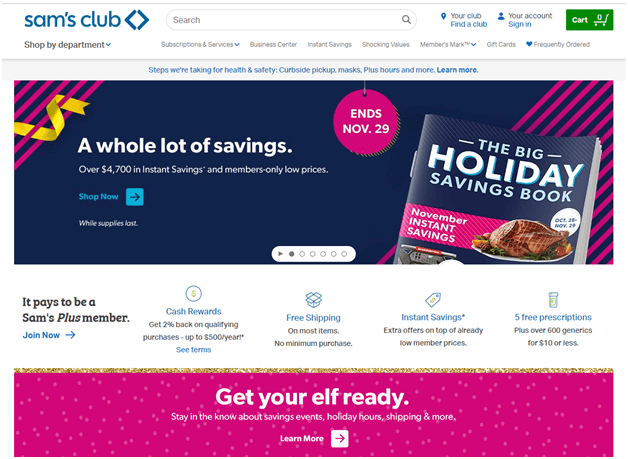 At Sam's Club pre-Black Friday sales is offering a November Savings Week with nine days of deals. You can find the savings online and in the club locations. Sam's Club is offering everything from $40 off a KitchenAid 4.5-qt tilt-head stand mixer to an iRobot Roomba 692 with a savings of $100. Click here to shop now. Many products will have coupon codes to redeem for some great discounts.
17. Wayfair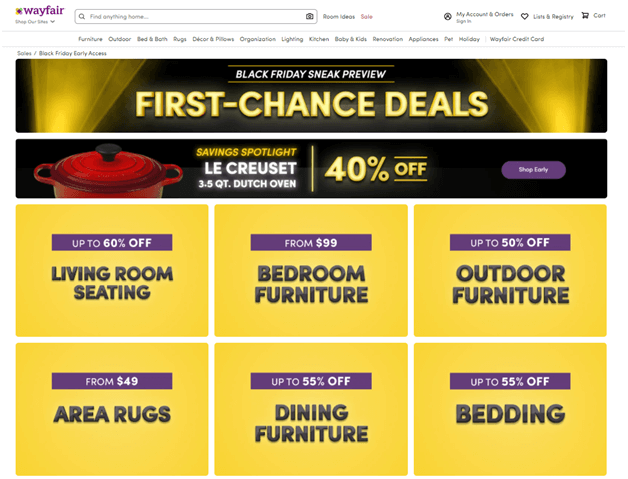 WayFair Black Friday sales starts now from November 13th. It's the perfect time to spruce up your home for the holidays, because you can find amazing savings on everything from area rugs (starting at $49) to major appliances (starting at $250).
You will find find great deals on furniture and decor, from sofas to area rugs to throw pillows. Black Friday is a great time to swoop in and snatch up holiday decor or get started on gift ideas for your friends and family. Click here to shop now.