May14th is being celebrated as Mother's Day this year. Last few days many of us may be saddened by Arkansas executions but that reminded me of a story often told me by my mother when I was a kid. The story in brief goes like this:
There was a boy and his mom. The boy used to go to school and one day he stole a pencil from his classmate's desk and brought home. His mother asked him from where he got this beautiful pencil and he told the truth that he liked the pencil as it was beautiful and had a clown on top so he stole it. Mother smiled and ignored the act of what his son had done. Soon the boy began to bring home few other things from school and mom did not bothered to look at as she was always busy with things of her own. The boy became a man and kept on that habit of stealing things whatever he liked and soon became a notorious thief. One day on his spree to rob a man he committed another heinous crime and he murdered the man he went to rob.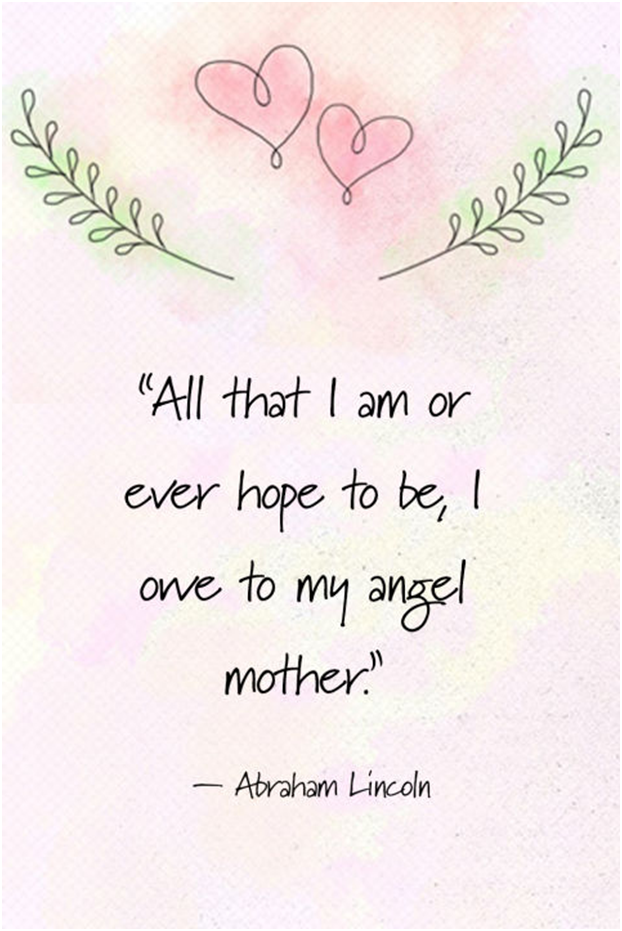 He was chased by police and arrested. When his old mom came to know of his arrest she rushed to the prison to see him. Mother was asked about the character of his son and she said that his boy never did anything wrong in life and is innocent and by mistake they have caught him. She pleaded for his release. But when police asked his son that what his mother was telling was true or not, the son replied, "Sorry guys this old woman is mental and I do not know her at all. She is not my mom".
Mom was shocked and looked at her son and asked him why he is denying of being her being a mother to him. You know what the son replied? He said, " dear mother if you would have stopped me and punished me for what I stole for the first time in my life..that pencil in school, I would not have become what I am now".
Well the story proves the fact that it is the mother who can make or break a child. She is the one who sacrifices her own life's priorities and molds the child as a good human being and a worthy citizen.
So let us recognize the value and love of our mothers who did so much for us and what we stand today is because of them.
Now find here some of the best deals and discounts to grab on Mother's Day at casinos of your choice to celebrate this day in the honour of one of the beautiful creations of nature.
Location:12888 188th Ave SW, Rochester, WA 98579
Phone:1-800-720-1788
Lucky Eagle casino is offering Mother's Day Specials on Sunday 14th May as followings:
•Fire Kitchen Buffet– Brunch: 10AM – 3PM- $15.95 for adults | $13.95 for guests age 50+; Dinner: 4PM – 9PM- $25.95 for adults | $22.95 for guests age 50+. The special menu will change between brunch and dinner time and will feature favorites like: Blintzes, Waffles, French Toast, Pancakes, Biscuits & Gravy, Smoked Salmon Hash Browns, Corned Beef Hash Browns, Denver Scramble, Carved Ham, Pecan Glazed Pork, Mashed Potatoes and Gravy, Macaroni & Cheese, Fire Roasted Vegetables, Fish & Chips, Fried Chicken, Fried Shrimp, Fire Roasted Chicken, Prime Rib, Salmon, Pecan Glazed Pork, Clams, Mussels, Fried & Grilled Oysters, Hot Crab, Clam Linguini, Shrimp Scampi and more.
•Room 188 Steakhouse Special Menu– 5PM – 9PM. Call 800-720-1788 or reserve online
•Enjoy Bingo during Mother's Day Bingo, your regular buy-in includes a Chicken Parmesan dinner. Also Hotel & Dining Prize Drawings. Buy-in begins at 4:30PM | Dinner begins at 5:30PM. Warm-ups begin at 6:15PM | Main session begins at 7:00PM
•You must be 18+ or 16+ with ID and parent or legal guardian.
•Also visit the Main Lobby 11AM – 1PM and 3PM – 5PM to receive a carnation in honor of Mother's Day.
Location:777 Coushatta Drive, Kinder, Louisiana 70648
Phone:1-800-584-7263
•Take part in $2,000 drawings every hour from 2pm to 6pm for ladies only!
•A NEW 2017 GMC Yukon SLE + Cash grand prize drawing at 6:30pm for ladies only!
•$5,000 Hot Seat drawing at 7pm. Open to all Advantage Club members.
Earn your entries starting at 11am on Mother's Day by playing any slot machine or table using your FREE Advantage Club card. Ladies may earn up to 1,000 entries for this event!
For your chance to win the bonus "Hot Seat" drawing at 7pm, you must be actively playing a slot machine at the time of the drawing. Open to all Advantage Club members.
Also enjoy Bingo's $51,000 Red Hot Mother's Day Weekend. Win your share in 17 $1,000 games at all sessions on Saturday, May 13 & Sunday, May 14. Free PediSmooth gift for 1st 200 ladies to buy-in on Sunday, May 14! Date and Timings: Saturday: 17 $1,000 Games, Sessions 1pm & 7pm- Sunday: 17 $1,000 Games, Session 3pm
Have a Mother's Day Dinner at Seven Clans Buffet •$23 Mother's Day Dinner Buffet | 4pm-10pm •Only $23 for adults with your FREE Advantage Club card ($26 non-Club members), $12 for children ages 6 to 12, and children ages 5 years and younger are free with adult purchase.
Mother's Day Dinner at Big Sky Steakhouse – $55 Mother's Day Dinner | 4:30pm-10pm •Field Greens Salad with Mandarin Oranges and Candied Walnuts, Drizzled with Strawberry Vinaigrette •6 oz. Filet and Lobster Thermidor, Truffle Mashed Potatoes, Grilled Asparagus, Chef's Special Dessert
Mother's Day Special at Terrace Cafe •$18 Mother's Day Special | 11am-12midnight •Fresh Side Salad, Roasted Airline Chicken Breast with Herb Boursin Cream Sauce, Roasted Rosemary Herb Potatoes, Fresh Vegetable of the Day, Chef's Special: Strawberry Shortcake Topped with Fresh Whipped Cream. Note that you must be 21 years of age or older.
Location:HC49, Box 10, Pine Ridge, SD 57770
Phone:1-800-705-WIND
Visit the casino on May 14th, Time: 10am to 5pm and show you're mom how much you appreciate everything she does for you by treating her with Mother's Day brunch! The menu will include: a ham and steak carving station, honey brined proked loin, pasta primavera, scrambled eggs, biscutts and gravy, mashed potatoes and gravy, french toast, bacon, blue berry blintz, rice pilaf, vegetable crudite, fresh seasonal vegetables, soup and salad bar, fresh cut fruit, assorted muffins and pastries, assorted breads and desserts!
Location:Atlantis Casino Resort Spa 3800 S. Virginia Street Reno, Nevada 89502
Phone:1.800.723.6500
Celebrate Mother's Day at Atlantis on Sunday, May 14 2017 from award-winning buffet to Four Diamond gourmet. Enjoy delicious dining in all of their award-winning restaurants. Find the detailed menu here.
Location:1 Mohegan Sun Blvd Uncasville, CT 06382
Phone:1.888.226.7711
On May 14th join Uncas Ballroom between 10:00am – 12:30pm OR 1:00pm – 3:30pm. Tickets on sale now through Ticketmaster and the Mohegan Sun Box Office, $55 for adults 21 and over, $30 for guests under 21 and Free for children 8 and under. Each adult ticket will include an alcoholic beverage (with valid 21+ ID) and all tickets will include a commemorative photo. Pricing includes all beverages, tax and gratuity.
Go for Dinning Specials at the casino
At BALLO Italian Restaurant get Marinated seafood salad with Castelveltrano olives and chilies ($17); Mezzelune pasta filled with asparagus and goat cheese ($26)
Ben & Jerry's – Buy one, get one free small cup or cone!
Hash House A Go Go- Brunch Enjoy Elle's Famous Crab Cake Hash- the homemade all blue crab cake with a rémoulade drizzle, served on crispy potatoes with tomatoes and onions, two eggs, homemade buttermilk biscuit and fruit garnish ($16.99). Stella's Favorite Strawberry and White Chocolate Pancake – Everyone's favorite! ($10.99)
Enjoy Dinner with Pan Seared Skillet Chicken- Two pan seared airline chicken breasts finished with a red wine beurre blanc served over garlic mashed potatoes, topped with asparagus and served with sautéed dill carrots and fried green beans ($21.99) or Honey Dijon & Pecan Crusted Salmon – Served with garlic mashed potatoes and fresh green beans and carrots ($23.99)
Enjoy Drinks– Johnny's Famous BLT Mary with stuffed green olives, blue lake green beans, fresh horseradish, leaf lettuce, tomato slice, smoked bacon, mayo packet and toast – Served in 24 ounce souvenir slanted glass that you can keep for "Moms only" special price $13.99 (that makes the glass almost FREE!)
At the Lansdowne Irish Pub & Music House have Broccoli and cheddar quiche served with small side salad, Corned beef and Swiss quiche served with small side salad, Baked stuffed sole: buttery Ritz cracker stuffing topped with a lemon beurre blanc and served with rice pilaf and daily vegetable, Steak Frites: Prime grilled skirt steak topped with a house made sofrito sauce served over French fries tossed with tomatoes, peppers and green onions and Mum's mimosa with fresh squeeze orange juice.
Michael Jordan's 23.sportcafe get Prime rib special: 16 oz. prime rib served with mashed potatoes and asparagus ($29)
Michael Jordan's Steak House which is Open from 1:00pm – 9:00pm and all mothers will receive a complimentary mimosa! Surf & Turf: Petite filet with sesame butter and ginger brined shrimp, basmati pilaf, balsamic soy reduction and picked ramps ($48)
Also go for Shopping specials at:
•Coach– May 5th – 14th- Mother's Day event offering 30% off select styles
•COMIX Mohegan Sun – Join for Silly Sunday: Krystal Dyer's Mother's Day Special! All moms with pictures of their kids receive 50% off on COMIX signature cocktails.
•Galina's May 10th – 14th- 25% off any one Vera Bradley item
•Pasta Vita – Free personal size tiramisu and rose for each mother with the purchase of an entrée.
•Splendeur – Gift of a fragrance with any purchase over $250
•Swarovski – Receive an exclusive Slake bracelet with your purchase of $200 or more.
•Victoria's Secret – Bombshell, the #1 fragrance at Victoria's Secret, and an exciting new summer scent, Bombshell Summer, will be here just in time for Mother's Day- Retail: 1.7 oz. $52; 3.4 oz at $68.
Location:Seven Feathers Casino Resort, 146 Chief Miwaleta Lane Canyonville OR 97417
Phone:800.548.8461
On Sunday, May 14 Doors open at 11:00AM and Games begin at 1:00PM and indulge in fun door prizes for mom with $600 regular games
•Buy-Ins: Paper $12 (one pack plus one FREE),
•Electronic $36 (three packs plus one FREE), Extras $12
•$600 Regular Games- Ladies receive second pack FREE and a FREE dauber.
Also Enter daily from May 1st – 14th for Mothers Day giveaway. Receive one entry per day by swiping your Players Club card at the Gift Gallery entry kiosk, no purchase required. Win a Dakota Gold by Wheeler Dream Catcher Necklace and matching Earrings Valued at over $600. Drawing will be held at 4:00PM on Sunday, May 14
Location:8184 Table Mountain Road Friant, CA 93626
Phone:559-822-7777 or 1-800-541-3637
Have $25,000 Mother's Day Giveaway on Sunday, May 14th at Table mountain casino. Earn entries: 4AM – 6PM and Drawings will take place between 12:30PM – 6PM. Note that you must be a Club Member to participate. Earn entries from 4AM – 6PM. 200 points equals one entry. Activate entries at Player's Club Kiosks starting at 10:30AM.
Besides these casinos if you are looking for Las Vegas trip with your mom and want to have a grand buffet then you can check out these places here.
Online casinos are also offering some great discounts in the form of coupons to redeem. You need to check out for the upcoming mother's day coupons at online casinos here. What you say. I say I love you mom. Happy Mother's Day!