If you are still struggling as what to gift your mom or how to spend the day with your mom then here are the 75 outstanding last minute coupons, deals and discounts to grab. Whether you are looking for flowers, chocolates for her or wish to take her to dine in a good restaurant or going on a sight seeing or even watching movies with her, here are plenty of them to choose the best for your mom.
Coupons and discounts for gifting flowers to your mom
1. 1800Flowers.com: Use coupon code RMNSV15 to take 15 percent off flowers and gifts through June 30.
2. 1StopFlorists: Use coupon code geo30 to take 25 percent off your entire order.
3. Afloral.com: Use coupon code FORGETMENOT to take 10 percent off sitewide.
4. Avas Flowers: Take 15 percent off your order with coupon code AFTHANKS2013.
5. Florists.com: You don't need a coupon code to save up to 40 percent on gifts and flowers through the end of July.
The latest The Deals in USA ✔ Daily! https://t.co/mI4NoQOTmG Thanks to @Bryankorourke #ad #amreading

— Deals in USA (@DealsUSA_) May 2, 2017
6. FromYouFlowers.com: Use coupon code 1072 to save $10 on your order.
7. FTD: Save up to 40 percent on Mother's Day gifts and bouquets through May 13. You can also take 20 percent off purchases sitewide.
8. ProFlowers.com: Save 20 percent on Mother's Day flowers and gifts of $29 or more until May 13. Use code banking.
9. SendFlowers.com: Take 25 percent off sitewide through Mother's Day.
10. Teleflora Flowers: Mother's Day flowers are 25 percent off through May 14. Use coupon code AFLSRMNMOM.
Coupons and discounts for gifting chocolates to your mom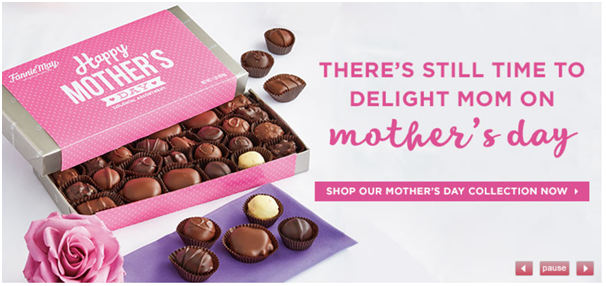 11. Fannie Mae Candy: Use coupon code 49517 to save 15 percent on your first order of $25 or more. The offer is good through July 29.
12. Ghirardelli: Shipping is free when you spend more than $60.
13. Hershey's: Coupon code HERSHEYSAVE gets you 10 percent off through the end of May.
14. Godiva: Save on select chocolate gift boxes, plus certain items ship for free.
15. Lindt Chocolatier: Use coupon code ENJOY15 to take 15 percent off sitewide purchases.
16. Russell Stover: You can take 20 percent off sitewide purchases with coupon code ATFUIQ.
17. Shari's Berries: Get $10 off orders of $29 and above with code SAVE10.
18. Sinful Sweets: Use coupon code TREAT to save 25 percent on your first order.
19. Vosges Chocolates: Save 15 percent when you use coupon code LOVEMOM and order by Mother's Day.
Coupons and discounts for gifting jewellery to your mom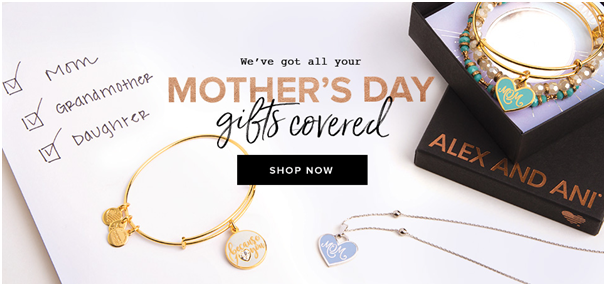 20. Alex and Ani: All Mother's Day purchases get $2.95 flat-rate shipping through May 27. No coupon code is needed.
21. Bling Jewelry: Use coupon code Sparkle15 to save 15 percent on your order.
23. Carolee: Use coupon code EMAIL15 to take 15 percent off your first order.
24. Kay Jewelers: Take 30 percent off everything through May 14.
25. Palm Beach Jewelry: Use coupon code 370859 to get 30 percent off plus free shipping.
Deals and discounts for best dining with your mom at popular restaurants and hotels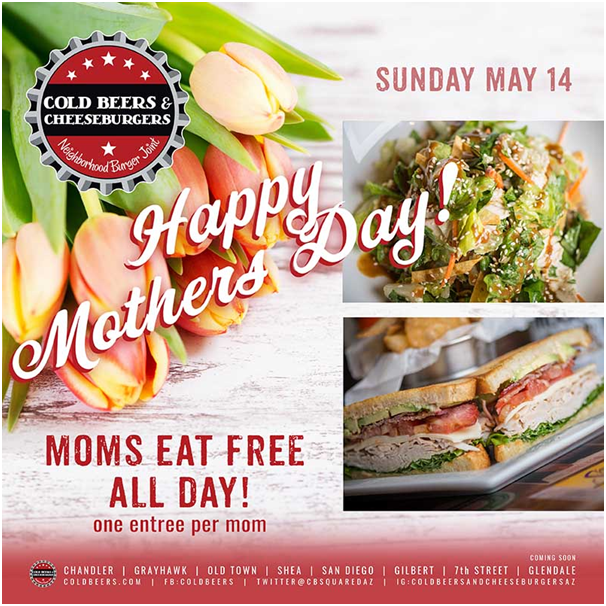 Many restaurants offer a free cocktail or glass of Champagne with a Mother's Day brunch or meal purchase. They include: Broussard's, serving 10:30 a.m. to 4 p.m.; The Bombay Club, serving 10 a.m to 4 p.m.; Kingfish Kitchen and Cocktails, serving 11 a.m. to 2:30 p.m.
26. Galatoire's 33: Mother's receive a free a glass of house sparkling wine and chocolate covered strawberries for dessert, with lunch or dinner.
27. Lula Restaurant Distillery: From 10 a.m. to 3 p.m, the distillery offers all-you-can drink vodka bar on Mother's Day.
28. Mizado Latin Kitchen: Brunch comes with bottomless mimosas and Bloody Marías for $10. The restaurant is opening at 10:30 a.m. so folks can start celebrating early. Servers will take a family photo and place it in a paper frame for mom. The others, Semolina and all Zea Rotisserie & Bar locations, are offering moms a free $10 gift card to be used on a future visit.
29. Tujague's: The four-course brunch, from 10 a.m. to 2:30 p.m., comes with $3 mimosas and Bloody Marys.
30. Vega Tapas Café: The five-course brunch comes with a free glass of Sangria Flora.
31. Fogo de Chao Brazilian Steakhouse: Moms, who dine here on Mother's Day, receive a free lunch or dinner dining card for their next visit, while supplies last.
32. Hooters: Mom gets a free meal (worth $10.99 or less) with any drink purchase.
33. Shoney's: Mom gets a free slice of strawberry pie, with fresh strawberries and whipped topping, with the purchase of the Mother's Day buffet. Dine-in only.
34. Applebee's – Spend $50 on gift cards, get a free $10 gift card.
35. Baskin Robbins – Order your Mother's Day ice cream cake online and save $3 with promo code MOTHER. Good through May 16.
36. Carrabba's – Treat mom to a special Mother's Day menu, available now through May 14. Also, get a free $10 gift card with purchase of $50 gift card.
Mother's Day restaurant dining deals in #Indianapolis https://t.co/YLrGpxghWa

— Indianapolis (@IndianapolisUSA) May 10, 2017
37. Chicken Salad Chick – Moms get a free scoop of Classic Carol chicken salad all day on Friday, May 12.
38. Fandango – Buy movie tickets and get a free bouquet from The Bouq.
39. KFC – The chicken chain is giving away a romance novella, "Tender Wings of Desire," featuring founder Harland Sanders – that's Col. Sanders to you and me – as the love interest. The book can be downloaded for free on Amazon.com.
40. Logan's Roadhouse – Spend $50 on gift cards, get free $10 gift card.
41. Macaroni Grill – Get a $19.99 per person prix fixe menu on Saturday, May 13 and Sunday, May 14. The special includes salad, choice of entree and one dessert. The chain is also offering 25 percent off e-gift cards through May 14 with promo code MOM17.
42. Marble Slab Creamery – Get $3 off any 8-inch round or quarter sheet ice cream cake with online code MOM17.
43. Outback Steakhouse – Get free $10 gift card with the purchase of $50 in gift cards.
44. Papa Murphys – The pizza chain is partnering with Pepsi for a Mother's Day sweepstakes giving away a three day, two night trip to Las Vegas. The runner up prize is a $100 Papa Murphy's gift card. Sweepstakes runs through May. 14. You can go here to enter.
45. Pilot Flying J – Moms can get one free cup of coffee – any size – through May 20. You'll need this coupon to redeem. Offer good from May 14-20.
46. Ruby Tuesdays – Get $15 in gift cards for every $50 gift cards you purchase.
47. Ruth's Chris – The steakhouse will have a variety of Mother's Day specials starting at about $50. Also, moms who dine in on May 13 or 14 will receive a $25 credit to use towards a future purchase. Select locations will open at noon on Mother's Day.
48. Starbucks – Enjoy half-prices Frappuccino each day from 3-6 p.m. through May 14.
49. TCBY – Stop by on May 14 for a free treat for mom.
50. Moms receive a free entree on Mother's Day at Cold Beers & Cheeseburgers. It's Mom's night off from the kitchen with a free meal at Cold Beers & Cheeseburgers. The deal is good from 11 a.m. to close at all locations. Details: Valley-wide locations at coldbeers.com.
51. From noon-8 p.m., drop by the Scottsdale tasting room of the family-run Arizona winery and toast Mom with a complimentary wine tasting (a $10 value) that includes five wines from Carlson Creek's award-winning lineup, along with cake bites. The tasting includes the best-selling Sweet Adeline Riesling, named after the Carlsons' grandmother, who enjoyed a sweeter wine.Details: 4142 N. Marshall Way, Scottsdale. 480-947-0636, carlsoncreek.com.
52. Get a free Pookie, or cookie topped with ice cream, at Fired Pie on Mother's Day. Fired Pie is giving moms a free Pookie, otherwise known as its chocolate chip cookie or macadamia nut cookie dough topped with vanilla bean ice cream. The Valley-owned pizza restaurant with 16 outlets is open for lunch and dinner. Branches will be open at 11 a.m. to 7, 8 or 9 p.m., depending on the location. Details: Valley-wide locations at firedpie.com.
Deals and discounts on gifts for your mom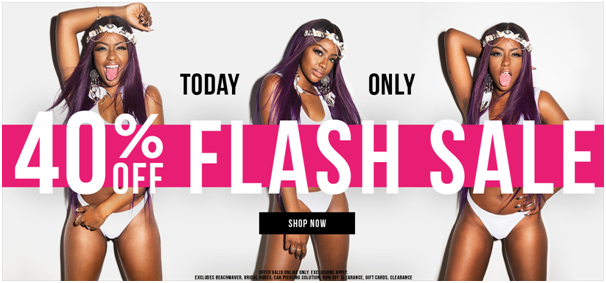 53. Fat cat yoga mat: If your mom is fitness freak then have this adorable new yoga mat featuring a fat cat lounging in different poses. As the website says, "na'meow'ste."Dat Mat Fat Cat Yoga Mat, $39.99 at lookatdatmat.com
54. Customized coffee cup: What will really help Mom start her day off on the right foot is a coffee mug with a whimsical drawing of her on it that really lets her know how much you appreciate her! You get to choose the character's hair color, hair style, and skin tone. The mug reads, "You make life sweet!"—and you know she does. You Make Life Sweet Mug, $24 at celebratewithSophies.com
55. Charging kit: This all-in-one charging collection for her iPhone includes a cable, home charger, car charger, and a mobile battery pack, and gives her loads of extra power, Charge Kit + Cable, $100 at belkin.com
56. Help her discover her roots: If your mom has ever wondered where her ancestors heralded from, order her a DNA kit. The site that administers the test, 23andme, is offering this special from April 14, 2017 to May 15, 2017 with $20 off their ancestry kit. Ancestry service, $79 at 23andme.com
57. Vertical garden with chalkboard frame: Get her some fresh herbs on hand thanks to this hanging vertical garden with a cute chalkboard frame costs $142.97 at windowbox.com
58. SunGlasses: Get your mom a new pair of sunglasses for $229 at tura.com
59. Copper pots cookware: Cerami-Tech non-stick coating pan, fryer, rice cooker, steamer, stockpot, wok, and baking dish for $89 at Amazon.com
60. Japanese tea set costs $67 at pumeli.com or Omaha Steaks Crock-Pot and Crock-Pot Meals, $120 at omahasteaks.com
61. Girl Boss Pouch to have mom keep things like makeup, pens, her tablet, and more only for $18 at pinklily.com
Make Mother's Day doubly special with deals like buy 1 get 1 free! Hurry! Visit https://t.co/6fkLfzDrcf today!#MothersDay2017 #finelaer pic.twitter.com/0nsRrKBmld

— Finelaer (@Finelaer_USA) May 10, 2017
62. Bath products at Birchbox Do Not Disturb Box for $56 at birchbox.com
63. Lavender-infused slipper socks at $25 at mixny.com
64. Message in a locket: A personalized message to hold onto in her locket at $135 at thegrommet.com.
65. Tasty gift basket: Gift Basket comes with cookies, sweets, and treats from Fannie May, Cheryl's Cookies, and The Popcorn Factory and a chocolate cake in a terra-cota pot—all packaged in a planter that she can use for years to come for $49.99 at 1-800-BASKETS.com
66. The ultimate blow dryer: The limited edition Mother's Day version comes in its own pink leather case. Dyson Supersonic Mother's Day Edition at $399 at dyson.com
67. Rose skincare set: The kit includes Rose Stem Cell Bio-Repair Gel Mask and Cleansing Gel, Mega Rich Intensive Anti-Aging Cellular Eye Cream, and Pink Bombshell Lip Balm all packaged in a rose-printed clutch. Peter Thomas Roth Rose 4-Piece Kit for $65 at PeterThomasRoth.com
68. HUROM: Take 25 percent off any juicer through May 14 with code LOVEUMOM.
69. Icing.com: Use coupon code hello20 to take 20 percent off your order.
Deals and discounts to take your mom on some sight seeing adventure

70. Birmingham Zoo – Receive a free child's admission with every paying adult ticket on May 13-14.
71. Georgia Aquarium – Get a $20 plus tax ticket for Mother's Day on May 14. Offer available with purchase of one full-price ticket (adult, child or senior) at ticketing window only.
72. Mothers and grandmothers gain free admission to the Children's Museum of Phoenix from 9 a.m. to 4 p.m. Details: 215 N. Seventh St., Phoenix. 602-253-0501, childrensmuseumofphoenix.org.
73. OdySea Aquarium discount: Moms receive $10 off on general admission all day, from 9 a.m. to 6 p.m.Details: 9500 E. Vía de Ventura, Scottsdale. $34.95 general admission. 480-291-8000, odyseainthedesert.com
74. Butterfly Garden discount: Mothers get $2 off admission, and the first 200 to arrive receive a special gift. The exhibit will run from 9 a.m.-6 p.m. Details: 9500 E. Vía de Ventura, Scottsdale. $19.95 regular admission. 480-800-3000, butterflywonderland.com.
75. Idea Museum free admission: Mother's Day means free museum admission for moms from noon to 4 p.m. Enjoy art and nurture creative thinking.Details: 150 W. Pepper Place, Mesa. $8 regular admission, free for members. 480-644-2468, ideamuseum.org.
If you love to play games with your mom then here are some casino deals and discounts or play slots at casinos too.