Real land casinos have their own charm. Many a times when I feel bored with online gaming I venture out to explore the real casinos and grab some bonuses with which enjoying and having fun is more exciting. One such real casino I recently visited is Jack Casino in Detroit. Though this casino is best suited for locals in and around but with its magnificent 13,000 gaming positions in 400000 square feet of gaming, the casino offers great bonuses, discounts, free chips and deals. This casino is owned by Jack Entertainment and is located in 580 Monroe Avenue,Detroit, MI 48226.

The other popular gaming locations of Jack Entertainment are Jack Cincinnati casino, Jack Cleveland casino, Jack Thisteldown casino, Greektown Detroit, Horsehoe Baltimore and Turfway Park casino. Three of these casinos are offering exclusive new player bonus that is play $10 and get $10 and loads of various other bonuses and discounts.
How to redeem Play $10 and get $10 bonus?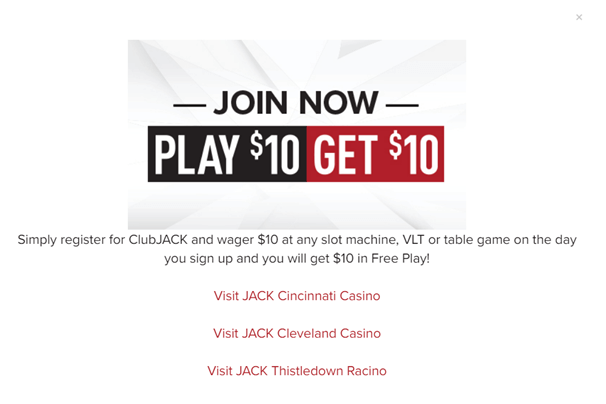 All you need is to visit any of the Jack Entertainment gaming casinos and register for ClubJack and wager $10 at any slot machine, VLT or table game and on the day you sign up and you will get $10 in Free Play! This promotion is valid at Jack Cincinnati Casino, Jack Cleveland casino and JackThistledown Racino (Thistledown Racino is a premier thoroughbred racetrack and VLT facility located about 10 miles southeast of downtown Cleveland.)
ClubJack is basically a card you get at the casino when you become its member and when you use it for playing you earn points. With Free Play you can use 24/7, best-in-class comps and exciting benefits like trips to Las Vegas, the Caribbean and more.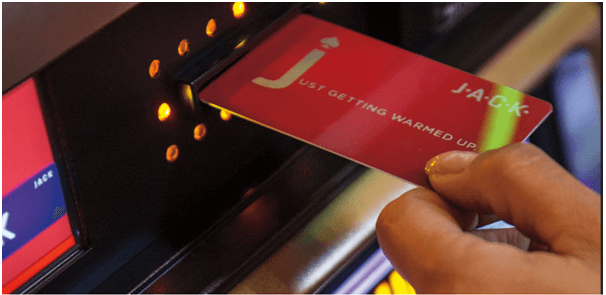 Even you can access this card online where you need to simply login using your ClubJack Account Number and 4 digit PIN to get started earning gaming points or knowing your balance.
What all discount benefits you get with Clubjack is just superb
There are many discounts and bonus offers that you get with ClubJack.
When you play slots/Vlts you earn points 15x faster where $1 coin wager gets you 3 points for slots and $1 coin earns 1 point when you play video poker.
You earn comps and credits based on average bet and time played. Poker players receive $1 in comps and 100 card level credits for every hour played.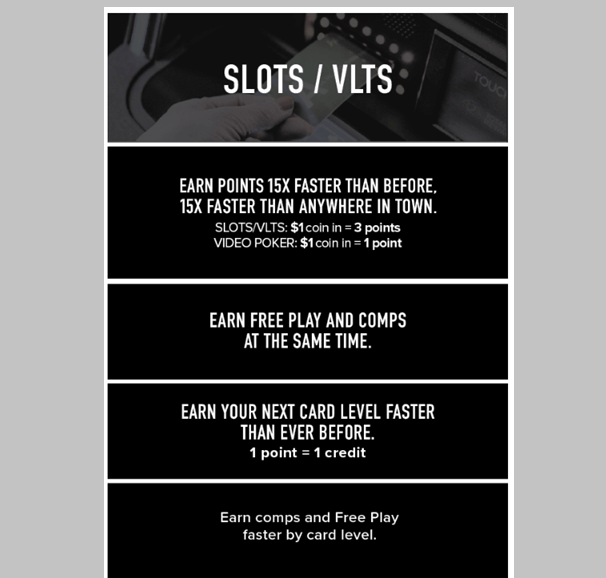 Also get Club Jack Partner Rewards with over 70 partners.
If you visit the casino and wish to stay it has luxurious 400 hotel rooms. For some fine wine and dine there are around 35 bars and restaurants with discounts.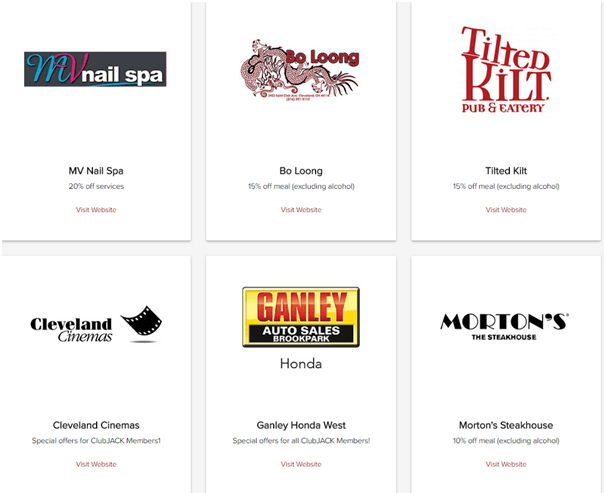 You can also download the casino app from iTunes for iPhone or iPad and from Google Play for Android smartphone and get started to earn bonuses and points.
This Jack Entertainment app is free, where you can instant access to your ClubJack Casino and Racino loyalty programs on-the-go, as well as special mobile exclusive offers and promotions. You can view ClubJack Rewards account balances, Know Jack Casino promos and restaurant info, find upcoming Jack Cincinnati, Jack Cleveland and JackThistledown events & entertainment and as a VIPs, you can use the app to request your vehicle from the casino valets.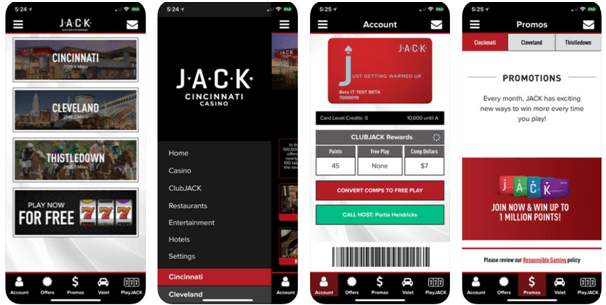 Remember that when enrolling for membership in ClubJack, you need to show a current, valid driver's license (or other government-issued ID) that displays your name, photo, and other personal information.
If you play table games, you are responsible for presenting your ClubJack card to the dealer or game supervisor at a table game before you begin to play so that your play can be tracked. Where applicable, if you play VLT, slot, or video poker machines, you must make sure that your ClubJack card is properly inserted in the card reader the whole time you play so that the casino can properly track your play.
Casino will award points and/or comps on the basis of your tracked applicable VLT, slot, table and video poker machine play and other benefits in connection with certain "cash purchases" by you. The term "cash purchases" means the purchase of certain non-gaming items and services at the racino or casino (g., certain food and beverage items, retail items, and products, hotel room rentals (where applicable)) using cash (U.S. currency or such other currency as is accepted).
ClubJack offers five levels of membership: J, A, C, K, and Infinity. You will earn 1 tier credit for each base point earned. J is the entry level card; A requires 10,000 tier credits; C r equires 100,000 tier credits; K needs 300,000 tier credits; and Infinity is by invitation only.
Online Jack Casino- Get free chips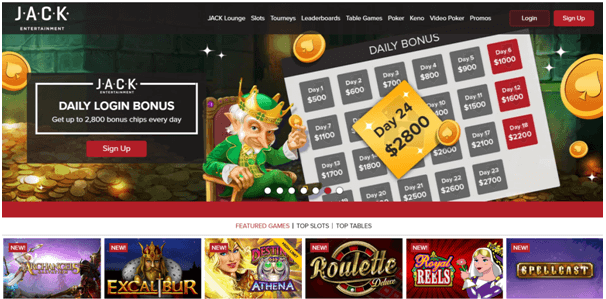 Also Club benefits may be earned by playing play-for-fun at their online casino when you purchase additional credits. All you need is to link your ClubJack or GT Rewards card, receive 10,000 free chips and start earning Comp Dollars.
Get 100% chips on your first purchase
Get 5,000 free chips as welcome bonus when you sign up as a new player
Remember this online casino by Jack Entertainment is a free play casino which means you don't need to spend any US$ to play slots or games.
This online casino is hosted in Nevada and is a free-to-play with no real money online gaming involved.
To play real money slots and games you need to visit any of the Jack Casinos premises or real casinos.
Finally remember that you must be 21 or older to gamble or participate in promotions and must be 18 or older for pari-mutuel wagering. For more details you can visit:
•Jack Cincinnati 1000 Broadway St.,Cincinnati, OH 45202 or call 513-252-0777
•Jack Cleveland 100 Public Square,Cleveland, OH 44113 or call 216-297-4777
•Jack Thistledown 21501 Emery Rd,North Randall, OH 44128 or call 216.662.8600
•Greek Town Casino 555 E. Lafayette Ave., Detroit, MI 48226 or call 1-313-223-2999
•Horseshoe Baltimore 1525 Russell Street Baltimore, MD 21230
•Turfway Park 7500 Turfway Road, Florence, KY 41042