Labor Day deals are up on the market and this weekend is great time for shopping. Without wasting any time here is the quick round up of last minute eight best deals to grab. According to the Wallet Hub 2017 Labor Day spending survey about 57 percent of Americans plan to make Labor Day-related purchases. The average Labor Day weekend shopper is expected to spend $58 and more. Whether it is furniture you are looking for, or a home appliance or a nice fashionable dress to buy most of the things are covered here.
1. Get a $400 gift card if you buy an appliance package at Best Buy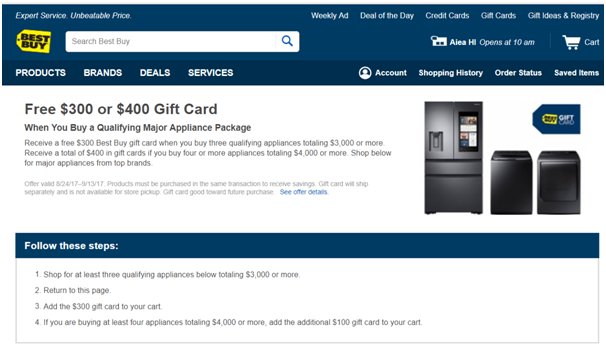 Shop for at least three qualifying appliances totaling $3,000 or more here and add $300 gift card to your cart. If you are buying at least four appliances totaling $4,000 or more, add the additional $100 gift card to your cart.
You can shop for refrigerators, dishwashers, oven dryers and many other appliances. Other package deals include 10% off four or more Samsung major kitchen appliances, up to $600 off LG kitchen packages, and up to $400 on Kitchen Aid packages
2. $598 each for a feature-packed GE washer and dryer with other deals at Home Depot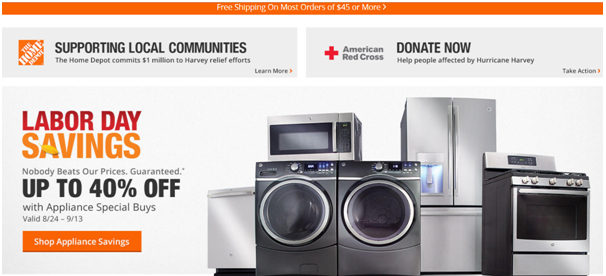 Top-load washers tend to cost at least $700. But at Home Depot the price is dropped on this popular GE model with steam, a high-temperature wash, and a neat silver finish. While this washer and dryer aren't perfect, but they have an astounding deal at $598 on sale where you save $400. Click here for more details.
Also at home depot get the 4.7-cu.-ft. Maytag MVWB765FW which is the largest capacity top-loading agitator washer on the market right now. It's also engineered, designed and built in America with a stainless steel tub. Buy the Maytag MVWB765FW at Home Depot for $568.80—SAVE $230
Home Depot is also offering the KDTM354DSS KitchenAid dishwasher that uses a novel filtration system to trap food particles and wash them away, so you don't have to worry about extra noise or nasty bits of food left behind. If you don't like how Bosch dishwashers load, this KitchenAid is your best bet. The price dropped from the normal sale price of $899 down to $799 at Home Depot.
Also grab a bunch of best sales on Samsung and GE products at Home Depot.Buy the GE JB645RKSS electric range at Home Depot for $497.70—SAVE $201. Buy the GE JGBS66REKSS gas range at Home Depot for $537.70—SAVE $211 and Buy the Samsung NX58H9500WS gas range at Home Depot for $1,598—SAVE $900
3. Big four-door fridge to save $2000 and stainless fridge to save $600 at Sears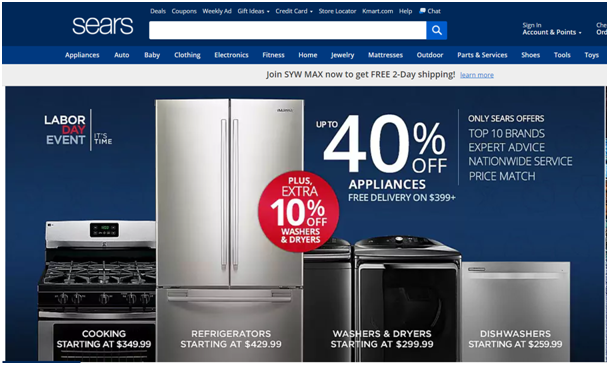 For a big family the big fridge is the ultimate choice to keep things organized and the perfect is the four-door French door fridges, with a freezer drawer in the middle so stuff doesn't get lost. The icemaker is on the door instead of the top shelf, so you get more uninterrupted storage space.
It's usually on sale for at least $1,500 off—but this sale is especially good. This Kenmore fridge is made by LG and you can Buy the Kenmore 72493 for $1799.99 at Sears—SAVE $2,000
Also try affordable stainless fridge for almost half off the price. Buy the Kenmore 69313 at Sears for $699.99—SAVE $600
Also get hands on La-Z-Boy rocker recliner by more than 60% off on labor day sale. If you are looking for comfortable mattress then get Beautyrest Silver Blue Springs, Serta Perfect Sleeper Elmstead, or Sealy Response Performance Benish Euro Top Queen Sets – $699.99 at Sears.
4. Get Samsung 4 piece kitchen package at $1931 at JC Penny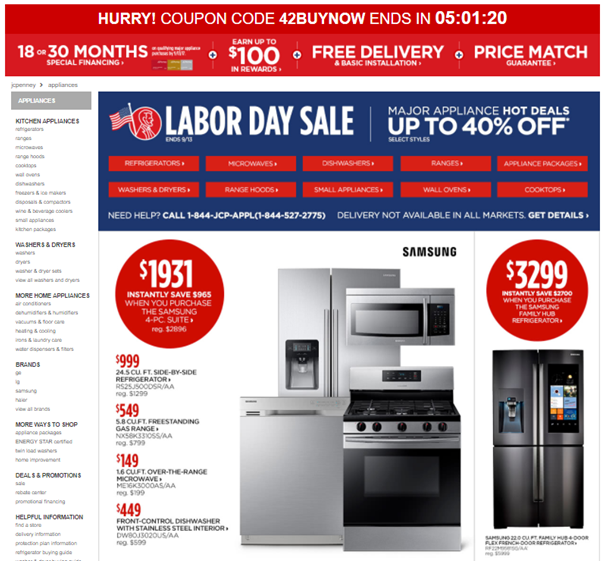 At JC Penny get Samsung 4-Piece Kitchen Package for $1931 which is a beautiful offer. As their delivery is not available at all markets, look out for their appliance store list that is nearest to you.
5. Get HP 14″ Laptop With Intel Inside for $199.99 at Office Depot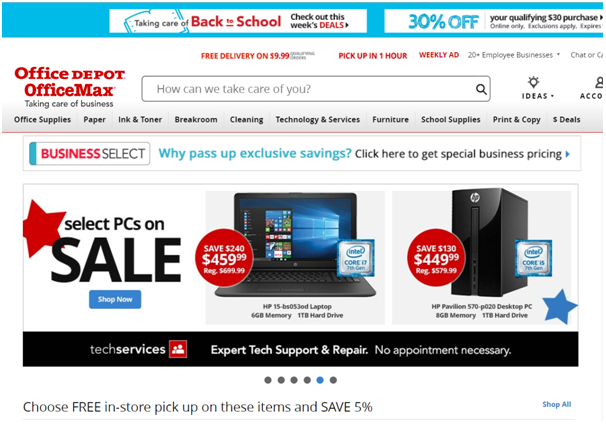 It has been found out that school supplies are the second most purchased items on Labor Day behind clothing and just ahead of electronics. So if you are looking for the best deal for a laptop on a budget then this deal is good for you. Click here to know more.
6. Barbeques with Coleman RoadTrip Grill LXE at $129.98 at Dicks sporting goods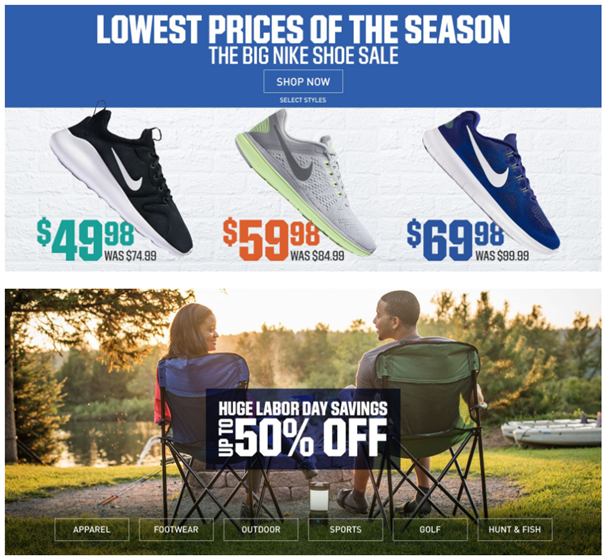 Enjoy now Barbeque when camping for new year or enjoying a road trip. This deal is just the best to enjoy great meal whenever you want. There are other Labor Day offers too with over 50% discounts on utility items.
7. Samsung UN55J6201 55″ 1080p Smart LED TV at $499.99 on sale at BJs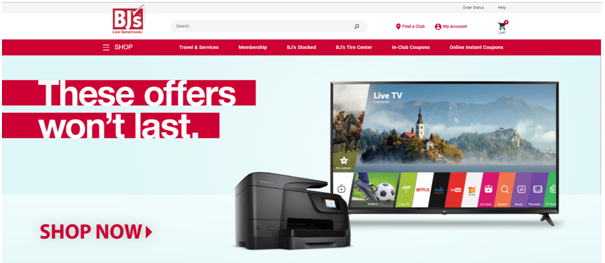 At BJs a beautiful Samsung Smart TV is on the offering. Along with the product Samsung UN55J6201 55″ 1080p Smart LED TV there are other appliances and offers to grab.
8. 15% off on selected hotels to travel on budget with Orbitz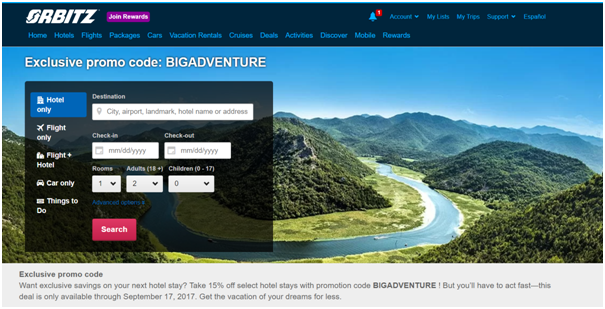 At Orbitz get 15% off select hotel stays with promotion code BIGADVENTURE. You need to book fast as the promotion lasts till September 17, 2017. The good thing is you can book now and travel till March 31st 2018.
Besides these eight you can also grab coupons and discounts on clothes, groceries and other stuff at Nordstorm, Ralph and Lauren, Macys, drscholls, Amazon and Walmart. Enjoy Labor Day Weekend to the fullest.