I don't' have kids though but back to school is quite exciting for parents. I was watching 2 in a Zoo family how they were busy buying school supplies for their four kids. School time is just wonderful, so carefree and happy. Ah..I also wish to go back to school. Any school to take me in? To quench my nostalgia of those colorful school shopping I went to Amazon online store and found the best deals for you. While it's a bit late telling you the deals as it's already back to school time. But for those parents who are yet looking for school supplies and to meet the demands on new tech gadgets, dresses, stationary and more, here are the 10 best back to school deals under $50 to grab this month.
1. Panasonic ErgoFit Earbuds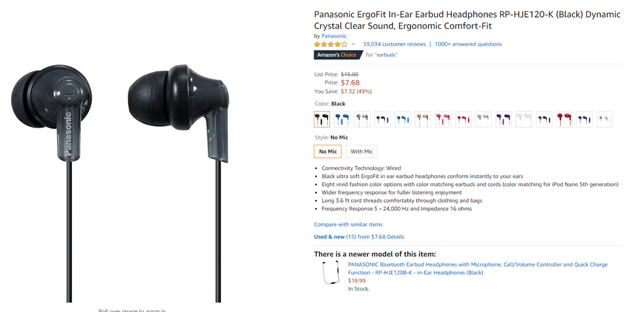 These days it's all about the wireless buds, but the Panasonic ErgoFit Earbuds are so cheap and sound so great that they're worth having as a backup and kids love it. Costs $8 at Amazon
2. Philips HF3500 slow wake alarm clock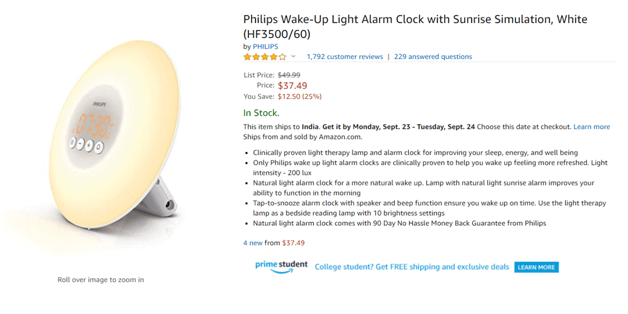 School demands punctuality and here you get the best Alarm to wake you up less than $40. This elegant alarm clock offers an innovative spin on the basic concept of waking up in the morning. Thirty minutes before the scheduled alarm time, the light gradually starts increasing in brightness until it reaches a customizable max at the scheduled time and starts beeping with increasing intensity to finish the task of waking you up.
Click here to buy one from Amazon
3. JanSport T SuperBreak Authentic School Backpack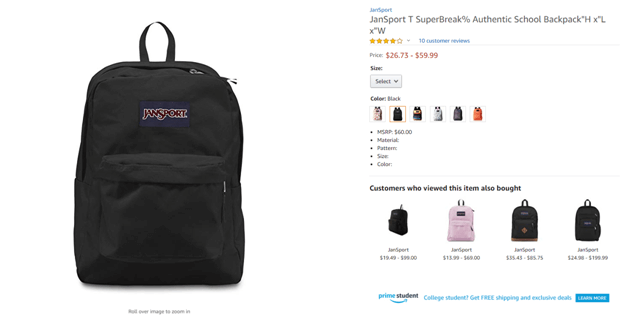 Love the colorful school bags which are the most necessary items to buy for back to school. This Jan Sport bag costs only $27 at Amazon.
4. Tribit XSound Go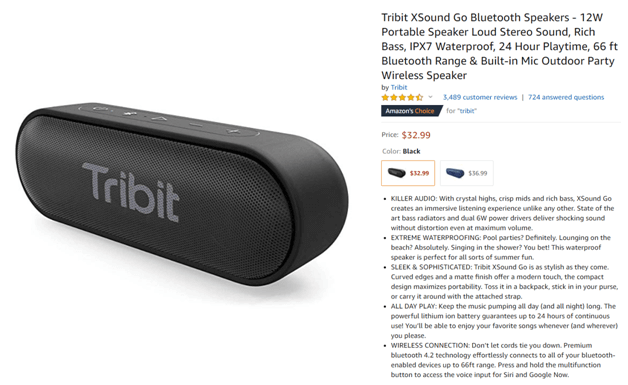 This is a simple waterproof Bluetooth speaker that looks good, sounds good and costs less than $35. Tribit XSound Go is as stylish as they come. Curved edges and a matte finish offer a modern touch, the compact design maximizes portability. Toss it in a backpack, stick in in your purse, or carry it around with the attached strap. Costs $32.99 at Amazon.
Click here to buy one from Amazon
5. Magnetic Dry Erase Markers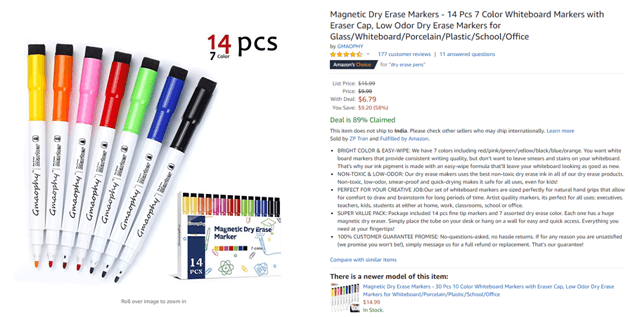 Magnetic Dry Erase Markers are 14 Pcs 7 Color Whiteboard Markers with Eraser Cap, Low Odor Dry Erase Markers for Glass/Whiteboard/Porcelain/Plastic/School/Office. The dry erase makers uses the best non-toxic dry erase ink in all of dry erase products. Non-toxic, low-odor, smear-proof and quick-drying makes it safe for all uses, even for kids! Costs $7
6. TaoTronics TWS TT-BH053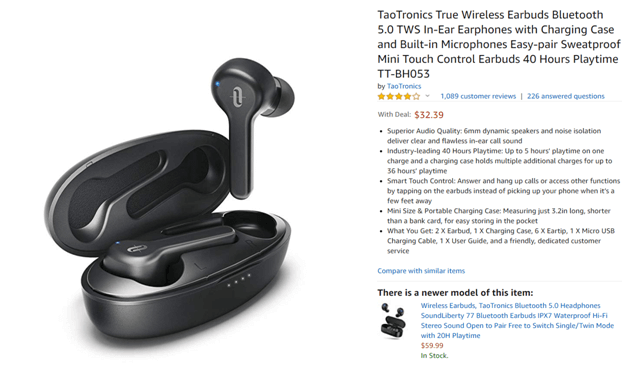 These cost about one-third of the price of a pair of AirPods, and wireless Bluetooth earbuds that sound better than you'd expect. They offer solid wireless performance and 5 hours of battery life, and come with a compact charging case that delivers an extra five charges. Costs $32.39.
7. Catalyst IPhone case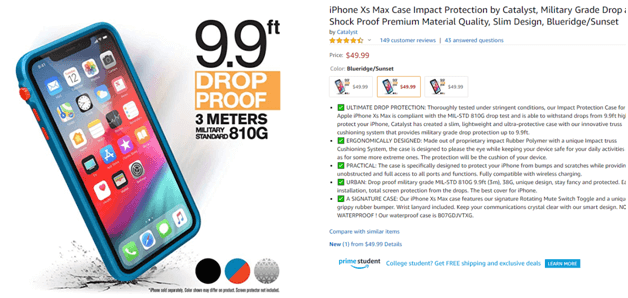 Giving kids smartphones is very risky but we have to do. So to protect your cell phone here is the catalyst phone case that will protect your costly device. It has a nifty rotating mute switch and a passthrough for connecting to a charger. Costs $50.
8. RAVPower USB-C PD wall charger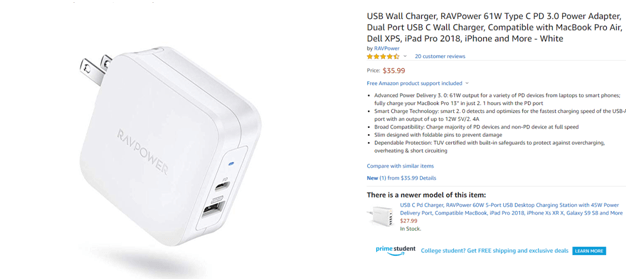 This RAVPower has a regular USB charger for phones and other small gadgets, and the USB-C PD power delivery port has enough juice to charge up full-size laptops. You need a nice 2-meter USB-C cable to use this. Costs $36.
9. Rocketbook Everlast notebook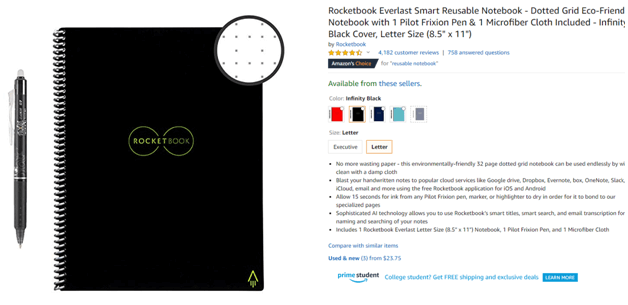 Rocketbook's line of reusable notebooks makes it easy to send notes and other jottings to your email or preferred cloud service like Google Drive, Dropbox, Slack and Evernote. The Everlast model has straightforward dot grid paper, to the Fusion line, which adds a handful of calendar and to-do templates. On the one hand, using the Everlast notebook is just marginally more convenient than taking a photo of any piece of paper and sending it to yourself. But the notebook has a few nice usability touches like you can mark an icon at the bottom of the page to route notes to up to seven different destinations and the sustainability angle is compelling. Included with the notebook is a nice Pilot FriXion pen which doubles as an eraser and a microfiber cloth that effectively wipes pages clean to be used again. These notebooks usually cost between $17 and $31 on Amazon.
10. Hydro Flask water bottle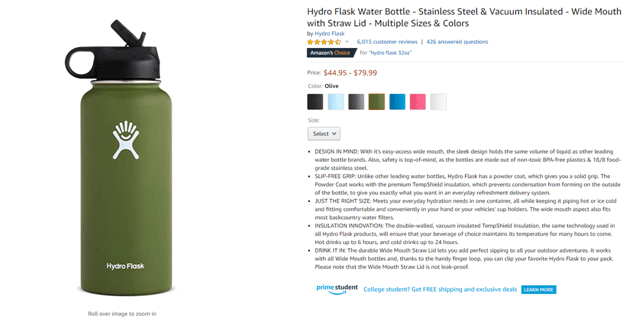 Water bottle is must for students to stay hydrated. Hydro Flask bottles keep liquids cool for up to 24 hours and hot drinks warm up to12 hours. Costs $45 at Amazon
Other Best Deals to Grab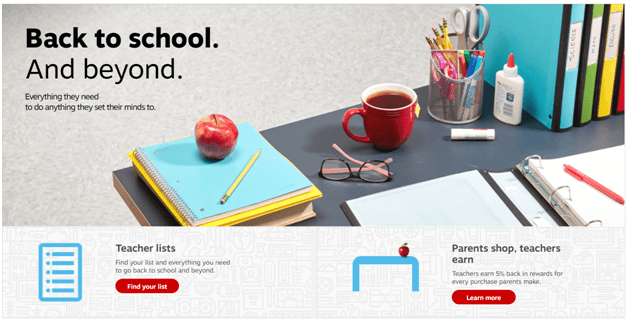 To Get best back to school deals from Target then click here
Click here to know the best deals from Staples where you can get up to 42% off select school supplies, backpacks, pencils, highlighters, post-it-notes, pens, calculators and so much more this month.
At office depot get the best deals up to 35% off the original price on select items.
Click here to get best deals of 35% off on school bags at Zappos and Nordstorm has 50% off on bags.
For tech gadgets like laptops and phones you can get best deals at: Target; Verizon; Overstock; and at Best Buy.
I still remember when my father used to take me to Walmart and Target to buy me new shoes, dresses, bags, pencils, erasers, geometry box, stencils and so many other things. Those days online shopping was not prevalent and it was so much fun going outside with parents. But now things have changed. You can even buy the supplies online and get delivered right at home,though saving time but lacks the excitement I think. Anyway its your convenient and choice.
Note that some districts have year round school and private schools have their own calendars. Also city and suburban schools are different. In some smaller schools like Connecticut have all their public schools on the same schedule. Chicago, goes back the first week day after labour day. Catholic schools and suburban schools one or two weeks earlier. Here is the calendar for Back to School that you can look for the dates in 2019-2020.
It really depends on the region and the management of school itself. Many schools these days also start in late August/early September. But usually the first day at most of the schools is before Labor Day. Best Back to School deals are worth to try to save some money!