May the Irish hills caress you.
May her lakes and rivers bless you.
May the luck of the Irish enfold you.
May the blessings of Saint Patrick behold you.
Casinos have begun their promotional offers for St Patrick's Day which falls on 17th March 2019. Most of the casinos have weekend blow-out that runs Thursday, March 14 through Sunday, March 17, 2019. Inside these real casinos you can dine at their best restaurants at discounted price or try your hand at games of chance. There's a reason they call it the "luck of the Irish," and on this Day, every one gets lucky be it downtown Las Vegas or at other casinos in America. Also most have green beer and most have specialty cocktails to kick your celebration into high gear.
If you want to luck fall on your lap or wish to simply enjoy St Patrick's day as a holiday then here are the 10 casinos offering bingo, slots, table games along with fine wine and dine with live entertainment and shows. Now try your luck for the Leprechuan's Treasure by taking part in these casinos promos.
Location: 777 Coushatta Drive, Kinder, Louisiana 70648
Phone: 1-800-584-7263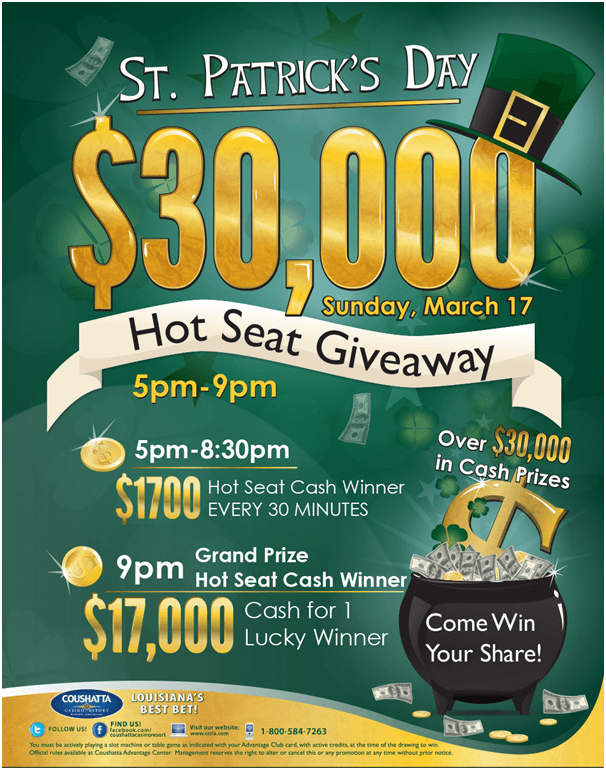 Visit this casino on Sunday, March 17 from 5pm to 9pm and win your share of over $30,000 in cash prizes! Join at 5pm-8:30pm "Hot Seat" Drawings with $1,700 cash every 30 minutes| 9pm Grand Prize "Hot Seat" Drawing with $17,000 cash for one lucky winner!
To enter the giveaway you must be actively playing a slot machine or table game with your Free Advantage Club card, with active credits, at the time of the drawing to win.
Also take part in Bingo $69,000 Red Hot St. Patrick's Day Weekend with 23 $1,000 games each session! 10 prize drawings during each main session! Doors open on Saturday MARCH 16 11am • Early Birds 12:15pm • Session 1pm Doors open 5pm – Early Birds 6:15pm • Session 7pm. On Sunday MARCH 17 Doors open 1pm • Early Birds 2:15pm • Session 3pm.
Location: 5655 W Valencia Rd. Tucson, AZ 85757
Phone: 1 800 639 8783.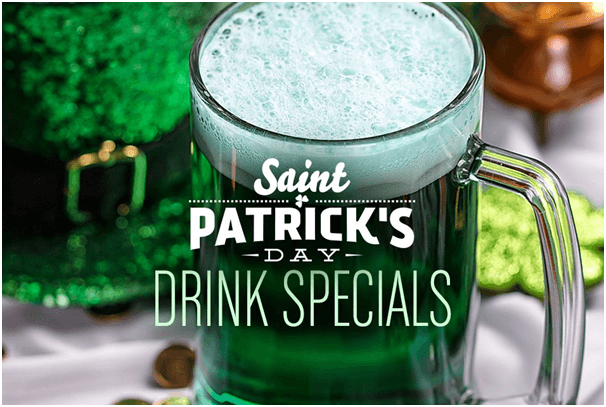 Join the casino bar on St Patrick's Day to enjoy drinks specials. $2.75 Green Beer of the Month, $4 Guinness and $6 Irish Car Bombs wide drinks and more.
3. Take part in Cash Drawings at Osage Casino
Various Locations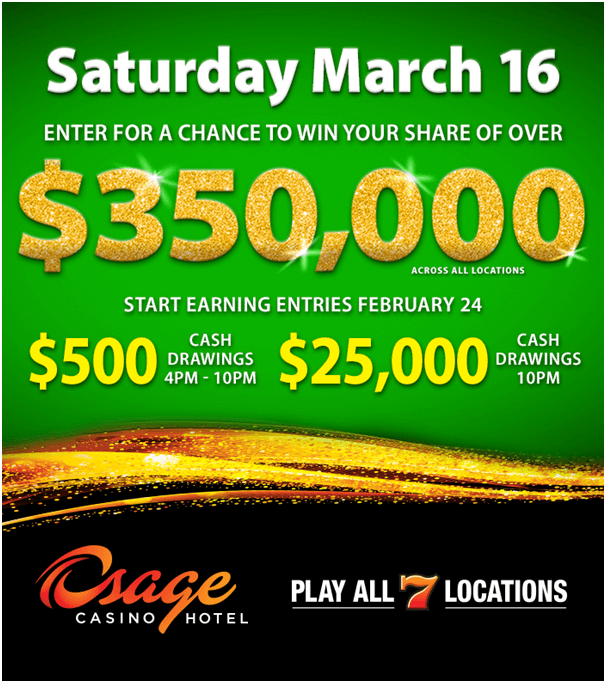 Join Osage casino at 7 locations to try your good luck charm on Saturday March 16th for Local $500 cash drawings from 4pm- 10pm. At 10pm 10 lucky $25,000 cash prize winners will be announced across all 7 locations.
Location: 27100 SW Salmon River Hwy Grand Ronde, OR 9734
Phone: 800-760-7977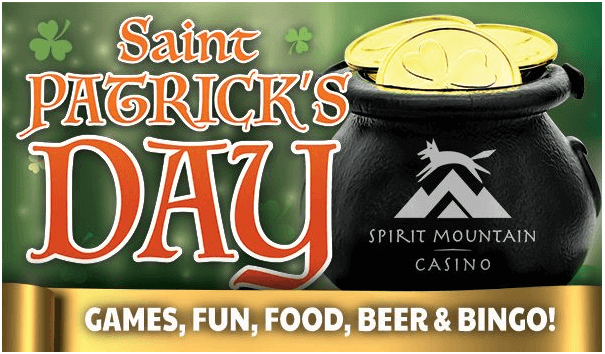 Join this casino on Sunday, March 17 for Games, Fun, Food, Beer & Bingo! Play the Lucky St. Patrick's Day Kiosk Game with just 150 points earned on any game. You can win Dining, Free Play and Drawing tickets into March Millions! Lucky Trinkets and Blinking beads will be handed out during Bingo Games.
5. Join $5000 Slot Tournament at Isle of Capri Casino
Various Locations

Take part in $5,000 St. Patrick's day slot tournament on Sun, Mar 17 | 1pm-6pm. Play for a chance to win some cold, hard cash. All Fan Club members have the chance to play to to five rounds each. Platinum and Millionaire members receive on free entry. Members can earn additional entries with every 100 points earned toward Tier Score. Maximum of 5 entries per day.
Location: 45000 Pechanga Parkway Temecula, CA 92592
Phone: 1-888-PECHANGA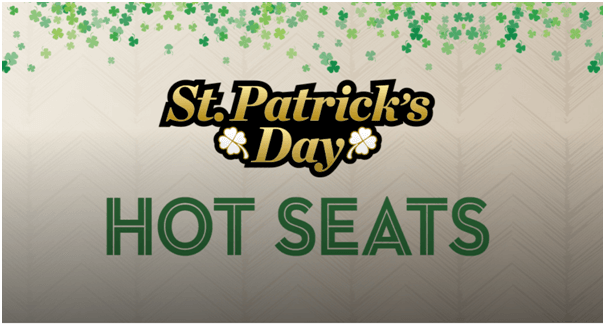 Join the casino on Sunday March 17th on St. Patrick's day hot seats between 12PM – 6PM. Every hour there will be 5 winners on $500 easy play. For a chance to win, play with your Club card properly inserted into any slot machine. Table Games, Poker and Bingo are excluded.
Click here to visit the top 5 cities to celebrate St Patrick's Day
7. Win Cash prizes up to $8,000 at Casino Arizona
Location: 524 North 92nd Street, Scottsdale, AZ 85256
Phone: 480-850-7777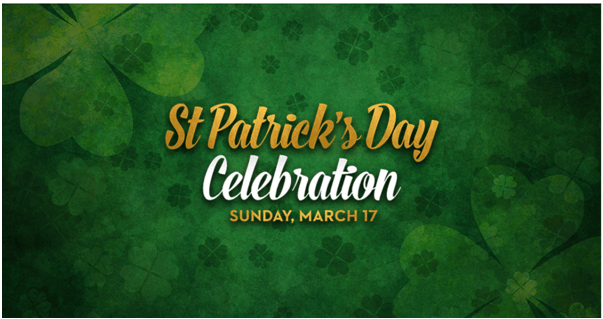 Join the casino for cash prizes up to $8,000, Power Percs prizes up to $250, dining specials and drink specials. On Sunday, March 17th step into the Bucks O'Luck cash cube and win up to $8,000 cash. From 3pm to 6pm on Sundays, March 3, 17 and 31, 6 winners will be drawn to participate in the cash cube. Each winner will have the chance to catch as much cash as they can up to $4,000. There will be a "Golden" bill, and if captured, the casin will double the guests total up to $8,000. Earn 1 free entry. Earn 1 additional entry for every twenty-five (25) points played at Talking Stick Resort or Casino Arizona.
Also automatically earn 5X entries every Thursday during the earning periods. Play table games to earn 10X entries every Tuesday during the earning periods. There will be a Swipe & Win portion to this drawing.
Also watch for the Lucky Leprechaun Prize Patrol as they award up to $250 Power Percs. The Lucky Leprechaun Prize Patrol Hot Seat will award to total of 8 winners up to $250 Power Perc$ via hot seat. Drawings will take place on Sunday, March 17 between 1pm and 6pm. To win, simply play with your Player Rewards Club card at the time of the drawings. Grab Drink Specials, Leprechaun Mimosa – Served all day in Eagles & Willows $3, Irish Kiss – Casino-wide $5, Sonic Screwdriver – Casino-wide $5, Guinness Stout Beer – Casino-wide $6 and Pot O'Gold Jello Shot – Casino-wide $2
Location: 1133 Boardwalk, Atlantic City, NJ 08401
Phone: 1-800-772-9000

Join the casino on Sunday, March 17 | 2PM – 8PM to take part in random winner where one player will be choosen every 15 minutes from all active slot & table players. If your name is called, you will dash inside and grab the winnings! One bill is valued at $1000| 4 winners evrey hour Simply use your Star Card while playing your favorite slots or table games. The total amount will be added to your account in SLOT CASH or MATCHPLAY. Visit the Promotions Booth for complete details.
9. Enjoy delicacies and pull tab giveaway at Station Casinos
Various Locations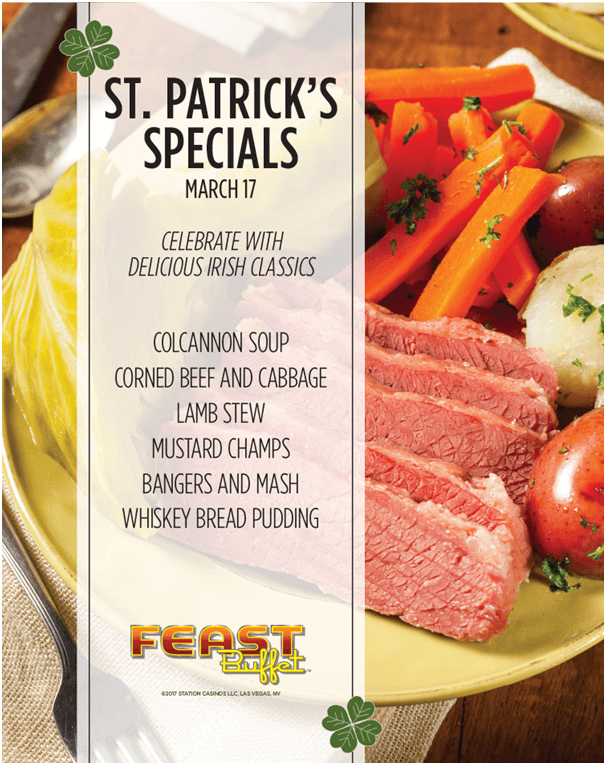 Celebrate with delicious Irish Classics at the Station Feast Buffet. Or take part in Lucky Leprechaun, Pull Tab Giveaway on Fridays, Saturdays & Sundays in March. Every Pull Tab Is A Winner Guaranteed! Free for Invited Guests or Earn 100 Points to Receive a Pull Tab! Available at Fiesta Rancho or Fiesta Henderson.
Also take part in Bonus Multiplier Days in March for 10x Points On Slots Guaranteed and 6x Points On Video Poker Guaranteed. Join Every Monday & Wednesday at Red Rock, Boulder Station, Palace Station, Santa Fe Station, Green Valley Ranch, Texas Station, Sunset Station, Fiesta Henderson & Fiesta Rancho and Every Tuesday at Red Rock, Boulder Station, Palace Station, Santa Fe Station, Green Valley Ranch, Texas Station & Sunset Station and Every Thursday at Fiesta Henderson & Fiesta Rancho.
Location: 10424 North Fort McDowell Road, Fort McDowell, AZ 85264
Phone: 1-800-THE.FORT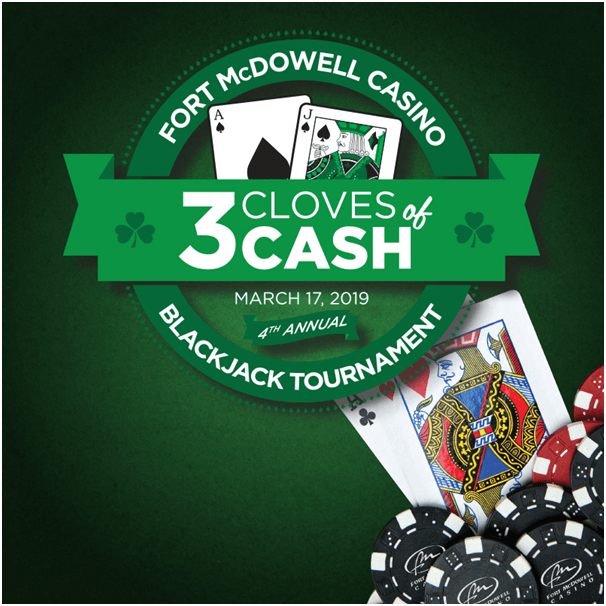 Take part in 4TH ANNUAL 3 Cloves of cash BLACKJACK TOURNAMENT to win $2,000 on Sunday March 17th. Registeration begins at noon and Tournament begins at 2 PM. The entry fee is $30 per player. Visit Blackjack Pit for details
Now gear up to visit any of these real land casinos if your are nearby or else play and try your luck at online casinos on St Patrick's Day for awesome bonus offers.