Chinese New Year on 5th February 2019 being celebrated as the Year of the Pig is here to grab good luck fortune and have fun.
Play new slot game and be a Chinese winner
Enjoy bonus offers at casinos
Prepare Red Pockets
Whether you live in China or not, Chinese culture is spread all over the globe.  This year Chinese New Year, 2019 starts on February 5 and runs until February 19. Officially, it will be the Year of the Pig, according the Chinese 12-year animal zodiac cycle. If you don't know then note that there are 12 animals in the Chinese zodiac.
According to a story the Jade Emperor decided the order of the zodiac animals based on the order in which they arrived at his party. The Pig came dead last, because he overslept.
If you are born in one of these years 1947, 1959, 1971, 1983, 1995, 2007, 2013 then be aware that 2019 won't be much promising year for you. According to Romper, "although a Pig year is thought to be fortunate for most people, particularly where money is concerned, it's not going to be so great for people born in previous Pig years." The Chinese New Year site cautioned that they should avoid conflicts and be prepared for some emotional roller-coastering. It's also not the best year for them to hit the casinos or switch careers.
Anyway whether the year of this Pig year is lucky or not here are four wonderful ways to celebrate Chinese new year in 2019 and enjoy.
1. Play new slot game and be a Chinese winner
A new slot game has been released lately by RTG to celebrate Chinese New Year known as Chinese Winner.  In this slot machine you can unlock a wealth of winnings when you spin the exciting new 5-reel, all-ways-payline slot at any of the US friendly online casinos.
Pig Winner gives you 243 chances to win exciting free games and bonus prizes with every spin. All symbols pay left to right with the exception of the Yin Yang symbol, which pays and triggers free games. Find 3 Yin Yang symbols to win 8 free games. The substitute Pig is grouped on reels 2 and 4, and will stand in for all other symbols except the Yin Yang symbol.
You can bet minimum like a penny or move on to a high roller bet that's your choice to be Pig Winner just set a bet level, determine how many spins you want to play, and enjoy watching scatters and wilds appear to earn free games, super bet multipliers and bonus free games. The substitute or the wild symbol is the Pig itself that counts for all symbols except scatters. The Scatter Symbol is Yin Yang where all Symbols pay left to right except for scatters, which trigger free spins. Pig scatter symbols appear on reels 2 and 4 and unlock various prizes and treasures. You can win the big award of 200x the bet per line in this new slot game.  You can play this game at any of the US casinos like Slots of Vegas, Silver Oak and others. Use coupon code WINNINGYEAR to grab bonuses.
2. Enjoy bonus offers at casinos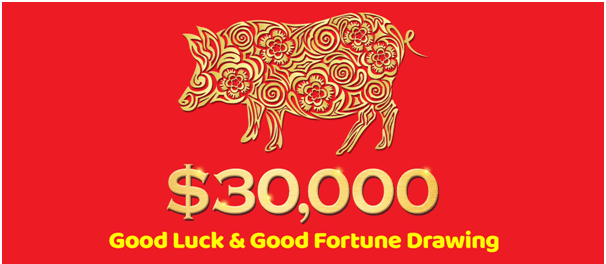 There are various real land casinos that are offering lots of Chinese New Year bonuses on slot games, tournaments prizes to win, free giveaways, deals and discounts on Buffets and other dining offers.
Pala casino located at 11154 HWY 76, PALA, CA 92059 is offering $30,000 Good Luck and Good Fortune Drawing on FEBRUARY 5 – 16, 2019 where you can earn entries for special hands in various Table Games (excluding Live Poker). Enjoy Lion Dance or  enjoy special Lunar New Year menu with traditional dishes from various Asian countries. Note that you must be enrolled in Pala Privileges Club to be eligible for this promotion. Click here to know more.
Hustler Casino at 1000 West Redondo Beach Blvd. Gardena, CA 90247 will have Chinese New Year 2019 Celebration with Red Envelope Hot Seats where 8 Drawings per day from 1/26 – 2/4 will be held. Winners will receive $200 in Promo Chips. Also there is $888 Money Tree Drawings 8 Drawings on 2/5 from 6PM – 2AM and you can Earn Entries from High Hands on Any Game from 1/26 – 2/5
Also enjoy Traditional Lion Dance on Tuesday, February 5 at 7:30PM
Sun Coast Casino at 9090 Alta Drive Las Vegas Nevada is offering 8X B CONNECTED POINT MULTIPLIERS  between February 8 – 16 on any Dragon Link Games | Dancing Phoenix Soaring Dragon Dancing Drums | 88 Fortunes | Sky Dragons and more . Also enjoy Lion and dragon dance on
February 15 | 3:00pm – Casino Floor  or take part in PENG ZU ANNIVERSARY SPECIALS between February 8 – 16 | Special Menu Selections $20 – $28.
Rampart Casino at 221 North Rampart Boulevard Las Vegas Nevada is offering $50,000 Red Envelope Table Games Giveaway on Fridays and Saturdays in February 9 pm and 10 pm. Five contestants per drawing will have $5,000 Year of the Pig Prize Pick. Also on February 5, 2019, from 10 am-midnight, win free bets, promo chips, "Year of the Pig" Commemorative Chips and more!
Participate in the Prize Pick by playing table games and winning the following hands: Blackjack with a $25 minimum bet, Hi low in Craps with a minimum $5 bet, Winning tie bet on Baccarat with $10 bet and Full House or better with a $10 minimum bet on Pai Gow or Ultimate Texas Hold'em ante bet. Then swipe at the kiosk for a voucher that will be redeemed at the casino cashier. Also enjoy $18.99 Chinese New Year Seafood Buffet at Rampart Buffet.
You can visit any nearby real land casinos to grab many of such deals or takepart in the popular parade to celebrate the new year.
3. Prepare Red Pockets
Red pocket, in Chinese is called hóng bāo which is a tradition which you can take part in. These red envelopes contain money which is sign of good luck. By giving the money to children, elders are hoping to pass on a year of good fortune and blessings. In some regions of China, rather than between generations, married couples will give red envelopes to their unmarried friends to transfer some luck.
There are many  wonderful stories in China  behind this tradition where monsters were bribed with money to shoo them off. Coins were tied together with red string and offered. Red packets are given when you pay a New Year's visit to someone in your family be it young or old. Also to co-workers and other friends. It means wishing you wealth and prosperity as you hand over the red envelope or when you receive it. There is no fix sum as how much to give but surely it's your choice. If you receive one then means you have a lucky year ahead full of fortune. You can prepare such beautiful red pockets and have fun in exchanging or giving money to someone you love.
Note that the Year of the Pig runs from the official start of the 2019 Chinese New Year – February 5 – through January 24, 2020. Also many online casinos are offering great bonuses to celebrate this new year. Click here to know the latest coupons on offer for Chinese New Year.