I love Sweepstakes as they are fun to play. When talking of such lottery McDonald is the one big name that came to my mind as it's Monopoly game sweepstakes had over 5 million prizes that were given to the winners. Click here to get a free burger from McDonald. Many companies run sweepstakes like AT&T sweepstakes recently generated over 4 million entries and 70,000 new Internet subscribers. Few years back General Electric ran a sweepstakes promotion that offered a free family vacation to Walt Disney World.
It is estimated that in US the companies spend over three billion dollars annually on sweepstakes business promotions.
Online casinos too offer Sweepstake games and slots to play. One such very popular casino is Chumba Casino. Because gambling is restricted in most states in the USA, casinos look forward to this way of attracting players to the gaming den. Even if sweepstakes gaming is not directly related to gambling, playing a casino game gives almost the same enjoyment, no matter the stake.
Also online casinos are easily accessible to US gamers via cell phone, tablets to feel the same excitement when playing in a Sweepstake casino. Also many players prefer sweepstakes games over classic casino games as you don't need to wager any money, in order to win, turning this into a very profitable situation for the players. All they need to do is purchase a promotional product for which they will receive entries at the sweepstake games.
Sweepstakes at Chumba Casino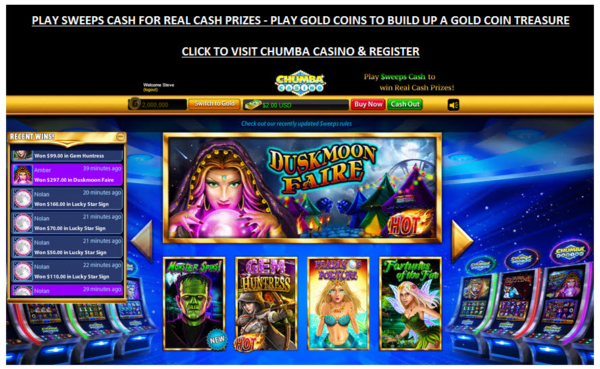 Chumba Casino is a sweepstake-based online casino that allows players from US and Canada to play their slot and table games for virtual Gold Coins, which can be purchased through their Facebook app or at their website. You are also given the option to use Sweeps cash to play games. Players from Nevada, as well as any other US state, can play on Chumba Casino without breaking any local laws. Only you need to be 18 years and above years of age.
To get stared at Chumba Casino just visit their online site by typing the URL https://www.chumbacasino.com on your PC, Cell phone or Tablet web browser.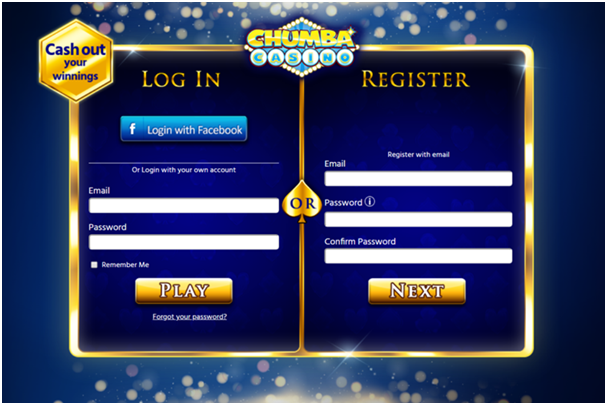 Now login with your Facebook Account or create an account to register yourself at the casino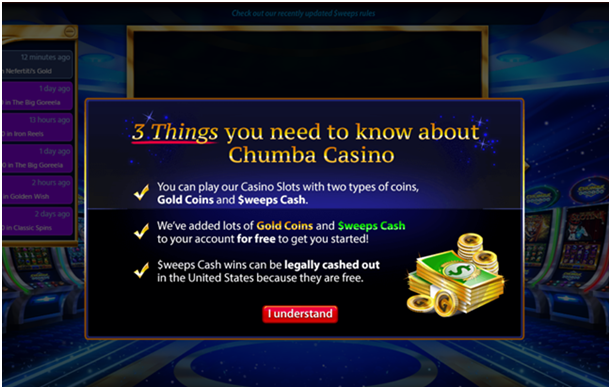 As said above you need two types of coins Gold Coins or Sweeps Cash to play slots and other games here. The casino also mentions that Sweeps cash wins can be legally cashed out in the US as they are free.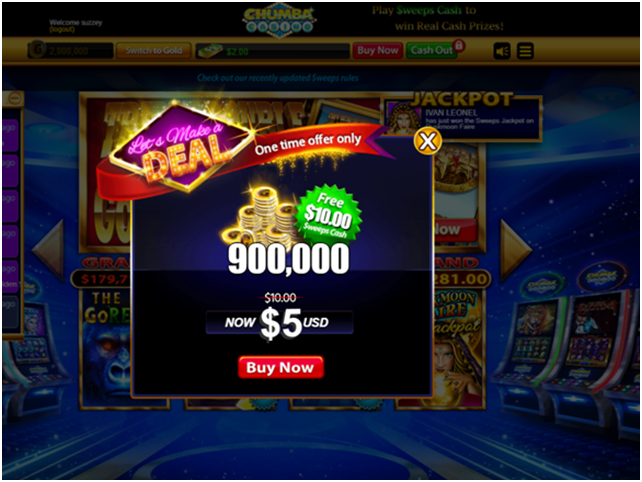 Upon signing up at Chumba Casino you receive 2 million Gold Coins and $2 or $5 in Sweepstakes cash absolutely free, no bonus code needed! An option then appears to purchase a 900,000 Gold Coins package for $5. That's a 50-percent discount on the regular price. Also thrown in will be 1,000 Sweeps cash, equal to $10 in real money. The Sweepstakes cash is the important bit for players interested in playing with real money, as only this balance will be convertible to withdrawable funds.
Though Chumba's welcome package is not much attractive it is the fun to play for real money that is what players look forward to.
Remember that when playing in this social casino real cash prizes cannot be won when using Gold Coins to play. Only the Sweeps cash, which cannot be bought straight up in the traditional sense, can be traded for withdrawable money. It exchanges at a rate of 100 Sweeps for one real dollar.
Because Sweeps cash is not directly purchasable and is instead given away for free, any money players trade it for does not count as gambling in the eyes of the law. This is because the Sweeps cash is technically a no-risk bet. After all, no real money is involved in obtaining it.
Games to play at Chumba Casino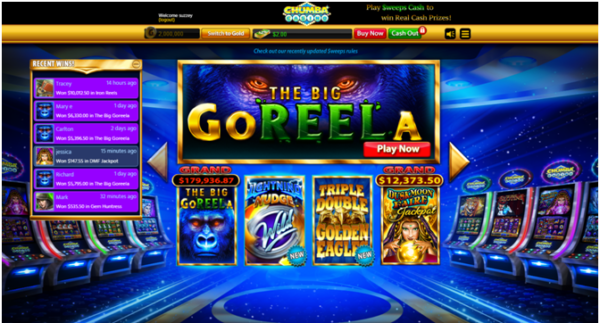 There are over 48 slots to play at Chumba Casino. Chumba's selection is designed and coded in-house by their Australian parent company, VGW Holdings. This means that the majority of their games are exclusive titles that can't be played anywhere else. Some of the popular slots you can enjoy are The Great Slottini, Classic Spins, Super Hot 7s, King of Gods and Monster Spins. Also find two card based games Blackjack and Jacks or Better video poker games.
Bets start at one Sweepstakes cash, or $0.01 in real money. They go up as high as $50 per hand at the cards tables, or $25 per spin on the slots.
There are also two progressive jackpot slots to play and win- The Big Goreela and Duskmoon Faire.These can net big winners millions in Sweepstakes cash, or tens of thousands in real US dollars.
However, Facebook players should note that these two progressive jackpot slots are not available on the Chumba Facebook App. They are exclusive to the ChumbaCasino online website.
In this casino you need to buy Gold Coins and get Sweepstakes cash on top for free. The deposit options are currently Visa and MasterCard. You can use the card to purchase Gold Coins in $10 increments. Players who use their Facebook app can also use Facebook's payment methods to purchase Gold Coins for use at Chumba.
If you win the slots games and want to have the payouts then you need to submit identification documentation before you can withdraw any funds. Additionally, the minimum balance required to do so is 10,000 Sweeps cash, or $100. Once all documents are verified, Chumba sends out a 10-digit pin by e-mail. Players must use that pin for all future withdrawals. Chumba also commits to processing all withdrawals within five business days. Withdrawals made through the Facebook App are subject to a $400 minimum limit.

The maximum Sweepstakes/Prize Promotion payout limit of $10,000USD per day.

In New York and Florida the maximum win on any one spin, via a Participant's participation in the Sweepstakes/Prize Promotion Games, is limited to $5,000USD.
How To Get Free Sweeps At Chumba Casino To Play Slots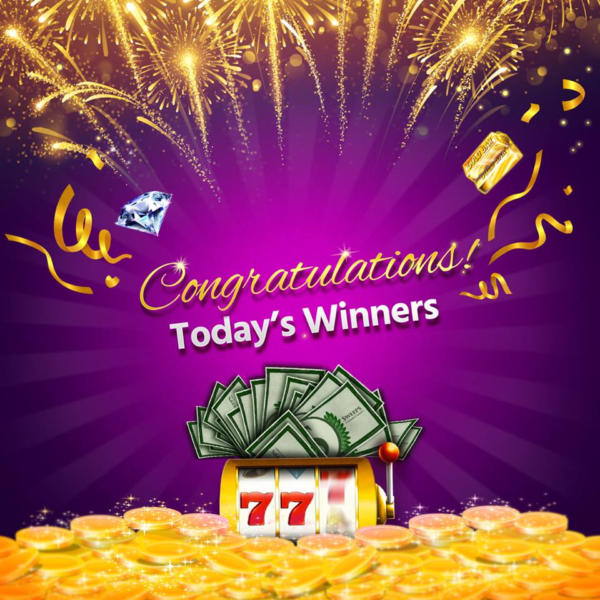 You can get Sweeps cash through a variety of methods. Note that Sweeps cash is always provided free of charge or bundled with other purchases. It can be exchanged for real, withdrawable, US dollars.
You can get free sweeps by mail, facebook contests and as a free gift when purchasing Gold coins.
You will receive free Sweeps for each mail request sent. You only need to write your full name and address on a stamped #10 envelope with a subject "Sweepstakes Credits:" followed by the current month and year. Then you send this envelope to Virtual Gaming Worlds, Chumba Casino, Sweepstakes Department, 548 Market st #73140, San Francisco, CA 94104. For every request you send, you will be granted 600 sweeps cash. You will automatically receive the promotion cash in your Chumba account within 5 business day.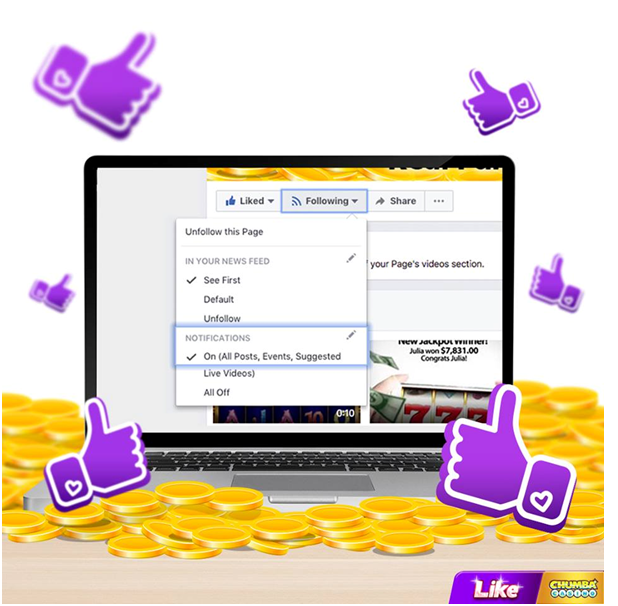 Facebook competitions run daily and usually offer 10 people the chance to win 5,000 Sweepstake cash, or $50, after answering an easy question. Each competition typically has 10 winners. They are picked at random from among applicants who provided the correct answer to a question. Each winner gets up to 5,000 Sweepstakes cash, or $50.
Click here to get free Sweeps coupon codes and use them to get more free sweeps cash.
When you purchase Gold Coins at Chumba's casino a $10 USD buys 900,000 Gold Coins with $10 worth of Sweepstake cash added in for free.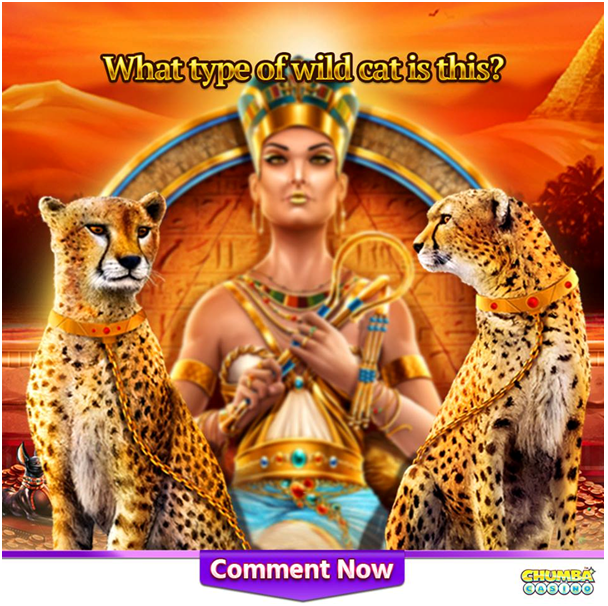 Remember that if you play at Chumba Casino website then there is no limit on how much free Sweeps cash players can acquire by buying Gold Coins. The withdrawal limit is lower too, at 100 real dollars.
But if you play at Chumba Casino Play, which is accessed through Facebook it only allows you to get free Sweeps cash on your first $300 of Gold Coin purchases in a given month and the minimum amount required for withdrawals is $400.
There are many online sites that offer Chumba Casino Hacks and Cheats to get more free sweeps but we do not recommend that.
Finally if you need any support from the casino you can email them at support@chumbacasino.com or contact them at their Facebook Page, or visit their support site to find answers to your gaming questions.
Chumba Casino is run and operated by VGW RMG Malta Limited and is regulated and licensed by Malta Gaming Authority (MGA). In 2016 VGW launched a social poker operation called Global Poker, which uses a similar sweepstake system to let US players play for real money.