Free Coupons to Redeem
This month may be luckiest month for many punters as they flock to celebrate St Patrick's Day at casinos to play slots or try their luck playing various lotteries. Pennsylvania lotteries currently have an ongoing wonderful promotions to try your luck. Here are the some generous offerings and free coupons you can pick to be a winner.
1. Pot of Gold with $50,000 in cash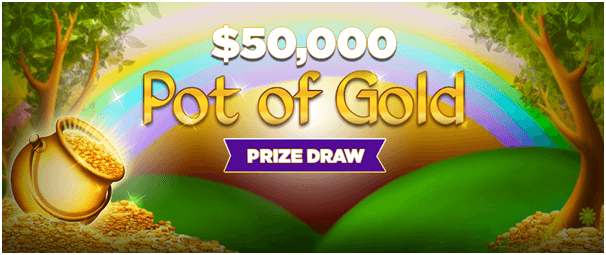 Through March 17th, the Pennsylvania online lotteries will be giving away $50,000 in cash as part of the Pot of Gold promotion. Each week, 100 winners will be awarded with $50 through a weekly drawing.
On Saint Patrick's Day, the PA iLottery will be upping the ante with a grand prize drawing where a total of 200 lucky players will receive $50 in cash with one player taking home $10,000.
To participate in the Pot of Gold, a player must meet two main criteria:
Opt-in to Pot of Gold from "My Bonuses" each Tuesday of the promotion. Note you must be logged into your account when playing online.
If you don't have an account, you can register at the Pennsylvania online lotteries today and be eligible for Pot of Gold in March.
Deposit $25 or more on the same Tuesday
Be sure to grab that $5 free no deposit bonus during registration by using bonus code WINNER.
Entries are open for one day a week each Tuesday. Winners will then be announced by the following Wednesday, but could also be notified earlier.
When meeting the qualifications, one entry will be awarded per drawing. Players qualifying on multiple weeks will have the benefit of receiving one entry for every week in the Grand Final, meaning those qualifying each week will receive seven entries into the grand final drawing.
Players who win prizes will be credited soon after the announcement of winners, who will not be required to play-through their cash winnings.
https://youtu.be/k4ubnogOsDI
2.Free $5 bonus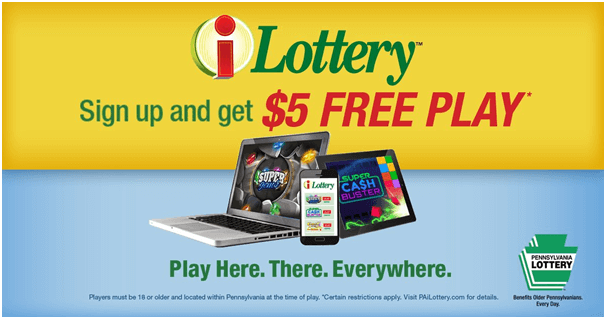 If you enjoy playing traditional scratch-off games through the Pennsylvania Lottery, you'll probably love the games offered at their online site or the Pennsylvania iLottery. There are lots of scratch-off games that can keep you engaging and cost very less to play. At Pennsylvania online lotteries you can try these games all for free with no obligations.
As a new player when you signup you receive a free $5 lottery bonus.
You will get the bonus credited by entering a bonus code – WINNER. This coupon code can also be used if you forget to enter it during registering. Simply contact customer service to have your bonus applied.
Once you have received your bonus, you will be able to play real money games with your bonus. Simply choose a game and begin playing. You will only need to wager your bonus 1x, meaning $5 in bets for the $5 bonus.
3. 100% First Deposit Bonus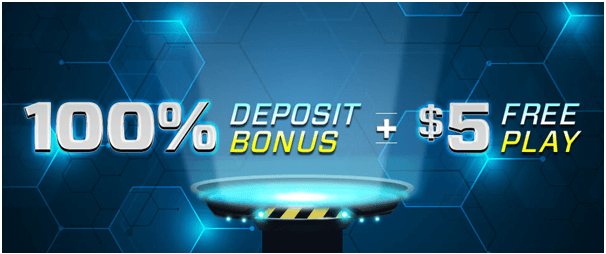 As a new player you get $5 in Free Play in your account. Use the code 100DEP on your first deposit for a 100% match, up to $100 Bonus
All you need is to login to your Pennsylvania lotteries or PA iLottery account.
Go to the Cashier page and select your payment type. Enter the promo code: 100DEP.
Make a Deposit of at least $10 to be eligible for a 100% Deposit Match.
A $100 deposit gets you the maximum $100 Bonus Money.
You must play through your Deposit and Bonus 10X before Bonus Money is converted to cash.
Pennsylvania Lotteries
https://youtu.be/GQ-lejcH-K8
The Pennsylvania Lottery was established on August 26, 1971. In addition to regular drawings, the state also participates in Powerball (offered through the Multi-State Lottery Association) and Mega Millions games and sells scratchcard tickets.
Draw games offered by the Pennsylvania Lottery include Pick 2, Pick 3, Pick 4, Pick 5, Treasure Hunt, Cash 5, and Match 6, as well as the multi-state games Cash4Life, Mega Millions, and Powerball. The "Pick" games are standard fixed-payout games, while Treasure Hunt, Cash 5, and Match 6 are jackpot-style games similar to Mega Millions and Powerball. The lottery also offers the annual raffle game, Millionaire Raffle.
On May 1, 2018, the Pennsylvania lottery launched keno as a part of their gaming offerings, with drawings every 4 minutes. Results are displayed at selected lottery retailers on monitors. The Pennsylvania Lottery also launched Xpress Sports later in 2018, which include two virtual sports games, football and racing. Keno and Xpress Sports games are offered at all lottery retailers, but players can view the results live via monitors at select retailers.
https://youtu.be/BE8wkLkS91Y
Pennsylvania's gaming expansion also allowed for the creation of Pennsylvania's online lottery, iLottery, which began operation on June 4, 2018. The iLottery consists of unique games; standard draw games are not available online.
Click here to find the nearest retailer to buy lotteries in Pennsylvania.
Click to play Pennsylvania online lottery here.
Or download their app and play on the go
When playing online any game of your choice with real USD you need to fund the lottery account. To deposit or withdraw from your account you can click the "My Account" button and choose the Cashier tab. You can deposit money to your wallet using ACH e-check, MasterCard Debit, Visa Debit or with PayNearMe. Note that Credit Cards are not accepted as a payment option on PA iLottery.
Remember you must be 18 years or older and located within Pennsylvania at time of play.
How to claim prize if you win any game at Pennsylvania online lottery?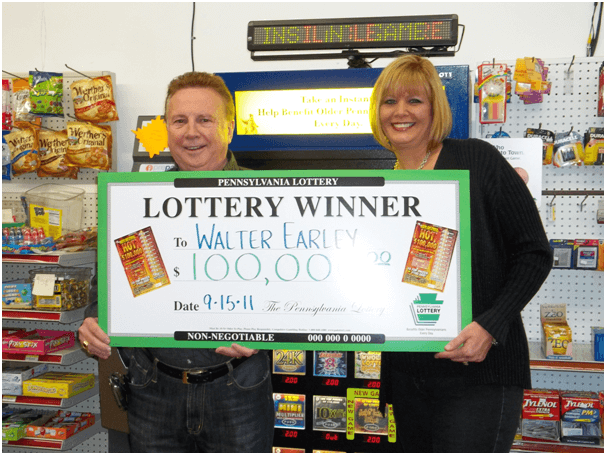 If you win any game that you play at Pennsylvania online lottery prizes up to $2,500 may be claimed at a Pennsylvania Lottery retailer. Many prizes can be paid immediately if a retailer is able to pay by cash, check or money order.
Winning a prize of more than $600 will require you to complete a Claim Form, which are available at Lottery retailers or a Lottery Area Office. Or, click here to open a Claim Form that you can complete and print out at home.
Prizes over $2,500 can only be paid by the Lottery. Mail a completed Claim Form along with the signed ticket to the address on the form.
Certain prizes must be claimed in person at Lottery headquarters in Middletown. These include a Powerball or Mega Millions jackpot prize; an annuity top or second-level prize for Cash4Life, or an annuity prize for a Scratch-Off game.
In case of any issue you can contact the Claims Department, toll-free number at 1-800-692-7481.
Remember prizes expire in one year from certain dates: Scratch-Offs prizes expire one year from the game's end-sale date, listed here; Draw Game prizes expire one year from the drawing date; Fast Play prizes expire one year from the ticket's purchase date. After 180 days, Fast Play and Draw Game tickets worth more than $100 cannot be claimed at a retailer. They must be submitted to the Lottery with a Claim Form in order to be redeemed.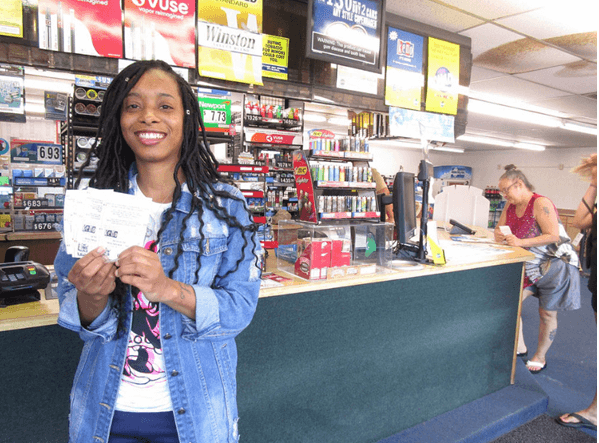 To claim a Pennsylvania Lottery prize by mail you need to Sign and fill out your winning ticket and make a copy of it, front and back, for your records. If the prize is over $600, fill out a Claim Form to submit with your ticket at mailing address Pennsylvania Lottery, ATTN: CLAIMS, 1200 Fulling Mill Road, Suite 1, Middletown, PA 17057
You do not have to live in Pennsylvania to play a game or win a prize, but the Pennsylvania Lottery can only pay prizes on winning tickets that it has sold. This applies to multi-state games such as Powerball, Mega Millions or Cash4Life, because each state manages its own prize pool. A jackpot or annuity prize must be claimed in person at Lottery headquarters in Middletown.
Also note that lottery prizes are taxable income under federal and state law. For prizes of $600 or more, you will receive a W-2G form from the Lottery to report your winnings and submit with your tax returns.
You can check their lotto site for latest promotions as all the offers are subject to change.
You can contact the help team by email support@PAilottery.com or call them at toll free 1-833-530-PLAY (7529) for more details.