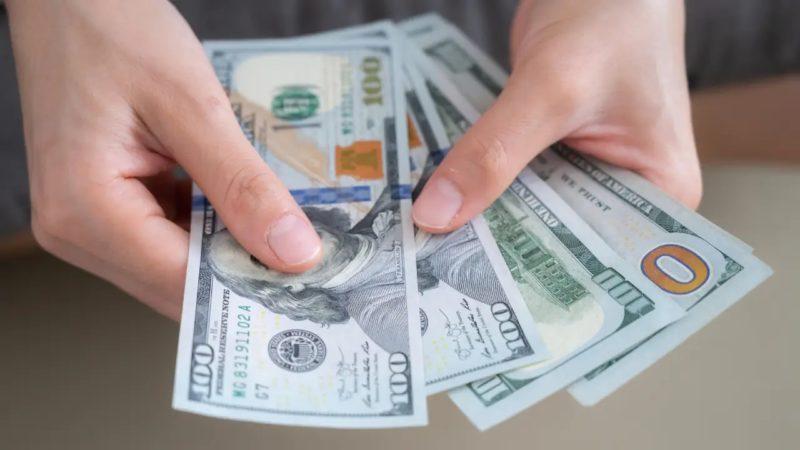 Popular money saving apps on iPhone are the ones which still iOS users want. Money saving is one of the prime aspect of a wise individual. As technology as brought so much ease into our lives that even now in Las Vegas casinos and resorts you have tablets and robots to get best of your room services, being a cell phone pro user is not a big deal. With new apps rolling at apps stores every year here are the best ten popular money saving apps you need for your iPhone. These money saving apps plan to budget more effectively or save more and help you pay less on your groceries and dining out.
Money saving apps
1. Cashback My World Benefits app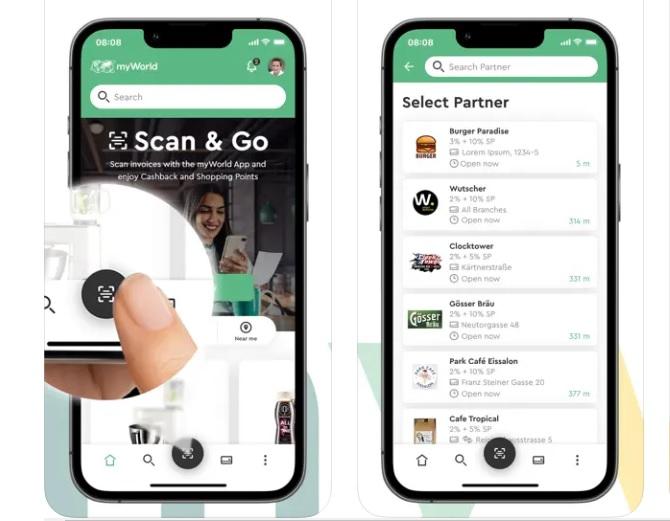 Cash back money saving apps are always liked by savers who want more discounts, have vouchers or to monitor their cashback balance and make withdrawals and earn extra bonuses. With Loyalty Merchant's exclusive offers and Shopping Point Deals, you receive a whole host of ways to secure discounts on top of Cashback and Shopping Points. The Cashback My World Benefits App allows you to use your smartphone to enjoy shopping benefits at thousands of Loyalty Merchants. Other features, such as news, your Deals and lots more, add the perfect finishing touch to the app, making it the ideal companion for you. This app is available at apps store free to download and requires iOS 10.0 or later compatible iPhone.
2. Coupons App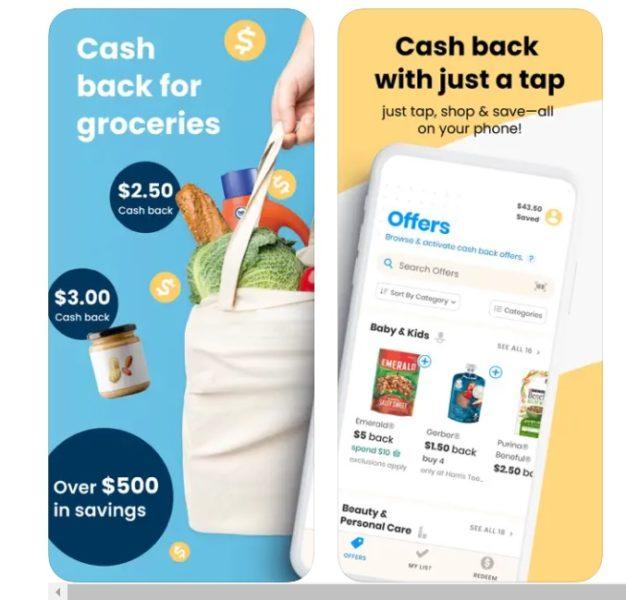 With this money saving apps you can save $100s with free grocery cash back offers and digital coupons at your favorite stores like Target, Kroger, Whole Foods, Walmart, Costco and Dollar General. Access 100s of cash back offers on the brands you love, making saving money on your groceries effortless. Best of all, you can manage all your grocery shopping and savings right from your phone, in one single app, without needing a printer or multiple store apps. This the only grocery saving app you need.
Cashback offers are like coupons you can use to save on your grocery purchases, but you get your savings in the form of real money after your make your purchase. For example, if you see an offer you'd like to use on Wholly Guacamole, you simply tap the offer in your app, buy the item at any store that offers itemized receipts, then send them a photo of your receipt through the app. You can also link a store loyalty card once, then get automatic cash back without submitting receipts for that particular store. Once your purchase is verified, you get cash back in your PayPal account.
You can use cash back offers to save on food, baby and toddler items, pet food, medicine and personal care. The app have cash back offers from all your favorite brands like Tide, Bounty, Cheerios, Kraft, Kellogg's, General Mills, Campbell's, Dole, Betty Crocker, M&M's, Perdue, Crest, Pantene and more. Download now.
3. Voucher apps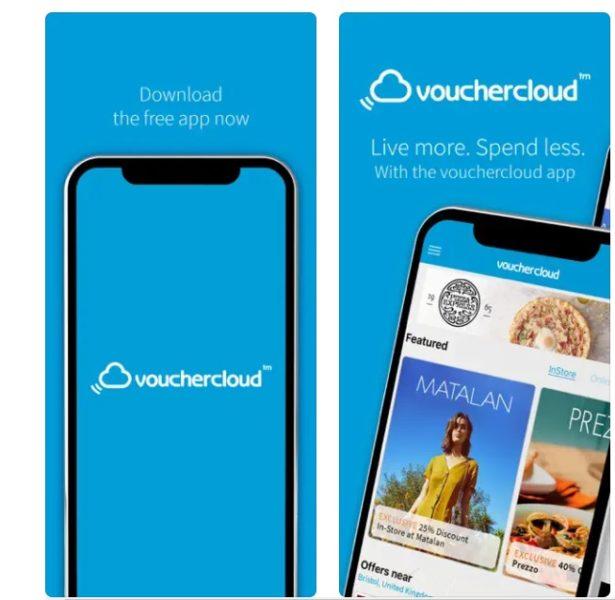 There are a few different voucher and discount code apps so it's worth browsing around to find the one that suits you best. Voucher Codes is a good one, with national and local discounts so you can always get the best deals. Voucher cloud also allows you to find deals local to you, using your location. You can get the best savings and offers for your favourite restaurants, high-street stores, supermarkets and brands straight to your phone and search for the best savings near you.
This app also delivers money-saving vouchers that you can use at restaurants, high-street shops, days out, leisure, entertainment and much more. There's also a huge range of online shopping vouchers and codes so you can save on anything from the latest tech gadgets to the current fashion must haves as well as your weekly shop. Download the apps free from iTunes and need iOS 9.0 or later iPhone.
4. Stocard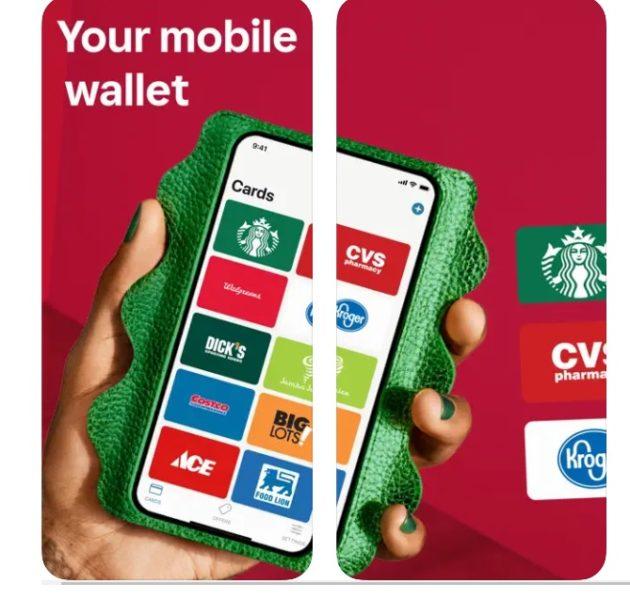 Stocard is a digital wallet for your loyalty cards, allowing you to store them all in your phone and free up your actual wallet. Just ask the cashier to scan the relevant barcode when you're shopping and your points will automatically accrue to your relevant loyalty card. Also discover exclusive offers. Download this app from app store all free and needs iOS 9.0 and later iPhone.
5. Drop App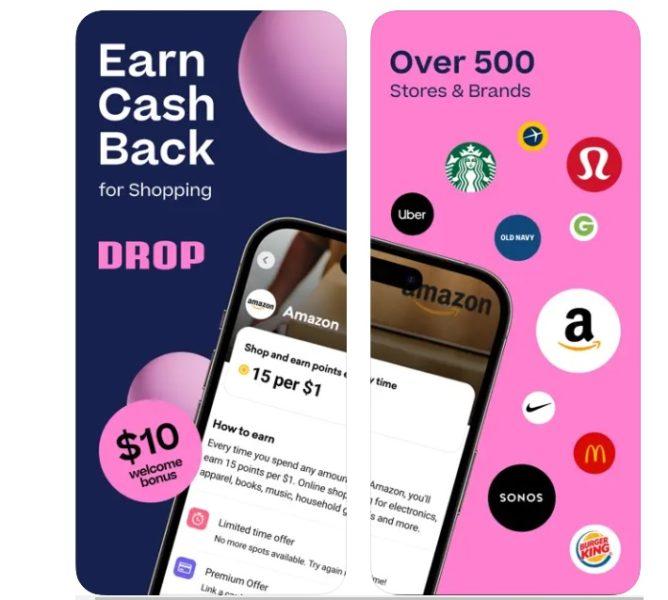 With Drop app you can save on all your day-to-day purchases, from your grocery delivery to home improvement needs. Shop and earn rewards today with Drop! Drop is the new kind of rewards program created so you can earn cash back and gift card rewards on everything.
To get started first Link your credit and/or debit card(s) to the secure Drop app. Then get points for shopping, playing games, taking surveys & more. Next redeem your points for gift card rewards for brands you love.
The brands include fashion, travel, beauty, shopping, entertainment and food.
• Shop over 500 brands you love and discover ones you're about to
• Earn points every time you shop through the app. No receipt scanning, no coupon clipping
• Shop and save points to redeem for gift card rewards at your favorite stores!
• Your credit card becomes a Drop rewards card when you shop through the app
• Link your card to receive points, then shop to receive even more points!
• Earn points by shopping, receive cash back for every purchase & use points for gift cards, win-win-win!
• Earn points when you complete quick, simple surveys through the app
• Earn rewards by playing games and win real money toward your next purchase
• Link Drop points to crypto and invest in the success of Bitcoin and Ethereum
Use Stacked Deals to find sales and special limited-time offers at your favorite brands AND earn rewards points back on those purchases when you shop with Drop. Download the app now.
6. Shopkick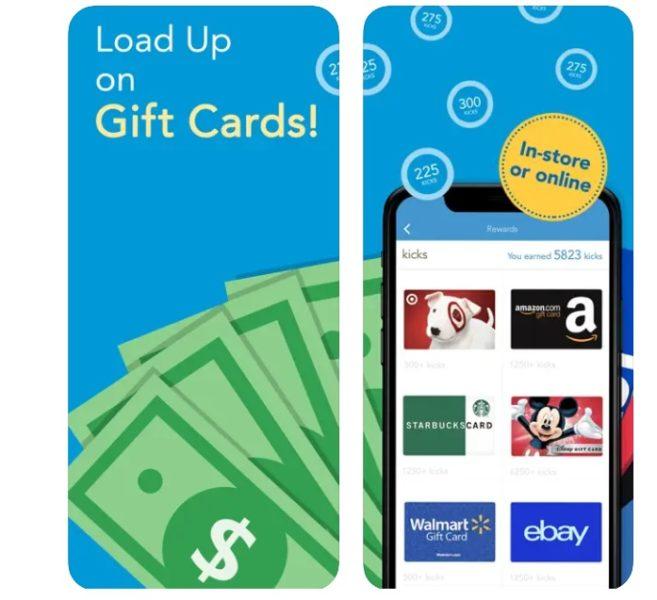 Shopkick rewards you with free gift cards when you shop in Walmart, Target, Amazon, Starbucks and more. Open Shopkick when you're at home, the grocery store, or the mall and start earning points Redeem those points for gift cards and over 20 products to choose from. You can even donate your points in charity. It's easy to earn points and get rewarded for your everyday online and in-store shopping. Download the app all free from iTunes store and requires iOS 9.0 and up device.
7. Shop savvy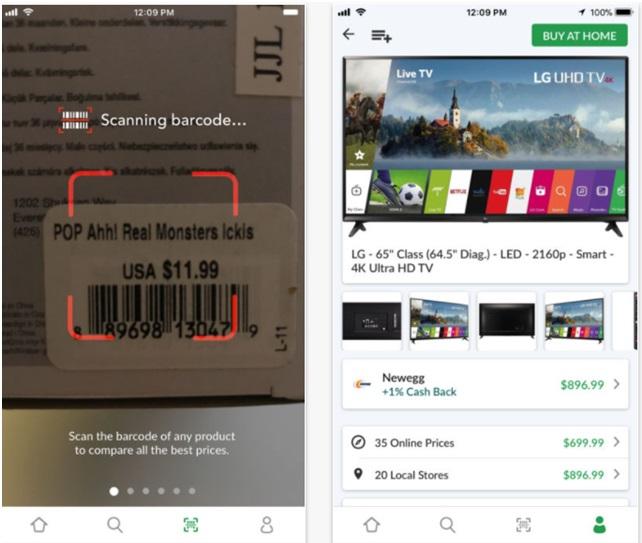 Shop savvy is actually a bar code scanner app that helps you find the right product at the right price so you'll never regret a purchase decision again. Also you can compare prices to save some dollars and shop online & in-store deals from hundreds of popular retailers with over 400 categories of products.
Also shop online and in-store deals from over 20,000 retailors including, Best Buy, Amazon, Target, Newegg, and Walmart. If it's on sale out there, you'll find here in this app and also earn cash back. Get this app all free from app store and requires iOS 10.0 and above iPhone.
8. Pocket Flip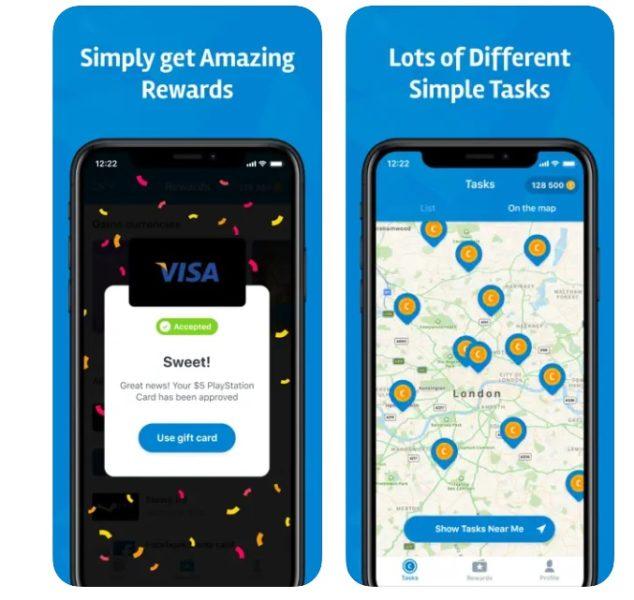 PocketFlip is the top app to to collect gift cards by taking pictures and completing surveys with your iPhone. To earn your gift card you need to follow the instructions like taking one or more photos and answering a couple of questions. For each task you can collect Coins worth up to $10. Once you collected enough coins, you can redeem them in the selection of unlimited gift cards like at Amazon, Steam, Xbox Live, Playstation, Starbucks, Google Play and many more. Download this app free from iTunes store and requires iOS 8.0 and above iPhone device to operate.
9. ibotta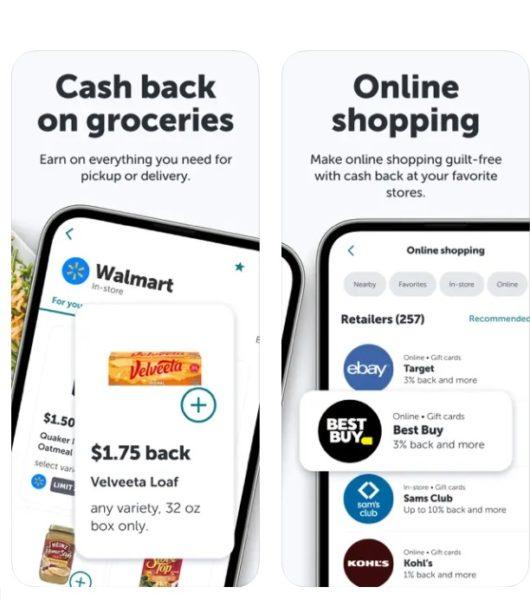 This app is a bit different where you make the purchase first and then you upload the receipt afterwards and Ibotta pays you cash back on many items, mostly groceries. You cash out once you reach the $20 mark either through PayPal or a gift card. ibotta works with leading brands and retailers to help you save money without the hassle of traditional coupons, discounts or promo codes. Their customers have earned over $220,000,000 in cash back. Download this free app from app store and need iOS 9.0 and later iPhone.
10. Gift Card Granny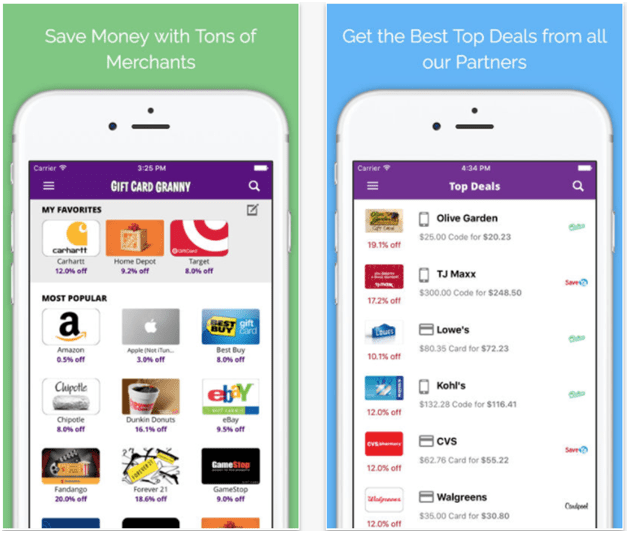 Another great app is Gift Card Granny and is an app that shows you things that are for sale for less than their value. You can shop for gift cards less than their value. You can save 21 percent for Fandango gift cards for movie ticket savings and 14 percent on Starbucks cards.
Beyond buying discount gift cards, the Gift Card Granny app will find you the highest bidder for any gift cards you want to sell. In fact, you can complete the whole transaction directly from your phone! If you're out shopping and aren't sure how much you have left to spend, the app provides everything you need to check your gift card balances as well. Download this app all free from app store and needs iOS 9.0 and above phone to work all smooth.
Besides these ten best apps there are many more like Qapital that helps you save money. Now choose the one you find best for your need or that you need most and see a significant change in your savings.
Here's how you can save more dollars and go ahead financially healthy at casinos:
– Use Coupons
– Always Look for Savings Opportunity
– Take Advantage of Cash Back Offers
– Search for Right Investment Plan
– Maintain a Balance between Earnings and Spending
You can select from hundreds of casino coupons like no deposit, match deposit, free spins, cashback and others when you play slots, blackjack, roulette and other casino games in real time. If you are worried to lose the game you can use cashback bonus.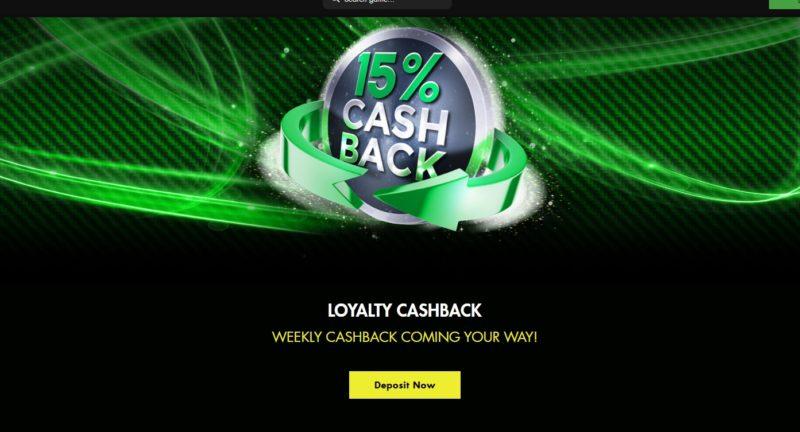 Cashback is some return to the client of the lost money. The amount of cashback is calculated by the total amount that the player left in the casino account. The second parameter is a certain percentage, stipulated in advance by the rules of the action. It may depend on different criteria:
Like your status as a player, this means how often you play at the casino . Also the online casino sees your casino activity and your amount of loss and so on. For example at Play Croco online casino you are offered 25% cashback bonus. Infact the casino gives you between 25%-40% back on busted deposits as part of his CrocoReload promotion. Cashback amount is based on your level. Just get in touch with their ripper customer support team to claim this offer. 
There's no maximum cashout amount which means all winnings are yours and the playthrough amount is set at 10x. You can also claim this awesome promotion anytime and from anywhere.
Following these simple money savings tips will help you spend less and save more.