"A Penny Saved Is a Penny Earned"- Benjamin Franklin
Money Saving Apps are easy to install. Many of them are free to download and few may cost few cents or dollars. Gone are those days when parents used to hand me an earthen "Piggy Bank" and asked me to drop a coin daily. As a kid at that time I never had any value for money, in fact I didn't knew what money exactly was. When I grew up, my parents never taught me about money in a formal way.  We never talked about money so for most of my childhood learning about money was mostly informal.  My main focus was to have a candy, a pastry, a swing at the merry go round and play. I only knew that to get all these wishes fulfilled my parents had to give something to get it and was called "Money".
It was when I went to college that I started valuing money. I came to know how important it was and without it survival was not possible. Actually it was an incident that made me more thoughtful for money rather my economics books. There was poor man lying in street with torn clothes and ill with fever begging for money. I had to stop and ask him for his condition and he said he had no money and no shelter. Though I and my friends did our best to look after him but that also gave us a lesson to earn and save money.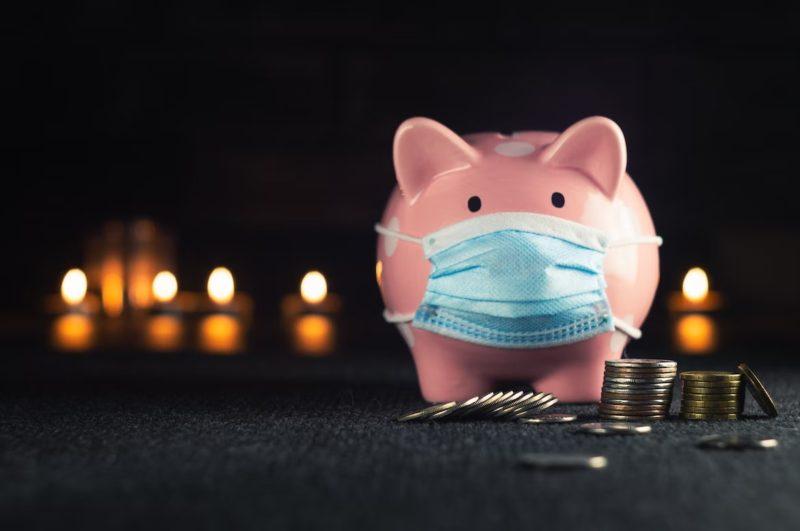 I appreciate Walt Disney who created "The Silly Symphony" based on the story of The Ant and the Grasshopper, one of Aesop's Fables describing how a hungry grasshopper begs for food from an ant when winter comes and is refused. The moral of the story: save money with virtues of hard work and plan for future.
You will be shocked to know how much does a person save in America. According to a survey by Bankrate, 76% of Americans are living paycheck to paycheck. The survey unfortunately reports that 50% of Americans have less than a 3-month cushion in their savings account and 27% have no savings account whatsoever.
One in five people near retirement age has absolutely nothing saved for retirement, according to the Washington Post.
For many it is not easy to save. Mostly being under some loan debt, paying high bills, spending on health expenses or any other reasons that don't help any savings.
But if you've tried beefing up your savings account by finding ways to save money or earning extra money to stash away, and still haven't been able to meet your goal, try turning to technology.
According to Pew Research 61% of American adults have a smartphone. But don't be surprised if it shows that 55.8% Americans do not use available tools for saving money.
Effective money management is essential, and with dozens of budgeting apps just a few clicks away on your smartphones. The only thing is to interact and start with these apps. Here find 26 apps that will save you lots of money start using and save for later use.
1. Mint App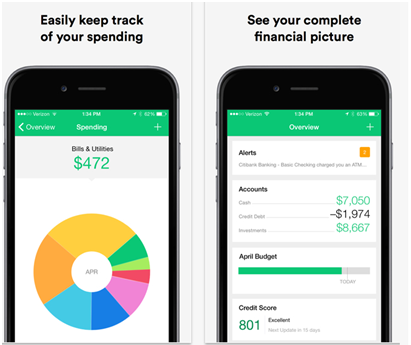 Mint is a money manager app that allows you to keep track of all your financial activity from your accounts: checking, savings, retirement and much more. Every transaction is automatically recorded and categorized. Mint makes note of your spending patterns and creates a budget. If you are using on your iPad, it helps you generate graphs to give you visual representations of your net worth and cash flow.
The app is password protected and secure. Also there is a way to deactivate access from your phone through the Mint website if you wish to. What a wonderful way to have finances under your control.
2. Bill Tracker App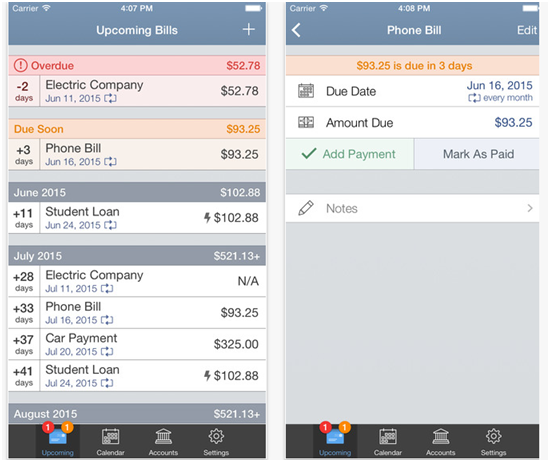 Available in English and Spanish this Bill Tracker App will never let you forget any bill payment. This Passcode-protected app allows you to keep all due dates and amount totals in one place and even gives you notifications for impending payments. Due dates are highlighted on the calendar for quick views
3. You Need A Budget App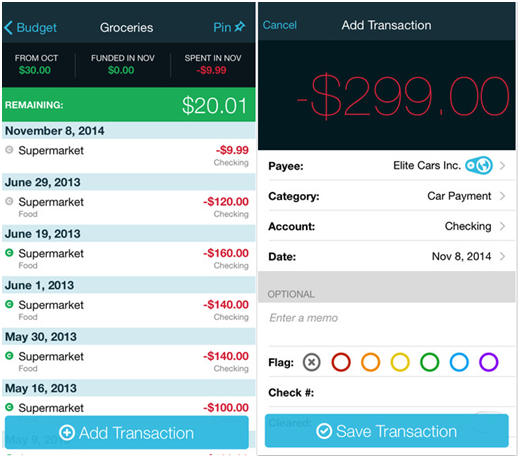 You need a Budget App is a stress free money management app where you can check your spending, know your future balance before making a purchase, save for future and shift money where you need. Have a better understanding of your finances and budget.
4. Shopkick App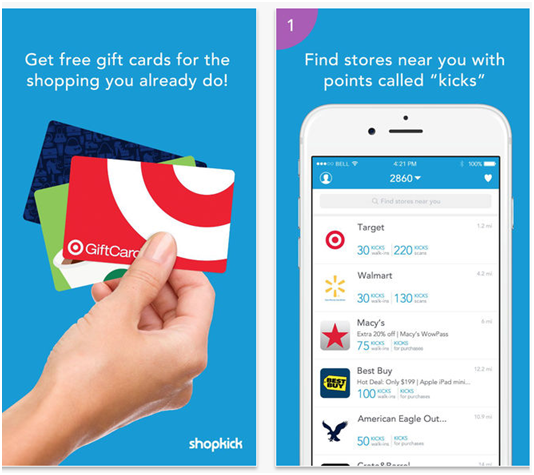 Shopkick is popular shopping app where you can browse products, discover great deals at stores and earn cash rewards. Earn points by making purchases invite friends to join. These points can be transformed into gift cards at partnering stores. A great way to start saving while shopping.
5. Ibotta App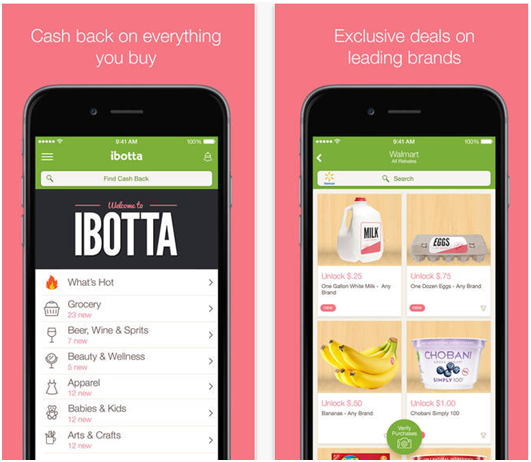 With Ibotta you can shop and earn real money. Choose from their gallery the product you wish to go for and if you share on facebook, or take a poll or watch a video pending cash is added to your account that can be accessed once you actually purchase the product from one of the 50 retailers partnered with Ibotta. Once the purchase is verified, cash is put into your PayPal account or turned into gift cards.
6. Retail Me Not App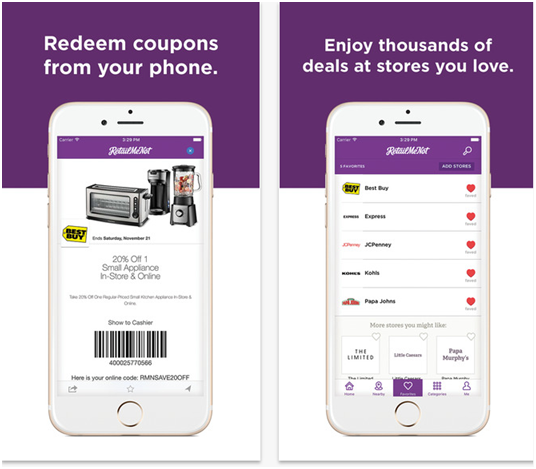 Retail Me not is a shopping app where you can search for the great deals and coupons from over 50, 000 retailers like J Crew, Victoria's Secret, Starbucks, Target, Sephora, Bed Bath & Beyond to name few also can enjoy exclusive food offers at thousands of local and nationwide restaurants.
Save the coupons you want to use for easy access and get notifications for coupon expiration dates. Don't worry about printing the coupons; all you have to do is show your phone at the register. Not only this you can shop for Weekly Ads. View the hottest deals of the week, Black Friday leaked ads and more right from your phone and save money with confidence.
7. Snip Snap App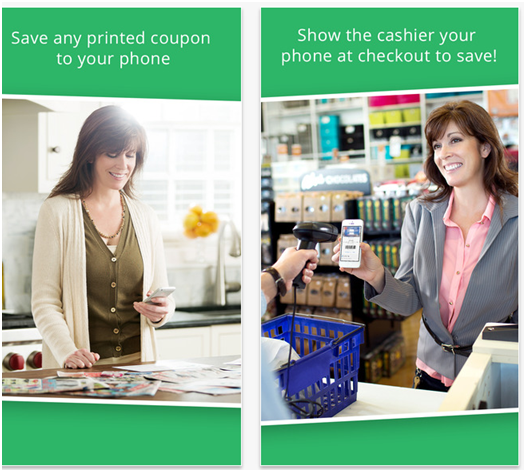 With SnipSnap app you can make full use of the mobile coupons for shopping. You can also take pictures of printed coupons from many retailers and turn them into digital, mobile-ready ones. On the online directory you can also browse and find the coupons your friends have clipped lately. Also you can ask "Scout" your personal saving assistant to help you find best deal and match your choice.
8. Grocery iQ App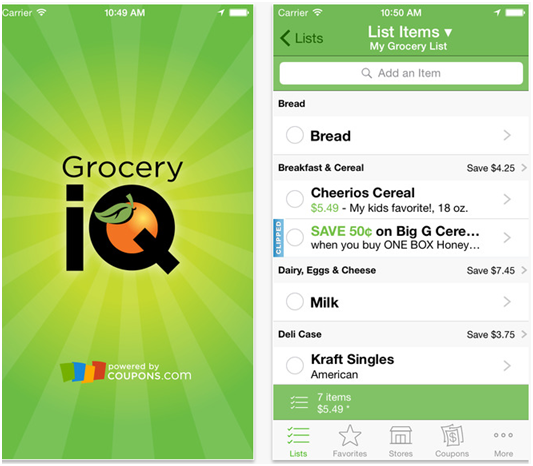 The grocery iQ is a comfortable App offering you a detailed grocery shopping list to create for your own. You just have to search through the millions of products in the app's database and start with a click. Also you can use voice recognition or barcode scanning by pointing camera at the products you want to add. Grocery iQ also has a store locator feature to add your loyalty cards and also offers best coupons. You can control your grocery budget with this app easily.
9. Saving Star App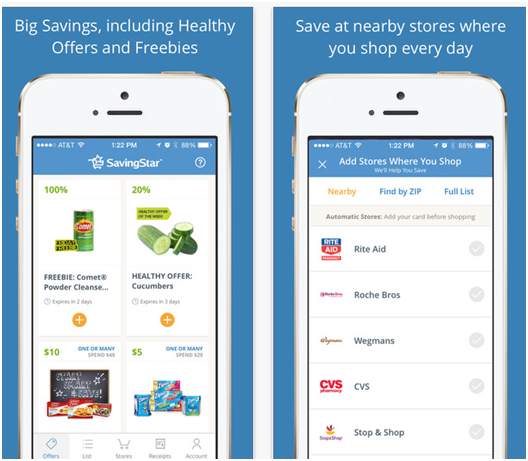 SavingStar is a digital coupon app for thousands of grocery stores and drugstores (also can be linked to your individual store loyalty cards). You choose the digital coupons you want to use and the reward is applied to your loyalty card and when you reach $5 in savings, you earn cash!
You can save 20% on fresh produce with Healthy Offer of the Week (bananas, apples, tomatoes and more). Get freebies such as pasta, candy bars, tuna fish, sugar, baking soda or more and cash out to your bank or PayPal account, to various gift cards, for as a charity for a cause. For select stores, take a picture of your grocery receipt using the app and save smartly.
10. Groupon App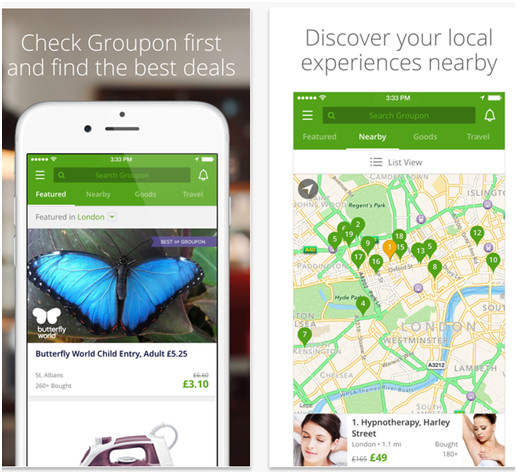 This App helps you redeem Groupon deals as much as 50-90% off on everything from restaurants to retailers to hotels. You can search by location to find deals closest to you. Groupon consistently offers great, diverse deals and they even have options tailored for the holiday season. Here it is just what you wish to have, every type of deal is available to use immediately.
11. Living Social App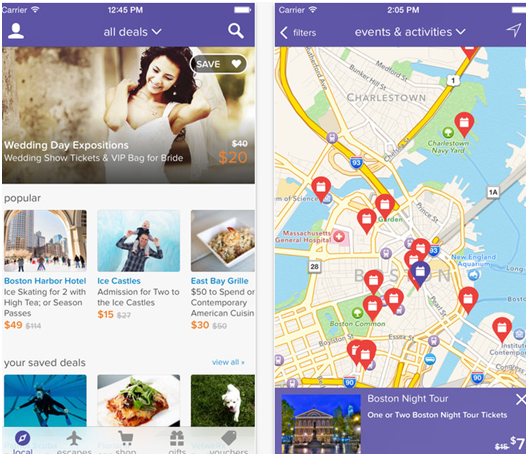 With Living Social App you can save up to 80% on amazing events, activities and products of your choice. Search for amazing discounts in your own city and get alerts on fun local events. Save on hotels, restaurants, and other places. Plus if you share a discount you received on your social media accounts and three of your friends purchase the same deal, you'll get yours free of charge. You can enjoy a lot more with this app.
12. Amazon Local App
This app lets you use your Amazon account to discover and purchase top-rated experiences near you. Find great travel, food, and beauty offers, as well as limited-time deals. You can save upto 75% in your city. You can view and buy offers from local businesses in seconds, whether it's a special chef dinner, a luxurious massage, or a boutique hotel. Like the other discount apps mentioned, there is no need to print out coupons or vouchers.
13. Scout Mob App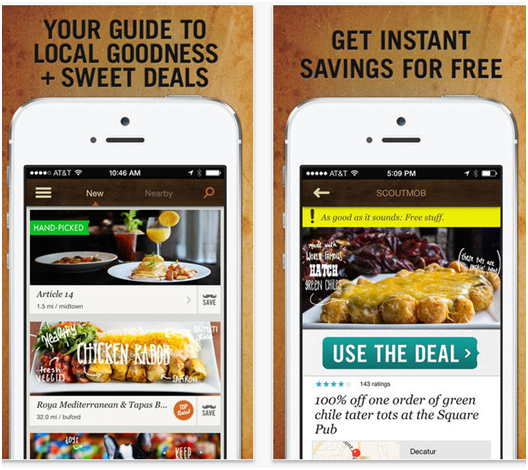 The Scoutmob iPhone app is your mobile guide to local deals, events, restaurants and whatever else is worth exploring in the following places (as it is available for these big cities only)of Atlanta, Austin, Boston, Chicago, Dallas, Denver, Los Angeles, Nashville, New York, Portland, San Francisco, Seattle and Washington, DC.
In addition to finding great discounts at different eateries and shops, you can also search through articles and other local happenings may it be bars, cafes and other spots. You can also save interesting deals to your My Stash list for later use.
14. Debt Tracker Pro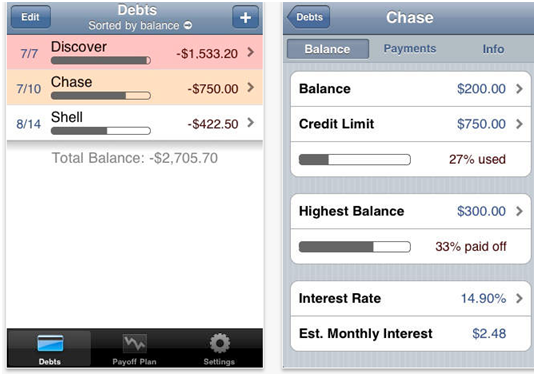 Best app for those to pay off plan their debt. This app can help you keep track of your road to financial recovery. Choose one of the built in strategies for overcoming debt or create yourself one and also get a visual reminder of how close you are to your goal. You can track your credit limit, balance, due date and payment history all protected with a passcode.
15. Viggle App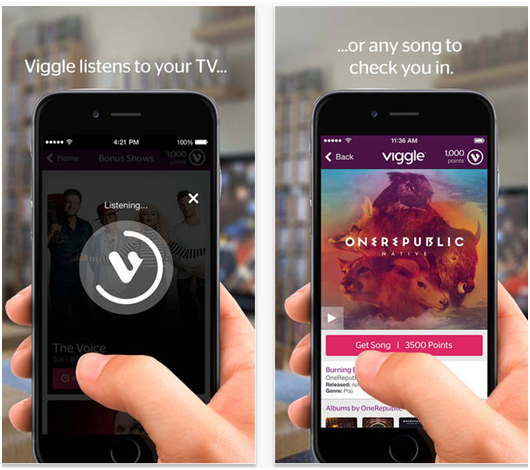 How about watching your favourite TV Shows and getting points for saving. This is what Viggle app do for you whenever you're watching TV or listening to music. Watch and earn points to be redeemed for rewards from Starbucks, Barnes & Noble, and other great brands. You can earn additional points by testing your television IQ and playing games. The app also allows you to interact with friends. Open Viggle daily to find featured shows and songs for 4X, 6X, 15X points.
16. Gas Buddy App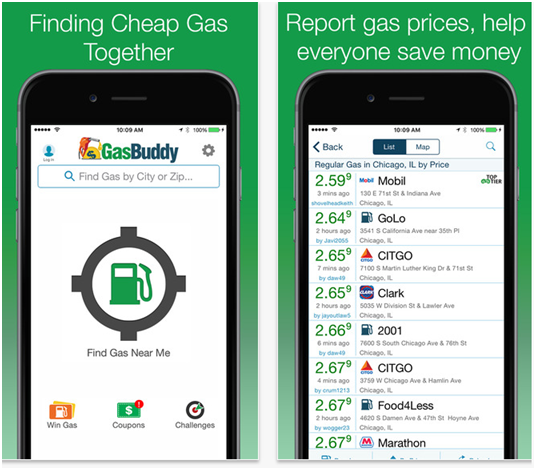 With Gas Buddy App you can have the best deal for your vehicle. Find the cheapest gas prices closest to you. Get a chance of winning $100 of gas every day, Additionally, for every gas price you report, you earn points towards winning the weekly $250 prize for gas and also save money every time you fill up at the cheapest stations.
17. Hotel Tonight App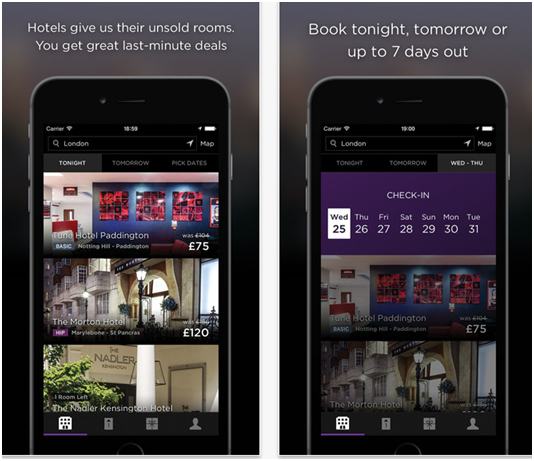 Finding top rated hotels at the last moment of your journey this app works wonders for you. Helps you find incredibly low prices on last-minute hotel bookings internationally. You can arrange same-day bookings until 2 a.m. and for multiple nights. This service is a lifesaver for everything from unexpected layovers to spontaneous vacations with family and friends. Hotel Tonight app is constantly updated with new locations and has 24/7 customer support to answer your queries.
18. Compare Bookings App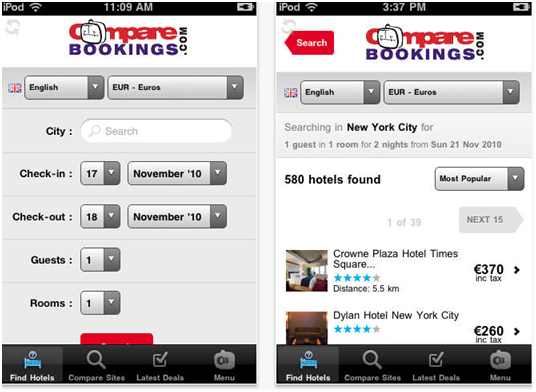 Compare Bookings works on three main channels: Hotel Search Engine- let you search for hotel options wherever you are, Compare Travel Sites- you can compare deals from all the best travel sites (like Priceline, Travelocity, and Expedia), Up to date Deals- you can also find promotions for cruises, car rentals, and other travel expenses. Best App to save money and comparing the discounts.
19. Best Parking App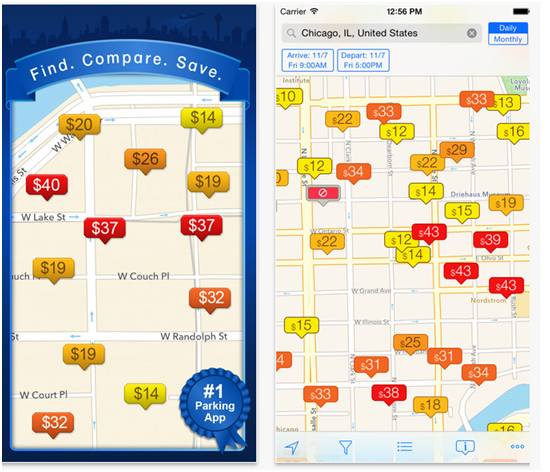 With this app you can find the cheapest and most convenient parking facilities in 105 cities and 115 airports throughout North America and save hundreds of dollars. Will help you avoid parking garage rip-offs by directing you towards the closest and cheapest parking options. And if you find any report of inaccurate pricing in the app it is backed up with a $5 Starbucks giftcard. Also find Coupons, discounts, and reservations for garages. Find the best parking option before you pull up your vehicle.
20. Expensify App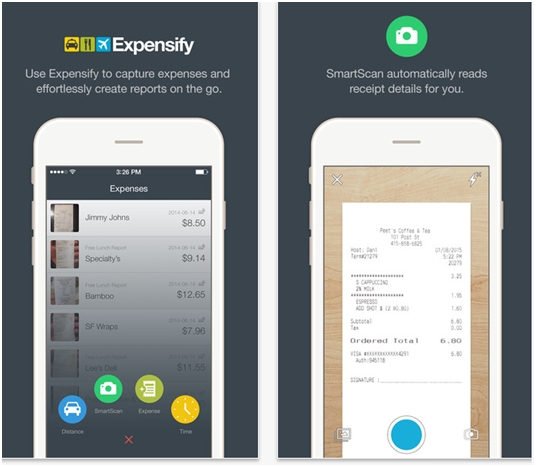 Expensify App helps you run your business. It is ideal for salespeople or traveling business people. Photograph receipts, keep track of miles traveled, and record other travel expenses all on one platform to make your life a little easier. The great part about the receipt photography is that the app is able to read the values on the receipt so no manual entry is necessary. If you're no good at keeping track of your receipts, you can also import credit transactions digitally. Also supports worldwide currency and automatic currency conversion to make things easier.
21. Acorns App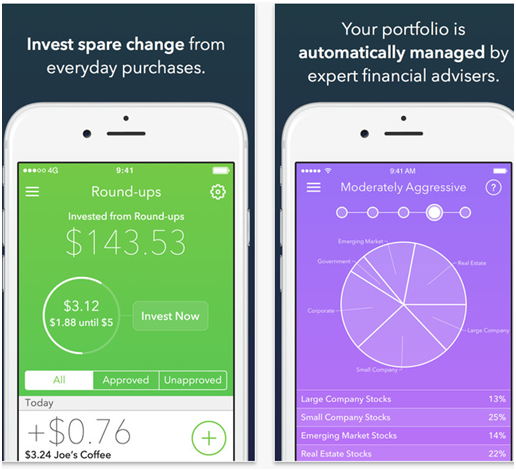 This app not only helps you save money, it also helps grow your money too. Connect your credit cards, debit cards and checking account to Acorns, and it'll round up every purchase you make to the next dollar, then invest the spare change in a low-cost exchange-traded fund (ETF). Invest in one of six portfolios, depending on your time horizon and risk tolerance, and withdraw your money whenever you like.This app helps you follow good principles of investing, like patience and diversification, without having to think about it.
22. Gamefly App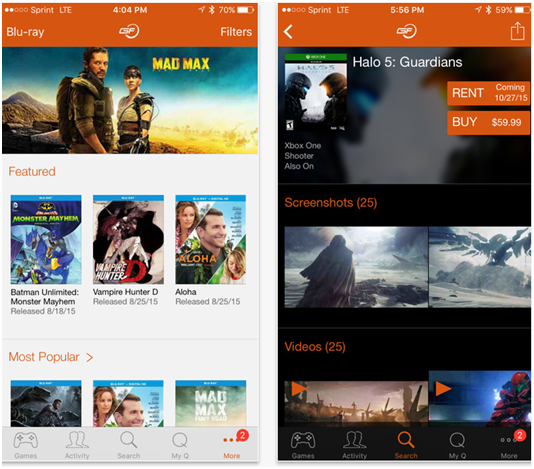 The GameFly App is an incredible resource for gamers with info for more than 50,000 console and handheld games! Get the games you gotta' have on the go: pre-order, rent, Keep, buy new and used, or save items to your Cart for later. Rent the latest Blu-ray and DVD titles. Earn GameFly rewards and use coupons to save you even more money. The "Game of the Day" app is particularly nice feature that highlights a free or discounted game every single day and lets you connect with other gamers.
23. Onavo Extend App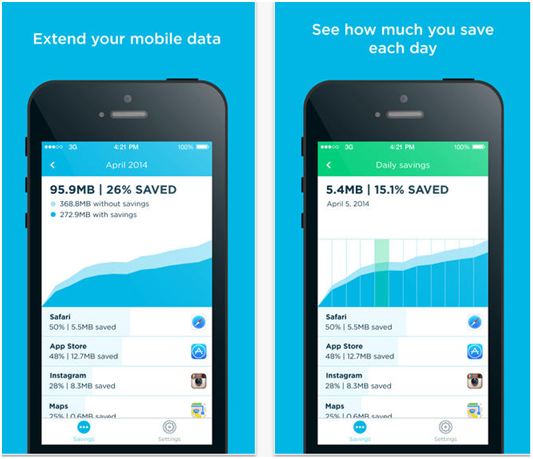 Onavo Extend saves your mobile data so you can do more of what you love on your phone without spending more on your bill. It compresses all the data you download over 3G, EDGE and LTE, including images and texts. Onavo Extend allows you to not only keep track of your data expenditure through monthly reports but actually compresses your data and extends your plan. It can save up to 80% on your data usage.
24. GoodRx App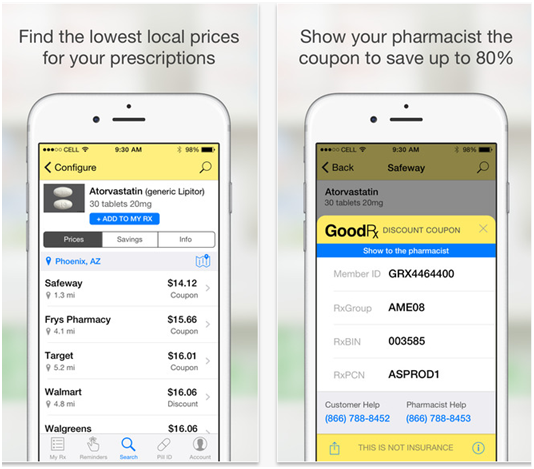 GoodRx App makes comparing prescription drug prices easy. It provides current cash and sale prices, manufacturer coupons, pharmacy discounts and valuable savings tips for thousands of prescriptions at pharmacies near you. GoodRx tells you which pharmacies have many popular generic drugs for less than $4 per fill, and some where certain prescriptions for free. Just input the medication and zip code, and it'll find the lowest available price; GoodRx claims to save families—even those with insurance—up to 80 percent
25. Handpick App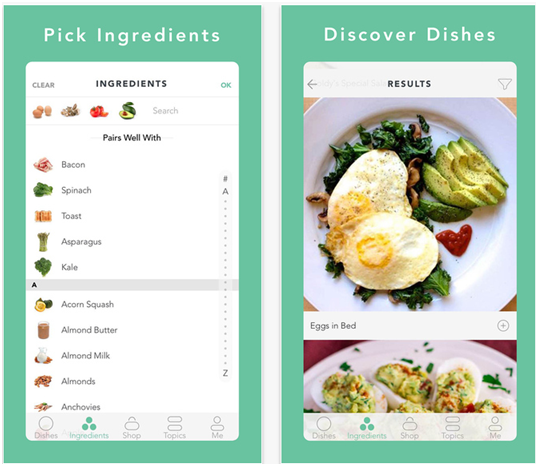 The best saving App for preparing meals and getting 12- 15 whole Ingredients paired with 3 themed recipes so as not to waste any item. Handpick your own recipe, or share on instagram, save cash have subscription service and the bundles start at $5.50 per meal. What else will one look for?
26. Santa's Bag App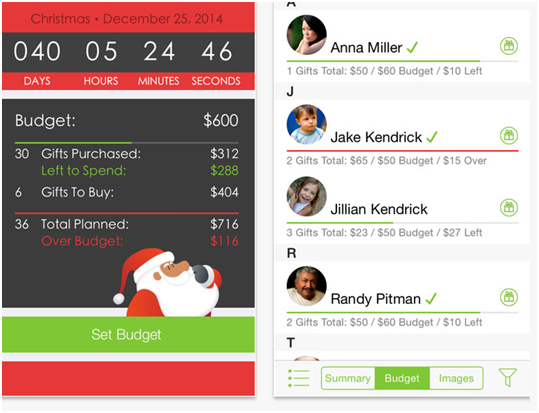 Christmas round the corner. Have the Santa's Bag App and keep track of your gift spending (for Christmas, birthdays, or any other occasion). Import Recipients, Set Budgets, Plan Gifts, Create Wishlists & Shopping Lists, Track Progress, Share – and so much more. Each step is carefully designed to make sure you don't forget anyone or anything. Christmas shopping has never been easier or more fun by setting a budget for each person on your list.
For more money saving apps click here
These apps cover from your daily needs to travel, business and entertainment. Latest you will find WinMeNot App which is unique app developed just for you to save money while playing casino games. It offers casino coupons and their promo codes that you can use at the casinos and save money. This is something new. You will have to check out daily at winmenot.com for details.
Why not make life easier with these apps and save for future.
Best Money Saving Apps 2022 🤑

Wonder which apps lead the growth among different finance categories? Find out answers from our analyses of the 2021/2022 Android download apps 👉 https://t.co/P35n68pStk pic.twitter.com/PItNdDArQ0

— App Radar (@appradar_com) June 21, 2022