Are you looking to spend a memorable weekend with your spouse or partner? There are many options that too unique to stay at like stay in a treehouse, a tepee or one of the below mentioned unusual places.
Treehouse Hotel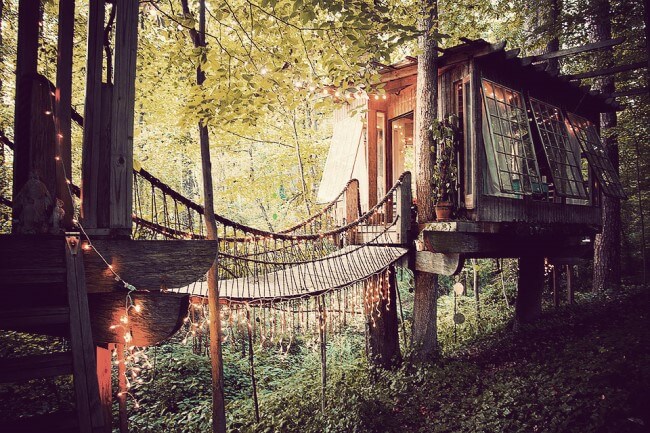 Just a few minutes from downtown Atlanta, this Treehouse Hotel features three separate rooms, each linked by rope-bridges. The bed consists of wheels so it can be rolled out onto a flat platform to watch the stream below.
Romance by the Sea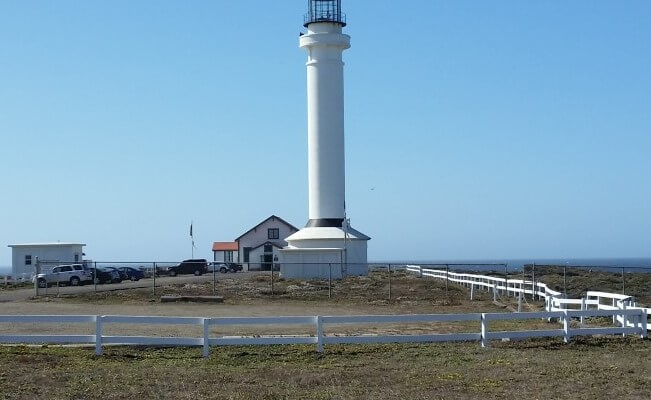 With splendid views of the rugged North Coast, The Keeper's Room at the Lighthouse is the ideal romantic retreat for you. This hotel has a private room and bathroom are placed in the backyard of the head lightkeeper's house, which earlier housed the head lightkeeper and his family when the lighthouse needed onsite management. You may not be sleeping in the lighthouse, you will be able to take a free tour of the lighthouse and museum once you plan to stay here.
Fire Tower in the Forest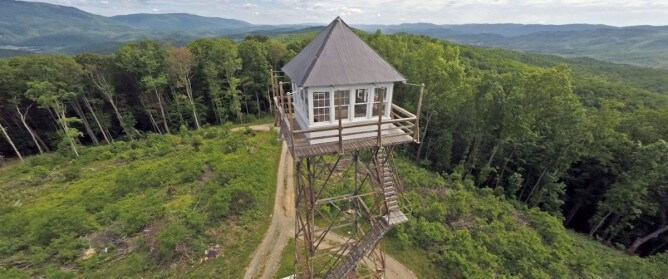 Based in West Virginia's one of the oldest state forests, Seneca State Forest borders the amazing Greenbrier River. This park features hiking and biking trails which are spread across 23 miles and is the perfect site for the adventurous couple. In this forest, the best thing to talk about is the Thorny Mountain Fire Tower, which is the best and most tranquil escape if you wish to visit a romantic and cool place. Here you can rent the tower overnight and get a star-gazing experience which will remind you of your tryst with this place forever. This is a 14-by-14-foot space having living and sleeping quarter ideal for two.
Luxury Royal Scotsman Train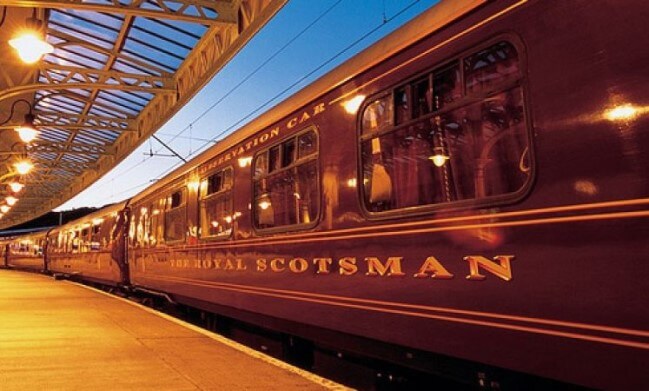 This is yet another amazing place to think of. It is time to discover Scotland's spectacular countryside aboard – the luxury Royal Scotsman Train. Running through the Scottish Highlands, you and your partner can go cozy and cuddle up and enjoy views of quaint villages and large lochs. All the en-suite cabins are equipped with a separate bathroom with shower, a full closet and a service-call button for any sudden midnight snacks and champagne refills.
Paws Up Resort in Montana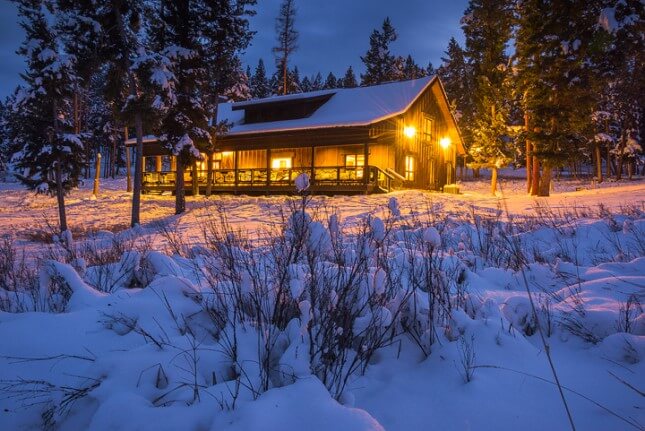 If you want to encounter a hot soak in the tub with some cold champagne, the best place is the Paws Up Resort in Montana. Every glamping tent is coupled with real beds covered in fine linens, en-suite bathrooms, personal chefs and also butlers. You can enjoy a romantic and luxury stay away at a remote place.
Tepees and Vintage Trailers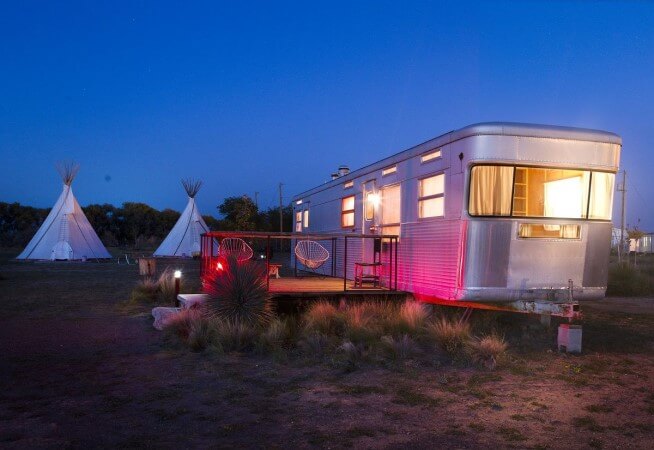 If you want to live a memorable experience with your honey which you cannot forget very soon, stay in a tepee or vintage trailer at El Cosmico. It is a 21-acre nomadic hotel and campground in Marfa, Texas. This 22' round tepee has enough space for sleeping or romantic dancing around the fire. If you'd like to stay within more sturdy walls, stay in one of restored vintage travel trailers which features plush beds, bathrooms, and kitchenettes.
Studio Apartment in Stockholm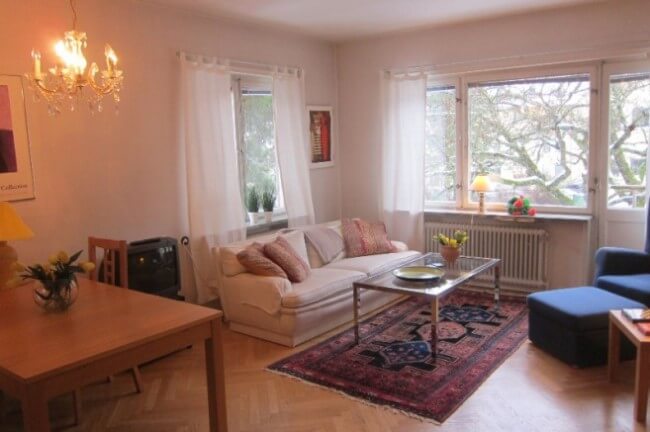 This place is ideal for a travel-loving couple. It is a cozy rental located in Stockholm which can turn out to be an ultimate romantic getaway. This studio apartment is located next to the runway so you can catch some amazing panoramic views of planes taking off and landing. This apartment was designed by the Swedish artist Cilla Ramnek, which is a fusion of 1960s retro with the classic elegance of Swedish interior design.
Love Yurts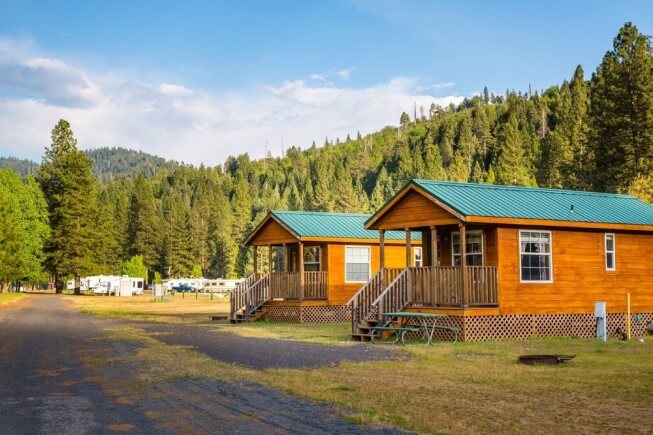 Do you love yurts? You can plan to add a little adventure to your romantic weekend by staying in a yurt. You will get almost every creature comfort here. These yurts at Yosemite Lakes RV park are equipped with microwaves, a mini fridge and a coffee maker for your comfort and modern stay.