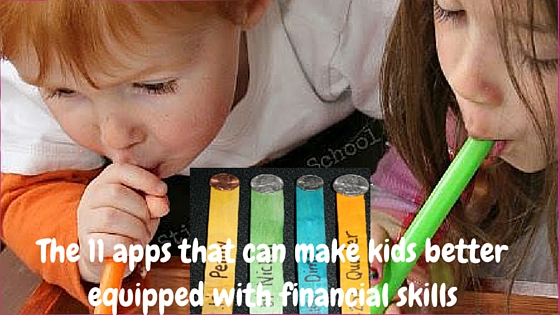 Talking of kids handling money we often pose this question as at what age should a child know the value of saving and spending wisely. Teaching kids sound financial habits at an early age gives them the opportunity to be successful when they are an adult.
Warren Buffet the famous Billionaires in the World shares his advice with kids as part of his Secret Millionaires Club-
"I think parents need to start teaching kids about the importance of managing money at an early age. Sometimes parents wait until their kids are in their teens before they start talking about managing money when they could be starting when their kids are in preschool". Secret Millionaires Club can help kids develop the right habits that will serve them well for the rest of their life. If this program can have some effect on youngsters and help them develop better habits on money, it can have a major impact on their life when they are older.
He further adds, "My dad was my greatest inspiration. He was my hero when I was 6 and he is still my hero now. He is an inspiration to me in every way. What I learned at an early age from him was to have the right habits early. Savings was an important lesson he taught. I had all kinds of small businesses when I was growing up. When I was 6, I started my first business. I bought a six-pack of Coke for 25 cents and sold the cans for a nickel apiece. I also sold magazines and gum door to door.
But not all dad's in the world are like Warren Buffet's. Most of our parents have an attitude that their child will understand the value of money by its own.
Also basic A-B-C of "Finance" is not taught in schools. The fact is there is no class at school level to teach kids about money and its aspects.
It is important for next generation to  avoid the mistakes of their elders, and to live financially fit lives, they need to be taught the essentials about money," says Beth Kobliner, author of the New York Times bestseller Get a Financial Life, and a member of the President's Advisory Council on Financial Capability who spearheaded the creation of Money as You Grow, which offers age-appropriate money lessons for children.
"The sooner parents start taking advantage of everyday teachable money moments (for example, give a six-year-old $2 and let her choose which fruit to buy), the better off our kids will be. Parents are the number one influence on their children's financial behaviors, so it's up to us to raise a generation of mindful consumers, investors, savers, and givers."
Many studies show most Americans agree financial education is a good thing, yet it is not taught in most schools.
A 2014 survey by the Council for Economic Education found only 17 schools require high school students to take a personal finance course, and only six require them to be tested on these concepts. While the White House cannot mandate that financial education become mandatory in schools, the advisory council is encouraging cities and states to look at other model financial education programs.
In 2012 San Francisco's Kindergarten to College program is one example that has shown significant promise that every child in kindergarten in the city's public schools is automatically given $50 to deposit into a college savings account. Parents, family and friends are encouraged to save in the account as well.
These are the fundamental responsibility that we as parents, teachers and government policy makers need to understand.
At home when we hand over the piggy bank to our kids to drop in a coin, we should also make use of our smartphones to help kids understand the digital piggybank which can teach kids lot about money and its saving. These mobile apps can help kids raise questions for parents to discuss about saving and budgeting. They are fun filled gaming type apps which all kids will surely love to have.
Below find 11 of such kinda apps that help children learn smart money skills.
1. Savings Spree($5.99)
Recommended ages: 7 and up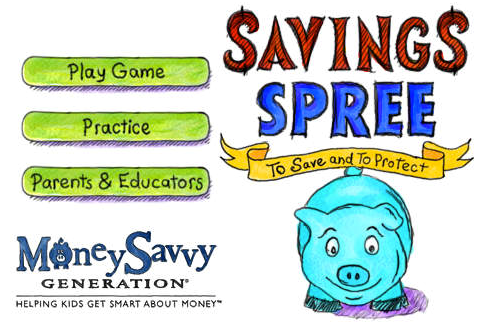 Developed by financial education company Money Savvy Generation, Savings Spree teaches children important finance skills. The app has six games that allow kids to earn money and either save it or spend it in a virtual piggy bank, with the goal of building a nest egg. It's an interactive app that actually allows the kids to frost the cupcakes, so they can see there is an action required to earn the money. By making decisions on how to save, spend and invest their money, children learn the consequences of each money decision.
2. PiggyBot(Free)
Recommended ages: 6 to 8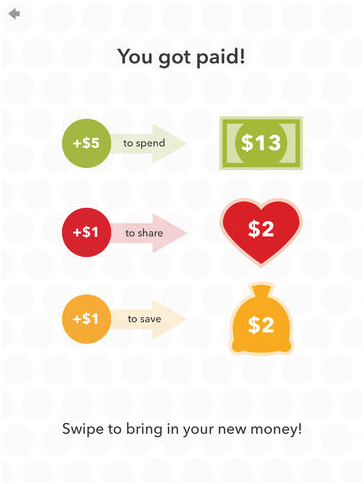 Piggy Bot is a kinda digital piggy for kids. PiggyBot gives children a direct role in managing their allowances and helps them visualize how much money mom and dad give them. A simple, visual piggy bank is ideal for children, since they can see exactly how much of their budget they earn and spend.
3. Green$treets: Unleash the Loot!(Free)
Recommended ages: 5 to 8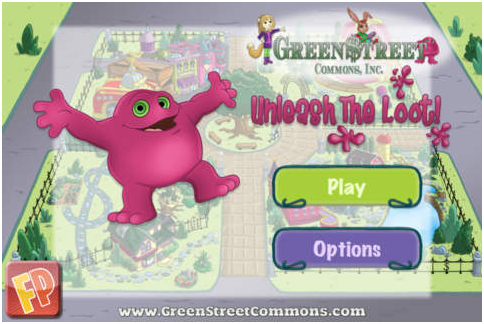 This is a game app where kid has to choose favorite endangered animal while learning financial literacy along the way. He has to earn and save money for the animal and takes this responsibility. They save their money in Green $treets bank where they allocate their earnings among three accounts: charity, savings and spending.
Using a budget, kids can buy an animal food, shelter and toys to play with before the animal is released back into the wild. It teaches the kid how his own dad works and saves money for kid's toys and food. The same emotional responsibility he can drive out of this game and know the value of money.
4. Renegade Buggies(Free)
Recommended ages​: 6 to 11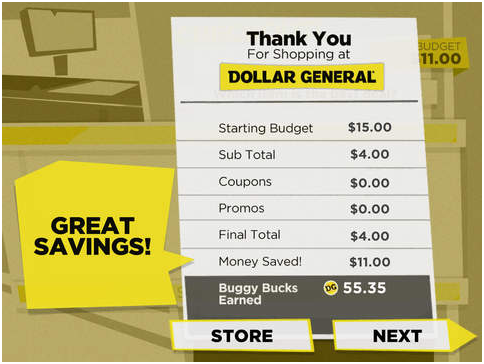 Renegade buggies is a fast-paced shopping game that challenges children to save as much money as they can. By racing a shopping cart at top speed down the street and picking up dollars, coins and products along the way, kids get to work their reflexes as well as their math skills in this highly interactive app developed by the National Center for Families Learning and supported by the Dollar General Literacy Foundation.
Once they complete the course, their next challenge is to figure out which items on their list give them the best bang for their buck. If they take too long or miss a money-saving opportunity, a pop-up message steers them in the right direction.
5. FamZoo(Free)
Recommended ages: 13 and older. Parents may track purchases for children under 13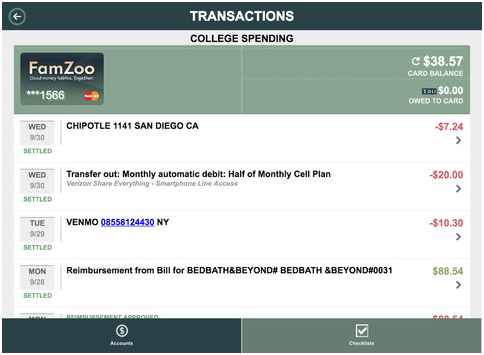 In this app as a parent you have to create bank accounts using prepaid credit cards and then record your child's saving, spending and giving habits. FamZoo tracks​ allowances, money earned through chores, purchases, loans given to children and more. This app gives parents a direct role in teaching kids frugality and responsible budgeting.
6. Motion Math: Cupcake!($4.99)
Recommended ages: 8 and up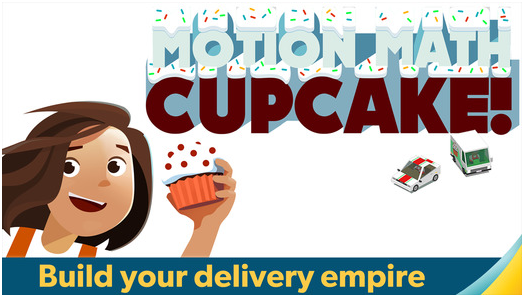 With this app, children can act as business owners and make important decisions to keep their customers satisfied. Kids create cupcakes using ingredients they buy and then set a price for the treats. They are also responsible for delivering orders and managing costs and revenue. Thus it introduces kids to real-world applications of money in a business setting, which is valuable as they grow and start exploring different career paths."
7. Celebrity Calamity(free)
Recommended ages: ​6 and up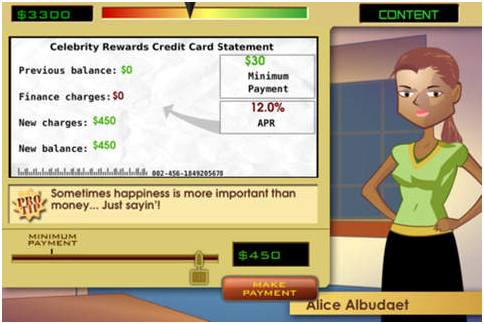 With this app kids act as financial consultants for spendthrift, out-of-control celebrities. The goal is to manage the celebrity's budget to keep him or her from overrunning expenses, while also making sure the celebrity remains happy. In this way the kids can see the consequences of celebrities' saving and spending decisions and thereby relate to their saving and spending habits.
8. Bankaroo(free)
Recommended Ages 5–13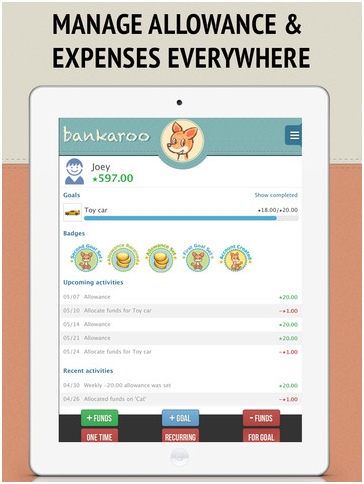 Bankaroo is a virtual bank that helps kids keep track of their allowance and other money. The app was created by an 11-year-old Danielle who realized firsthand how important it was to track her cash after wanting to buy something she saw in a store only to have her dad remind her she'd already burned through her allowance.
Kids enter their virtual allowance amount, set goals for things they want to save for, and debit any funds they've spent. Parents can make one-time virtual gifts, schedule allowance payments or match their child's savings.
As a parent you can keep track of your kids' balance on the go, add and use funds anywhere you are. The bankaroo service supports accounts in multiple languages and currencies, including USD, Euro, hearts, stars, points and many more.
9. Star Banks Adventure(free)
Recommended Ages 8-14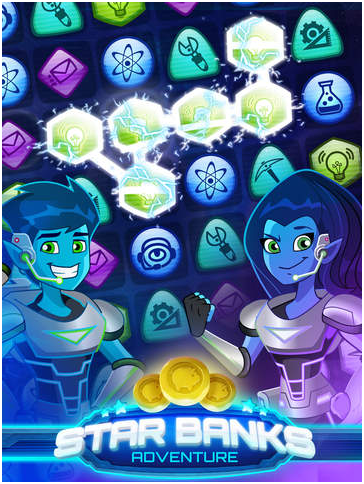 This app seems likeable as Candy Crush featuring boards filled with various tokens that kids can match up to save coins. The challenges get progressively more difficult and include six key lessons: setting a financial goal, saving and spending wisely, asset allocation, inflation and diversification. There are quiz questions like, "What can make it easier to reach a financial goal?" Answer options include "bugging your family for money" or "checking on your progress."
10. Kids Money(free)
Recommended Ages 5 and more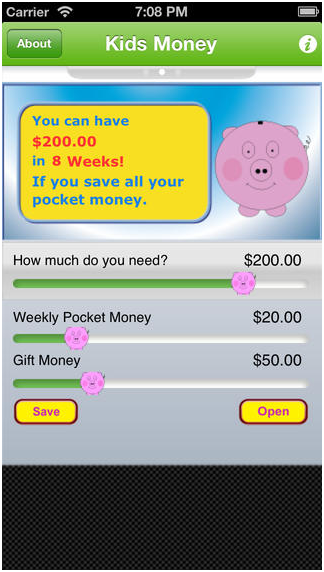 Fairly simple, this app allows users to input the cost of the item that they are saving for (like a bike or iPad), the amount of pocket money and gift money available (from birthdays or holidays), and then it calculates how much the mini consumer needs to save and how long it will take. It's a good one to have on hand during shopping excursions when kids are tempted by, well, everything.
11. The Game of Life(99 cents)
Recommended Ages: 7 and more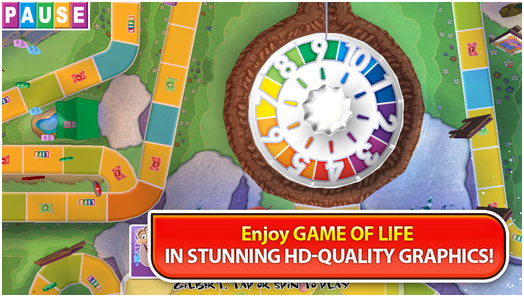 This brightly designed Game of Life app focuses on budgeting, saving and making big purchases in life like college and a house learning starts quite early here. It covers all the life's important stages when you need money, education, house, wedding and retirement. Kids can add your friends in this game and track each other's events. Save money or spend in charity it is all these important decisions that kid's learn to take and maintain a balance.
Remember we can't rely on apps alone to teach kids everything they need to know about money, Apps act as only one part of a solid financial education that should start as early as age five. It is important as a parent to teach kids with day to day practical examples and real moments taking time out and talking with them about money. Do you own your responsibility of teaching your kid about money? Or are you still waiting for their right age? How about starting at once and making them do themselves their physical bank transaction?