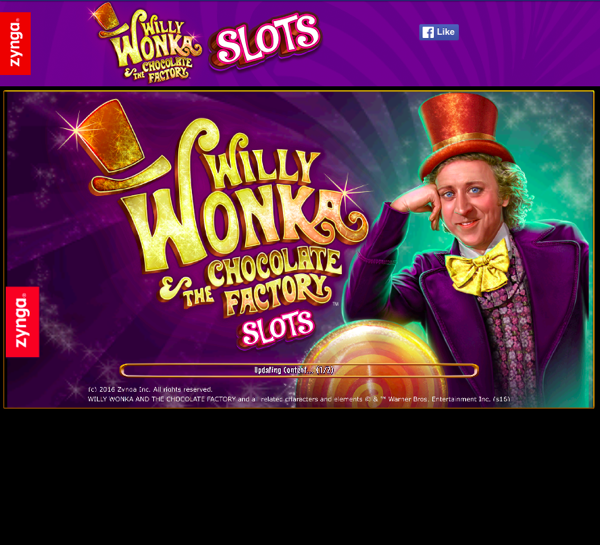 To this day Zynga Slots defends its title as one of the most played slots on Facebook. Zynga have made a killing captivating the imagination of players around the globe. They exploded in
popularity when they became one of the fist slots apps available on smartphones & tablets.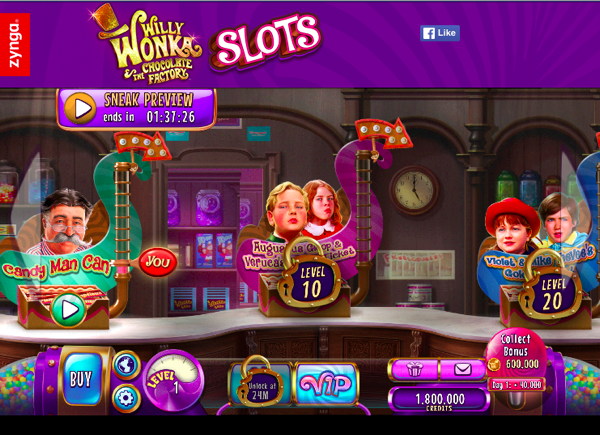 Ever sense then they have won over countless players with their tantalizing graphics; breathtaking games.
We have all heard the hype about Zynga Slots, but is it worth all this praise? In this review I will experience what their games are all about. They have a devote following of gamers, so this will undoubtedly be a spectacular platform to review. Enjoy the most comprehensive review of Zynga Slots!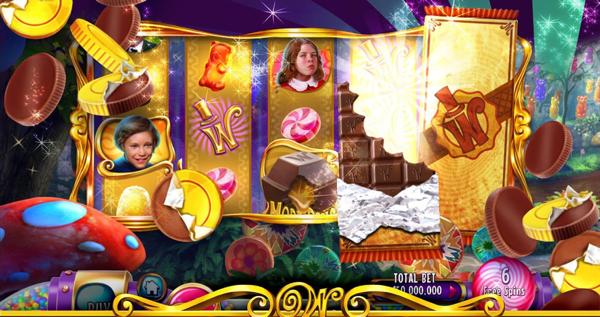 I decided to go with the notorious Willy Wonka Slots. As soon as I clicked the button, I knew that I had made the right choice. Launched in 2015 Willy Wonka slots are popular till date.
Immediately after commencing I was surprised with a sneak preview! I was invited to try out Augustus Gloop Under Pressure.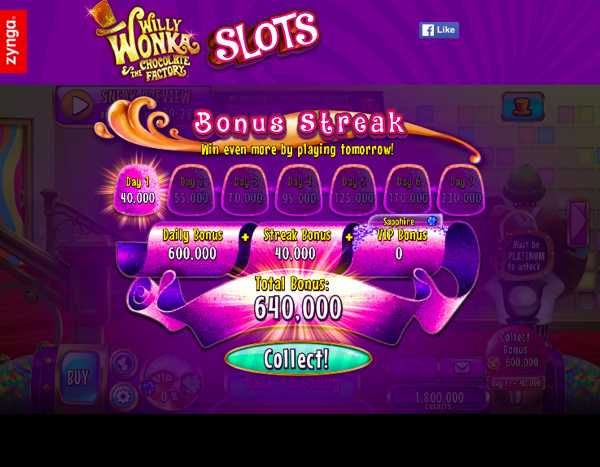 It was only available for a limited time so I obliged. I was sent back to the lobby, where I was alerted that I had a free spin. I jumped on that offer and was awarded 640,000 coins!
After that I jumped head first into one of the most entertaining slot games of all time. The game is truly brilliant. All the movie characters are artfully intertwined into the slots
storyline, giving it an incredibly familiar twist.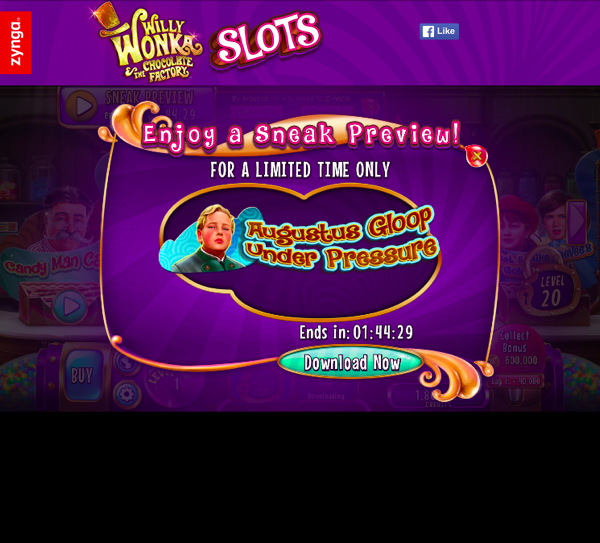 I played until my hearts content, winning everything from golden candy bars to free spins. After finally running out of coins, I decided to take a break. I had been playing for over 2 hours.
Review
Zynga brings you these ultimate exciting free slots games to enjoy an authentic Las Vegas experience with the iconic cast of Willy Wonka and the Chocolate Factory movie!
Willy Wonka App Features
Willy Wonka has some great features
You will find Vegas style casino games that have characters of fun and adventure
You will follow your favourite characters as they go on tour to the fantasy land of factories filled with delicious surprises and candies
As you play so will you unlock new levels of games
You will find surprise in each new level as it is different spot to venture on famous factory with thrilling sound and animation as from a movie clip
There are free spins, jackpots and a huge variety of big wins to have in this app
Also find Wonka Wins and Wonkavator Wins and dozens of bonuses and ways to win big that too all free.
You can collect millions of free credits every day.
You can play the game online or offline and have your adventure sync across all devices with Facebook Connect.
How to get started?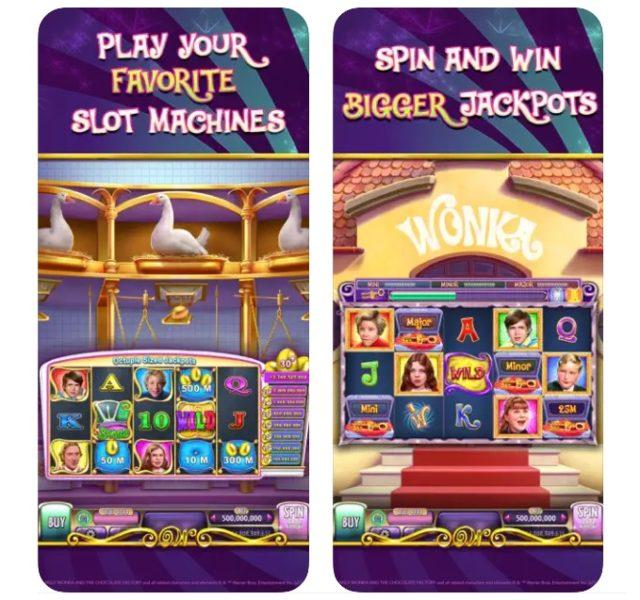 Pick your mobile or any smartphone and get started by downloading the free app or connect with your Facebook account.
Download Willy Wonka app for Android
Your mobile device generates a unique ID called a ZID and Device ID within each Zynga mobile game.
At Willy Wonka and the Chocolate Factory Slots, you're always betting the maximum amount of lines – which varies based on the machine you're playing. However, you get to decide how many of your Coins you want to wager. On the bottom-right side of the slot machine, you will see the "Total Bet" box. Click the right and left arrows to increase and decrease your bet amount.
Every bet made in the casino will increase your XP (experience) bar. The amount you bet per spin will increase your XP by that same amount. The more you play in Willy Wonka and the Chocolate Factory Slots, the quicker you will increase your experience and level up. Your current level is always displayed at the Level Counter, whether you are playing one of our games or are in the Lobby.
While you are in the Main Lobby, you can also see your level/progress in the room by means of the Progress Indicator.
Each win is determined with the amount of bet placed. Depending on the winning combination and winning streaks, the amount of coins that is earned is based on the multiplier that is used in every spin.
Getting winning streaks are completely random. However, the amount of coin winnings per winning streak is calculated based on the multiplier and amount of bet.
Note that this is free slots app and you are offered free coins to play the slot games. When you win you get back virtual wins as more free coins to continue your game play.
How to get free coins?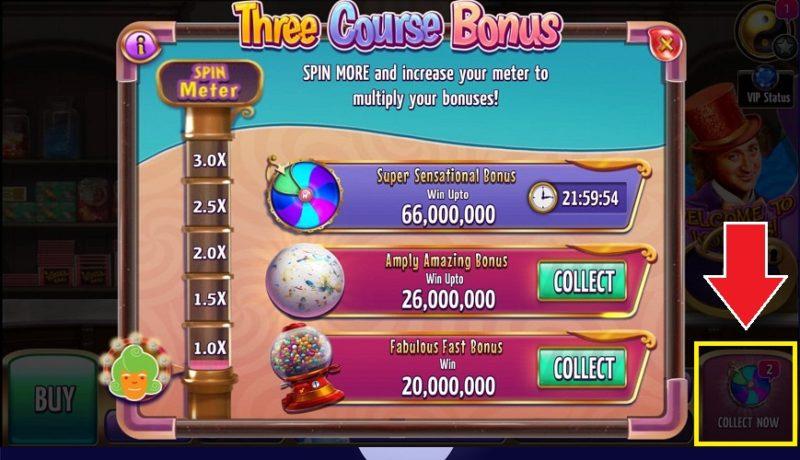 There are number of ways to get free coins.
As a welcome bonus you are offered free coins when you download the casino app.
The app will offer you more free coins through the Three Course Bonuses. Also, as you level up, you'll earn more free coins. Also, you can always buy coins if you want to keep playing.
On the Willy Wonka and the Chocolate Factory Slots page, you will see the BUY button located at the bottom left side of the page. If there is an on-going promo, you'll see it as the SALE button. This option allows you to choose from a variety of Coin packages. When you select the package you want, you will be given payment options that Facebook provides. After completing all the necessary information and confirming your purchase, the Coins should show up in your game within a minute.
Even when you are playing, you can purchase coins while inside the room/machine. Once your game detects that you don't have enough coins you will get a prompt to make purchase for additional coins, or if you just feel like adding more coins, you can click the Gear Icon and select Buy Credits.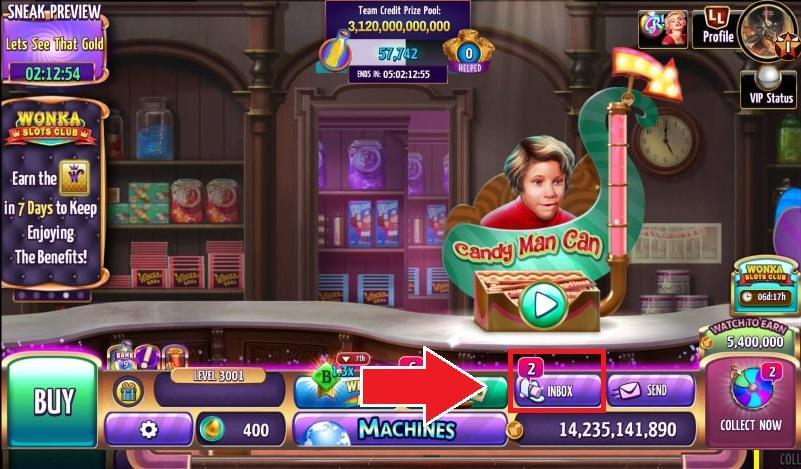 Wonka's Perks allow players to use Coupons or Promo Codes to redeem free coins and better bonuses on Coin packages.
You can find Wonka's Perks inside your Inbox with a Mailbox icon, just above your credits in-game.
You have to be level 10 to access your Wonka Perks Tab. Click or tap the Info button at the upper left on how to use and find Promo codes. Next, you would need to click on the gift box icon > Locate the Wonka Perks Section and locate the "Redeem" box and enter the assigned (like: billing123) coupon code > Click the "Redeem" button. After you redeem your code, you will see the bonus percentage which can range from 10-30% more on your next purchase!
Berry Bear Bank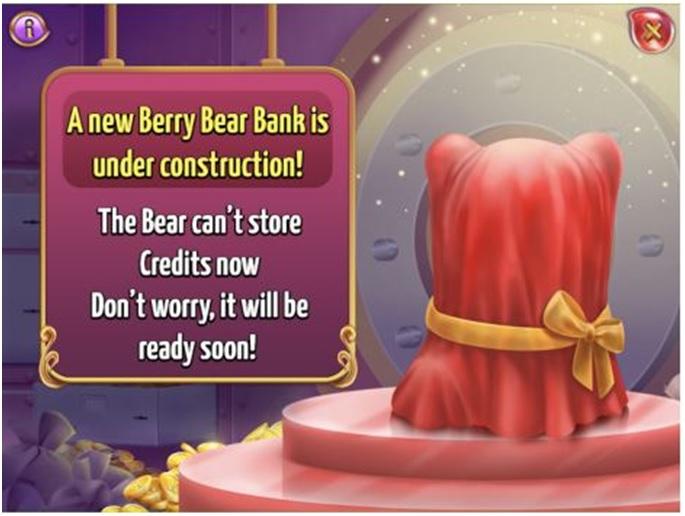 The Berry bear Bank is your own personal bank where you save credits whenever you spin on any machine or make a purchase from the Candy Shop. You can redeem these credits once the bank is full. However, free spins and bonus games will not add credits to the bank.
he bank can be accessed by clicking on the Bear icon above the Spin button on any machine or next to the Three Course Bonus button on any Machine World.
Note that as long as the Berry Bear Bank is under construction, Candy Shop purchases or machine spins will not save credits in the Berry Bear Bank. It can, however, begin to save credits once it has been constructed.
Willy Wonka Club and VIP Bonus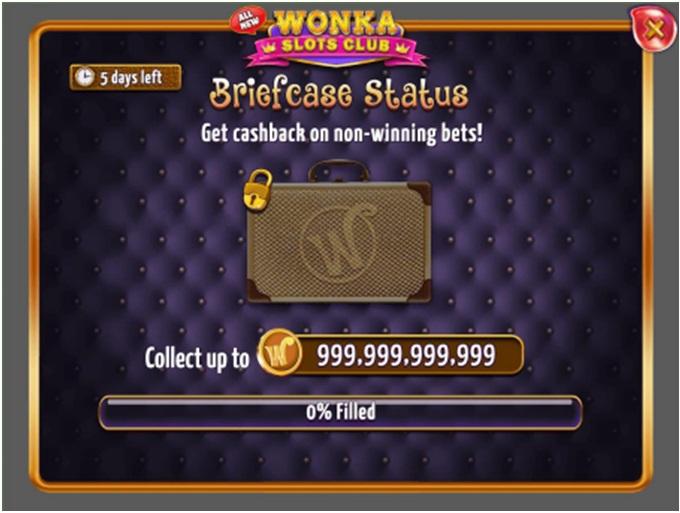 Wonka Slots Club is a premium area for players. It provides plenty of benefits to its members. To get into Wonka Slots Club, you need to accumulate enough Pass Points within a limited time. Once activated, a Club Pass remains active for 7 days. During this time the player can enjoy club benefits and accumulate Pass Points for acquiring the next 2nd Pass.
On activation of the club pass, you will receive extra perks! Wonka Slots Club enhances the player's slots gaming experience by providing plenty of exclusive benefits. Club members get cash-back across all machines, discounts on all packages in the store, access to premium content like exclusive slot machines, and Welcome Gift for activating Club Pass.
With every Club Pass, the player can get a Briefcase with initial credits. It also accumulates a portion of the non-winning bets across all machines.
Loyalty Program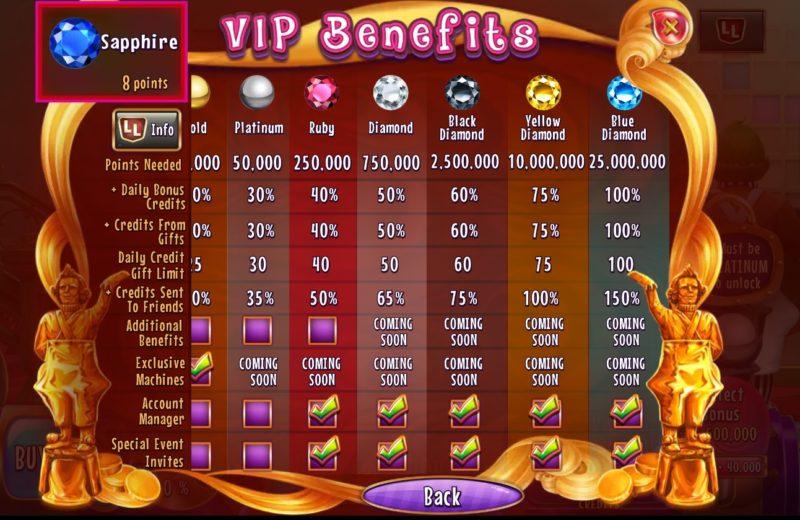 The Loyalty Lounge is a VIP rewards program. Level up your VIP tiers faster by linking all of your accounts across our network of games. That way, each game VIP amount contributes to your overall Loyalty Lounge VIP status.
To reward the highest engaged users, the casino has added two new tiers to their VIP program, Yellow and Blue diamond. The rewards are even better for our highest engaged users.
Here are the levels: Sapphire, Emerald, Gold, Platinum, Ruby, Diamond, Black Diamond, Yellow Diamond and Blue Diamond.
You can sign up and start earning points and benefits. sign up in game with an email address to create an account, then use that same email address to sign into each of your devices on each game. Once you are connected, your Loyalty Lounge points are connected as well.
They are the points that you will earn by purchasing credits, collecting XP and leveling up in any of the Zynga Slots game. They will help you to reach the next VIP Status.
Conclusion
Willy Wonka Slots has a good rating of 4.5 in Google Play store with more than a billion downloads of this app. This app features a wonderful iconic cast and character and you can join Charlie there and visit the Willy Wonka's chocolate factory that takes the tour of the most eccentric and wonderful candy factory of all. Willy Wonka slots app can be played with Samsung or any other Android mobile of 4.0 and up. Also you can play around the world on iOS devices, on social websites like Facebook too
This game is easy to get sucked into. It's a playful past time that can quickly turn into a full born addiction. Its stunning graphics and; fun storyline will have you coming back for more. I would recommend this slot game to anyone who loved Charlie and; the Chocolate Factory movies. This game will become your new favorite.