Free game apps to play are the best way to kill time and to entertain yourself as well. There are hundreds of free game apps to play that can be easily found at app stores. But not all games are perfect. I mean to say that many free games are rather poor in theme or quality. Also, free game apps have lots of in-between advertisements that is so frustrating. Though watching in between ads in many free game apps also make you earn free coins to play more.
Well, whatever it is now that you have to stay indoors and keep yourself safe from COVID 19, here is my pick of the 10 free game apps to play in COVID 19 quarantine. One thing to remember before you pick your smartphone to be it Android or iOS iPhone, clean and wipe your cell phone frequently. When you pause the game or stop playing, remember to wash your hands and then do whatever you want. (soap industry is profiting).
Also, play solo, don't play together with any of your family members. By this I mean don't sit too close to anyone even at home and maintain a distance. If you are eager to play with your friends and compete or challenge them, then many free game apps are multiplayer apps and allow you to chat with your friends or play together virtually.
1. Call of Duty: Mobile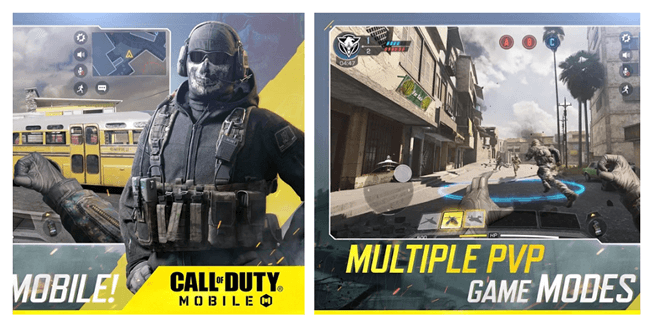 Call of Duty Mobile is a great PUBG rival and contains social features that allow you to connect and play with friends and push notifications to inform you when exciting events or new content are taking place in the game. You can choose whether or not to utilize these features.
Call of Duty awesome visual art which makes it one of the most seeking multiplayer shooter games in both the platforms, iOS and Android. You get different game modes and maps which you can select and it also has a unique Loadout where your guns will be unlocked as per your level in the game. If you are more of a PUBG person, it also has a Battle Royale mode which you can try out. So don't get bored as this is a fun game which you can play with your friends around while live voice calling each other.
Click here to download this free game app for Android
Click here to download this free game app for iPhone
This game app offers in app purchases for more COD points.
2. Psych! Outwit Your Friends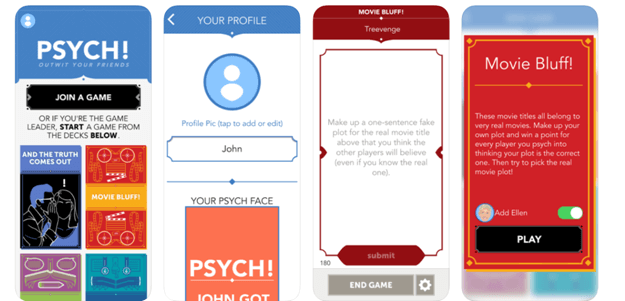 Psych is a crazy game developed by Warner Bros. Enterprises. In this free game app you can choose from a variety of fun categories in which each player makes up fake answers to real trivia questions. Get points for guessing the right answer, and for each other player you PSYCH! into choosing yours. For an extra challenge, add Ellen to your game and try not to get Psyched by her answers!
Try playing the brand new "And the Truth Comes Out" deck. Answer interesting questions about one another and choose your favorite answers! You can play with your friends too which is a great thing to virtually socialize now.
Click here to download for Android
Click here to download for iPhone
If you want to remove in between ads in the game you need to spend $2.99
3. Houseparty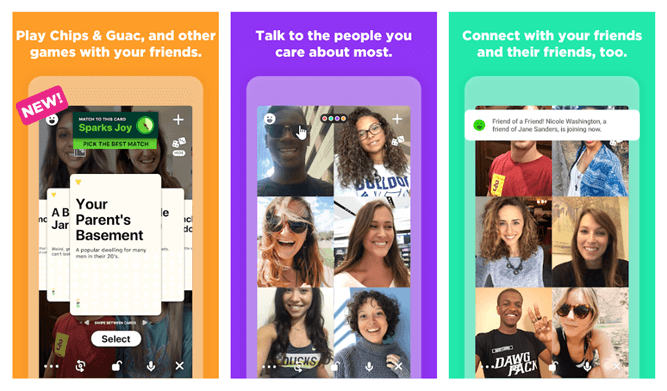 Now that you are confined to your home and cannot meet friends to combat COvid 19, this is the best free app. Houseparty is the face-to-face social network where you can connect with the people you care about most. The app makes connecting face to face effortless, alerting you when your friends are "in the house" and ready to chat so you can jump right into the conversation. The same goes for you opening the app! Your friends will know you're in the app and ready to chat or play quiz games, so they can join you. Now be prepared to hang out with your friends and see each other often.
Click here to download for Android
Click here to download for iPhone
There are in app purchases in this free game app to have more Heads up.
4. Fun Run 3: Multiplayer Games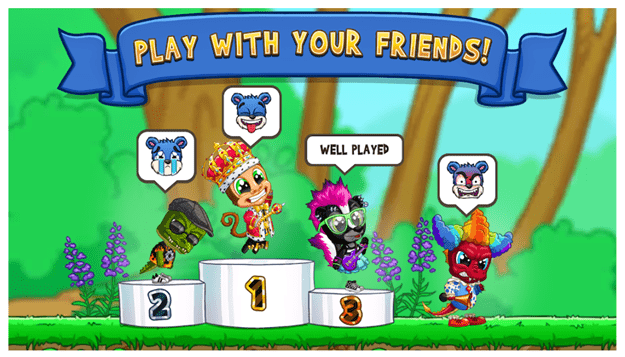 Fun Run 3 is an updated version of the game by Dirtybit where you can join the community of more than 120 million Fun Run players from all around the world. This is the best realtime online multiplayer games app and you can play along with a maximum of four friends at the same time.
You get a funny squirrel avatar at the start and you have to make your way running to the finish line overcoming the obstacles and powerups used by other players. You also have daily tasks and rewards which makes the game interesting and addicting with the thirst for the win. You can also form eight members to run simultaneously in arcade mode which is a cracker of a deal.
Click here to download for Android
Click here to download for iPhone
This free game app contains in app purchases
5. Subway Surfers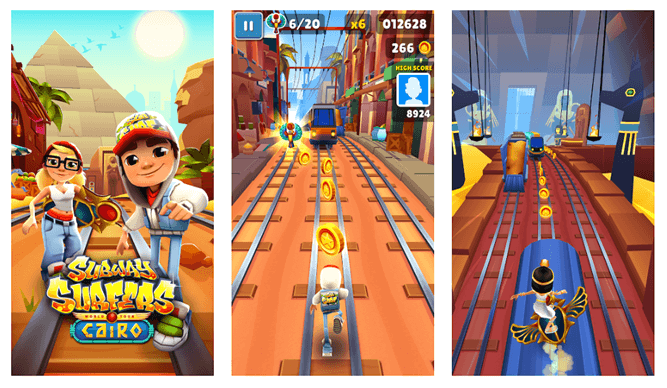 Subway Surfers is one of the oldest games presented by Kiloo Games and Sybo Games. You can start running and playing it. All you need is to dash and dodge even to beautiful Iceland and surf through chilling ice caves and scorching volcanoes. The unlimited running experience gets faster as you go along and can get real tough at times which will demand some real fast reflexes from you.
Click here to download now for your Android
Click here to download now for iPhone
This free game app offers in app purchases in case you need more free gems.
6. Fancade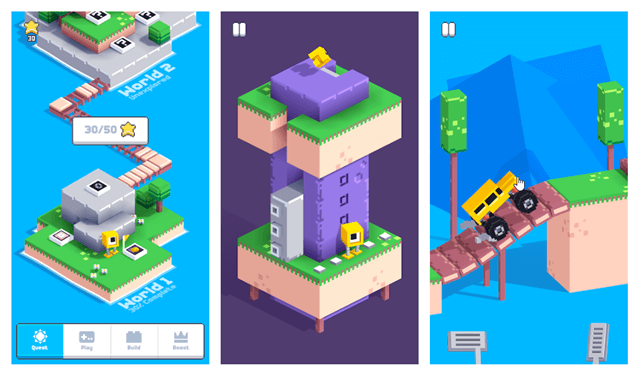 If you love arcade games then here is Fancade free arcade game. It has a set of interesting games which you can play all day. If you got internet issues and are looking for a small 2D game, this is the best one for you. You got to show your various gaming skills such as jumping, stacking, driving, puzzling and more to unlock more worlds and different games as you move forward. Although the game is still in Beta, it has almost no bugs or running issues however slow your phone might be, in terms of performance. You can download it via Early Access.
Click here to download now for Android
For iOS iPhone the game is coming soon as under development. But no worries download a similar game from Fancade developers here.
7. Psebay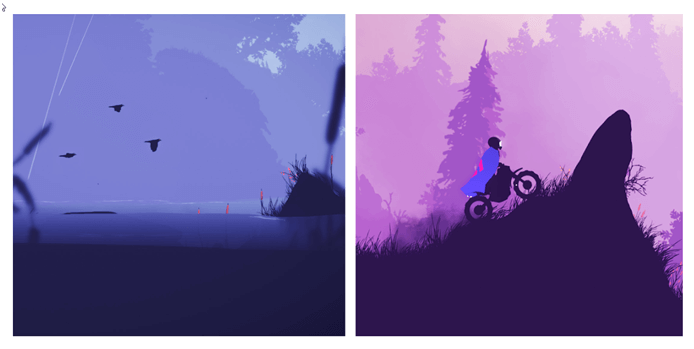 Psebay is an exciting gameplay with dynamic gravity. 'Flying' over the hills and cliffs on a motorbike is surely compelling. But when the ground crumbles under your wheels and the world turns upside down, that's when it becomes really cool! You won't know it until you try it! You will listen to the best music you can hear while playing a game of this sort. The graphics are not worked because it is a silhouette style game that has easy controls for you to get going. The game challenges you in about 64 levels in which some can be really tough to finish.
Click here to download now for Android
Click here to download for iPhone
The game visual appeal inspires the players to discover new unusual places throughout the whole game.
8. Really Bad Chess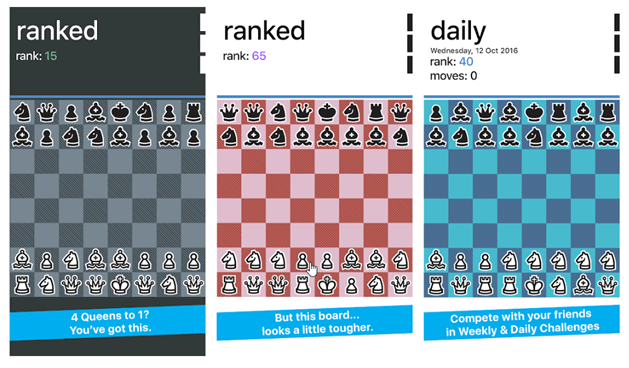 Whether you play chess daily, or quit just after learning the rules, this small twist will open the door to an entire new world of chess. The free version of Really Bad Chess lets you compete vs. an AI in Ranked, Daily, or Weekly Challenges. Improve your skills using the included Freeplay mode. A single in-app purchase unlocks Versus Mode so you can compete against your friends locally! It also removes ads, displays captured pieces, and adds soothing alternate color-palettes to choose from.
All you have to do is play accordingly and win the game which has different levels to finish. These can range from easy to extremely difficult, so for those who chess might feel boring, this is the game for you to check out.
Click here to download now for Android
Click here to download for iPhone
For chess pros, Really Bad Chess will give you a new type of challenge — the pieces & the moves are the same, but you'll have to throw out your openings and your understanding of normal patterns of play.
9. QuizUp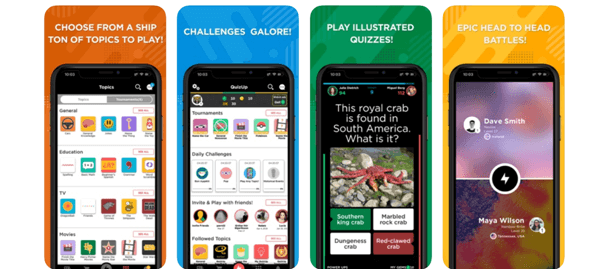 Join millions of players in a brain teaser that combines social network and trivia in QuizUp! It is an old multiplayer quiz game in which you can compete in different categories.
Play online while challenging friends or random opponents from around the world in a wide variety of topics ranging from general knowledge, logos, sports, Harry Potter, Disney, action movies, internet, video games and much more, for a nail-biting, quick, real-time match of trivia. Climb global ranks and claim fortunes and new title for every topic. Participate in a vibrant and engaging community with thousands of topics to choose from and new updates every week. Discover new interests along the way and make your own Quiz too!
Each quiz topic is set within a category where you can play, post, boast and interact with people who share your interests.
Click here to download for Android
Click here to download for iPhone
Get more free items in the app purchase if you want
10. PUBG: Mobile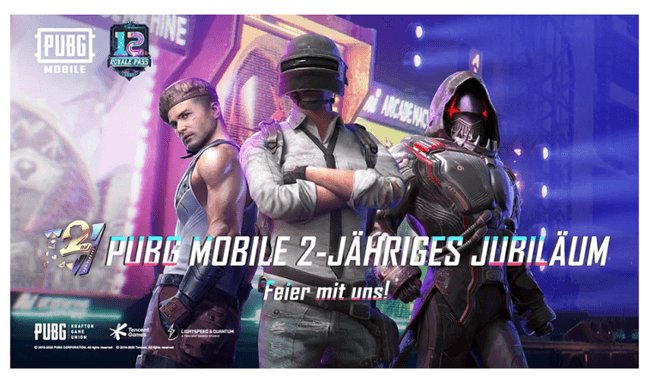 The official PLAYERUNKNOWN'S BATTLEGROUNDS designed exclusively for mobile. PUBG MOBILE delivers the most intense free-to-play multiplayer action on mobile. Drop in, gear up, and compete. Survive epic 100-player classic battles, payload mode and fast-paced 4v4 team deathmatch and zombie modes. Survival is key and the last one standing wins. When duty calls, fire at will!
Featuring customizable mobile controls, training modes, and voice chat, you can experience the most smooth control and realistic ballistics, weapon behavior on mobile. Get daily events & challenges, and monthly updates delivering new gameplay features and modes that keep PUBG MOBILE always growing and expanding.
Click here to download for Android
Click here to download for iPhone
There is in app purchase in this game app to get more cash.
Now download these wonderful free game apps on your smartphone and keep yourself occupied or choose to play at online casinos. Stay safe and stay indoors.