"Well, I'm game
Fun is the thing I'm after
Now let's a'live it up today
Get set for love and laughter
Well, let's go
Time isn't here for wasting
Life is so full of sweet sweet things
I'd like to do some tasting
Hooray! hooray! it's a holi-holiday
What a world of fun for everyone, holi-holiday"- Boney M
Whenever holidays are around the corner, I remember the classic and most popular above song by Boney M. It just fills one with excitement and enthusiasm for adventure, fun and the highest holiday celebrations to go for. Christmas holidays are approaching. I have started to plan out my Christmas vacation and this time in my list of destinations is Las Vegas. The reason for choosing the most extravagant city for Christmas Holidays is loads of celebrations, fun, shopping, lively and glittering events and the casinos displaying their charm. Along the strip the casinos have their high grade casino bonuses and casino coupons and deals with their staff in red and white apparel giving a Santa look along with the prettiest celebrities adding to the show.
Before you think of Las Vegas let me tell you few things
Christmas is falling on Friday December 25th 2015 and you will find that Vegas Strip will be over crowded with tourists and holiday makers. The Christmas festivities will start a week before.
You will find all the shops, casinos, bars, restaurants, buffets and other attraction in and around Las Vegas open on Christmas Day. No Holiday for them but for you.
Most of the restaurants and buffets will have special pricing and will double the regular price so better to eat at a hotel cafe which are open 24/7 and have the best deals.
If you want to pamper yourself with some luxury and exotic stuff then make reservations ahead of time to the restaurants of your choice especially if you want a memorable dinner with your partner or friends.
Look out below for these events and places which you will love getting involved.
The Bellagio Fountains

Features sound and dancing fountains at Bellagio. The free fountain water show feature special performances of classic holiday tunes such as Hallelujah Chorus, O Holy Night and Santa Baby throughout the season. Performances start at 3 p.m. Monday – Friday; noon on Saturdays and holidays; and 11 a.m. on Sundays.
Bellagio's Conservatory and Botanical Gardens

The surroundings at the Conservatory is wonderful display of twinkling lights, 28,000 poinsettias and a 42-foot tall holiday tree decorated with 7,000 warm white LED lights and 2,500 ornaments.  There will be 12 foot tall animated snow globes showing the winter scene with penguins, polar bears across the icebergs. You can enjoy live holiday performances, 4:30 p.m. to 6 p.m. nightly, from the Victorian Gazebo in the South Garden
Remember the dates December 4th to January 3rd get there between 10.30 am to 11.30 am for enjoy the display free. Also there will be "2015 Mr and Ms Green Thumb" who will be your help guide to answer your questions you have for the display.
Cactus Garden Lighting Anniversary 2015

Join 20th Anniversary of the Cactus Garden Lighting at Ethel M from November 13th to January 1st  2016.  You will find more than half a million glittering lights of Christmas draped  over three acres of cactus garden. Also a visit to the Chocolate Wonderland in Henderson, NV. Displaying chocolate houses and sculptures, and do not be surprised by Santa Claus visits at the fixed hours.
The Event Scheduled:
Lights: On Nightly, 5pm to 10pm FREE ADMISSION
Factory & Retail Shop: Open daily 8:30am to 9pm
Visits from Santa: 5pm to 9pm
Performance by local Choirs: 6pm – 8pm, Thurs – Sun.
Admission to Chocolate Wonderland is free and includes a factory tour. Special seasonal chocolate collections are also available for purchase.
LINQ Winter Parq

Across the street from Ceasars Palace Las Vegas you can explore the new $550 milion dining and retail district of LINQ. Kids and adults have to be in awe seeing the largest Ferris wheel or ride the Las Vegas High Roller soaring 55 stories over Sin City which will be adorned with 1500 LED lights offering spectacular view  during half hour rotation carrying up yo 40 people in a single pod at single time. The LINQ Promenade is turned into Winter Parq for Christmas Holidays with decorations and music. It features 30 foot snowy hill  built for tubing behind the High Roller. Thrill-seekers will be able to slide down the 30-foot hill made of real snow.
Beginning from December 8th 2015 the LINQ Winter PARQ hill will be open Monday – Friday, 4 p.m. – 10 p.m. and Saturday – Sunday, 2 p.m. – 10 p.m. On Christmas Eve (Wednesday, Dec. 24), the ride is open from 2 p.m. – 8 p.m. Tickets: $5 a ride or $20 for an all-day pass.
The Crystal Shopping Center

The Crystals Shopping Center is located at City Center between Monte Carlo and Bellagio on the Vegas Strip. Decorated with fresh flowers all around with winter background and theme the shopping centers attraction is 50 foot Olympia Pine tree covered with bright white Led lights as if covered with snow.  You will like visiting this mall displaying the luxury retailers and brand like the Prada and Louis Vuitton. Crystals is open 10 a.m. to 11 p.m. Sunday through Thursday and 10 a.m. to midnight Friday and Saturday.  The mall will also feature live music from noon to 5 pm.The winter wonderland designs will be on display through January 15th 2016.
Fashion Show Mall- Adventure to Santa

Adventure to Santa brought to you by Dreams Works Animation offers a fantastic experience at Fashion Show Mall. Full fun and excitement, adventure to Santa  is a 2,000-square-foot holiday cottage that combines the latest technology with magical storytelling from creative minds behind such hit franchises as Shrek, Madagascar and How to Train Your Dragon. It recollects one of the touching moments of your childhood  meeting with Santa Claus.  The experience will take you and your kids to an immersive, wonderstruck journey with Shrek and his friends as they guide you  to the North Pole to visit Santa Claus. Once your 15 minute journey is complete you will get to visit with Santa and take a memento photo.
Dates: November 5 – December 24
Location: The Great Hall, lower level Nordstrom 3200 Las Vegas Blvd S. Ste. 600
Las Vegas, NV 89109
Start making appointments through a specially designed app or on The Fashion Show Website.
Sam's Town Hotel  and Gambling Hall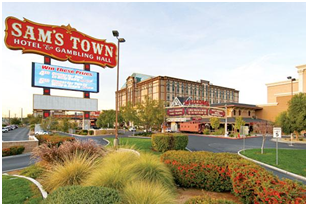 Located at 5111 Boulder Highway, Las Vegas is famous attraction for its Mystic Falls indoor park at Sam's Town with a 30 foot Christmas Tree decorated with thousands of lights and displays of polar bears fishing in the pond. It is a perfect place to visit for real time holiday fun having selfies shoot in this background of display. You can also enjoy a free 15-minute laser light spectacular hourly from 5 p.m. to 10 p.m. through January 1st 2016 and from November 28th  to December 20th , Santa will appear Thursdays and Fridays from 4 p.m. to 8:00 p.m., and on Saturdays and Sundays from 12 p.m. to 8:00 p.m. Mystic Falls is FREE and open 24 hours a day.
Silverton Casino Hotel Aquarium

Situated at Blue Diamond Rd., Las Vegas, you can see Santa Claus dressed up in scuba gear and submerged in the Silverton's 117,000-gallon aquarium. Between 10 am to 1 pm you can find Santa Claus swimming among the 4,000 sharks, stingrays and tropical fish this holiday season. The aquarium is free to the public. The technology and the Santa bring you more closer as Santa equipped with a microphone will listen to and speak with children too.
Mandalay Bay's Shark Reef Aquarium- Santa in the Shipwreck

When in Las Vegas this Christmas do not forget to visit Santa Claus and Santa Jaws in the shipwreck exhibit at Mandalay Bay's Shark Reef Aquarium. Santa will be visiting Mandalay Bay's Shark Reef Aquarium every weekend from December 6th until Christmas Eve.
From 10 am to 4 pm, kids  up to age 12 and under will get a picture with Santa and a treat.
There is fee too for this show. Adult $ 18.00; Child (Age 5-12) $ 12.00; Children 4 and under Free
And for the residents of Nevada there is a Discount: Adult 15.00; Child (Age 5-12) $ 10.00; Children 4 and under $ Free
Las Vegas Motor Speedway

Your eyes will just twinkle along the lights at Las Vegas Motor Speedway. This drive through  light show is held annually and considered Nevada's largest Christmas Light Show by lighting up the speedway from November 14 – January 4th 2016. It will feature more than 400 animated and sparkling displays along a 2.5-mile drive-through course. You can also enjoy some of your old favourites  classics like the NASCAR scene and the Avenue of Trees in lightening  along with other 55 charities with custom dedicated signs and trees.
Time: Sunday through Thursday 5:30 – 9 p.m.
Friday, Saturday and holidays 5:30 – 10 p.m.
Cost: $20 per car
Las Vegas Motor Speedway
7000 Las Vegas Blvd. N, Las Vegas, NV 89115
Magical Forest

A display of southern Nevada tradition Magical Forest is celebrating its 21st year of providing holiday joy to the Las Vegas community. It is estimated that more than 150,000 people  visit the Forest every year. A display of three million lights on hundreds of decorated trees and a ride the Forest Express passenger train, along with take a spin on the Carousel or visit Santa you will have fun at the special events and offers here. The Magical Forest is open nightly November 21, 2015 – January 4, 2016 Sunday – Thursday: 5:30 pm – 9:00 pm Friday & Saturday: 5:30 pm – 10:00 pm. Good cause of this is that profits here will be used to benefit people with disabilities at Opportunity Village.
Caesars Chalet Outdoor Ice Skating Rink

If you are interested in some fun sport like Ice skating visit Caesars Chalet outdoor ice skating rink and winter lodge. You can skate across a spectacular 2,100 square-foot LED-lit wonderland complete with falling artificial snow. Infact you will also have great meals to enjoy and hot beverages like hot chocolate, Irish coffee, toasted cinnamon shots, and hot toddies. The Caesars Chalet holiday ice rink and lodge is located across from the Absinthe tent, at the corner of Las Vegas Boulevard and Flamingo Road and is open daily 11:00am – 11:30pm through January 11, 2015. The fee is $20 for Standard Skating and $19 for its members.
The Ice Rink

During Christmas vacations the Cosmopolitan transforms the Boulevard Pool into The Ice Rink. Located high above the Strip, you can enjoy the outdoor winter wonderland, warm cocktails and real fun skating on real ice. The Ice Rink also features snow showers that occurs every 30 minutes.
Starting from November 21st to January 4th ; Mon-Fri 3:00 PM to Midnight; Sat-Sun 12:00 PM to Midnight
Snow Days: Thurs-Sun 6:00 PM to 10:00 PM
Holiday Hours: December 22 – January 2; Daily 12:00 PM to Midnight
$15 All Day Skating Access
$10 All Day Skating Access for Nevada Residents
$5 Skate Rental fee; $10 Skating Aid Rental fee
Admission to The Ice Rink area is free
The Palazzo Hotel

Have the highest fantasy display at Palazzo Hotel and Casino. They showcase their waterfall atrium and gardens into an elaborate winter fun theme with snow-covered trees measuring up to 20-feet tall, swirling holiday lights, giant pine cones with thousands of fresh poinsettias. This display is open 24 hours a day and will be there until January 1st 2016.
With lots of variety and music shows also going around you will find it hard to decide what to go for first at Las Vegas. Now if interested choose Ls Vegas Christmas Packages that suit your budget and look for fantastic deals and casino coupons during the holiday season coming months. Go for renowned casino hotels that fit your wallet. Book advanced tickets to the events and clubs of your interest and reserve it for the Christmas Day. Merry Christmas!