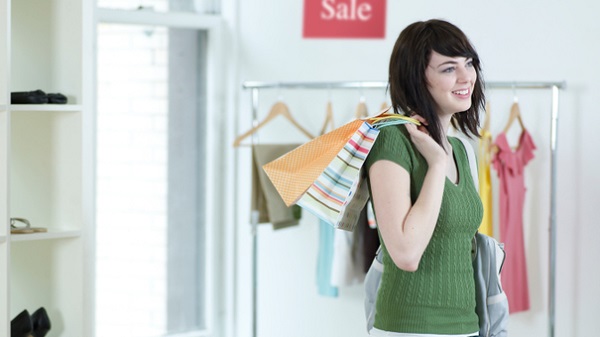 Believe it or not there is a science behind going shopping for clothes, to get the best deals you have to shop smart. Even though most people blindly run into this & let themselves get caught up in the wild emotions of a huge sale, you don't have to. Not having a plan when you shop for clothes is like not having a parachute when going sky diving. On average Americans spend $1,700 a year on clothes; avoid this by learning how to shop like a pro. We scoured the internet & compiled this innovative list of the best ways to save money while shopping for clothes. After reading this list you will be well prepared to avoid the pitfalls that most people walk right into.
Tip #1: Pay With Cash – Never spend what you don't have. If you don't have the cash for something, don't buy it. These are the two most forgotten rules by negligent consumers. In an age where everyone makes compulsive purchases credit cards can be your worst enemy. Wildly swiping a credit card can lead to dangerous amounts of overspending, so use cash instead. This will hold you accountable & make it easier for you to judge how much you have left to spend.
Tip #2: Find 3 Reasons to Buy It – It doesn't matter what the item is: a purse, hat, shoes, pants or skirt, reflect on your purchase before you buy it. Stores create huge sales to draw in customers & get them pumped up to make hasty purchases. When you are in the heat of shopping sale mania you need a way to protect yourself from making an adrenaline fueled purchases. Luckily for you we have developed a way to disconnect your mind from the raw emotions generated by big sales. Take a deep breath & come up with 3 reasons to buy it before you purchase it. When you are holding it think of 3 outfits you can combine it with or 3 events you can wear it to. If you have trouble finding 3 reasons to buy it put it down & keep walking.
Tip #3: Use Coupon Apps – Make back some of the money you spent on your smartphone by putting it to work! There are plenty of apps that will alert you to the massive amount of coupons that are available to you. Our favorite coupon apps are Yowza & Coupon Sherpa for their effectiveness & easy to use format. These apps open up doors to a whole new world of savings that's sure to revolutionize the way that you shop. This new sea of bargain prices will open your eyes to how foolish you were for ever shopping without apps. Make your technology work for you!
Tip #4: Don't Buy It Just Because It's On Sale – While it may be tempting to buy something that's 70% off, you still have to decide whether you will really use it or not. A good deal is not a good deal if you are buying it just for the money you are saving. Don't let a hefty sale blind you to the fact that you are squandering your wealth on objects that have no practical purpose. Always base your decision off of whether you need the item or not. Remember that there is no sale big enough to convince you to wear fluorescent hot pink bell bottoms. So stay focused & move on to the next sale.
Tip #5: Don't Be a Trend Chaser – While the peasant skirt & YOLO shirts might fit your current attitude always remember the essence of your style. If you have a hunch that you will feel like an idiot for buying something after a few months don't do it. Or if you do, buy it on sale so it softens the blow. Don't get sucked into new trends unless you actually feel like you identify with this new look. Blindly following trends is like going to a strip club & getting offended when someone takes off their clothes. So avoid wasting your money on the whims of Hollywood's ever changing tastes by sticking to your roots.