Seasons come and go each year. Celebrations of so many festivals have begun and you might be thinking about how to enjoy them with family and friends. There is a slight change in the weather now as after fall soon there will be chilly winter. Halloween festival is approaching soon followed by Thanksgiving, Christmas, and New Year. Certainly due to this year's pandemic fear it is better to stay safe and celebrate at home with your family.
For kids and even the adults who love to go for trick or treating will have to suffice by what they can do staying indoors as the Centers for Disease Control and Prevention (CDC) released guidelines for a safe Halloween. According to CDC the traditional door-to-door trick-or-treating should be avoided, Also no costume parades or going for getting candies outdoor in your neighbourhood.
According to Dr. Christopher Kelly, chief of pediatric emergency medicine at NewYork-Presbyterian Brooklyn Methodist Hospital, "Unfortunately, the CDC does not recommend our traditional trick-or-treating. Going from door to door, being face-to-face with multiple people should be avoided during these times."
In addition to trick-or-treating, in its guidelinesTrusted Source for Halloween, the Centers for Disease Control and Prevention (CDC) also suggests avoiding the following activities to help prevent the spread of COVID-19:
Parking lot gatherings where treats are handed out from trunks of cars
Indoor costume parties with a lot of people present
Indoor haunted houses
Hayrides or tractor rides with people you don't live with
Festivals in ruralTrusted Source areas outside your community, if the area you live in has community spread of COVID-19
Drinking alcohol and using other substances, which may cause you to make unsafe choices
Don't get disheartened as there are many ways where you can celebrate Halloween all safe and secure at your own home without the distraction of getting coronavirus. Here are a few exciting ways as how to celebrate Halloween safely during COVID 19.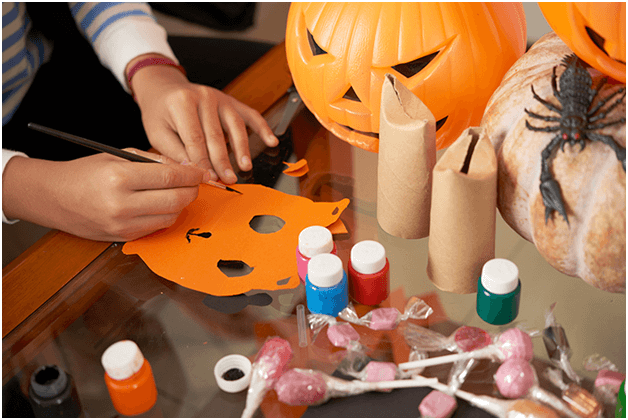 Decorate your house and share it among friends on social media
As usual, you can decorate your house with creepy things this year too and get into that spooky spirit. Get the pumpkins ready and carve them as you want. In the family, while staying at home, get a virtual or live stream of a pumpkin carving competition. Invite your friends online and get into this group activity while having fun too.
Online costume party
Halloween lovers can still show off their costumes. Get ready for a photo shoot online and try on multiple costumes and have fun. If you're looking to do more than wear your costume at home, the CDC recommends having a virtual Halloween costume contest.
If you have a lawn or outdoor space then as a family get into a Halloween parade and have the laughter echo into your neighbours house so that they too admire you from a distance. Remember that the CDC cautions to not wear a costume mask over a protective cloth mask because it can be difficult to breathe. Sticking to just a Halloween-themed cloth mask may be safest.
Hold a Halloween movie night
Hosting an outdoor Halloween movie night with local family and friends spaced at least 6 feet apart is a safe way to celebrate the season. You can also serve packaging treats and serve drinks in bottles or boxes. Have everyone pack and prepare their own child's snacks, and set up chairs at a distance from each other. Finding a drive-in movie theater featuring spooky films might be a fun alternative.
Scavenger hunt at home
Hide Halloween themed objects or even candies and ask kids to solve the mystery of finding each object. In this way instead of going outside for a traditional scavenger hunt, hold a scavenger hunt with your household members in or around your home. Even put together a list of Halloween-themed items for kids to find from a distance while they walk around the neighborhood.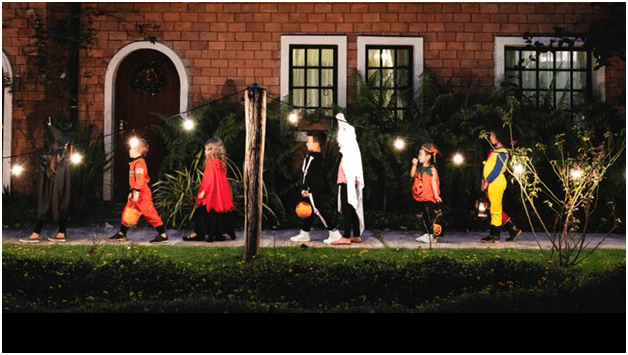 HALLOWEEN GUIDANCE: Here's California's guidance for Halloween & trick-or-treating.

"To protect yourself and your community, you should not go trick-or-treating or mix with others outside allowed private gatherings this Halloween season," the state says. #covid19 pic.twitter.com/bSkbFZKG2q

— Liz Kreutz (@ABCLiz) October 13, 2020
According to the American Association of Pediatrics (AAP) you and your family can celebrate Halloween in safer manner if you follow the guidelines.
If you do decide to trick-or-treat, the AAP advises families to avoid groups or clustering at doorsteps or any other place.
If kids are wearing masks and they're outside and physically distancing, especially if they are young, the data indicate the risk of spreading COVID-19 is fairly low.
For those handing out candy, figure out a method to distribute treats in a socially distanced way. For example, you could place candy on a table set up on your driveway or front porch with a sign saying "Take One" while you sit in a chair nearby wearing a mask to enjoy the costumes and help with distancing.
Some parents are dispensing with trick-or-treat altogether and simply buying Halloween candy for their children to enjoy.
As an adult, if you want you can stay at home and even enjoy Halloween slots to play online at casinos for real wins or simple for fun all free without spending a penny. Enjoy some of the spooky slots games which really will make you occupied this Halloween.
Finally remember you can be as creative as you want to celebrate Halloween. You are responsible so you need to maintain social distancing, see there is no crowding indoors or even outdoors. Maintain an arms distance among people. Inform your kids and explain how important it is to prevent Covid 19 and maintain a distance from each other. Happy and safe Halloween to all!