Independence Day is round the corner and time to celebrate on Fourth of July. It was the great day when US secured independence from the British Empire after the Revolutionary War in 1776.
I often wondered as a kid why history was a subject in school. But history is what tells us about the way we are living today and how we have achieved some great things as a nation or humanity. Also it helps us learn from the past mistakes and what to do good to make this world a better place to live. Here I have gathered for you some facts, great events and celebrations that you can enjoy at Las Vegas and at the casinos.
When speaking of US independence here are the few important historical facts
•The first celebration was held on the Fourth of July 1777. Thirteen gunshots were fired in salute – one for each of the original American colonies.
•"Independence Day" name wasn't used until 1791.
•The Statue of Liberty – a gift from France – celebrates the US securing independence from Britain
•In 1870 it was made an unpaid holiday for federal employees, and in 1938 US Congress finally made it the paid holiday it is today.
•"No taxation without representation" was the cry, after a rise in Britain's national debt forced the colonists to raise import tariffs and crack down on smuggling to raise funds and this was the need to raise for Independence.
•Following rebellions, they removed all but the tariff on tea. Tea was then boycotted by Americans, and in 1773 Patriots in Boston destroyed a shipment of tea – this is known as the "Boston Tea Party" today.
•These rebellions over taxes led to full-scale revolutionary war.
•John Adams and Thomas Jefferson, the only two signatories of the Declaration of Independence to later become President, both died on July 4 1826 – exactly fifty years after the declaration was signed.
•Mount Rushmore, finished in 1926, celebrates two of those who did most to establish US independence – George Washington and Thomas Jefferson, as well as Theodore Roosevelt and Abraham Lincoln
•The Philippines and Rwanda also observe Fourth of July anniversaries for their own reasons.
•The US gave the Philippines independence on that day in 1946 and the Rwandan genocide ended with US help on 4 July 1994.
•Denmark also celebrates the US version – it started with European expats in 1911
•Today Independence day is marked by patriotic activities like camping, barbecues, beers and fireworks, with as much red, white and blue as possible – all punctuated with a backing track of "Star spangled banner", "Yankee Doodle" and "God Bless America".
•Even outside a campaign year, politicians make a point of appearing at Independence Day celebrations and praising the nation's heritage, history and people.
•The casinos celebrate with great events, deals and contests.
•Las Vegas is all glittering with fireworks on this day
Independence Day Celebrations at Las Vegas and at Casinos
Las Vegas and other US Casinos are all set to celebrate Independence Day. There is a grand party that starts in hotel bars, casinos, resorts and even pools all decked beautifully to host the largest 4th of July fireworks show.
This year as 4th of July, 2016 is falling on a Monday, so the partying is going to start on Friday, July 1st. So if you are planning to be there then do things fast as Las Vegas strip will be crowded with lots of people. Many resorts and casinos are offering hotel discounts and casino promos to celebrate the event. Even every bar and restaurant will have drink specials and dinning specials.
You can enjoy Fireworks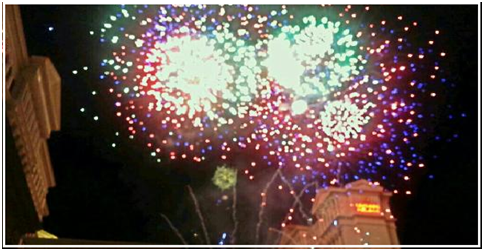 The Vegas strip and the skies of Southern Nevada will be illuminated with fireworks show. Here are the places to enjoy fireworks show on the fourth of July in Las Vegas.
July 4th fireworks generally start shortly after sunset and as due to the popularity of the fireworks show, it is best start out early in order to get the best viewing location.
Caesars Palace Las Vegas Fireworks Show
Date: Sunday., July 3, 2016
Time: 9:10pm
Place: Caesars Palace, Las Vegas, NV
As Caesars Palace is also marking its 50th anniversary they have grand celebrations for July 4th as well.
On Sunday July 3, 2016 Caesars Palace Las Vegas, will offer its biggest Independence Day celebration ever with a colossal 13½ minute fireworks display. Fireworks will be shot from the hotel's Julius Tower beginning at 9:10 p.m. The best views will be from the Las Vegas Strip at the front fountains of Caesars Palace.
The Roman Plaza and Spanish Steps in front of Caesars Palace will also be transformed for a massive block party. Festivities will include live entertainment, signature cocktails, life size games, patriotic decorations, homemade BBQ specials and much more from noon to midnight beginning Friday, July 1 through Sunday, July 3.
The Stratosphere Casino Hotel and Tower
Date: Sunday., July 3, 2016
Location: Stratosphere Casino, Hotel & Tower, Las Vegas, NV
The Stratosphere Casino Hotel and Tower will present its annual citywide fireworks display and "Independence Pool Party" on Sunday, July 3, 2016. The world-famous Fireworks by Grucci, Inc. will produce a display that will be launched from the Stratosphere's North parking garage and visible anywhere in the Las Vegas Valley. The display will start at 9 p.m.
Mandalay Bay 4th of July Fireworks Show
Location: Mandalay Bay Beach
Dates: Saturday, July 2 & Sunday, July 3 at 8:30 p.m
Mandalay Bay will light up the sky this 4th of July weekend with a dazzling display of fireworks and a musical performance by the famed Multi-platinum rock band 311. Guests will be treated to 311's hits, classics and rarities on Saturday, July 2 & Sunday, July 3 at 8:30 p.m. Watch the sky above Mandalay Bay Beach light up red, white and blue with spectacular fireworks following the show on both nights.
The best views will be from Mandalay Bay Beach. Tickets to the fireworks and musical performance are priced between $57 – $64. Doors open at 8 p.m. and performances start at 8:30 p.m. nightly.
Celebrate America at Lake Las Vegas, July 3, 2016
MonteLago Village
Costa Di Lago
Henderson, NV 89011
702-564-4785
Lake Las Vegas will have its celebration on Sunday, July 3, 2016. There will be live music, sidewalk sale, and barbecue stations set up throughout The Village and enjoy an incredible Fireworks Show displayed over the lake at 9 pm that can be easily viewed from The Village.
Also there are activities for kids like face painting, balloon artist, stilt walker, Glo-works, washable tattoos, Fun For All Games.Time: 3:00 pm – 10:00 pm Also the Henderson Symphony Orchestra will perform at 8 p.m and there will be two simultaneous Firework shows at 9 p.m.
July 4th Celebrations at The LINQ Promenade – July 1st through July 4th
Celebrate the fourth of July weekend at The LINQ Promenade, with festivities that will include 4th of July themed décor throughout the promenade. Beginning Friday, July 1st through Monday, July 4th. The open-air dining, retail and entertainment district, located directly across from Caesars Palace at the heart of the world-famous Las Vegas Strip invites you to enjoy fun for the whole family with live music performers each day/night, family friendly activities that include a DJ, balloon artists, face painters, stilt walkers, caricature artists, games and a lot more to enjoy.
Each afternoon a patriotic parade will kick-off the festivities starting at Las Vegas Blvd and continuing down the promenade to the High Roller. On Sunday, July 3rd, the 10-minute Caesars Palace fireworks display kicks off at 9:10 p.m.
You can enjoy Pool Parties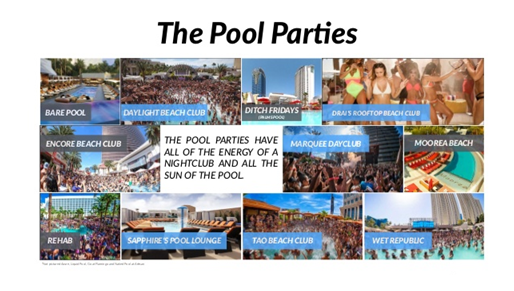 Expect most resorts to have some sort of pool party during this Independence day holiday in Las Vegas. Resort pools will be decked out in patriotic decorations as the hottest DJs spin and the coldest drinks pour throughout the fourth of July holiday.
The Stratosphere Casino Hotel and Tower Independence Pool Parties
Sunday, July 3 Pool Parties
Elation Pool Party – Open to all ages
Opens at 5pm Admission $30 plus tax
Also featuring live performance by Yellow Brick Road & fireworks extravaganza by Grucci
Located on the eighth floor of Stratosphere Hotel with breathtaking city views
Radius Pool Party – Open to 21+
6pm – 7pm Open Bar
Fireworks at 9pm
Enjoy Live DJ
European-style pool
Admission: $60 plus tax
The Radius Pool Party is located on the Stratosphere's pool and recreation deck 25 stories above the Strip with amazing mountain views.
You can enjoy Music
Cherry Poppin' Daddies – July 2, 2016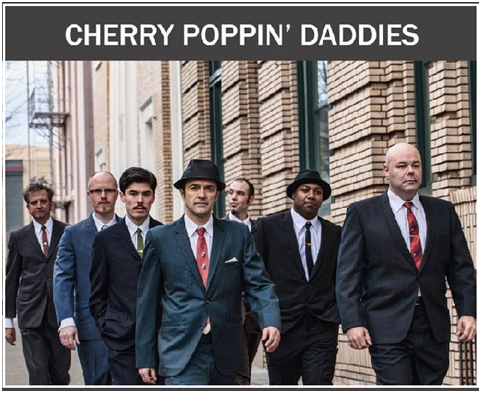 Don't forget to catch a free concert by Cherry Poppin' Daddies on July 2, 2016 as part of Fremont Street Experience free summer concert series.
Schedule: The July 2 show is scheduled to begin at 9 p.m.,
Admission: Free
Garth Brooks to Perform at the T-Mobile Arena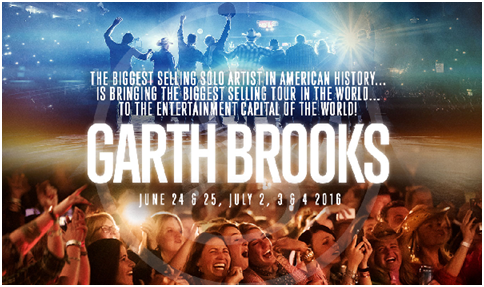 Garth Brooks will perform multiple shows for his fans at the T-Mobile Arena, July 2 – 4, 2016.
Schedule: The July 2 show is scheduled to begin at 7 p.m
The July 3 performances are at 7 p.m. and 10:30 p.m.
and the July 4 show will begin at 5 p.m.
You can enjoy Parades and Fun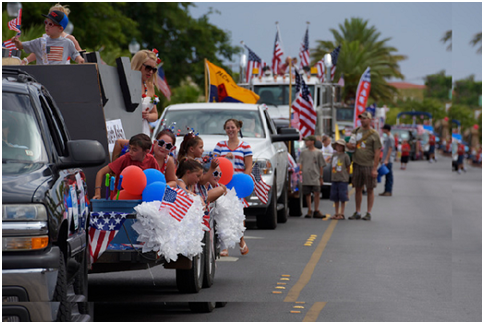 Expect an amazing DJ lineup, and Independence Day-inspired parties all over Las Vegas. Here is a list of the best places to party in Las Vegas on the 4th of July
Henderson Fourth of July Celebration – Mission Hills Park
Monday July 4, 2016; 6 PM – 9:15 PM. Fireworks Show at 9PM
Mission Hills Park
551 East Mission Hills Drive
Henderson, NV
702-267-2171
The Summerlin Council Independence Day Patriotic Parade
Monday July 4, 2016; 9:00 am – 11:00 am
8:30 a.m., Escort & Dignitary Parade Steps-off
9:00 a.m., Patriotic Parade Steps-off
Admission: Free Admission
Location: The Trails Village
Address: Hillpointe & Hills Center, Las Vegas, Nevada, 89134
Boulder City 4th of July Damboree Celebration
When: Monday July 4th, 2016
Where:
Parade Route: Nevada Way, 5th Street, Avenue B – 9am
Morning Events: Broadbent Park – 1301 5th Street – 10am
Afternoon Events: Veterans Memorial Park
Fireworks: Veterans Memorial Park (9:00pm)
You can enjoy Weekend Buffet and Drinks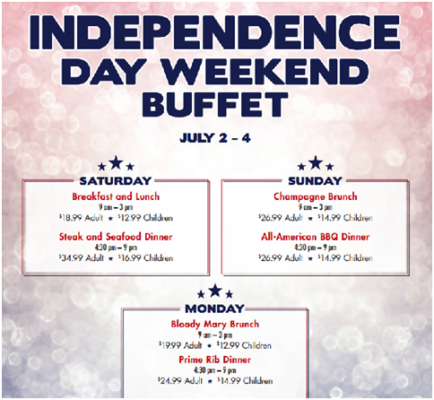 Celebrate Independence Day Weekend at Atlantis
Saturday, July 2 – Monday, July 4 • 2016
Independence Weekend in Toucan Charlie's Buffet & Grille
Enjoy great buffet specials all weekend long. Have a Steak and Seafood Dinner on Saturday, All-American BBQ Dinner on Sunday or Prime Rib Dinner on Monday.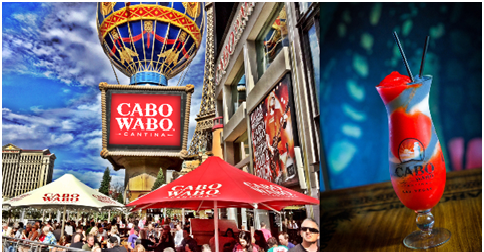 Sammy Hagar's rockin' cantina will celebrate America by hosting an unforgettable patio party with drink specials, live music and fireworks on Monday, July 4. The patriotic patio party will be complete with the Fiesta Firework daiquiri, layered with strawberry daiquiri, piña colada and blue curacao, priced at $19. Guests can also enjoy views of the fireworks and live entertainment by Shawn Eifferman at 8 p.m.
Gun Lake Casino Independence Day celebration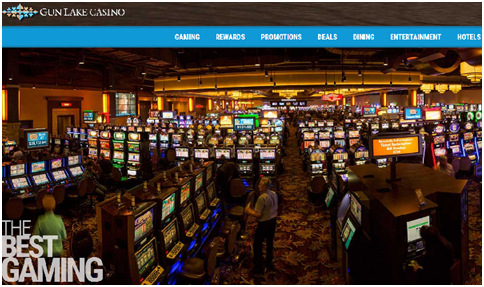 Gun Lake Casino will host its annual fireworks display on Sunday, July 3, 2016. The show will begin at dusk behind the casino, where the public is invited to watch at no cost.
The Brew WBFX-FM will broadcast a special music match-up to accompany the fireworks show. Listeners will be able to tune in during the show, even if watching the display from off the casino property.
Guests will be able to view the fireworks from the parking lots on the north side of the casino and the casino's west lot. Minors will be allowed on site to view the fireworks, however, will not be permitted to enter the casino.
After the fireworks display, Gun Lake Casino will hold cash drawings for $1,000, every half-hour from 10:30pm until 12:00am. Guests can swipe at a Passport kiosk for a free entry beginning at 5:00pm.
Two live bands will play at Stage 131, beginning with John Sanger, followed by Drop 35. John Sanger is a Grand Rapids classic rock and pop artist and will begin at 5:00pm and will play until 8:00pm. Drop 35 is a west Michigan band featuring popular dance music and will begin at 9:00pm and will play until 1:00am.
Soboba Casino Celebrations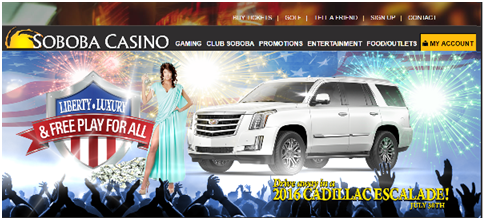 Soboba is hosting their annual 3rd of July Independence Day Celebration on Sunday, July 3rd, 2016!
Bostyx performing live at Soboba Casino July 3rd
The event features food, fun, live music and a free fireworks show! With gates opening at 4:00pm in the Soboba Arena there will be plenty of fun for the whole family to enjoy.
The celebration will kick off with a performance by a legendary tribute to the 1998 Rock and Roll Hall of Fame inductees The Eagles. "Hotel California: a Salute to the Eagles" performs live on the Soboba Arena stage beginning at 4:00pm.
Taking the stage as the main act of the evening will be "Bostyx" a Boston and Styx cover band featuring former BOSTON guitarist/vocalist DAVID VICTOR! Bostyx will be performing the feel-good hit music that dominated the 1970's and 1980's.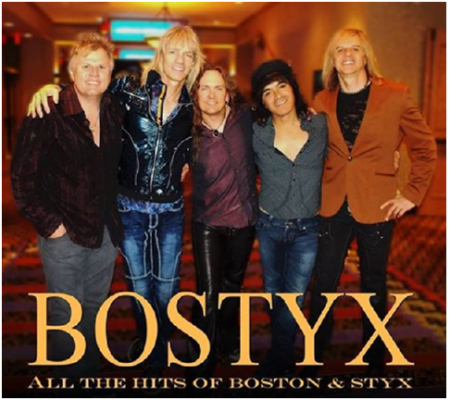 Enjoy the Independence Day After-Party in Soboba's AC's Lounge featuring "Hunter and the Dirty Jacks" starting at 9:00pm.

If you are new to Soboba Casino then here are some inputs:
The casino features approximately 2,000 of the newest, hottest slot machines, an expansive and modern non-smoking room, 20 classic gaming tables featuring all your favorite card games, and a large outdoor event arena which easily accommodates over 10,000 people.
Visit the cozy Soboba Cafe and Coffee Kiicha, or experience AC's Lounge with full cocktail bar and three giant HD flat screens including the "Sobobatron," the Inland Empire's biggest HD video wall.
You can enjoy Online Casino Deals
US friendly online casinos like Silver Oak, Win a Day, Slots of Vegas Cool Cat casino and many more are offering Independence day deals and coupon codes for you to grab some awesome bonus offers. Check in the coming days as many of these offers will be available through out the month. Now have the fun and the excitement rolling.. Happy Independence Day