This weekend I am watching some good movies. As many channels are broadcasting awesome Christmas themed movies to restore your faith and believe in yourself and the miracles of the Lord, many wonderful movies are relayed by Hallmark. If you remember your favourite Hallmark Greetings online site where you can send beautiful greeting cards to family and friends, is the same brand streaming movies.
From October last weekend until January 1st 2019, Hallmark Channel runs a seasonal block called Countdown to Christmas, featuring a mix of holiday movies, specials and holiday-themed original programming. The block is branded as Countdown to New Years from December 26th until January 1st and culminates with the channel's broadcast of the Tournament of Roses Parade.
Countdown to Christmas started in 2009, while the channel's first holiday original movie was aired in 2000. Hallmark characters, Hoops & Yoyo, hosted Friday "Movie Night", starting in 2009 during the Countdown. Countdown had 12 original movies in 2013 and 21 in 2016.
In 2014, the Hallmark Channel and Hallmark Cards collaborated for the first time on a movie, Northpole, which was shown during Countdown to Christmas. During the 2017 holiday season, the Hallmark Channel premiered 33 original Christmas holiday films, up from a total of 28 holiday movies in 2016. Hallmark has a total of 136 Christmas holiday-themed movies in their original library of films.
For 2018, Hallmark Channel partnered with Sirius XM to launch "Hallmark Channel Radio"—a Christmas music channel hosted by Hallmark Channel and featuring behind-the-scenes features relating to Countdown to Christmas programming.
The Hallmark Channel is an American pay television network that is owned by Crown Media Holdings, Inc., which in turn is owned by Hallmark Cards, Inc. So if you want to watch some good movies with your family and friends and have the feel and look of Christmas season then here are the six upcoming Christmas Hallmark movies of miracles, blessings and faith to watch this weekend.
1. Jingle Around The Clock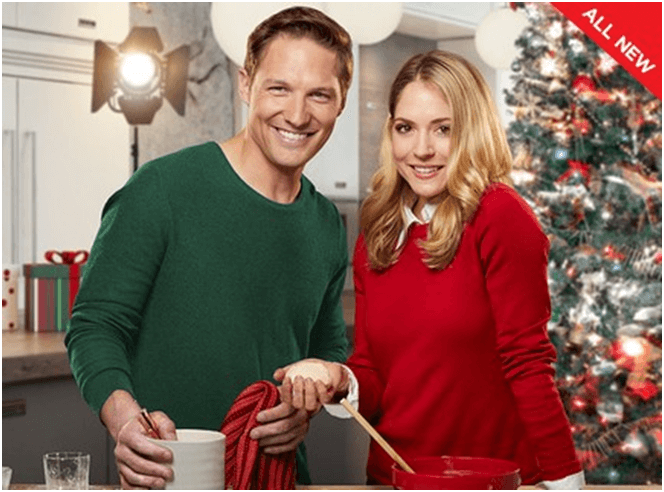 Hallmark website describes about the movie that when Elle Bennet (Nevin) decides to reunite her college friends for a special Christmas celebration, her plans are thwarted by an opportunity at work she can't pass up: spearheading a Christmas campaign relaunch to prove she's ready for a career-altering promotion. She's forced to team up with advertising campaign "fixer" Max (Cassidy), who has a completely different take on the holidays, but as Elle and Max work together and learn more about each other's Christmas traditions, they unexpectedly find themselves falling for each other. Despite being pulled in so many directions and with the help of a little Christmas magic, will Elle pull off the perfect Christmas reunion, earn the promotion of her dreams, and ultimately find the love she's been searching for?
Watch this movie on Saturday, Dec. 22 at 8 p.m. on Hallmark Stars: Brooke Nevin, Michael Cassidy.
'Twas the weekend before Christmas, when a special gift did appear: a double feature for #Hallmarkies to enjoy with those they hold dear! ❤️Start a new tradition with us Saturday with #JingleAroundTheClock at 8pm/7c before #ChristmasBellsareRinging at 10pm/9c on @hallmarkmovie. pic.twitter.com/Pdn7rVv47L

— Hallmark Channel (@hallmarkchannel) December 19, 2018
2. Christmas at Grand Valley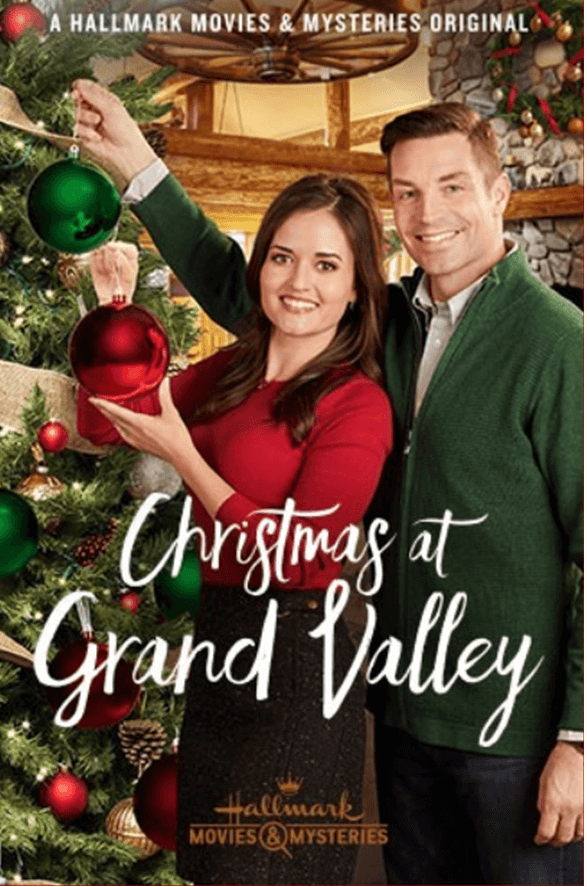 Burned out from the hubbub of the Chicago gallery world, artist Kelly (McKellar) returns home to the picturesque Grand Valley just in time for Christmas. Maybe her favorite town's shining season will reinvigorate her love of art and guide her down her next path. Leo (Elliott), businessman and all-star dad to his children, struggles to balance his time this holiday season. When he is assigned to review a hotel in Grand Valley for its value, he sees this as the perfect opportunity for a Christmas family vacation. When Kelly and Leo's worlds collide, she re-experiences her favorite Grand Valley traditions with Leo and his children and begins to find her way back to her passion for art.
This movie airs on saturday, Dec. 22 at 9 p.m. on Hallmark Movies & Mysteries. Stars: Danica McKellar, Brennan Elliott
3. Christmas Made to Order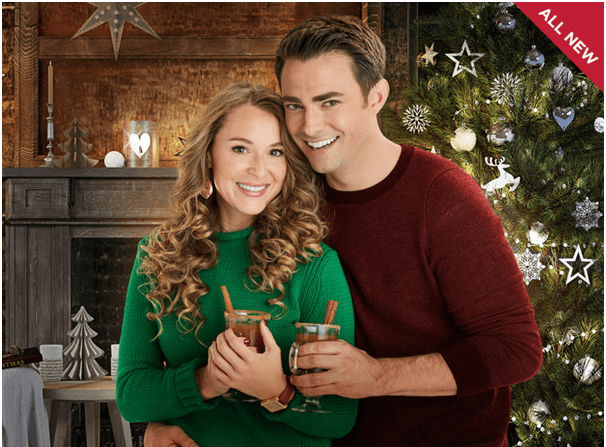 When architect and Christmas amateur Steven (Bennett) finds himself hosting his family for Christmas, he recruits holiday coordinator Gretchen (PenaVega) to bring holiday joy to his home. Gretchen's expert Christmas spirit brings Steven's family together, but neither expected it to bring them closer to each other. After a great opportunity presents itself to Gretchen, she and Steven must decide what's really important in life. Watch this movie on Sunday, Dec. 23 at 8 p.m. on Hallmark. Stars: Alexa PenaVega, Jonathan Bennett.
4. Christmas Bells are Ringing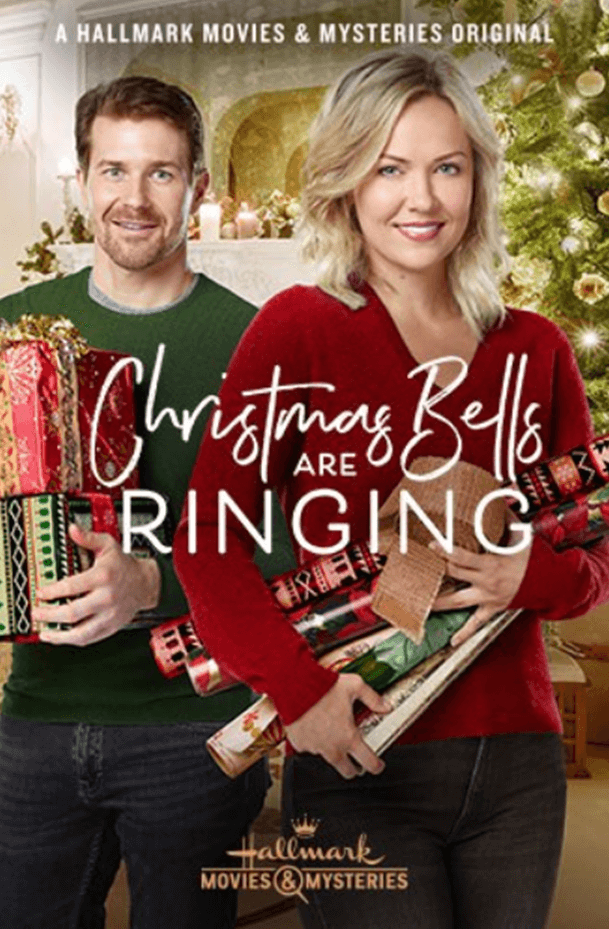 Freelance photographer Samantha (Ullerup) returns to Cape Cod for the first time since the death of her mother years earlier. She's going to celebrate her father's Christmas Eve wedding to the lovely Helen, but is anxious to revisit past memories. Having never been to the Cape during winter, however, she finds that it is a whole new experience. On deadline for a big Christmas spread that could ignite her career, she enlists the help of her childhood friend, Mike (Kelly), to show her around. In the time she spends in Cape Cod with her dad, Helen, and Mike, she finds meaning in her creative pursuits, falls in love, and realizes that Christmas is wherever your family is. Watch this movie on Sunday, Dec. 23 at 9 p.m. on Hallmark Movies & Mysteries. Stars: Emilie Ullerup, Josh Kelly
5. When Calls the Heart: The Greatest Christmas Blessings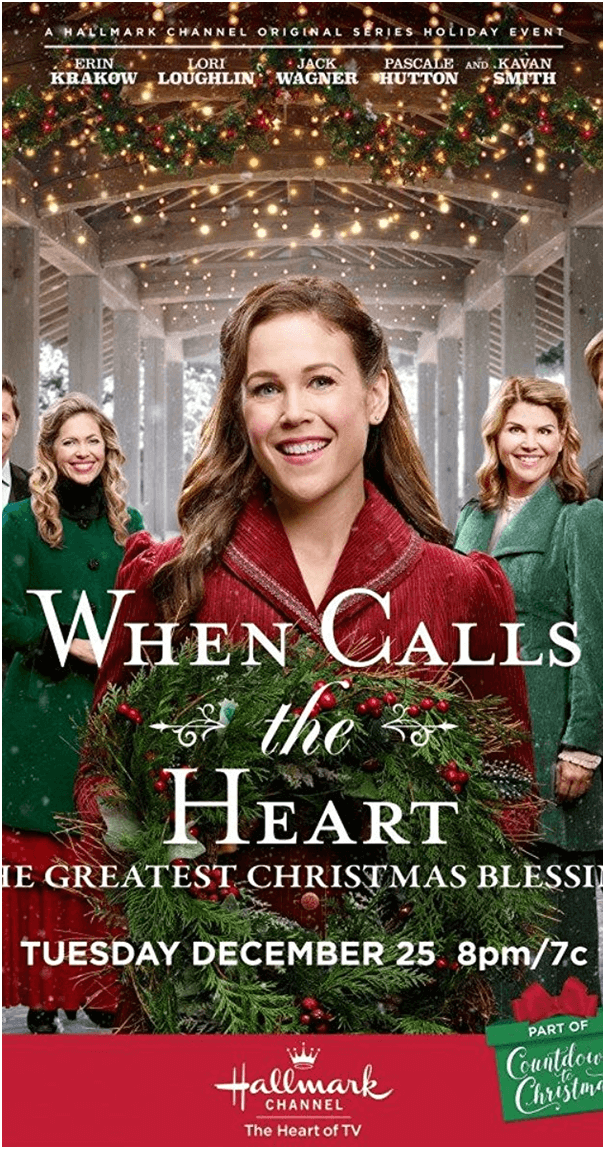 When a group of orphans become stranded in Hope Valley for Christmas, their caretakers — sisters who have a mysterious backstory — lead Bill (Wagner) to investigate the circumstances of their arrival. He discovers the sisters and their orphanage are in jeopardy, so Abigail (Loughlin) and the other residents rally to make it a Christmas to remember for the orphans. Elizabeth (Krakow) organizes her students to engage in selfless gift-giving. That, along with a Christmas miracle, help bring wonder, hope, joy, and love to all. Watch the movie on Tuesday, Dec. 25 at 8 p.m. on Hallmark. Stars: Jack Wagner, Lori Loughlin, Erin Krakow.
6. Midnight Kiss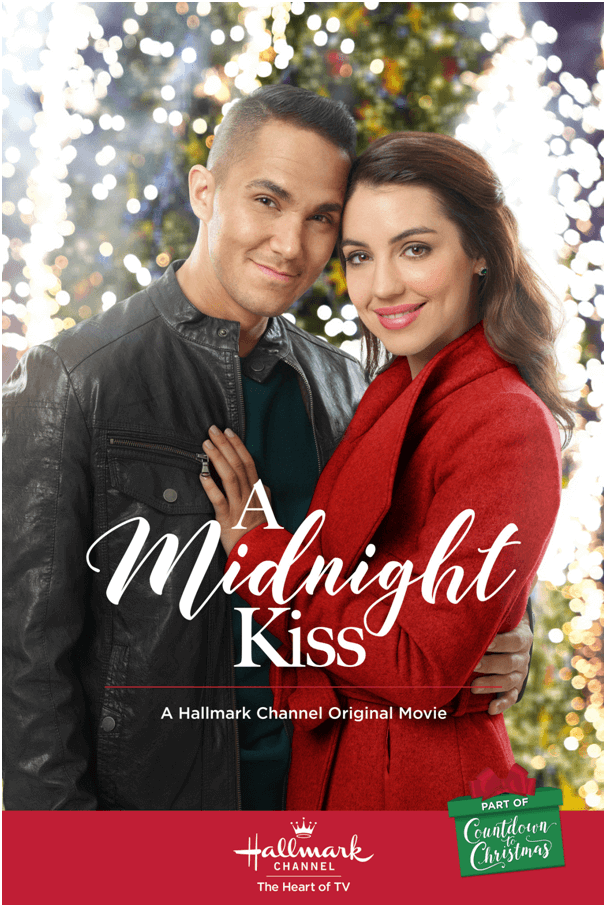 With only one week to prepare, Lisa Patterson (Kane) and her family of party planners are given the biggest job in their company's history: a New Year's Eve party for tech entrepreneur Megan Clark. But when her brother breaks his leg and her parents head off on a planned vacation, Lisa must reluctantly enlist the help of her brother's visiting college buddy, David Campos (PenaVega), to help her pull off the event. But what Lisa didn't plan on was falling in love in the process. Watch on Saturday, Dec. 29 at 8 p.m. on Hallmark. Stars: Carlos PenaVega, Adelaide Kane.
Where can you watch Hallmark movies?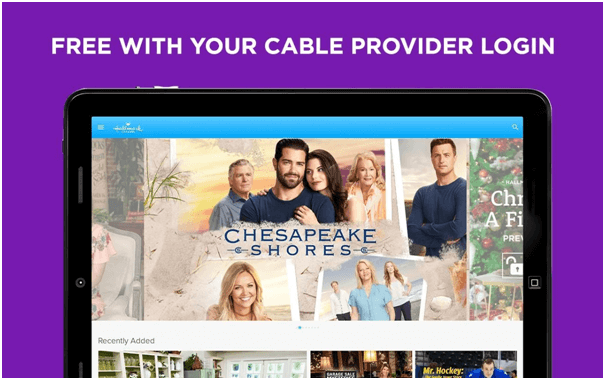 You can watch Hallmark movies with your cable provider like AT&T Uverse, Spectrum Cox, Dish, Verizon, Mediacom, DirectTV, Optimum, Suddenlink, Wow! And Xfinity on your Hallmark TV channel.
Hallmark Channel Everywhere App is making some of your favorite Hallmark Channel movies and shows available on hallmarkchannel.com in partnership with participating television providers. In order for you to watch these programs for free, the Hallmark Channel Everywhere App must verify your television subscription by having you log in with the username and password provided by your television provider.
As long as your television provider is participating and you receive Hallmark Channel from your television provider, you pay nothing extra to watch these shows and movies on your computer or cell phones. You can also access the service on Apple TV and Roku devices. Once you've downloaded the app, you can start enjoying content right away if you have a participating cable or satellite TV provider. Just sign in with your username and password.
Click here to download the app for iPhone
Click here to download the app for Android phone
Hallmark Channel Everywhere requires these minimum system requirements for viewing on a computer: You must enable Javascript and accept cookies and have Internet Explorer 11+, Microsoft Edge on Windows 10, Mozilla Firefox 47, Google Chrome 42+, Safari 9+ on your devices to watch these movies.
If you are finding ways to watch these movies without cable provider then click here to know how to do so.