I am all excited as the 2016 World Series of Poker begins few days from today. Here I have gathered information for you so as to keep you informed about the events at WSOP, tracing back its roots as well as making you know the basics of poker game for those who are new in this field.
This year the Rio All-Suite Hotel and Casino in Las Vegas will host 69 events from May 31 – July 18. According to World Series of Poker ( WSOP)  it has made several exciting changes this year that will affect nearly all of the events this summer.
One of the first key changes is a 50 percent increase in the number of players that will make the money in most events, up to 15 percent from 10 percent in previous years. Also newly announced are earlier start times for most events. Tournaments will kick off one hour earlier than in previous years, with 11:00 AM and 3:00 PM start times. The amount of starting chips has also increased in many events, with $10,000 buy-in events including the Main Event now featuring 50,000 in starting chips, up 66% from last year.
Beginning in 1970 with humble origins this will be the 47th edition of the World Series of Poker, the annual Mecca of the poker world. It will take place entirely at the Rio in Las Vegas, as it has every year since 2005. WSOP bracelet events, non-bracelet daily tournaments, satellites, and cash games all take place within the Rio's massive convention centre.
As early as the sixteenth century, Germans played a bluffing game called "Pochen." It later developed into a French version, called "Poque," which was eventually brought over to New Orleans and played on the riverboats that plied the Mississippi.
8 new events for the 2016 WSOP
Caesars the organizers of the massive live and now even online spectacle,  has put an increasing focus on recent years on making the WSOP experience accessible to almost every types of stake holders by adding numerous sub-$2,000 buy-in events that draw recreational players in massive numbers. WSOP continues this trend with the following 8 new bracelet events:
Event 4 (June 5) $1,000 Hybrid Online/Live No-Limit Texas Hold'em
Event 12 (June 9) $565 Pot-Limit Omaha
Event 23 (June 15) $2,000 No-Limit Hold'em
Event 40 (June 23) $2,500 Mixed Triple Draw Lowball
Event 45 (June 26) $1,500 Mixed No-Limit Hold'em/Pot-Limit Omaha
Event 53 (June 30) $1,500 Mixed Pot-Limit Omaha
Event 54 (July 1) $888 8-handed No-Limit Hold'em
Event 61 (July 7) $1,000 Team No-Limit Hold'em

Are you planning to attend the WSOP biggest poker tournaments at Vegas then follow these simple tips
Design a road map for yourself and learn about the WSOP and other poker options in Las Vegas, events to attend, the cost to bear and other such things.
Plan a budget and be firm to hold on to it.
Avoid the pit games. Many a poker player has lost a good portion of his or her bankroll at blackjack, craps, pai gow, etc. Enjoy all a bit but do not spend off your bankroll on the games where it is difficult for you to beat the odds
Explore Las Vegas as a city of fun and do not spend entire time on poker tables.
In the 1830s, poker was refined further and became known as Poker. During the Civil War, the key rule about drawing cards to improve one's hand was added. A variation – Stud Poker appeared at about the same time. There are hundreds of versions of Poker, and the game is played not only in private homes, but also in countless Poker rooms at famous casinos. Poker can be played socially for pennies or matchsticks, or professionally for thousands of dollars.
WSOP Satellites 2016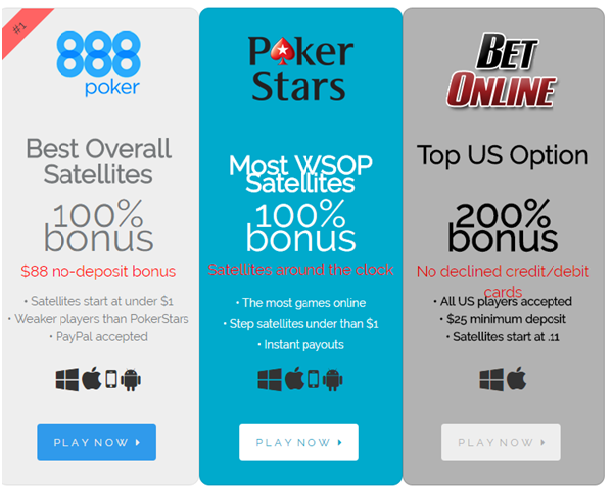 WSOP satellites for 2016 will mainly take place online. The Rio will host them around the clock starting May 31 and many of land casino card rooms will even host 1 or 2 big tourneys for you.
WSOP satellites are a staple of online poker rooms and, for some, the main reason to even play online. Poker sites are happy to oblige, offering number of  tournament starting at $1 and direct-entry events going up to a buy-in of $1,000. You can try your luck at the following online poker sites that offer great bonus offers too.
PokerStars
Poker Stars is the best online poker site online for non US players with an absurd number of satellites for the 2016 WSOP schedule running around the clock and no shortage of competitors to fill up on-demand tournaments.
888 Poker
888 Poker is the second-largest satellite for WSOP entrants and second-largest in the world in terms of online players. They have plenty of satellites and the best promotions online in their $88 no-deposit offer for players.
Satellites for US Players
WSOP officials don't allow US-facing poker rooms to directly buy players in so usually player accounts are just credited with the funds.
Bet Online is probably the best online site for US players  to win their way into the 2016 WSOP. With large number of players this site has excellent banking methods and showcasing good wins. Their first step satellites start at a ridiculous 11-cent buy-in.
You can always qualify for a 2016 WSOP event from a live satellite at the Rio. They run around the clock leading up to and during the Series. The Rio hosts numerous satellites and super-satellites every day leading up to and during of the 2016 WSOP. The buy-ins for Main Event satellites usually range from about $200 for multi-table tournaments to $1,000 for just a single table.
If you are wondering how satellites work then come to know that they work by awarding a WSOP Main Event seat to the winners of special tournaments with low buy-ins.
As an example, a satellite tournament with a $50 buy in that draws 200 players would award one $10,000 Main Event seat to the winner. 50×200 is $10,000 so that's the total prize pool.
Over the years since online poker sites have come up countless other creative ways to get smaller players involved in Main Event satellites, usually with minuscule buy-ins or even free rolls that award the very few winners a step up to the next buy-in level. Typically, it takes 4 or 5 steps to finally make it into the direct-entry satellites that guarantee WSOP seats. Players have to win multiple wild crowded tournaments, but it's possible to win a Main Event seat for a few dollars or less.
Live WSOP Satellites
There are also live WSOP satellites if you do not wish to play online. Live WSOP satellites certainly exist, mainly at the Rio Pavilion Room running concurrent with the WSOP schedule. Starting May 31, single table satellites and $185 mega satellites will run daily at 9:00 a.m. For every 10 entries, a $1,500 WSOP entry and $100 cash will be awarded.
Apart from the daily mega satellites the Pavilion Room will also host on-demand WSOP satellites. The structure is flexible, with various buy-ins available depending on the demand. Once a table fills up with 10 players the satellite starts, making it akin to a single table Sit and Go with a single winner.
Live WSOP satellite prizes are actually awarded in special $500 chips that are valid for any 2016 WSOP event.
There is plenty of luck involved in Poker game, but the play requires incredibly great skill as well, and each player is the master of his own destiny.
When did WSOP all began
The World Series of Poker began as an invitation-only tournament in 1970. Story goes that the legendary Las Vegas casino owner Benny Binion gathered  handful of the best poker players in the world to his famous Horseshoe Casino to determine who was the number one player on the planet.
Although the first tournament was decided by a vote, beginning with the second contest in 1971, the champion has been determined by a winner-take-all no-limit hold 'em tournament. Past winners include legends like Johnny Moss, "Amarillo Slim" Preston, and "Amarillo Slim" Preston.
The WSOP began with only 6 players in 1970, but by the mid 80's, it saw upwards of 2,000 entrants. The series reached over 8,000 players in 2006 with the winner of the "Main Event" no-limit hold 'em tournament taking home over $12,000,000. The winner also takes home the coveted WSOP Champion bracelet.
Poker as a game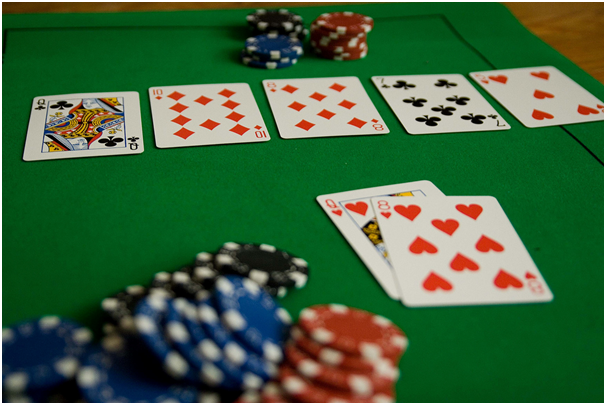 The standard 52-card pack, sometimes with the addition of one or two jokers, is used. Poker is a one-pack game, but today, in virtually all games played in clubs and among the best players, two packs of contrasting colors are utilized in order to speed up the game. While one pack is being dealt, the other is being shuffled and prepared for the next deal.
How are Cards Scored
While Poker is played in innumerable forms, a player who understands the values of the Poker hands and the principles of betting can play without difficulty in any type of Poker game. Except in a few versions of the game, a Poker hand consists of five cards. The various combinations of Poker hands rank from five of a kind (the highest) to no pair or nothing (the lowest)
Betting in poker game
Betting is the key to Poker, for the game, in essence, is a game of chip management. In the course of each Poker deal, there will be one or more betting intervals in which the players have an opportunity to bet on their hands. Minimizing losses with poor hands and maximizing winnings with good hands is the underlying skill that Poker requires.
WSOP Promotions to Grab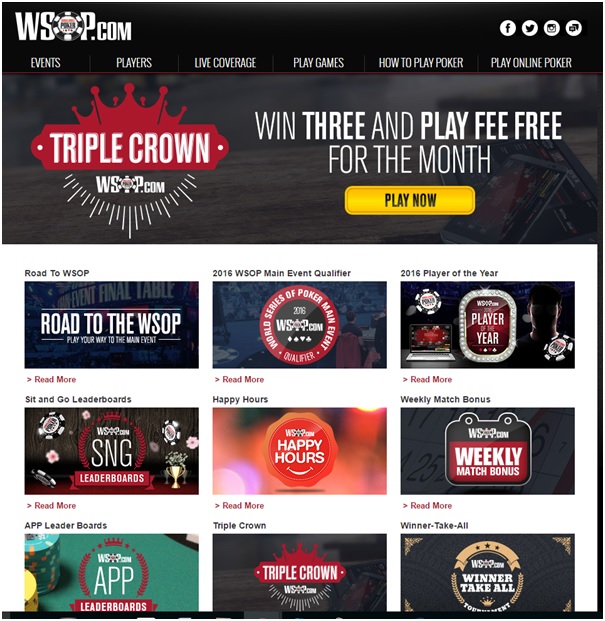 To know more details about the ongoing promotions and bonuses visit WSOP today.
Play WSOP with your mobile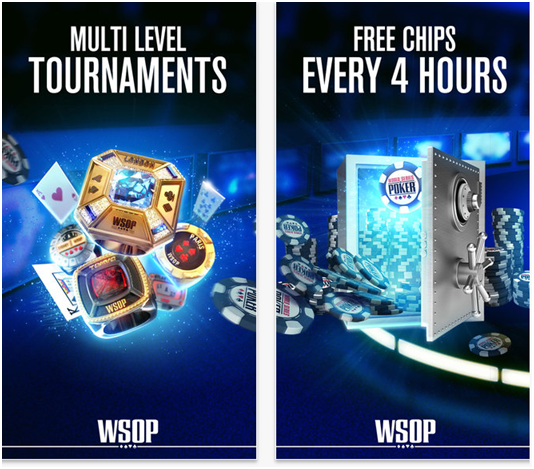 For all iOS users you can download the app free at iTunes store , for android users you can download at Google play store and also can have the app at Amazon Kindle. You must be 21 years of age to have this app. You can cash in your winnings to buy into high-stakes tables, compete with elite poker players and take part in multi level tournaments, WSOP rings to have the Vegas Poker experience. You can have more details at the WSOP website.
Now that you have understood quite a bit about WSOP and the poker game let me tell you that you can play Texas Holde'm; Omaha; Seven Card Stud, Jacks or Better, Razz Poker and other poker variations at online casinos too. You will find great bonus coupons when playing these poker games at any of the US friendly online casinos. Avail the offers and be a part of poker community. Good Luck!
The 47th annual WSOP begins one week today! Here's the @Jostens bracelet.
Schedule: https://t.co/I3HoFxANCy pic.twitter.com/pCaHPGVIHX

— WSOP (@WSOP) May 24, 2016