"A father is someone you look up to no matter how tall you grown."
The above quote from unknown speaks volumes of a dad's presence in our lives. Census Bureau data estimate there are roughly 70 million dads in the United States and 75.4% of Americans celebrate Father's Day according to a survey conducted by the National Retail Federation. Also 76 percent of American adults plan to buy gifts for dad. In 2015, the survey showed that the average person shelled out $116 on the gifts for dads and 29% of Americans prefer to shop gifts online.
Also the gifts that people choose for their dads are greeting cards, special outing and to dine with dad at a perfect place among other things. The reason being it is a bit difficult to find some wonderful gifts for dad than to get it for moms. As moms are more emotional you can find easily gifts they like flowers, candy etc. But dad is a dad and wants something different though dads enjoy spending time with their families and receiving heart-felt gifts, too. You will find these days a lot of advertisements for electronics, tools, sporting goods, and gadgets. This is because research shows that these are the types of things men want.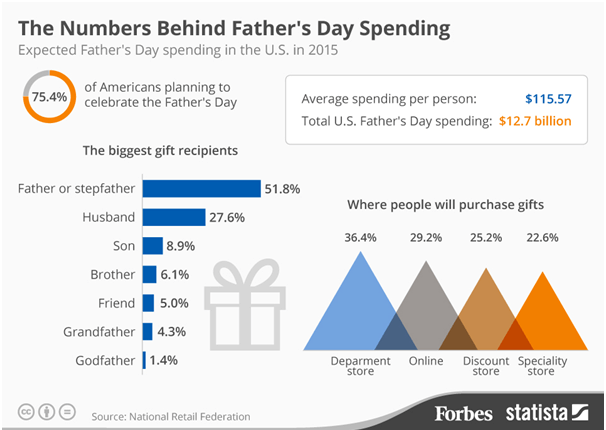 So what are you going to get your dad or husband for Father's Day? With electronics being so expensive, it's not always ideal to get him a big-screen television, a new car stereo system, a grill, or a PlayStation 4. These gifts are extremely costly, and given that it's also vacation season, you may not want to cut too much into the budget. If you're looking for some budget-friendly presents for Dad that he'll enjoy, check out the following best 20 father's day gift ideas under $10 and $50 you can buy for your dad and get a pat for saving money.
1. Pre-owned video game for your dad
Is your dad the guy who loves to play games (I know he is, just bring his child memories back) then search or ask him what type of games he would like to have. Action RPG style, sports, you can get a pre-owned copy of Madden NFL 12 or 13 or 15 for around $3- $10 pre-owned for Xbox 360. Some of the older Halo games, like Halo Reach or Halo 4, go for around $10. Be sure to get an idea of what he likes before you buy, because the idea is to get a game he'll actually play — even if it is a 2- or 3-year-old game. Check out at Amazon, may be you can get one.
If he loves to play slot then deposit $10 for him at online casino and set the reels for him to spin for some great wins. If he wants to play cards at home then get him one from Amazon at only $9.66
2. Good book for him to read
If you have a Goodwill or a thrift shop nearby or online, you can purchase books for between 50 cents and $1. These are actually good books, too. You often find New York Times best-sellers and books from Oprah's book club at these stores. The reason they're inexpensive is because they're pre-owned, and many of them have been out for several years.
Another great place to search for books is online. Amazon and eBay have used books at great prices, as well. At the $10 price point, you can buy a book for your dad and likely still have money left over for a card, too. If Dad is not a book lover, maybe he'd like a magazine subscription. Magazines like Outdoor Life, Fitness, In-Fisherman, and Hunting are all priced at $10 or less right now on Amazon.
3. Offer a gift card to your dad for iTunes or Google Play
A $10 gift card will get him a few episodes of his favorite show, his favorite movie, or maybe the pocket edition of Minecraft. Every card works in Mac App Store, App Store, iBooks Store and the iTunes Store to top up your iTunes account credits to be used for app or in-app purchases. So go ahead and send your dad the latest strategy adventure game or album you have on repeat. iTunes Gift Card is by far the most convenient way to credits to your US iTunes Store account.
4. Coffee Maker the best gift ever for dad
Many coffee makers are for sale at stores, as well as at online shops like eBay that do not exceed $10 and $50. All you need is to search at Amazon, Walmart or store near to you. Also try to get from Target costing $30-$40.
5. Get him Golf Gloves
Golf glove will not only help his golf game, but also prevent blisters and hand sores. Even brand name gloves, like TaylorMade, Puma, and Callaway, feature gloves that are priced less than $10. Get one at Amazon or any other online store.
6. Garden Watering Can is also a right choice
A watering can is an inexpensive gift that will certainly be put to good use. Buy one at Amazon or Walmart costing as below as $4- $50.
7. T-shirts to make your dad look handsome
Choose the theme of the Tees according to your dad's choice. Like a sports themed shirt, a funny shirt, or a shirt that honors fathers. A T-shirt that says "Dad of the Year" is certain to make any father happy on their special day. Also, of course, these shirts typically won't cost you more than $10. Choose one from Target, get 25% off when buying at cafepress or at Etsy or get them customized here at your neighbourhood store.
8. Game of Throne coasters your dad will love
Instead of trying to resist it, embrace your shared interest and let your dad know you understand his love for the series by gifting him these coasters bearing the sights of the four main houses only for $8.22 Useful and thoughtful, these are the perfect affordable gift for your beer-drinking, George R. R. Martin-loving dad. Get today at Amazon.
9. Headphones for dad to listen some music
This will surely make your dad smile. Give Dad the gift of the portable and comfortable headphones so that he can hear his favorite music like never before. They cost between $35-$40 at Amazon store
10. RFID Blocking Billfold Bag to keep dad's things safe
The simple construction and light weight make this an instant favorite. Get one today costing $20-$30 from Walmart or from travelon.
11. Foot Massager to relax dad's feet
Multiple settings will soothe his feet, and his mind. Priced at $25-$50 get from ebay, or buy here and save 10%.
12. Durable Laptop Sleeve your dad was looking forward to
Gift him laptop sleep costing $9-$40 at Mini in the box, or at Target or at society6 or get one at Thule.
13. Public Radio will get the news alerts for your dad
Utilizing S.A.M.E. (Specific Area Message Encoding), the radio allows you to hear only local alerts and emergency messages. Gift your dad one priced at $40-$50 from Amazon.com
14. Beer Making Kit which your dad will surely like
In the kit, you get all the ingredients and materials you need to make one of the many beers offered by the Brooklyn Brew Shop, ranging from Afternoon Wheat to Jalapeño Saison to Chestnut Brown Ale. At Amazon find Brooklyn Brew Shop Beer Making Kit at $38.99. Also get one from Target
15. Tablet- Dad will love to use
It isn't exactly high tech, but it's $49.99 and it works. If your dad is not a spec fiend, it'll do what he needs to do. Get one today at Amazon Fire Tablet (Wi-Fi, 8 GB), $49.99.
16. Get dad a Nato Strap Watch
Your dad already has a nice leather watch for the office. Get him a casual one he can wear outdoors and on the weekends Timex's NATO-strap watches are both stylish and affordable.
17. Screwdriver Tools Dad can use
It's easy to find many screwdriver sets online for around $10- $40. These screwdriver sets are a practical present that will make work much easier and convenient for the father. Find one for your Dad at Amazon or at Ebay.
18. Kitchen Cutlery dad can use while cooking
Gift him kitchen knives and cutlery which he will use make dicing veggies, cutting meat, and slicing other ingredients a much easier process. At online stores, like eBay, quality cutlery can be purchased for under $10- $50. Find at Williams Sonoma or at Cutlery and More or even at Amazon.
19. Hands-free Car Speakerphone dad will love to have
While many of these do exceed $10, a good portion does not, especially in auction sales. A car speakerphone brings safety and convenience to talking on the phone while driving. Buy from Amazon or at Ebay
20. Cigar Box if dad likes to smoke sometime
These boxes help humidify cigars and keep them fresh. You can also choose among a wide variety of designs and sizes. Both used and new cigar boxes sell for under $10-$50 and find them at Amazon, or at Thompson Cigars or at Etsy
With these gifts your dad will really cherish the way you express love to him. These come in span of budget and interests, meaning you're bound to find something for dads of all sorts. Enjoy!