Halloween is round the corner and this year the holiday falls on Wednesday, October 31st. Actually this festival of trick-or-treat, carving jack-o-lanterns, festive gatherings, donning costumes and eating so much of sweet treats originated with the ancient Celtic festival of Samhain.
Still many people light bonfires and wear costumes to ward off ghosts. For those who don't know Halloween is followed by All Saints Day on 1st November in honor all saints and incorporates some of the traditions of Samhain.
Don't be amazed to know that Americans borrowed this tradition from Irish and Englishmen. One more interesting thing is that young women believe that on Halloween they could divine the name or appearance of their future husband by doing tricks with yarn, apple parings or mirrors.
If you are searching for a Halloween party in casinos or to play pranks about ghost, witchcraft, wanna play games, have the best foods of the season and dress in festive costumes, then here are the eight fabulous Halloween Parties with cash prizes and free plays to win at casinos. If you are located nearby these casinos then that's awesome but if you are somewhere far you can plan a visit with your family and friends and have a gala time this Halloween. Remember you need to be 21 years of age at most of these casinos to take part in their Halloween festivities.
Location: 10424 North Fort McDowell Road, Fort McDowell, AZ 85264
Phone: 1-800-THE.FORT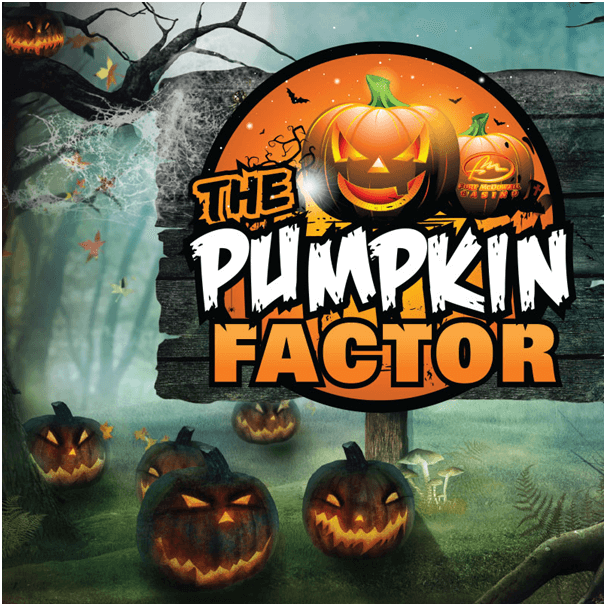 This casino is offering loads of Halloween fun whole October. Join the PUMPKIN FACTOR and WIN YOUR SHARE OF UP TO $60,000 IN CASH & PRIZES EVERY TUESDAY IN OCTOBER. There will be three winners every hour whole day 1PM–2PM–3PM–4PM–5PM
Take part in Creepy Coffin Cash and WIN YOUR SHARE OF UP TO $400,000 IN CASH! EVERY FRIDAY IN OCTOBER Choose a Coffin and Have Your Chance to Win Up to $10,000 in Cash Every Hour! 4PM | 5PM | 6PM | 7PM | 8PM
Take part in SPOOKTACULAR BLACKJACK TOURNAMENT on Sunday, October 28, 2018 | Entry Fee $30 Tournament | 2PM
Take part in Halloween Costume Contest where you Lift your spirits this Halloween! Grab your broomsticks, tombstones, or fangs on WEDNESDAY, OCTOBER 31 THE PROMOTION STAGE|REGISTRATION 11AM | JUDGING 1PM
•1st Place- $500 Cash & $500 Free Play
•2nd Place- $300 Cash & $300 Free Play
•3rd Place- $200 Cash & $200 Free Play
•4th Place- $100 Free Play
•5th Place- $50 Free Play
Location: 5223 Orient Road Tampa, FL 33610
Phone: 1-866-388-4263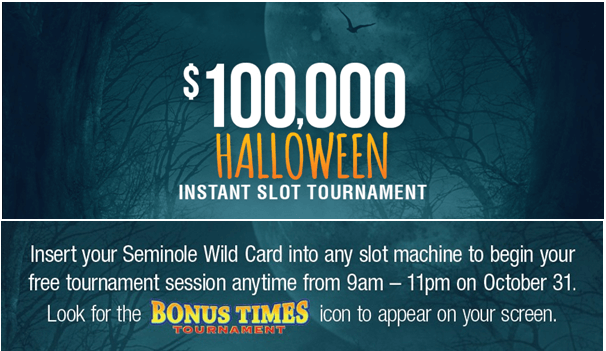 Get a chance to win $100,000 Public Slot Tournament Prize. You must be an Seminole Wild Card member in order to participate. Seminole Wild Cards are free to all visitors 21 and older. Also there is no entry fee to participate in this tournament.
Player may choose any slot machine in the designated area to qualify for the Bonus Slot Tournament. The Tournament System will automatically record the players' scores throughout the tournament and may reveal the tournament standings and leaders for each round, after each session. Otherwise leaderboard scores will be posted at the conclusion of the tournament.
Location: 2000 Las Vegas Blvd. S, Las Vegas, NV. 89104
Phone: 702.380.7777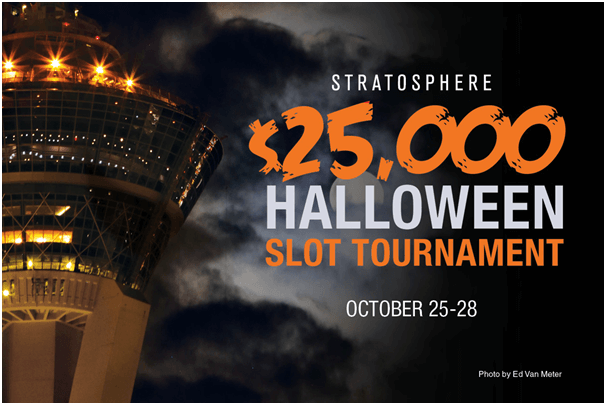 Take part in Halloween Slot Tournament and win $25000 cash prizes which goes to 50 winners in share. Join the tournament between October 25- 27. All invited participants and their invited guest will play in three-round slot tournament. Each participant's three scores will be totaled. The top (3) scoring players will be paid in cash (winners have the option to choose slot play). Places 4th-50th will be paid in slot play. Cash winners (1st-3rd place) will have 24 hours to claim, otherwise cash will be converted into slot play. Slot play winners (4th-50th Place) will have slot play posted to player accounts 90 minutes after results are announced.
Also take part in HOT SEAT DRAWINGS and win $50 free slot play on October 26-27
Enjoy COSTUME CONTEST which is open to all tournament participants and their guest that attend the Awards Costume Party on October 27 at the Elation Pool. Contest will be held at approximately 8:30pm where the best couple wins $200 Slot Play ($100 for each person) with other prizes.
Location: 100 Jackpot Place, Wyandotte, OK 74370
Phone: 866.447.4946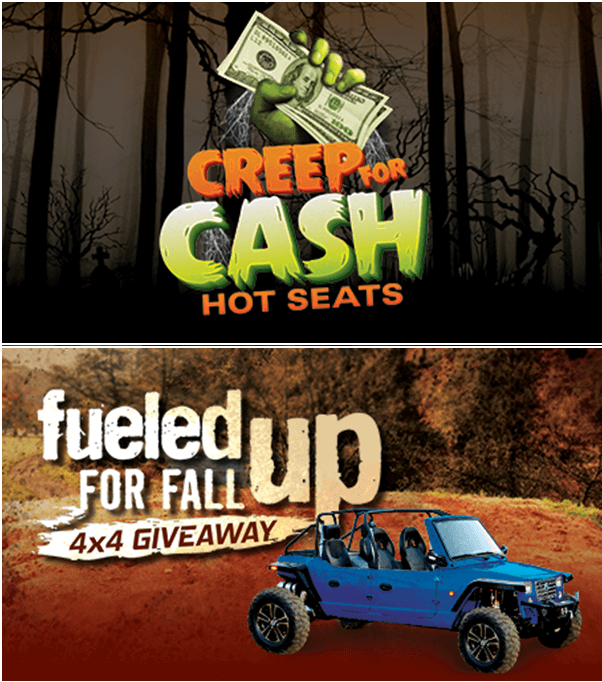 Celebrate Halloween with a night full of spooktacular winnings! Starting at 5pm, the first 300 ghoulish guests to visit Club Wyandotte will receive a FREE T-SHIRT. Then, from 6pm – 9pm, earn 20 points to receive a MYSTERY FREE PLAY prize up to $50. RAVE FROM THE GRAVE OCTOBER 31 • STARTING AT 5PM
Get your CREEP on with the spine-chilling Hot Seat drawings every 15 minutes for $100 CASH! Score your share of over $3,500 in WICKED prizes Thus CREEP FOR CASH HOT SEATS on OCTOBER 6, 13 & 20 • 8PM – 11PM
In October on SATURDAYS from 9:30AM – 10:30AM earn 10 points on your favorite slots, then score $10 in Promotional Play.
Also EARN VIRTUAL ENTRIES: OCTOBER 1 – OCTOBER 27 and VIRTUAL DRAWING: OCTOBER 27 • 9PM. Play your favorite slots with your Club Wyandotte card and score a virtual drawing entry for every 50 slot points you earn (per calendar day). Then, on October 27, place at least one wager on any slot machine with your Club Wyandotte card between 5pm – 8:45pm to activate your virtual drawing entries. At 9pm, five lucky players will be drawn from the virtual hopper to compete for a brand-new 2018 DURUXX DRX4!
Location: 873 State Route 37 Hogansburg, NY 13655
Phone: 877.99.CASINO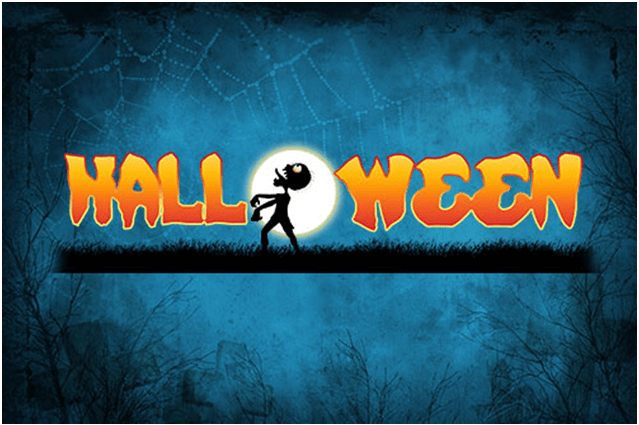 Join the casino on SATURDAY, OCTOBER 27 for MYSTERY SLOT PLAY and earn 50 points and win up to $1,000! Redeem your offer at any promotional kiosk.
Take part in COSTUME CONTEST. Dress to impress for a chance to win $2,500 in cash. Register at Promotions Booth | 8 pm |Parade & Judging | Cascades | 10 pm
Location: 45000 Pechanga Parkway Temecula, CA 92592
Phone: 1-888-PECHANGA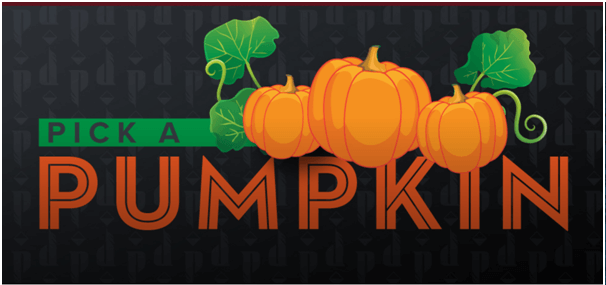 Win up to $1000 in easy play at PICK A PUMPKIN KIOSK PROMOTION on MONDAYS IN OCTOBER FROM 1PM TO 9PM. Swipe your club card for your chance to win EasyPlay
Also take part in $75,000 easy play DRAWINGS on SUNDAY, OCTOBER 21 which is OPEN TO ALL CLUB MEMBERS Earn entries by playing slots and table games from 3PM – 7PM.
Location: Mount Pleasant, MI 48858
Phone: 1.888.732.4537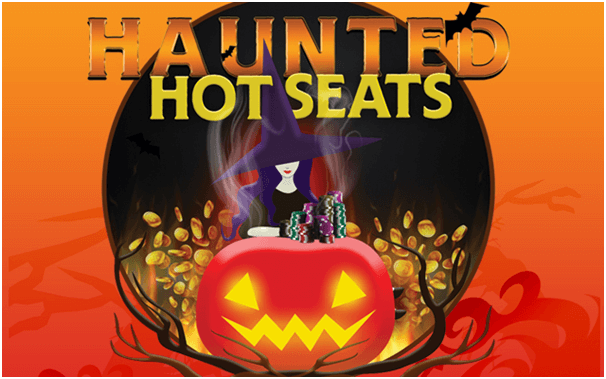 Take part in Creepy Cash Cube on WEDNESDAY, OCTOBER 31 from 10AM to 10PM, where 13 Lucky Guests (one winner each hour) will get 60 seconds to grab as many $100 bills from inside the Cash Cube filled with $30,000 CASH!. Promotion ends on October 31, 2018 at 9:55PM.
Also join Haunted Hot Seats on MONDAY,October 29 brewing up some scary fun and get give away $1,500 in Premium Play!
Location: 1777 NW 44th Street, Lincoln City, OR 97367
Phone: (888) CHINOOK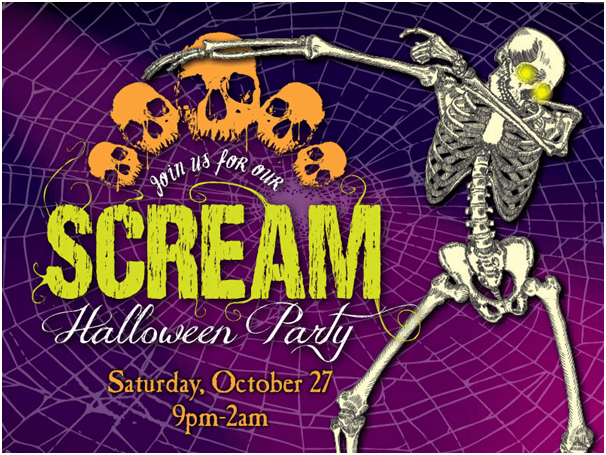 Take part in Scream Halloween Party on Oct 27th from 9 PM to 2 AM at Chinook Winds Showroom and win a share of $2,100 in prizes. On Saturday before All-Hallows-Eve, gather for a grown-up's night of club music, adult beverages, and competitive costumes.
Many online casinos are also offering awesome coupon codes and bonuses to grab this Halloween. Check them out here if you want to stay home and enjoy fun playing pranks as well as spinning slots on your cell phone or any other gaming device.