For the gamers out there it's time to celebrate your Independence with wonderful Poker and Bingo tournaments and try to win awesome cash prizes this fourth of July. Besides games the casinos are offering delicious buffet, snacks, to fireworks, music and party there's nothing not to love about many splurge-worthy Independence Day celebrations that are to begin this weekend.
There are so many activities at casinos, with deals and offers for you, I have tried to find few best fantastic Poker and Bingo tourneys that you can play and have fun. If you are nearby any of the these locations as given below you can surely make a trip and join the celebrations. For those who are not able to go and wish to stay at home there is an option for you. Online casinos are also soon coming up with coupon codes to play slots, poker, bingo and live casinos. Check out here to get the latest coupons to grab in time.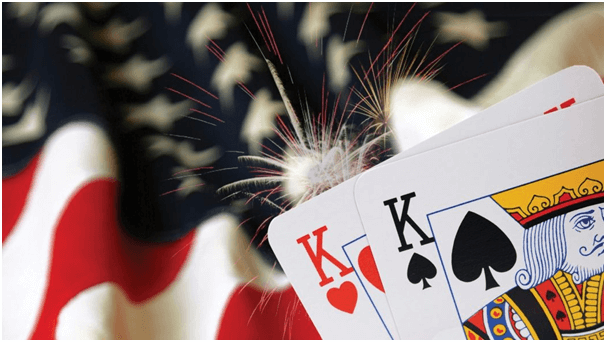 Location: 100 North Hayford Road Airway Heights, WA 99001
Phone: 877.871.6772
Enjoy poker tournament on 4th of July at Northen Quest Casino with a $4,000-guaranteed Texas Hold'em tourney. A $55 buy-in gets you a seat and 13,000 chips; add a $5 staff appreciation for 2,000 more. Afterward, head to the casino floor for even more Fourth of July fun including free cash giveaways and a Craps Tournament, too. Seats go on sale Friday, June 29 at 9am in the Poker Room. The tournament would start around 10.30 am at Kalispel Ball room.
Payouts Prize pool will be paid to the top 10% plus one place. House fee 15% + $1 to the PSJ (player supported jackpot). Alternates that are signed up and paid by the 3rd round will be guaranteed a seat in the tournament. You must be 21 years of age and a Camas Club member to play. For more details contact the poker room at 509.481.2188.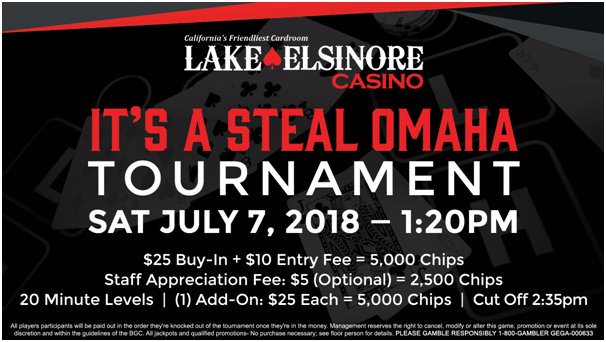 Location: 20930 Malaga Road Lake Elsinore, CA 9253
Phone: (951) 674-5160
There are lots of poker tournaments at this casino. On July 4th a free roll tournament will begin at 11.20 am with $2500 guaranteed prize. On July 7th it's a Steal Omaha Tournament at 1:20pm | $25 + $10 | (1) $25 Add-on. On July 10th another free roll tournament. On July 14th 10 K deep stack tournament with $10,000 guaranteed On July 21st again Steel Omha tourney and On July 28th another steel holde'm tourney to take part and make some awesome wins. $25 buy in and $10 entry fee to get 5000 chips to play.
3. Hard Rock Hotel and Casino Party and Fun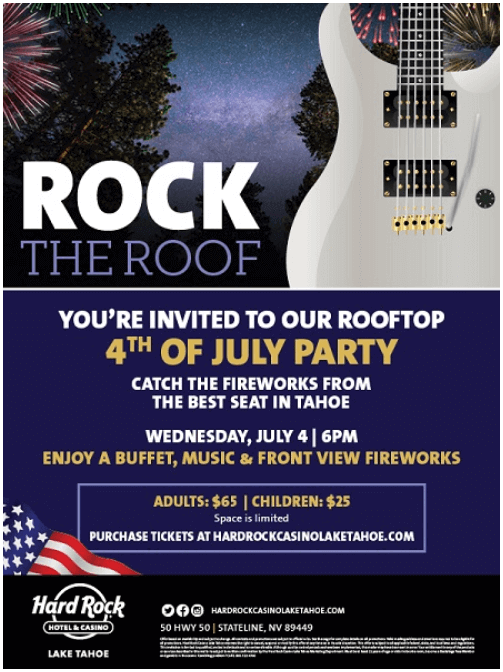 Location: 50 Hwy 50 Stateline, NV 89449
Phone: (775) 588-1010
On wednesday, July 4, 2018, 6:00 pm, enjoy Fourth of July Rooftop Party at the Hard Rock Hotel and Casino Lake Tahoe. Enjoy a Buffet, Music and front view Firework all on the roof! Tickets $65 adults and $25 children. You can also enjoy slots as the casino floor is equipped with 500 slot machines and a wide variety of table games.
4. Seminole Hard Rock to win All American Caddy Sweepstakes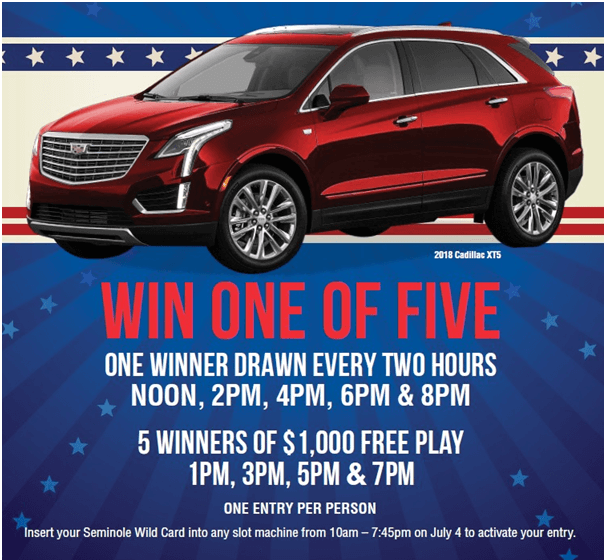 Location: 5223 Orient Rd Tampa, FL 33610
Phone: 866-388-4263
Win One of Five 2018 Cadillac XT5 on fourth of July|One Winner drawn every two hours at Noon, 2pm, 4pm, 6pm & 8pm|Plus, Five Winners of $1,000 Free Play at 1pm, 3pm, 5pm & 7pm.
Insert your Seminole Wild Card into any slot machine from 10am – 7:45pm on July 4 to activate your entry| One entry per person. You need to have Seminole Wild Card Membership to take part in this sweepstake.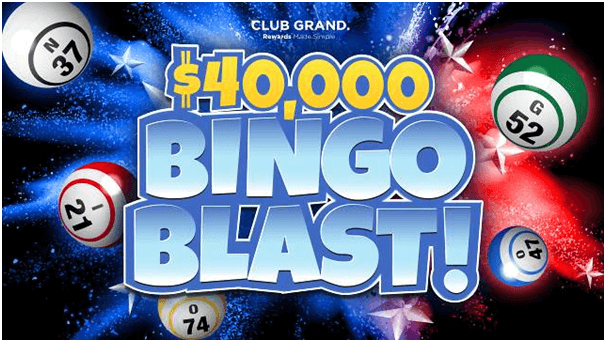 Location: 2500 E 2nd St, Reno, NV, 89595
Phone: (775) 789-2000 |
Celebrate July 4 at Grand Sierra Resort and Casino and take part in $40,000 Bingo Blast Tournament. With loads of chances to win CASH or FREE Play – including a Blackout Bingo grand prize of $10,000! In the prize structure there will be $5,000 Warm-Up Session with 5 Bingo games and $35,000 Main Session with 11 Bingo games.
6. Mole Lake Casino Bingo Tournament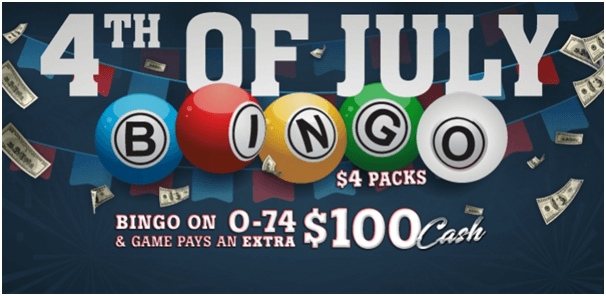 Location: 3084 Hwy 55 Crandon, WI 54520
Phone: 715.478.3200
Play Bingo and win money this Fourth of July in Bingo games with only $4 packs! Bingo on 0-74 and game pays an extra $100! On July 3rd there is a Blackout Bingo $2 Blackout game with 6 wild numbers and the game pays $1,000! There are other slots and table games at this casino to enjoy too.
Always ask the casino staff all the details, terms and conditions on any of the tournaments you wish to enter and join. Also remember you should be 21+ of age to play the games in real time.
Wanna know buffet casino deals for fourth of July or best places to visit on this holiday! Stay tuned here.