"If we're destroying our trees and destroying our environment and hurting animals and hurting one another and all that stuff, there's got to be a very powerful energy to fight that. I think we need more love in the world. We need more kindness, more compassion, more joy, more laughter. I definitely want to contribute to that"- Ellen DeGeneres
These days I am obsessed watching Ellen most of the time. In fact I started dreaming of Ellen. Ellen is beautiful, courageous, smart, kind, has great sense of humour, compassionate and moreover loves games. I want to say I love you Ellen and here are the five genuine reasons that make me say so besides many others.
1. Dice with Ellen- I love to play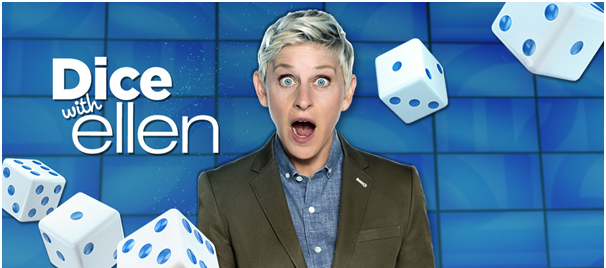 In one of her shows she showed us how to play this game with Big Dice and it was so exciting to see people roll the dice to get many Ellen(s) and win big prizes. This is fun game you will love to play with friends, family and with Ellen DeGeneres. Developed by Scopely this game app is my favourite where you can even challenge your favorite members of Ellen's squad like Portia (the beautiful wife of Ellen), tWitch, Jeannie and Andy (he is always so energetic on the show) to win loads of fun prizes. The app says player's around the world will know you're a real high roller when you show up to a game with those Lucky Dice!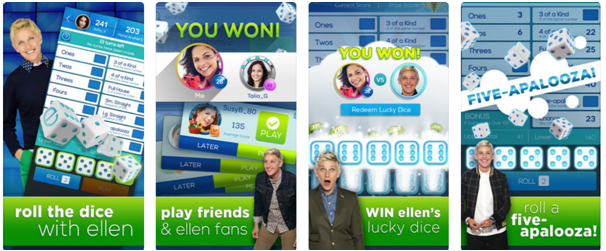 With various outstanding features in this game app you can win bonus dice rolls by playing the in game scratchers and activate bonus dice rolls to get an extra boost when you need.
Download this game app all free from iTunes for your iPhone and from Google Play for your Android. Remember there are in app purchases in case you need scoop of bonus rolls.
2. Ellen's Road to Riches Slots- I have fun playing slots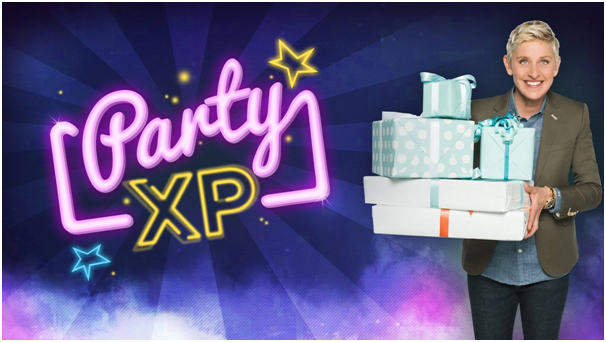 One of the high rated slot game at app store is Ellen's Road to Riches Slots game that I love to play. If you love to play Double Down Casino free slot games then this one will be the one you would love to try too. Developed by Double Down Interactive this fun to play game is loaded with riches from Ellen. You get 5000000 free credits to begin the game.
There are various slot games to enjoy with spin the Wheel of Riche$, find out What's in the Box, and dance your way up the ranks in ALL-NEW Spin & Win Contests. With daily and weekly Special Events, you'll find plenty of ways to reach EPIC WINS!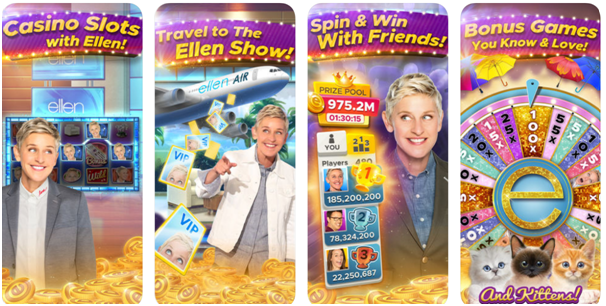 There are various puzzles to play and unlock the rewards. Get free spins and other bonuses. Playing regularly makes you a Loyalty club member to get additional casino benefits.
With five reels and 75 paylines, the social game plays much like the land-based casino version of the game including the three Ellen-inspired bonus events: the "What's in the Box" bonus, the "Ellen's Wheel of Riches" bonus and the "Dunk Tank" bonus.
Lucky players can spontaneously trigger the "Have a Little Fun Today" bonus where entire reels can become wild and players have a chance for large virtual chip wins.
Download the slots app all free from iTunes for iPhone and from Google Play for Android now. Note the game has in app purchases in the form of subscription to get more free credits to play if you need. Join Ellen's Road to Riches Slots on Facebook to enjoy with your friends.
Click here to get free coupon code for Double Down Casino
3. Ellen's Emoji Exploji- Makes me Laugh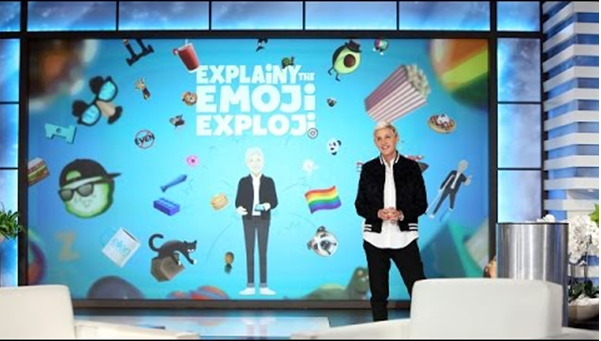 This is what I was looking for to tease my friends as often as I can with Ellen's Emoji Exploji. Have fun using the hilarious emojis from Ellen. With images and animations that you can send right from the app on your mobile or using your keyboard if you want, certainly you will be a devout of Ellen's Emoji Exploji.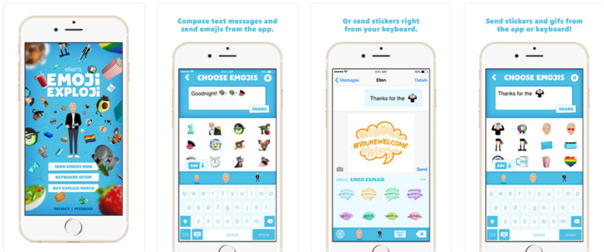 Developed by Warner Bros you will love this app and you can download it from iTunes for your iOS devices and from Google play for Android smartphones. Note this app costs US$1.99 and has 150 and over emjois to use and have fun.
4. Ellen's Dian Fossey Gorilla Fund- I love animals too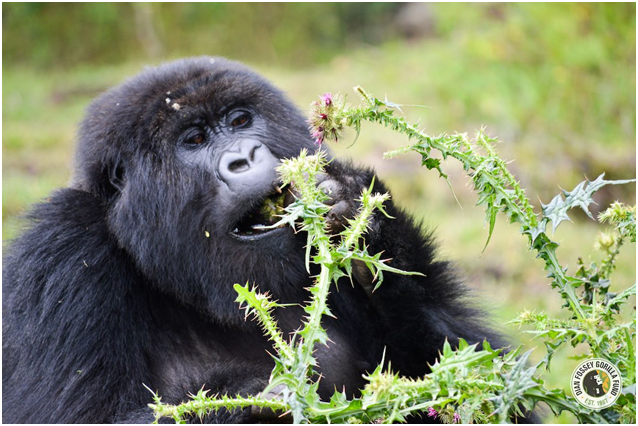 "I love animals, and I want to protect them, especially when they're endangered. We need these incredible creatures and they need our love and compassion to help save them." – Ellen DeGeneres
I watched the show where Ellen DeGeneres received a stunning 60th birthday surprise from her wife, actress Portia de Rossi to help build a permanent home in Rwanda to protect critically endangered mountain gorillas.
The Ellen DeGeneres Campus of the Dian Fossey Gorilla Fund will be a permanent, specially designed facility for scientists, who are helping to save one of the world's most at-risk species. Just 880 gorillas remain in the mist-shrouded mountains of Rwanda and the neighboring countries of Uganda and Democratic Republic of Congo. De Rossi surprised DeGeneres, whose birthday was Jan. 26, during a taping of The Ellen DeGeneres Show. "That is the best gift that anyone could have given me," an emotional DeGeneres said through tears as the audience cheered.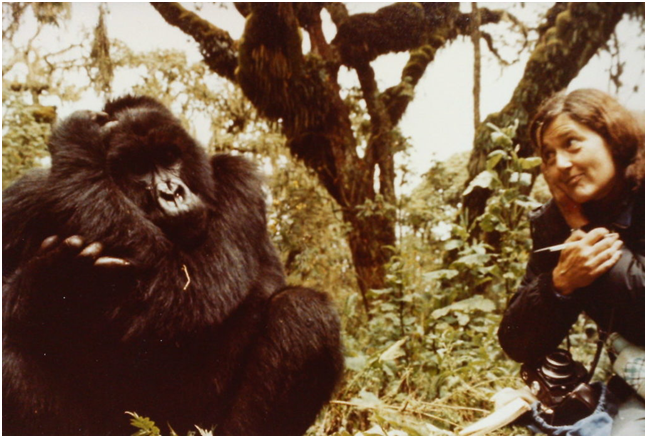 In Wildlife fund website it says that the Ellen DeGeneres Wildlife Fund was established to support global conservation efforts for critically endangered species. Building a permanent home for the Dian Fossey Gorilla Fund is the first initiative of the Ellen DeGeneres Wildlife Fund. This project will permanently secure the future of wild gorillas in Rwanda by building on successful field conservation efforts, while empowering the people living near the gorillas to thrive in relationship to their own ecosystem.
In 1967, Dr. Dian Fossey founded the Karisoke Research Center in Rwanda's Virunga mountains to protect and study the endangered mountain gorillas. Although Fossey's life was cut short, her work lives on in the people and programs of the Dian Fossey Gorilla Fund and its continuing conservation success story.
Donate at the Ellen Degeneres Wildlife Fund or click to support here
5. Be Kind To One Another- It takes away my heart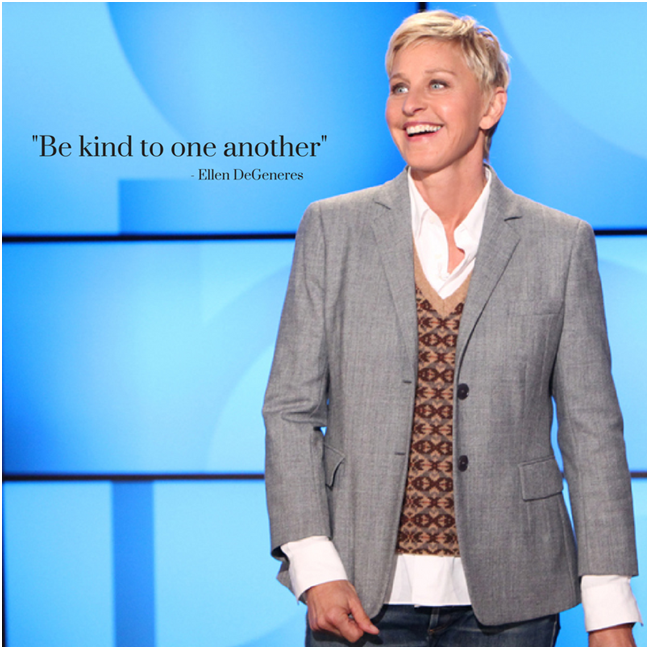 This is the most important genuine reason I love Ellen. "Be kind to one another" is what she daily reminds us on her every show. With this she does not only mean be kind to humans but all living creatures on this planet be it human, animals, trees or any living being. She helps our unsung heroes, helps working women, kids who need medical aid, or any waiter at the restaurant that needs an uplift.
She awards those who helps others and are kind to one another.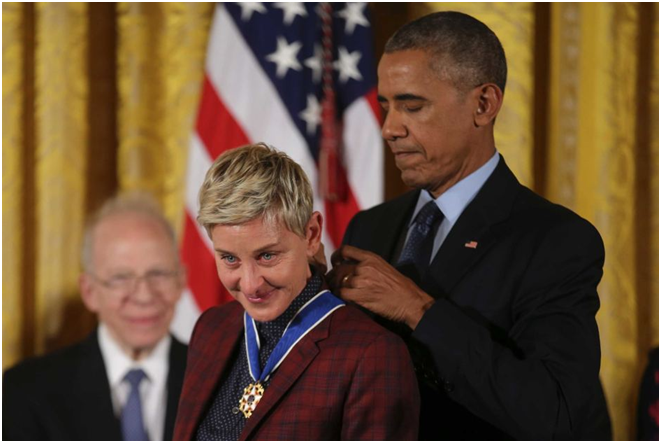 In 2017 she was awarded with Presidential Medal for Freedom by former President of US Barack Obama which was really heart touching moment for all of us to see the great work of Ellen be applauded.
Each day millions of people around the globe watch Ellen shows. She makes us laugh admist our worries, she motivates us to live life fully and teaches us to live peacefully and in harmony. These are my reasons to love Ellen and I wind up with a message to Ellen: Ellen my story to you is yet to be complete ..maybe someday it will.
Do you love Ellen? Tell us why?