Wanna meet beautiful Empress of China then keep on reading below the story of this love and hate woman and also get to play game to win her treasures.
Almost all gamers love China, not because it's the world's most populous country but it is the one country which has a rich history of some of the great rulers as well as games and casinos. Keno, Mahjong and Pai Gow are few Chinese games that were introduced to the rest of the world by them.
When it comes to slot games then this need is fulfilled by many top gaming providers by developing awesome slots based on rich Chinese culture and traditions. For US gamblers Real Time Gaming or as popularly known as RTG has brought some of the best Asian themed titles like Zhanshi, Super 6, Fu Chi, Ancient Gods, Gods of Nature, Plentiful Treasures, Shanghai Lights, Cai Hong, San Guo Zheng Ba and many others.
Lately RTG released a new Chinese game where you can meet Empress Wu or known as Wu Zetian. According to the official records, China's first and last empress ruled some 1,300 years ago and she truly represents a unique ruling figure – the only woman to proudly wear the yellow robe during the country's 5,000 year chronicles.
Empress Wu Zetian. Image source Wikimedia Commons
Despite being utterly beautiful, the empress was feared, loved and hated… and she changed the nation in almost every way.
She was hated because she killed her own kids to become the princess..somewhat resembles to me Lady Macbeth from Shakespeare's Macbeth novel whose famous dialogue in Act I Scene VII that I still remember as she tries to tempt him to be king:

"I have given suck, and know

How tender 'tis to love the babe that milks me

I would, while it was smiling in my face,

Have pluck'd my nipple from his boneless gums,

And dash'd the brains out, had I so sworn as you

Have done to this."
Well to be a ruler Empress Wu too might have thought this. That is why some have called her the "Eternal Beauty with a Serpent Heart", others called her the "Wolf in a Woman's Guise." Empress Wu ruled over the ancient Chinese Tang Dynasty for 50 years with a cruel hand.
Empress Wu slot game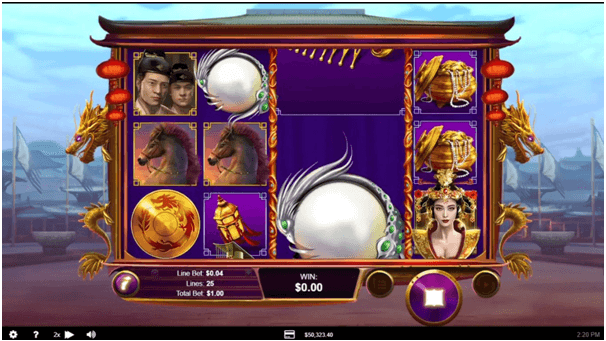 In this game you get to find yourself in the Tang Dynasty and the exotic world of Empress Wu in the exciting new 5-reel, 25-payline slot. You can sound the Gong for free spins, and uncover the Pearl for prizes! Outwit Empress Wu and win a world of wealth and treasure.
With a top award of 50,000 times your bet per line, Empress Wu transports you to a realm of fire-breathing dragons, exploding fireworks, lavish treasure, and noble warriors. Join them on a quest to unlock the treasures of the dynasty of Empress Wu.
Symbols in the game
Empress Wu is a giant symbol game. All symbols pay left to right, with the Gong symbol acting as the scatter. Scatter wins trigger the bonus feature of the game and 5 free spins. The substitute (Wild) symbol is the Pearl, which stands in for all other symbols except the Gong scatter symbol. When three consecutive scatter Gongs appear, they trigger five free games as a bonus feature. Base game: Either reels 2 & 3 or reels 3 & 4 are connected and spin with 3×2 giant symbols. The Scatter size on this reel(s) is 1×2 but will appear as two adjacent 1×1 symbols. Feature game: 3, 4 or 5 consecutive Scatter Gong symbols will trigger 5 free games with 3, 4 or 5 reels connected respectively during the 5 free games.
How to play Empress Wu?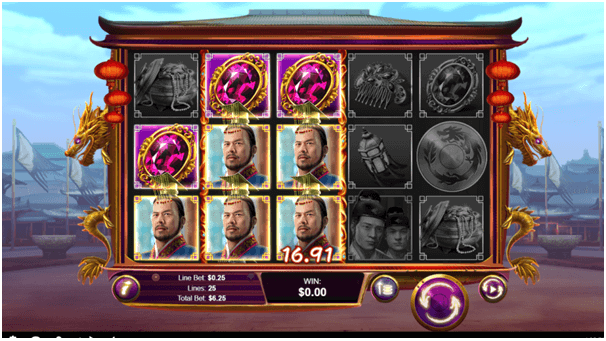 Simply join any US friendly RTG powered online casino to play Empress Wu. If you have not created an account then register yourself in minutes to do either with your cell phone, PC or table web browser be it Chrome or Safari.
You can play for free or with real money that's your choice
To play with real money make a friendly deposit in US dollars or Bitcoins a minimum sum of $10-$25
All the new games are listed in the forefront of the online casino homepage.
Click on Empress Wu slot and begin the show
Load the slot game and click Play to start playing. Select your wager amount.It's a 25 fixed-payline slot, so you don't have to worry about choosing a number of paylines; the max is already selected for you. Once you choose your total bet, just click Spin to watch the reels spin to start earning free games and fantastic prizes!
With the Bet button select the amount you wish to wager (increasing/decreasing) by using the arrow controls at the bottom of the screen. There are 25 fixed paylines across 5 reels.
To keep the action going nonstop, set Autoplay to on. The game will do the spinning for you and will stop the reels automatically. When you win and the bets are paid out, the game will spin again using your previous bet amount. This feature will keep going until you set Autoplay to off.
For information on which symbols pay out best or for more details on the bonuses, click Help & Rules on the right at any point during regular play.
Unlock magnificent riches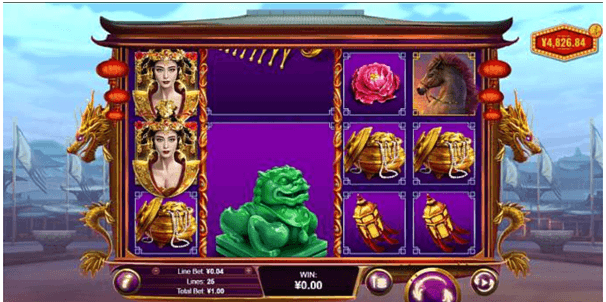 It won't take long before you trigger the free games feature with scatter Gongs. The appearance of three or more consecutive scatters will unlock the free games feature. The top award is 50,000 times your bet per line. Note that the (Wild) Pearl serves as the substitute scatter and Wild Pearl substitutes for all symbols except for Scatter Gong symbol.
Scatter is Gong symbol and scatter wins trigger the bonus feature of the game. All symbols pay left to right, except for scatters, which trigger free spins. 5 free games are awarded for 3 consecutive Gong scatter symbols appearing anywhere on the triggering game to unlock the free games feature.
As said above the grand prize is 50,000 times the bet per line.
Now immerse in this game and find more about Empress Wu and her 50-year reign where you can embark on a magical journey through time to uncover the exotic wealth of this Empress
Play at any US friendly online casino like Slots of Vegas or Silver Oak casino and use the code MONARCH to avail awesome bonus to play this game.