For the woman you first met in your life
•Grab deals on meals
•Play slots and take part in giveaways
On May 12th is Mother's Day to thank the most influential and important woman in your life. Moms are gorgeous and beautiful who sacrifice their causes to bring us up with all their love. Celebrations have begun as stores and online shoppers are actively displaying their products with good offers and deals for your moms.
According to the National Retail Federation, American shoppers were expected to spend a total a record $25 billion this year, up from $23.1 billion in 2018, and a total 84 percent of U.S.adults are expected to celebrate in honor of their mothers and other women in their lives.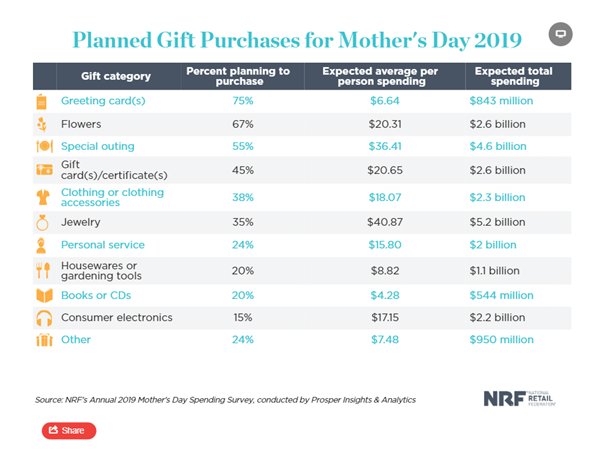 The most popular gifts for your moms are flowers, cards, jewelry and other electronic items. A nice meal out and games are also what moms like. Did I say games? Yes games, remember when you were kids and mom used to play with you like a friend. The best place to take your mom out for a fantastic meal and game play is a casino. Here I have gathered the popular casinos who are offering great mother's day deals. You can grab a buffet discount, free meals or take part in slot and other promotions. Moreover who knows you and your mom can win something big this mother's day. If you live nearby any of these casinos or if you can manage to travel to the destination and have full fun then visit these wonderful casinos
Location: W399 HWY. 2 & 41 HARRIS, MI 49845
Phone: 800-682-6040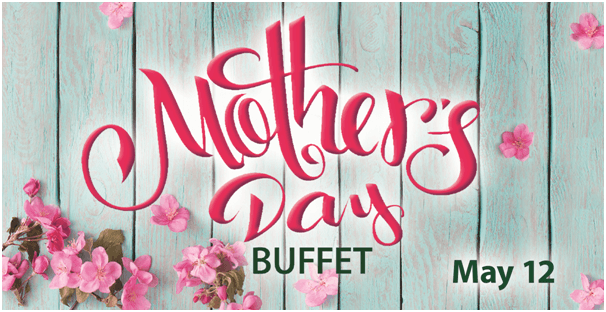 Visit to Island resort casino is a well deserved day out to the Island with your mom, starting with brunch and ending with a spa service on May 12th Dine at the Island Convention Center and enjoy a delectable buffet from 10 am to 4 pm. Adults 13 & Older: $18.99; Children 5-12: $9.99 and kids 4 & Under: Free (with paying adult)
Also take part in Hot Seat Drawings between 10 am to 10 pm on Sunday May 12 for $100 random hot seat drawings. You need to use your Island Club card to be eligible. This card can be obtained at the casino.
Location: 100 Jackpot Place, Wyandotte, OK 74370
Phone: 866.447.4946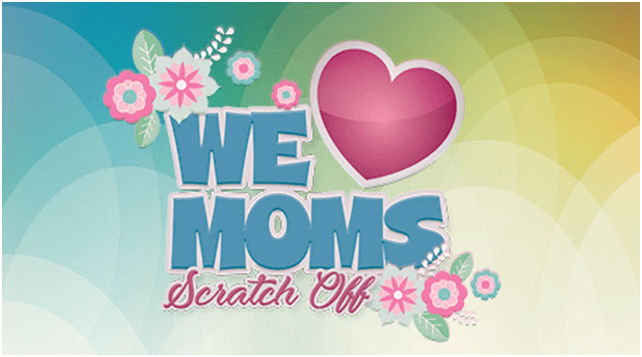 On Sunday May 12th 2019 starting at noon the casino is offering we moms scratch off. The first 500 moms to visit Club Wyandotte will receive a FREE SCRATCHER CARD! Score your share of over $8,500 IN PRIZES this Mother's Day! Prizes include FREE PLAY, Bonus Points or a $10 Dining Credit!
Location: 777 Coushatta Drive, Kinder, Louisiana 70648
Phone: 1-800-584-7263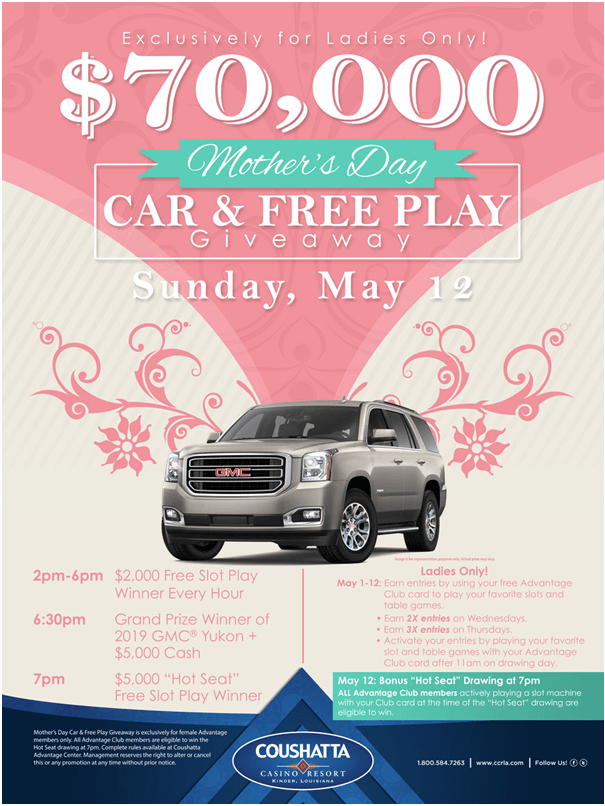 Join the casino on Mother's Day to win over $70,000 total cash and prizes Car & Free Play Giveaway!
•$2,000 Free Slot Play drawings every hour from 2pm to 6pm for ladies only!
•A NEW 2019 GMC Yukon + $5,000 Cash grand prize drawing at 6:30pm for ladies only!
•$5,000 Hot Seat Free Slot Play drawing at 7pm.
Earn your entries starting May 1 through Mother's Day by playing any slot machine or table using your FREE Advantage Club card. Earn 2x entries on Wednesdays. Earn 3x entries on Thursdays. Activate your entries with play after 11am on drawing day. For your chance to win the bonus "Hot Seat" drawing at 7pm, you must be actively playing a slot machine at the time of the drawing.
Location: 1131 N Dupont Hwy Dover, DE
Phone: 302-674-4600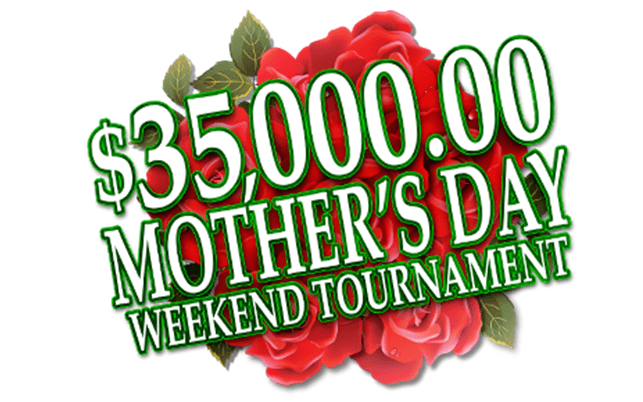 Join the casino at 8 a.m. on Friday, May 11th – 5:59 a.m. Monday, May 13th and be among the 50 winners. Play tournament sessions for each approximately 5 Points earned on iView machines. You can play UNLIMITED sessions, but your highest score will be your final score. You can win $5000 in cash. Note that points earned on any non-iView machine, Poker or table game play do not count towards the promotion.
Location:750 Hollywood Dr. Charles Town, WV 25414
Phone: 1-800-795-7001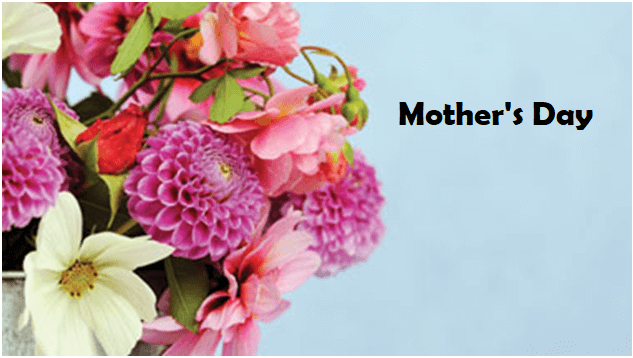 Visit the casino on Mother's Day and take part in $25,000 giveaway. Join the casino between 3PM-7PM | You could win up to $1,000 Free SlotPlay and a Gift Card or even the Grand Prize of $5,000 Cash!
6. Suquamish Clearwater Casino Resort
Location: 15347 Suquamish Way NE, Suquamish, WA 98392
Phone: 360.598.8700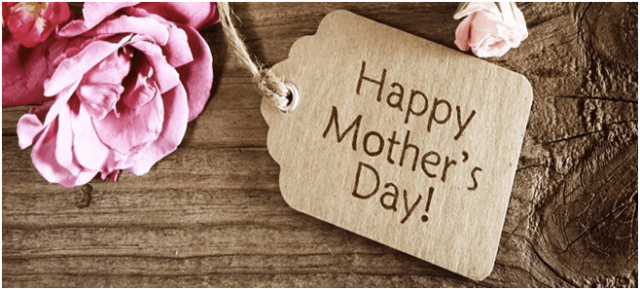 Treat Mom to a wonderful meal at one of their food venues with a variety of options to satisfy every appetite on Mother's Day. The Clearwater Champagne Brunch begins at 10am-2:30pm. $30.95 per person- $14.95 children 6-12 and free for 5 and under.
Finally if you cannot go these casinos then be on the look out for Mother's Day bonus offers at online casinos which we will bring to you soon here.