Free coins at Heart of Vegas casinos are offered to play slots for free. Heart of Vegas casino is the superb casino app developed by Product Madness in collaboration with famous gaming brand company Aristocrat. With the rating of 4.6 at app stores this casino offers you free casino slot games to enjoy even with your cell phone on the go. Why it is called Heart of Vegas is because it offers awesome Vegas style slots. Heart of Vegas, has entertained virtual currency players since launching in 2013. It is a top-grossing game on Facebook's charts and continues to capture mobile markets around the globe and has over 10,000,000+ installs.
Free Coins at Heart of Vegas
Heart of Vegas app offers free coins as a form of in-game currency. These coins can be used to play the various slot games available on the app. The app typically provides a daily bonus of free coins upon logging in, and additional coins may be earned through gameplay, leveling up, or participating in special promotions and events.
Like any free social casino apps you need to have free credits or free coins to play slot games and Heart of Vegas offers you welcome bonus of 2,000,000 free coins. Certainly these coins don't last forever as there are so many slot games to play and you then need to want more free coins which is the real trick in this social casino app.
Slot games to play at Heart of Vegas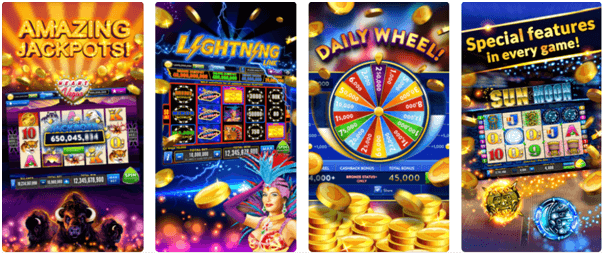 You can play wonderful over 100 slot games at this free casino. Some of the well known titles to enjoy are Heart Throb, High Stakes, Sahara Gold, Wonder four special edition, Weird wicked and wild, Cash Bull, Sun Moon, Miss Kitty Gold, 5 Dragons Gold, Bull Fighter, Wild Tooth, Golden Peach, Mayan slots, More Chilli, Queen of the Nile, Tarzan Lord of the Jungles, Pure Gold, Goblins Gold, Pompeii II, Whales of Cash, 50 Lions, Where's the Gold, More Hearts, Big Red and many more.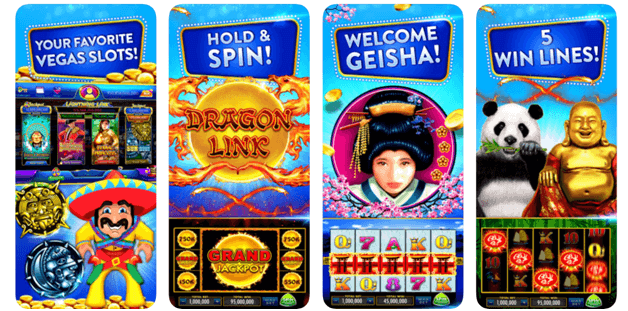 Some of the new slots you can enjoy are Dolphin Treasure Gold, the new Jackpot slot to play, Rhino Rush, Peacock Riches, Lightning Link with lightning link fast jackpots, the Walking Dead, Buffalo slots, and various other slot machines. All these games have awesome features like Linked games, Multiplayers, Bonus rounds, Free Games, Free Spins and Jackpots to win, Hold & Spin feature are sure to keep you on the edge of your seat.
How to play free slots at Heart of Vegas Casino?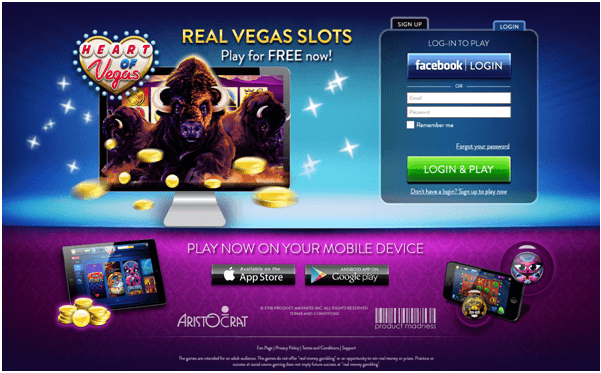 To get started at Heart of Vegas casino is simply easy. All you need is a gaming device be it your Android cellphone or iPhone or PC to begin.
Then download the free Heart of Vegas casino app on your choice of device.
Click here to download the free casino social app from Google play store for Android
Click here to download the free casino app from iTunes for iOS devices
Click here to download the free casino app from Amazon for Kindle tablets.
Click here to play Heart of Vegas Casino on your PC
The app is 318.5 MB and takes few seconds to download and install.
Once done you can join the casino as guest or play with your Facebook Account
You will receive 2, 000,000 Free coins as welcome bonus to play the slots of your choice.
All the Slots are wonderful. You can Join the High roller rooms to play high stake bets or just have fun playing lots of slots games at the casino.
Note that this casino app is intended for an adult audience of over 18 and more years of age and does not offer 'real money' gambling'.
The library of slot games within Heart of Vegas have their own specific features and payout structures. You can view these varying functions of game play by clicking the "info" or "rules" tab. These tabs are located at the bottom left hand side of your game screen, beside your balance total box upon entering a game of choice. The icon for these tabs varies in some of the games.
Remember that all the games need good internet or WIFI connection and cannot be played in offline mode.
How to get free coins at Heart of Vegas Casino?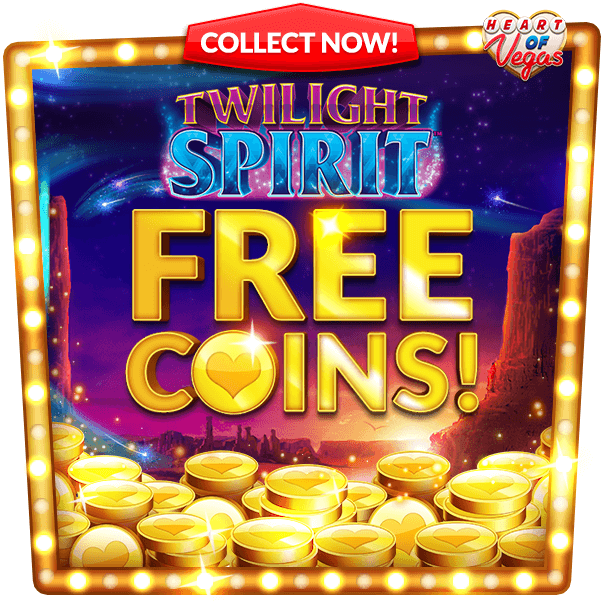 There are a few great ways to earn free coins in Heart of Vegas! You can send and receive them from your friends, get them from the daily bonus wheel, collect the hourly bonuses and also check out the fan page for lots of freebies and events that reward coins. 
To get free coins at Heart of Vegas Casino you need to login to this app with your gaming device.
At the start the casino offers you 2, 000,000 Free coins
Get 1000000 free coins for logging with Facebook
Spin Wheel offers daily free coin bonuses worth 30000 coins. You can spin the wheel once every 24 hours from the last time you spun – that is once every calendar day local time. Once the day has passed, the Daily Wheel will automatically be available on your next login or game refresh.
To get started:
Tap the wheel! This will then show you your base amounts:
Once you have received your Return Bonus and your Friends Bonus, the total amount of the 2 will get added to all the wheel totals as seen below:
You can see the base amount started at 600K once the Return Bonus and Friends Bonus have been added the total becomes 630K. Please note the amounts showing on the wheel will not show half measures and will be rounded up.
Once the spin has been completed you will receive the correct total amount shown including all bonuses: You can claim Return Bonus when your level it Bronze or higher.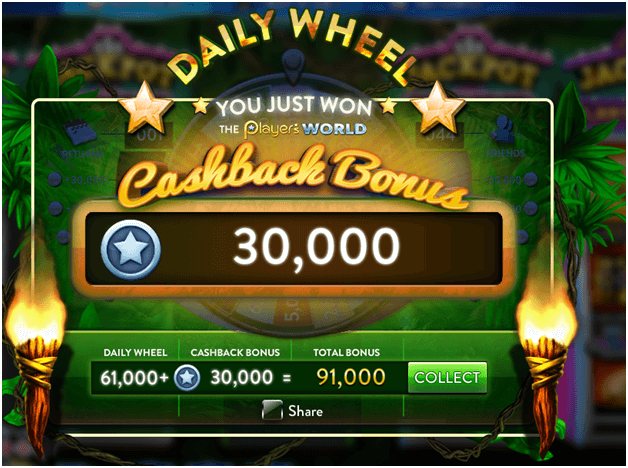 The daily bonus wheel will award additional points for specific aspects of your account. The return bonus will give you additional coins scaled to the number of consecutive days you have visited the game to play (the maximum is 25 days). The friend bonus will give you additional coins scaled to the number of friends you have that play Heart of Vegas (the maximum is 25 friends).
Get Free bonus slot coins every day.
Also there are hourly slot bonuses to grab. The hourly bonus is located at the top right-hand side of the game window and you can collect it every hour for 10,000 coins. This bonus will accumulate up to 30,000 coins in three hours which will max out the bonus and wait for you to collect it. If you wait the full three hours your hourly bonus will collect all the bonuses at once.
Join their Facebook page and comment, post, share, solve various quests and get more free coins to play free slots for fun.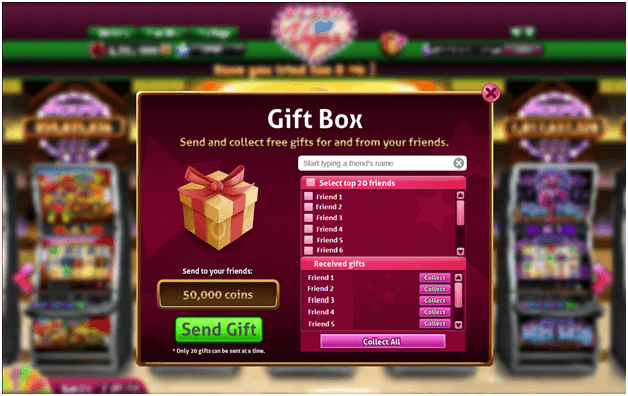 Also ask free coins at Heart of Vegas from your Facebook friends and enjoy the casino. To send and receive gifts with your other friends that play Heart of Vegas, all you need to do is click on either the Free Gifts button on the top right or the gift icon near the center of the top bar. This will open the gifting window where you can collect the gifts that have been sent to you and send out gifts to your friends as well. You can only send out one gift to each friend every day, yet the more friends you have, the more gifts you can send and receive daily.
The Heart of Vegas fan page hosts a ton of free bonuses and live events where you can compete to win up to millions of coins. You can access the fan page through Facebook directly or click on the Fan Page button on the top left at the game screen.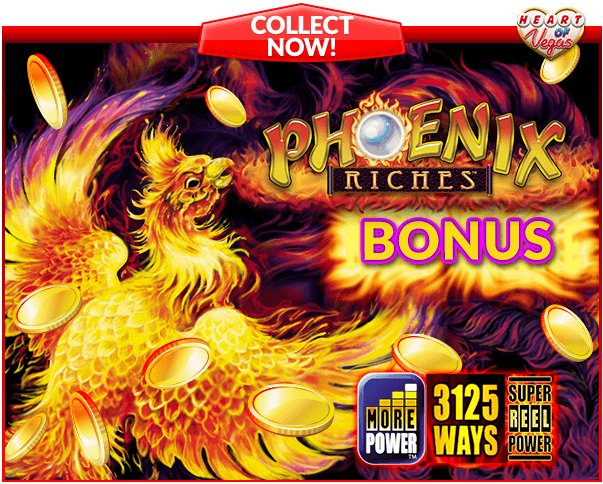 Then there are Premium Bonuses which are special offers that sit within the store. They work as a sort of allowance that can be claimed daily for a preset number of days once purchased. If you have a Premium Bonus offer available, the offer will be viewable in the Premium Bonus tab. This would also be where you would claim the daily coins from that purchase!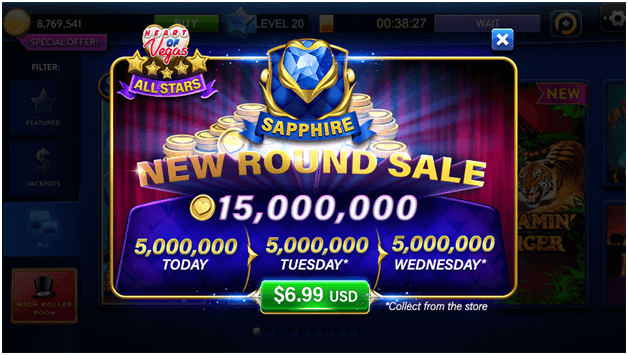 The rules for the Premium Bonus are:
•Purchase the Premium Bonus to get extra coins Daily!
•Collect your Coins from inside the shop
•Make sure to login every day, don't miss a collection!
To view the rules of the offer in game, tap on the information ("i") button for more info. Sometimes you'll receive exclusive Premium Bonus just for you and these may be offered outside the store, As the offer suggests, you'll be able to collect your bonus today and then a bonus for each given day after. Once purchased, you can find your Premium Bonus as normal in the store and collect your bonuses from here.
You can use various hacks and tools to generate free coins at Heart of Vegas. These are available at various cheats and hacks websites but this you do at your own risk. Click here for the free coins at Heart of Vegas hack tool.
Click here to get the latest promotional codes to get free coins at Heart of Vegas Casino.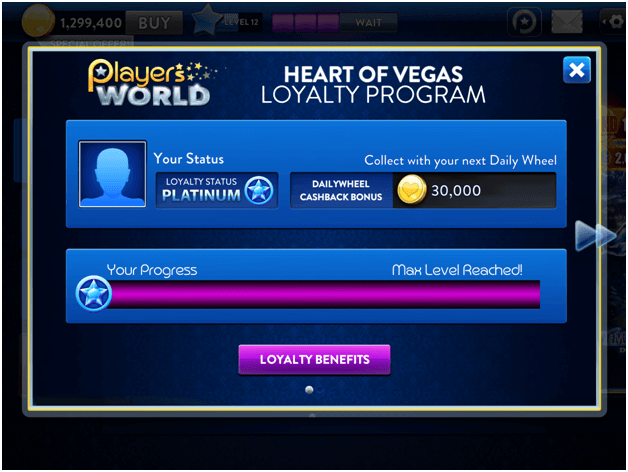 Join the Player's World Loyalty Program to get more free coins at Heart of Vegas You are automatically enrolled in Player's World as a Heart of Vegas player at Member level status – but you can rise through the ranks quickly! Your status may be raised by earning points with every purchase and earn bigger and better rewards as you move up! Your status is reevaluated every quarter (3 months) based on your points earned that quarter.
For more such slots app and free coins click here.
The official Player's World tiers are Member, Bronze, Silver, Gold and Platinum. Your Cashback is based on your loyalty tier and your spins since your last collection. The higher your Player's World tier and the more you spin, the greater your bonus! You can claim your cashback daily each calendar day directly after you collect your Daily Wheel spin. You can check your current status and your standing towards your next Cashback bonus collection by going to the Player's World tab at the top bar of the game.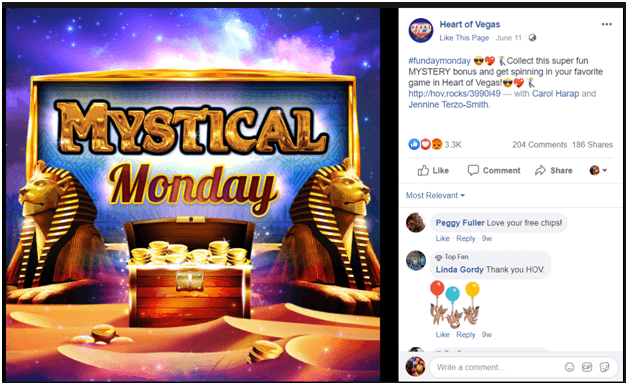 Also Heart of Vegas free casino offers you free coins on festivals and occasions like Christmas, Valentine, Halloween, New year and others.
Deposits and Withdrawals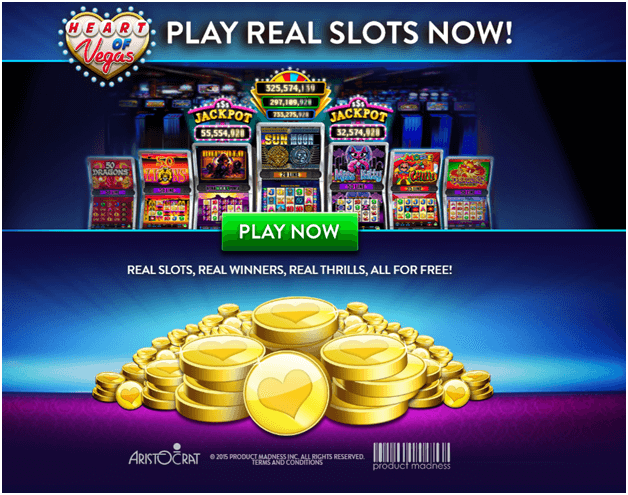 Like any play for fun casino you do not require any real money deposit but play all the games without spending a single penny.
You get free coins at Heart of Vegas every hour also when you level up in the slots games so real cash deposits is not involved. Same way when you win the slot games your wins are in the form of virtual money that is free coins which are automatically credited to your social casino play for fun account to play more free slots.
Remember when free coins at Heart of Vegas exhaust, there are in app purchases on the app and if you are very desperate to get free coins at the earliest then spend few bucks and buy the coin packages from within the app. The pack of 1,000,000 coins cost $9.99 and package of 90,000,000 coins cost $29.99.
It's important to note that the availability and frequency of free coin bonuses and promotions can vary, and it's advisable to check the app regularly for updates and notifications about such offers. Additionally, the app may have specific terms of service and guidelines regarding the use of free coins, in-app purchases, and virtual currency
Finally in case you want more details of the game or want to ask any question you can contact the customer support team of Heart of Vegas Casino by email support@productmadness.com or write to 30 Maiden Lane, Suite 500 SF CA 94108 USA.
FAQs
Q1. Can I redeem free coins in cash?
The free coins provided in the Heart of Vegas app are intended for entertainment purposes within the app itself. They cannot be cashed out or redeemed for real money. Any winnings or jackpots achieved while playing with free coins are also virtual and cannot be converted into real-world currency.
Q2. Are there in app purchases in this game app?
While the app offers free coins, it also provides options for in-app purchases. Players have the choice to buy additional coins or other virtual items using real money. These purchases are entirely optional and not necessary to enjoy the games.
Q3. Is there any coin bonus?
Heart of Vegas app may offer various coin bonuses and promotions from time to time. These can include limited-time offers, special events, or social media contests where players have the chance to win extra coins or prizes.
Q4. How many new missions are there in Heart of Vegas app?
There are 5 missions each with a specific slot to complete the missions on. Each mission has 6 levels to complete, each level has a reward attached and you can check your missions progress in the mission area as well. Once you complete each level you will see the missions area glow and award the appropriate reward.