In the series on how to get free coins, today I thought to explore and find various cheats and hacks for a new social casino app called Slots Craze: Casino Games. This new game app was launched in 2018 with a new interface and new games and now has become popular.
You can play slots craze on your cell phone, tablets & Facebook! With all your Vegas features you love – Bonus Games, Free Spins & Wilds, new free casino slots games are added frequently. As I am too crazy about playing slots for free, Slots Craze has lots of ways to earn free coins. Interested? Let's start to get free coins in Slots Craze: Casino Games 2019.
Be Prepared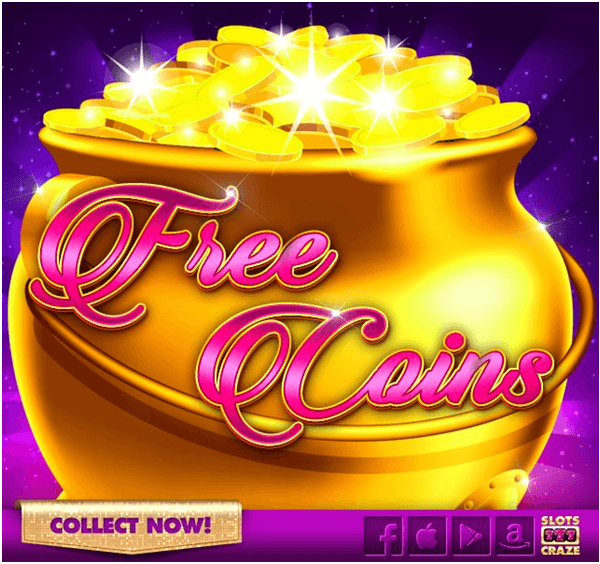 Yes, you need to be prepared to get free coins in Slots Craze: Casino Games 2019. You need to keep your eyes and ears open. All senses should be alert because you might miss out when free coins are coming.
Get 30,000 free coins as a welcome bonus when you first join the casino. This is expected in every such free casino app
Join the casino with your Facebook account and get free coins. Sounds familiar?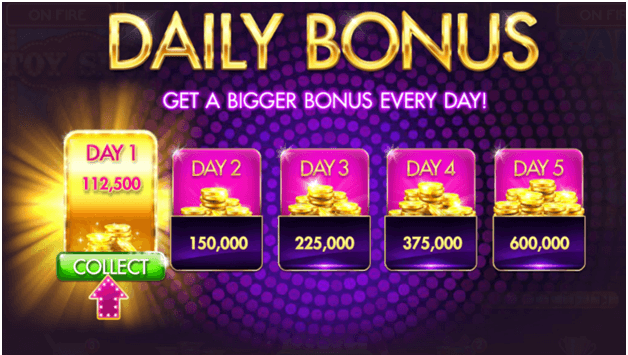 On day 1 you get 2250 free coins and the number of free coins goes on increasing per day on the second day you get 3000 free coins and on day 3 you get 4500 free coins so on and so forth. but if you log in every day consecutively for 5 days, you will get a bigger amount each day! After claiming Day 5, the bonus restarts from Day 1. This bonus will also grow as you level up, so keep playing to earn the big bonuses! – here the trick starts.
Like the Facebook page and get more free coins
As you level up in the game, a new slot game is unlocked and you rise to the leaderboard table getting more free coins. Level-up fetches you 1000 free coins. Wow
You can collect up to 2000 gifts if you join to play with your FB friends, receive free coins or free spins from a friend or send them the same. You can send each of your Slots Craze friends 1 gift per day from inside the game: 500 Free Coins multiplied depending on their level, or 5 Free Spins.
They, in turn, can send a gift back to you once a day! To send a gift, just go to your Gift Inbox ("Gifts" at the bottom of the Lobby or the Gift Icon at the top) and select "Send Free Spins" or "Send Free Coins" to select friends and send out gifts – you can send individually or in Bulk to all your Slots Craze friends. Remember – you can only send one gift per friend per day. So, once you send a gift to a specific friend, that friend will disappear from your Friend List when you're Bulk Sending for the next 24 hours.- Symbiosis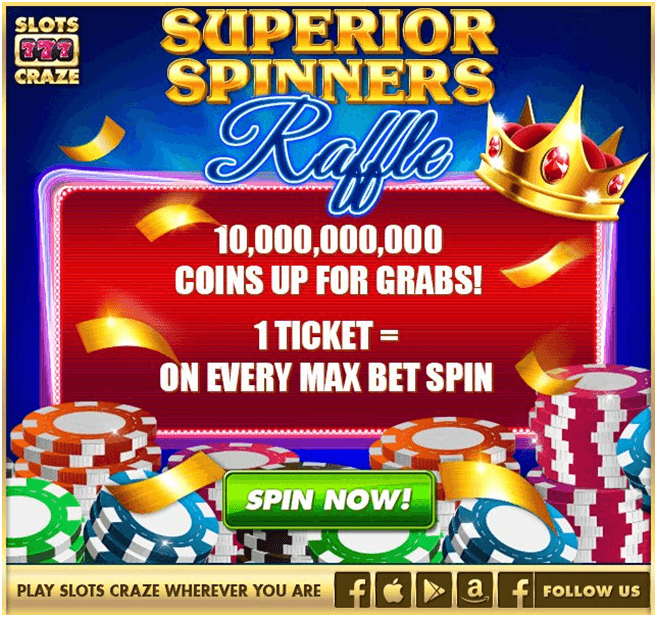 Slots Craze sends out a daily email to all Facebook-connected users with a gift inside. This email is sent to the email address you log into Facebook with.
Your Daily Shop Bonus is available for you to claim from the Shop in the middle centre of the Lobby. You'll know it's ready to be claimed when a Pink Bow surrounds the Shop Button! Once you claim it, it will be available again for you in 24 Hours! – For those who want discounted coins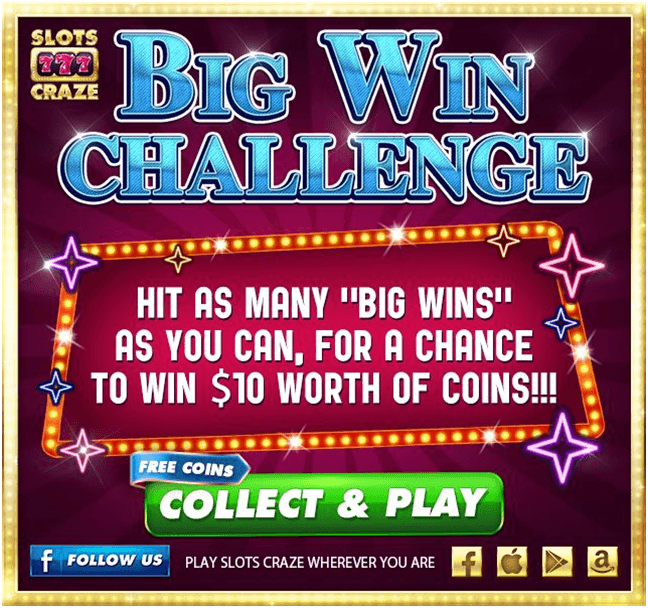 Complete daily missions, challenges, and contests to grab free coins- Will do
A daily bonus every three hours fetches you free coins. Even better, your hourly bonus will grow with your progression through the levels! You have to claim your bonus for the 3-hour timer to restart, so make sure you head to the Lobby as often as you can grab it! – Keep an eye on your watch
Slots Craze also offers a special BONUS EXPRESS Promotion, when your Special Bonus can be claimed every 2 hours instead of 3! You can know about this bonus HERE – Eyes pop-out
When you win and complete a Bonus Game, a set of Free Spins, a Cashpot, or reach a new level, you can "Share Your Luck" with friends. If you leave this checkbox marked when you collect your win, you will share a post to your Facebook timeline, offering 5 of your friend's Free Spins or Free Coins. – keep an eye out for your friend's posted gifts! Just click one and it'll take you into Slots Craze and give you their gift.
There is a Diamond hunt tournament also with a prize pool of 2500000 free coins. You can spin and collect as many as you want. The higher you bet and the more you spin, the more icons you will collect. The more icons you collect, the higher your chances to placed on the leaderboard and snatching up a prize. When the timer on the Special Event runs out, the event ends, the leader board is finalized and whoever is on it – wins! – Watch out for special events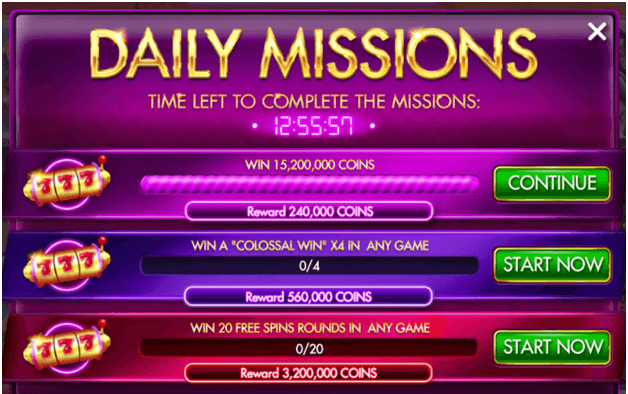 If you're up for the challenge, complete your 3 Daily Missions! Every day at noon GMT, a new Daily Mission starts and challenges you to complete three unique tasks. Each completed task grants you a bigger reward – not to mention, that the more you level up, the higher your rewards! You can always check the day's Missions at the bottom left corner of the Lobby or the top left corner while you're inside any machine. Clicking either of these buttons will show you: what the 3 tasks for the day are, how long you have left to complete them, how many you've completed so far and what prizes are in store for you! So what are you waiting for – step up to the challenge!
Playing Slots Craze slot machines for free spins, bonus games and more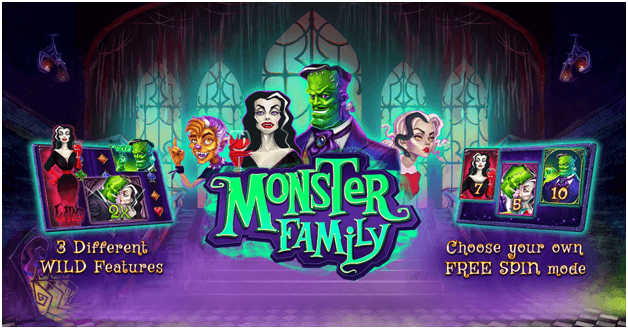 Besides, be prepared to get free coins in Slots Craze, slot games offer free spins and bonus games. Some of the popular slots to enjoy here are Grizzly Wins, lady of the Dead, fortune of Hercules, Genie Deluxe, Rich Wild, Dragons Fantasy, Cash Diamonds, glorious Egypt Gods, Monster Family, Leonidas, return of Genie, Vegas Classic Spins, dollar streak, mountains treasure, rock and reels, mini diamonds, ocean of fortune, and many more. There are over 100 slot machines to enjoy at Slots Craze and each week two new slot machines are added.
Bonus game- Get free coins
Every machine in Slots Craze has a special feature of some kind. Some machines offer different kinds of Bonus Games. The icons that trigger special game features (like Bonus Games) do not need to form a pay line – they just need to be a certain amount. For example: if you land 3 Bonus Game icons in Grizzly Wins, you will trigger the Hibernation Sensation Bonus Game! In it, you can collect nuts and berries – the more you can collect before waking up the hibernating bear, the more coins you win! Each machine that has a Bonus Game has its unique Bonus. Make sure you read up on the Game Rules for each machine by clicking the "i" button at the bottom left of each machine.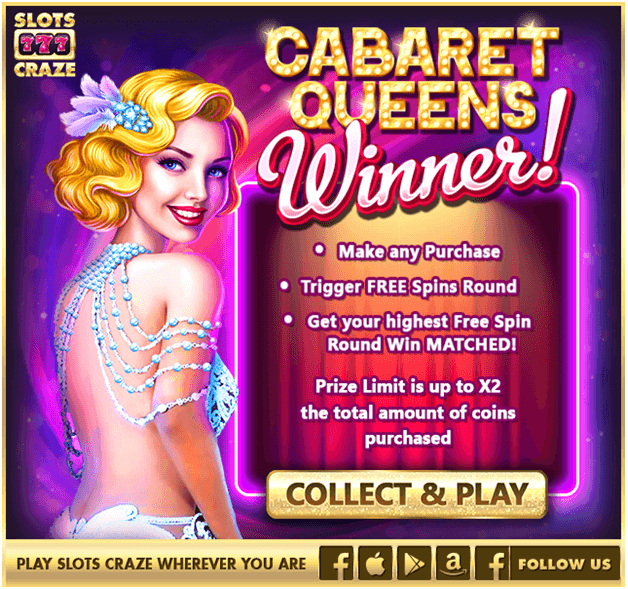 A lot of slot games offer Free Spins. The icons that trigger special game features (like Free Spins) do not need to form a pay line – they just need to be a certain amount. For example: if you land 3 Free Spins icons in Genie Deluxe, you will trigger 10 Free Spins. If you land 4, you trigger 25 Free Spins and if you land 5 icons on your reel, you win 100 Free Spins!
Some machines even offer the option to re-trigger even MORE Free Spins inside a round! Make sure you read up on the Game Rules for each machine by clicking the "i" button at the bottom left of each machine.
Progressive Jackpot wins
Some machines offer a Progressive Jackpot, or what is also known as a Cashpot. This is a Jackpot that grows as you spin, the rate at which depends on your bet size (the higher you bet the higher your jackpot will grow) until you collect a certain amount of Cashpot Icons and you win the amount! Remember though, this means that if you are betting a low amount or every time you use Gifted Spins, you get fewer (or no) coins towards your Cashpot. It only makes sense, if you are betting no coins, no coins can go to your Cashpot Collection.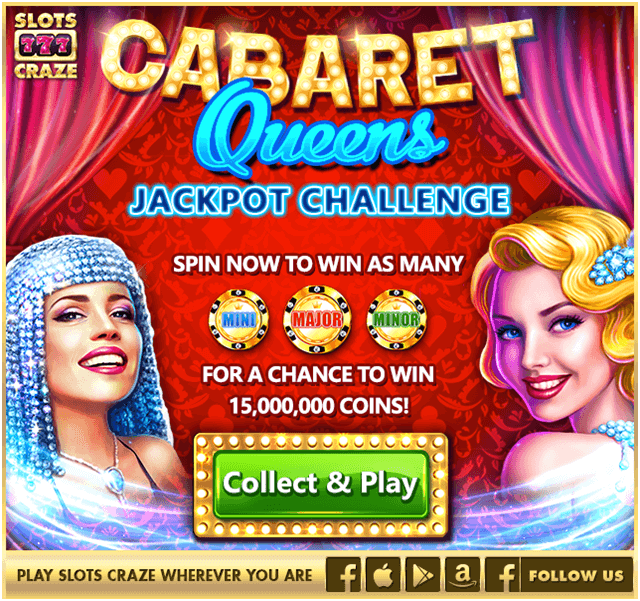 Every machine requires a different amount of Cashpot icons to win the Jackpot. For example, in Jade Princess, you need 150 icons. Make sure you read up on each game's rules by clicking the "i" in the bottom left inside each one. Once the Cashpot drops and you win it, a new Cashpot starts to build. Here are the few machines you can find a Cashpot Feature in Vegas Spins, Grizzly Wins, Fortune Bless Cashpot, Vegas High Rollers, Jade Princess, Return of Genie, Wild Buffalo, Reels of Ice & Fire, Tiger's Temple, Oceans of Fortune, Cheshire Cat Mystery, Puppy Glitz, Wheel Strike, Wolf Valley, Toy Shop, Mountain's Treasure, Tiki Tiki, Santa's Sleigh
Free Download Slots Craze now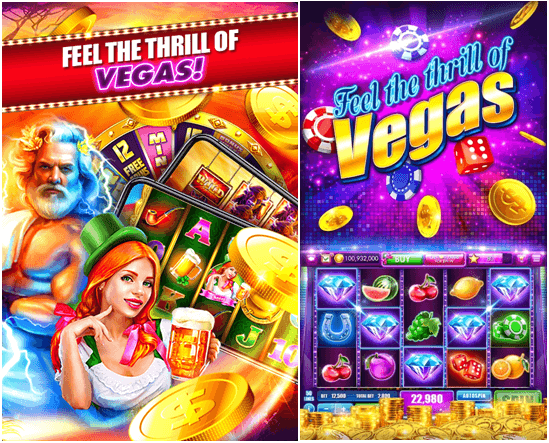 Time to enjoy the Real Vegas slots collection with games like one-armed bandit most free Real Vegas slots games by Ainsworth! Slots Craze developed by Luck Genome Ltd.
Click here to download now free for iPhone
Click here to download now free for Android
Though I always insist on getting to know genuine ways to find free coins in any slots app, still few punters request various cheat and hack to get free coins in Slots Craze: Casino Games 2019
Click here for free daily bonus cheat codes
Click here for more slots craze cheats
Hacks to get free coins at slots freebies
Again while using the above third-party links for free coins cheats, it's your burden and responsibility to use these links at your own risk.
Also, this is a free game app to enjoy free slots to play with free coins and win back more free coins to keep on playing. There are but in-app purchases if you want to buy more coins to carry on the game. You can get 500 coins + 750 free bonus coins at US$1.99 and the highest coin package costs $99.99 for 3000,000 coins and +150,000 free bonus coins.