You can submit a new coupon by following few easy to do steps:
Click on the casino you wish to submit the coupon
You will land on that casino page with its coupon codes.
There at the right hand side below the name of the casino like Slots of Vegas Coupon Codes you will find a Box "SUBMIT A COUPON" (as in the picture below)
Click on that "SUBMIT A COUPON" Box

When you Click on SUBMIT A COUPON you will find a form to be filled referring
"Submit a new Coupon to WinMeNot". (See Picture Below)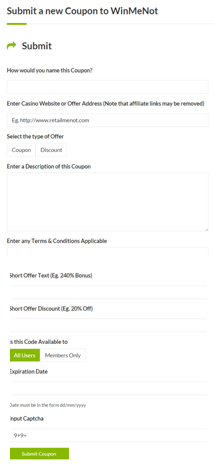 Here you will fill the following details
How would you name this Coupon?
You can give a title to your coupon like for an example :Welcome code for Silver Oak Casino
Enter Casino Website or Offer Address (Note that affiliate links may be removed)
Here enter the URL of Casino Website
Select the type of Offer
Here there are two options for you to click: Coupon and Discount
You click on which ever is applicable according to the promotion offer by the particular casino. Like for an example: If you have a coupon code say BIG100 select the type of offer as Coupon AND if you have a discount offer say free $50 chips then Select the type as Discount
Enter a Description of this coupon
Here you can write what the coupon offers like for example: Is the coupon a welcome bonus, Is there any  deposit or withdrawal, Is there any Play Through, Is there any Cash Back, How many times can one redeem this coupon and what all games are allowed
Enter any Terms and Conditions Applicable
Here you need to mention any terms and conditions applicable with the coupon codes or discounts that you are submitting. Like for example: Which day this coupon code is valid and for what period of time, Is there any wagering requirement, Is there any country restriction etc.
Short Offer Text
Here you have to mention the percentage of match bonus. Like for example 240%
Short Offer Discount
Here you have to mention the discount percentage. Like for example 20%
Is this code available to
Here you will find two options to select: All Users and Members Only. If the coupon code you are submitting is for all users you select that option and if the coupon code is for VIP or casino members then select Members only
Expiration Date
Here you mention that Expiration date of the Coupon Code
For example 31/12/2015 at 11:26 EST Remember date must be in the form of dd/mm/yyyy
Input Captcha
For secure and safe submission to the WinMeNot Site you will see an Input Captcha to verify the account. Therefore some figure might be given for you to enter or something to solve such as 9+9 and you have to enter the correct answer. Like 9+9 = 18
Finally Click on the "Submit Coupon Button" given at the end of the form.