As my friends are hooked to mobile games these days, Coin Master is one such game app where you can attack and raid your friends to beat them in this game challenge. Coin Master is developed by Moon Active and was launched at the app store as a full-fledged game in 2019. In this free game app you have a mission to attack, spin, and raid to build your Viking village to the top. To become a coin master you have to spin to earn your loot. Because the coin master is who has the strongest village and the most loot.
This means to be coin master you need free spins and coins in this addictive mobile game. But not to worry as with other game apps there are many ways and means to get free spins and coins to keep your gameplay moving ahead.
Features of the Coin Master Game App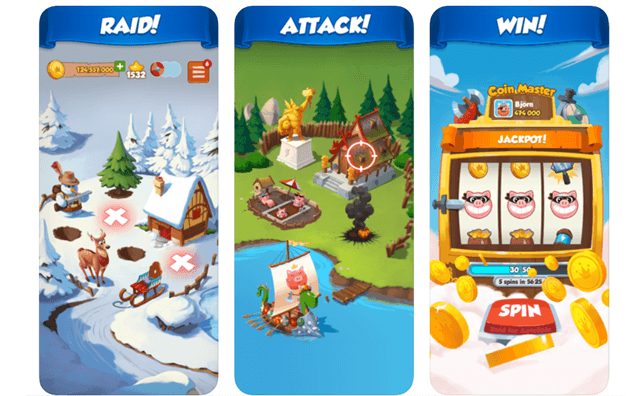 There are awesome features of the Coin Master game app
•Spin the wheel to fall on your fortune, be it attack time, loot, shields or raids. Win your loot and build strong villages in the game and move up towards higher levels. Win shields to guard your village from other Vikings trying to attack you.
•Attack or raid friends and foes to save enough loot to build your village. Fight back and come out victorious against your enemies. Take revenge on those who have attacked your village and take what's rightfully yours!
•Collect cards to complete sets and move onto the next village. With every village you conquer, your wins will be greater.
•Trade your cards with an online community to collect them all! Join the fast-growing interactive Facebook community to meet new Viking friends, earn big rewards, and trade treasures!
How to get started to play Coin Master?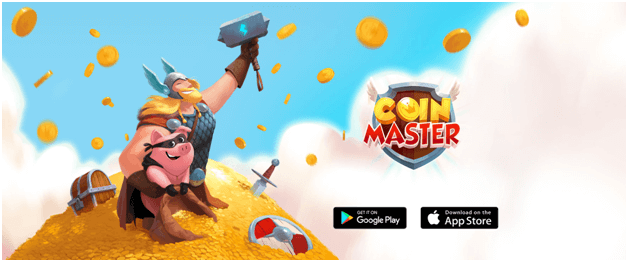 It's quite easy to get started to play Coin Master.
Simply pick your cell phone be it Android or iPhone
Click here to download the free game app for your iPhone
Click here to download the free game app for your Android
Once you have downloaded the game you can start to play instantly either as a guest or login with your Facebook account.
You get 75000 free coins to start the game. With your Facebook account gameplay, you will get 50 free spins and 1 million free coins.
If your game is linked to your Facebook account it takes your name and picture from there and it cannot be changed from within the game.
Note if you are playing as a guest using iTunes, Google Play, or Amazon account, the name, and picture chose for your Viking at the beginning of the game cannot be changed.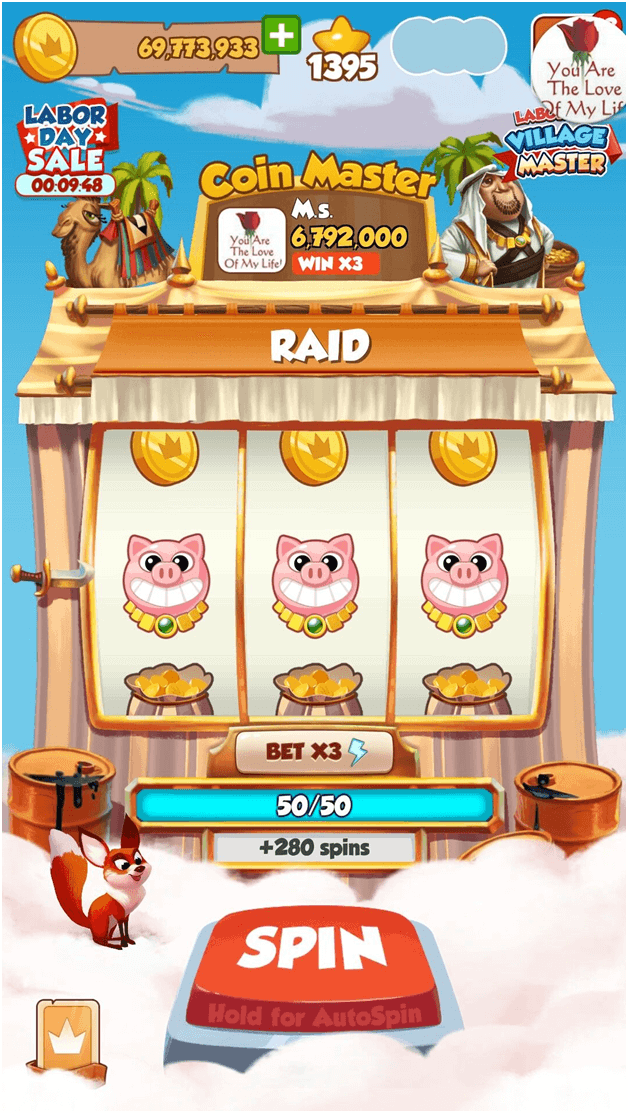 Start building your village and each item you build will give you one star. After 20 stars you get the next village to build.
Use the slot machines to earn coins, attack and raid other villages. Keep on moving ahead in the game leveling up to play more.
Now battle your way to be the next Coin Master with your friends by your side and join in millions of players worldwide!
How to get free spins in Coin Master mobile game?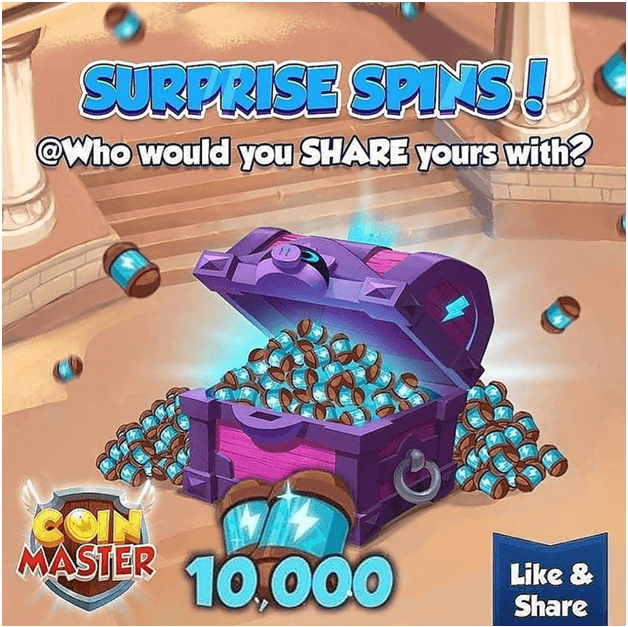 To play the game you need free spins and free coins. Though at the start of the game
But when your free spins and coins exhaust you need more to continue the play. There are numerous different ways to get free spins.
Following the Coin Master on Facebook and twitter offer you links to get free spins. Note that there are several fake Facebook pages promising rewards for liking and sharing their posts, commenting, and clicking on their links. There are also some websites that suggest you can hack the game. Be aware that they are all scams and can be extremely harmful to your device. Only follow these links:
Facebook Fan Page | Official Trading Group | Twitter | Instagram
If you sign up for email gifts, you can get yourself a handful of free spins every single day just be following a link on your phone.
Each time you invite a friend who successfully joins Coin Master through Facebook, you'll get 40 free spins. They don't even have to actually play the game; they simply have to download it and login via their Facebook account to get you the free spins.
You can gift your friends one spin each and they can do the same for you! Gifting a spin doesn't use any of your own spins, and you can collect up to 60 each time as long as the spins bar is empty.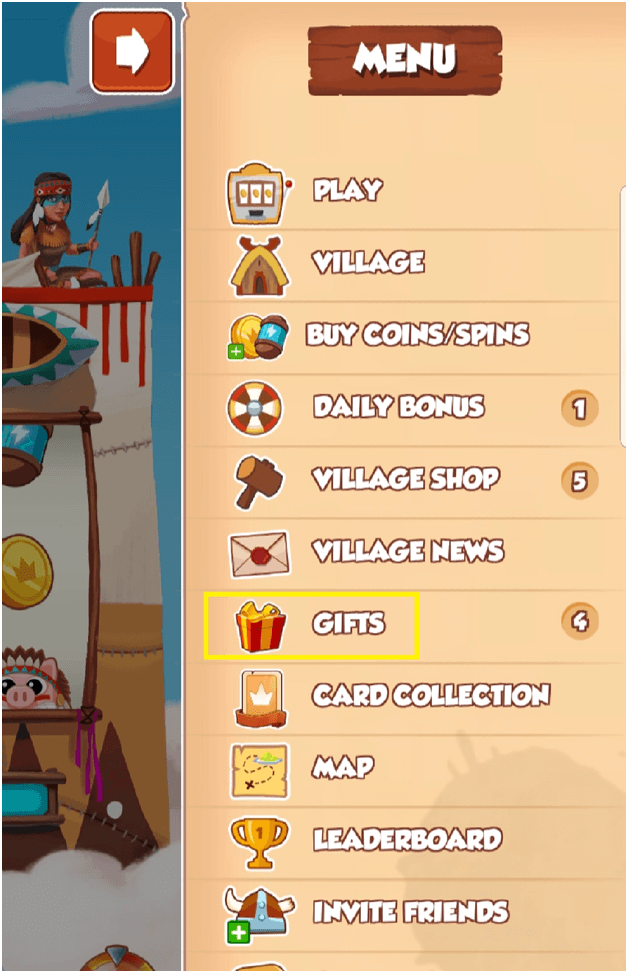 You can get up to 100 free spins per day from friends, though to get to those heights you'll need 100 active friends who are kind enough to send you a gift each day. Each gift consists of a single free spin, and you can send a gift of coins too.
The Mystery Chest presents the grand opportunity of winning fantastic rewards including Spins, Pet Treats, Pet XP, and Cards! Alongside the other great rewards, 1 out of every 10 chests will contain a Joker Card!
You can get a limited number of free spins per day by watching a video ad. Simply scroll to the slot machine and tap on the spin energy button on the bottom right. If it's not there, you've run out of free spins you can get through this method for the day, but if it is, simply tap on it and you'll watch an ad.
Also you can actually get a ton of free spins by, well, spinning. If you get three spin energy symbols in a row, you'll get a bunch of free spins.
Each time you level up your village, you'll get a bunch of free spins. It's not easy though, as it costs a considerable amount of gold to purchase new buildings and improve them, and you have to purchase every single one of them, including improvements, to level up.
There's almost always at least one event happening in Coin Master, and it can absolutely shower you with free spins. While viewing the slot machine, look at the top right of the screen. Any virtual buttons that you can see beneath the menu (which is displayed as three lines) is an event. Tap on one and you'll see what each event involves. Take advantage of these events and you can get yourself a lot more free spins than usual.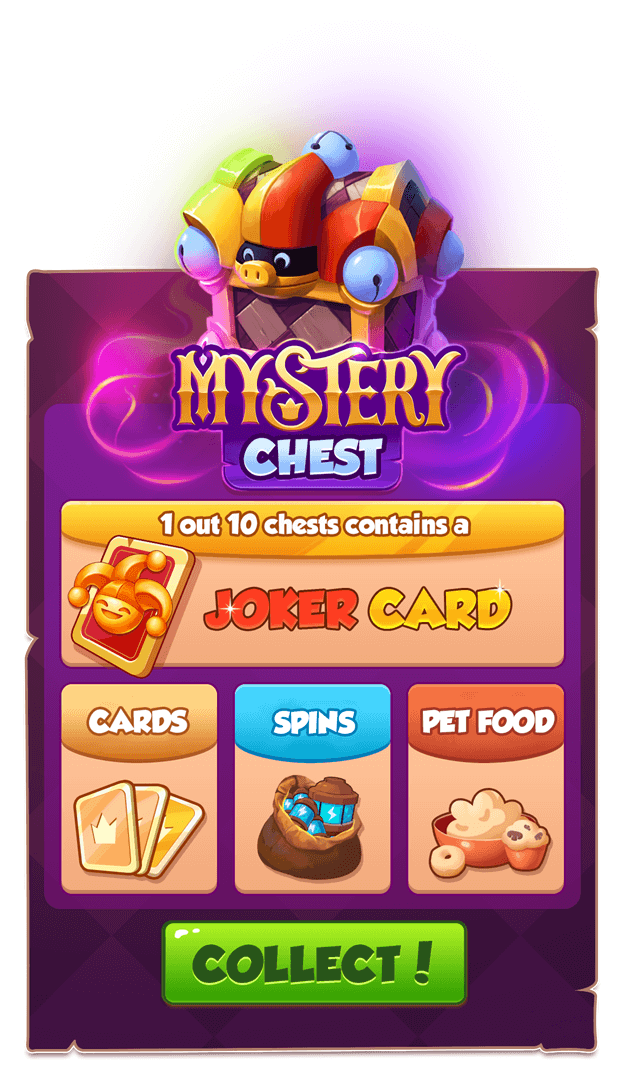 Completing Card Collections is a great way to earn Spins. Each completed Collection rewards players with spins and other great gifts as well – including Pets! The rarer the Collection of Cards, the bigger the reward. When it comes to finding new Cards, the village you are in determines the cards you will receive from chests and their rarity as well. Note that Gold Cards can be found in higher Villages than you will find the rest of the cards. You can also trade normal Cards with your friends at any time and Gold Cards during special Gold Card Trading events.
You collect cards by opening chests, and each card is part of a growing collection, which increases as you level up your village. Each collection includes nine cards, and if you collect all nine you'll get a ton of free spins and extra rewards, like pets
You get five free spins every single hour, and you can only hold a maximum of 50 spins at any one time if you have the patience to wait and collect the free spins at one go.
How to get free coins in Coin Master?
To get free coins in Coin Master follow the steps below:
Sign up for their email gifts. You'll get a bunch of free coins each day by signing up for the daily email gift.
Ask your friends to gift coins. Much like with the free spins, you can request free coins from friends:Tap on the menu button, at the top right of the page Tap 'Gifts'Hit 'Free Coins' Choose 'Collect & Send All'You might as well send free coins to your friends, as they might then return the favour.
Watch in-game video ads: You can watch video ads from the village menu to get free spins each day, and we've managed as much as eight video ads in a single binge session. That's a considerable number of free coins. It's entirely possible that you can keep checking back every few hours to see if there's a new video ad available.
Spin more: The more you spin, the more free coins you get, so spin as often as you can.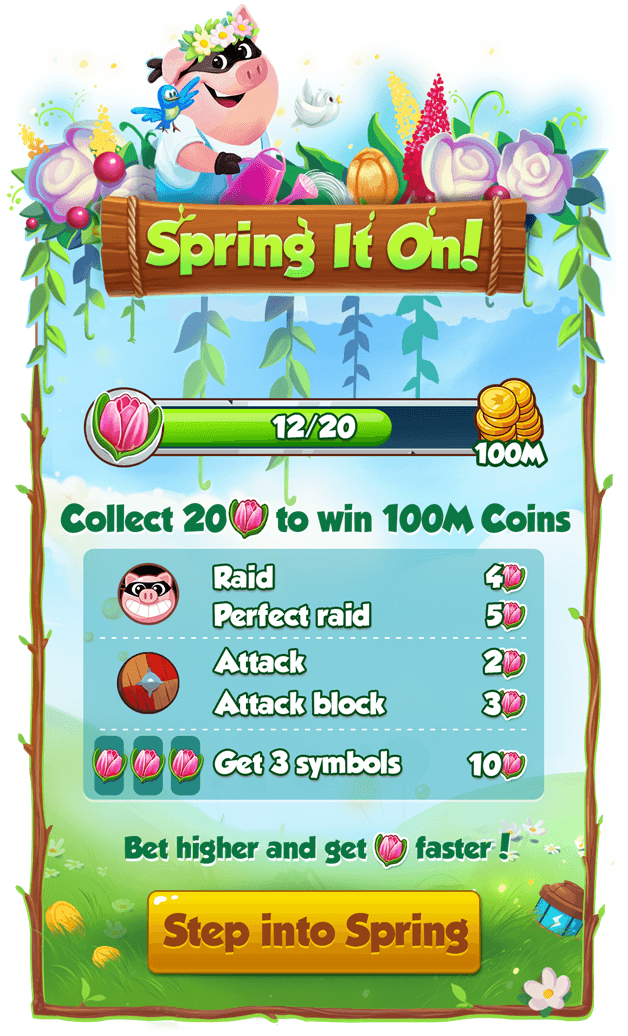 Raid: Using the "Bet" feature of the slot machine can increase the number of Coins won in Raids by two or three times (and sometimes even more!). When using Bets, at the end of the Raid the number of Coins won will be shown, and after a few seconds, it will be multiplied to give the actual number that is received. Another way to earn more in Raids is to use Foxy, who will dig up the 4th spot in every Raid to earn you more coins.
Daily Bonus Wheel: Spin the Daily Bonus Wheel once every 24 hours to win free Coins! Once the Coins have been collected, the player will be presented with a countdown timer towards the next free Daily Bonus Spin! Aside from this, there is always the option to buy a spin on the Daily Bonus Wheel which will be presented in Gold and offers the opportunity to earn incredible rewards. The message that the Bonus Coin Wheel is "Now 10X better!" refers to the fact that the amounts that can be won now are 10 times higher than they used to be in the past. The numbers on the wheel show what will be received. Both versions of the Daily Bonus Wheel level up alongside the player, with the rewards increasing with each step.
How to get free cards in Coin Master?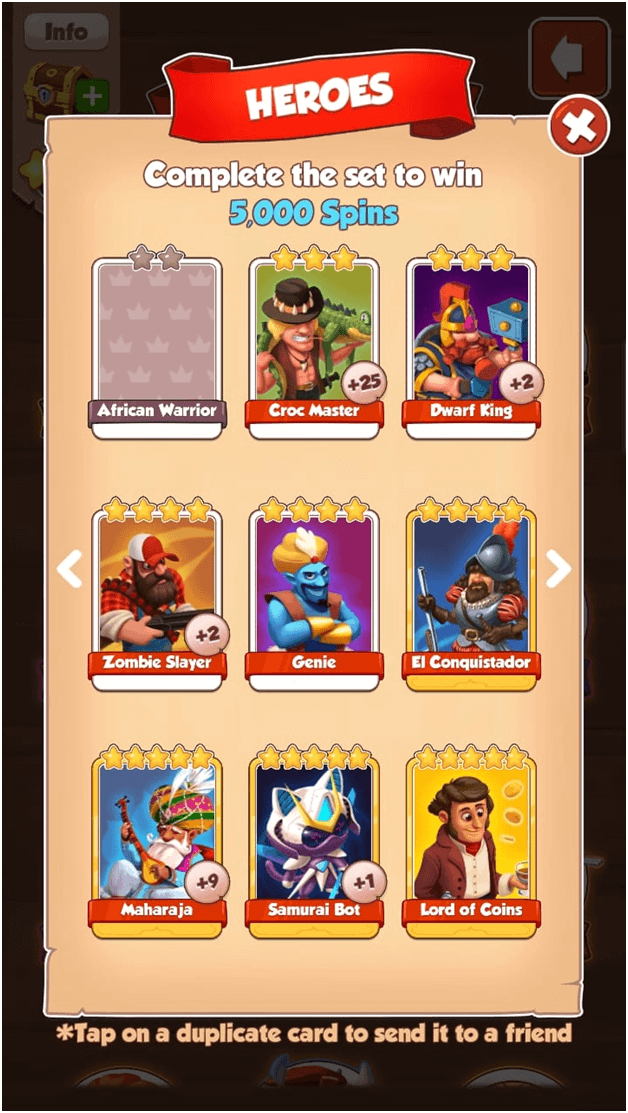 Cards are most often collected through chests which can be won from events, found during Raids, or purchased with coins. When it comes to finding new Cards, the village level determines the cards that can be found in chests and their rarity as well.
Another great way to collect cards is by trading with friends. Normal Cards can be traded at any time with a limit of 5 per day, and Gold Cards can be traded during special events. You can trade your unwanted cards for those that you need with the community, and Moon Active has made this process as easy as possible by creating an official space on Facebook to do this safely
If you're having no luck trading certain cards with the community, there is an inbuilt feature that lets you trade 75 of your duplicate cards for a card chest.
One of the best methods of getting new cards though is to wait until there is a Card Boom and splash your cash on a bunch of chests. Card Booms happen regularly and are a limited-time event that provides you with 50% extra cards from each chest you open.
Also, the game provides you with daily links that shower you with free spins, coins, and cards, and if you collect these every single day, you'll have more than enough in no time.
Lastly, cards can also be collected in very special events and chests!
Finally remember that the Coin Master game app offers in-app purchases in case you want to buy more free coins, pet food packs, and free spins which range from $0.99 to $14.99. Also, the game is a fun game app and your wins are all virtual to play more. To find how to get free coins in other mobile game apps, click here.