Coupons are a way to save money. Even though the days of clipping coupons from newspapers are long gone, using coupons is far from obsolete. This is due to their successful transition to digital format, which is revolutionizing how Americans shop. In these financially stressing times, everyone wants to find a bargain. Distributors aren't oblivious to this, so they provide plenty of opportunities for attentive shoppers. For this reason, it's no surprise that countless websites cater to legions of thrifty viewers. From online casino deals to sports equipment, no niche is devoid of coupons.
The coupon stores offer fast, free online and printable coupons. They are all about saving money. After all, if you can't get a good deal on something, is it even worth buying.  That's why they work with thousands of the most popular retailers to give you great prices on everything you're looking for.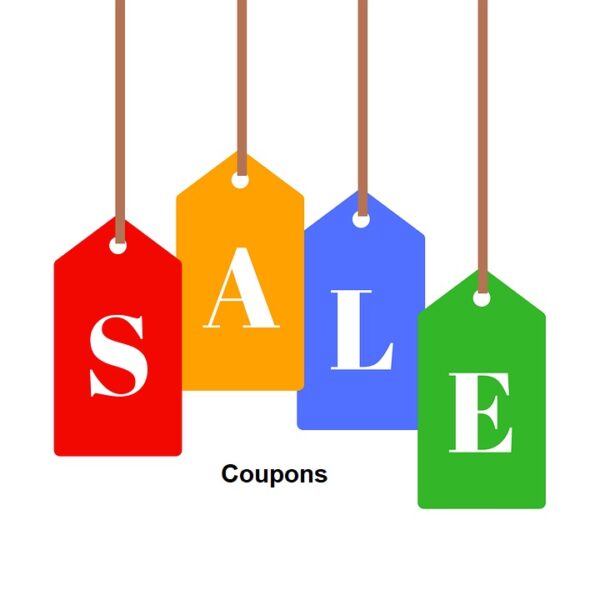 These stores source the latest deals, free online and printable coupons, and exclusive discounts from your favorite stores, including Adidas, StubHub, Chewy, FARFETCH, Wayfair, Kohl's, and so many more. Also, because they update their pages around the clock, they'll always have the best savings on TVs, laptops, clothing, mattresses, furniture, bikes, baby gear, and travel. We make it fast and easy to save on every purchase, every day.
Out of the staggering amount of coupon websites and blogs, a few manage to stand out. Over the years, these websites have won over clients by providing the best deals on a wide variety of products. Today their reputations are so established that they have become household names. From easing the sting while purchasing groceries to providing hidden deals on clothes, these coupons are indispensable. Quit paying full price and start shopping smart by exploring the vast list of offers on these websites!
Best Coupon Websites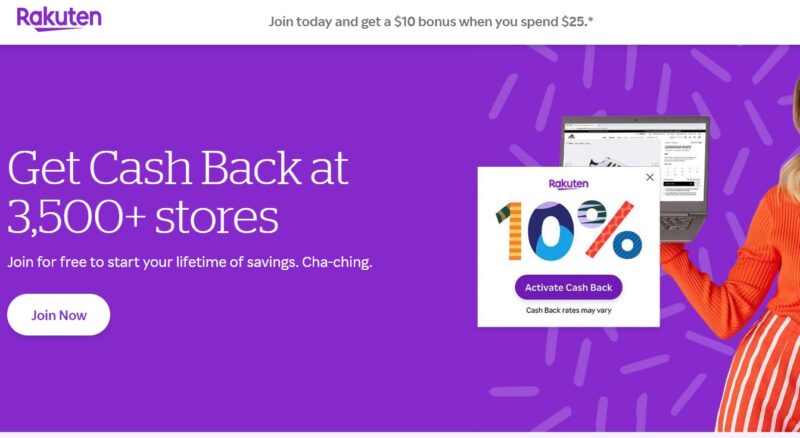 Coupon Website #3: Rakuten – Out of all the sites offering deals, this site has been operating the longest. Ever since it was founded in 1998, Rakuten has given clients an appealing alternative to coupons. Instead of offering meager promo codes, they offer cash back on purchases. By teaming up with the largest retailers in America, Rakuten gets to cut clients in on the action.
Every time a customer is referred to one of Rakutens' affiliates, the company gets money for connecting them. From there the client is given a percentage of the kickback, which is paid quarterly. By simply creating an account, users are entitled to a certain money back percentage that varies between each store. These cash backs are paid by PayPal or check. This has proved to be a winning combination, and Rakuten remains one of the most revered websites for frugal shoppers. They are connected with 40 major retailers that sell everything from clothes to electronics, so don't miss your cash back!
Coupon Website #2: RetailMeNot – In a short amount of time, this once obscure company became an industry staple. Today they are one of the leading coupon websites that offer deals on a staggeringly diverse list of services and products. Users can browse through deals on over 20,000 stores for coupon codes and printable coupons.
When searching for an item, RetailMeNot provides a detailed list of user or staff-submitted discounts. They also provide lists of offers from similar stores to guarantee that users find the perfect deal. Their robust list of stores and growing customer base has allowed them to create a thriving community. Make sure to check this website before making any major purchases, the sheer amount of savings available will surprise you!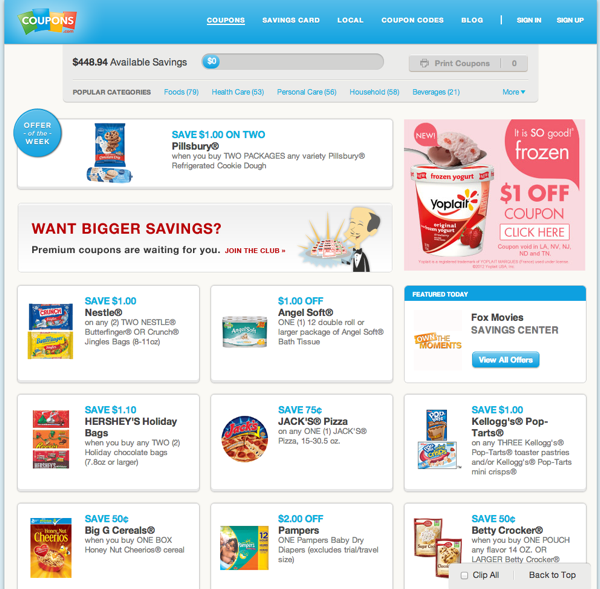 Coupon Website #1: Coupons.com – While the domain name is impossible to forget, their selection of deals is even more memorable. Everything from appliances to tech accessories are available at discounted rates. They offer coupons, codes and cashback deals for loyal customers. This has proven to be a winning combination, since they are the leading coupon website in America. Over 1 million bargain hungry users visit their website every day, which translates to a small fortune of savings daily. Quit paying retail price and join this growing army of deal-savvy consumers!
Top Coupon Websites to Explore
Points to remember
1.To use a coupon, click on the offer, and a window will appear where you can copy the code. When you check out on the store's website, paste the code in the promo code field. Stores sometimes call this a promo code, but it is also known as a promotional code, coupon code or, discount code.
2. Some coupons may be for single use only. Unique codes are codes that are generated for a one time use.  They may be delivered by email or shown to you instantly when you click on the link. There are usually a limited number of codes for these offers and may run out.  
3. Some coupons may not have listed codes, and you can receive that discount by clicking the "Get Deal" button. You will then be directed to the retailer's site. If you see an offer without a coupon code, the offer does not require a code to receive the discount. This could be free shipping or a sale notification. 

To use these offers: 
Click the purple "Get Deal" button on the right of the offer. They will direct you to the retailer's page to complete your purchase.
If the offer is a sale, the discount will already be factored into the listed product price. If the offer is for free shipping, it will be factored in if you meet the offer requirements during check-out.
4. Sometimes coupon codes doesn't work. This happens because of reasons. Customers submit offers on these sites just like you, and unfortunately, sometimes they don't work. The coupon stores best to validate all offers that come in. They appreciate the feedback they receive regarding their offers and will take action as necessary. They also strongly advise that you confirm that any offers, discounts, or coupons you may use have been applied before you complete a purchase online.
5. Generally, a coupon is removed when it is no longer valid.
6. The stores do the testing of every code to make sure it's good. You can trust them to have the latest valid coupons, for both online and in-store discounts.
7. The coupon website pages are totally free and simple to use, so you can find working coupon codes quickly and easily. You need to search their site for one store, or spend time browsing all of them. You never know what you'll discover.
8. Not many people get to say they shop for a living, but that's precisely what they do. Their top-notch shopping editors are experts at saving money, and they get a thrill out of tracking down hot deals from the most popular stores.
FAQs
Q1. What are cashback offers?
Cash Back offers are digital offers that allow you to get cash back after a purchase. Unlike a coupon, your bill will not change at check out; you will receive your cash back within one week after purchase. To use a Cash Back offer, you simply activate the offers you would like to use and then make your purchase at any store that provides an itemized receipt. You can link your store account details, link retailer loyalty cards from select retailers or submit your receipt on the coupon website to redeem an offer. You will get cash back directly into your verified account with PayPal once the offers are processed.
Q2. Can I print coupons?
Yes many online coupon sites allow you to print coupons. You will have their coupon printer software installed on your device and do the print verification process.
If it's your first time printing coupons on any device, a one-time authentication process is required. This will confirm your device by sending a verification code via SMS to your cell phone number. A six-digit code will be provided to enter in order to validate your device. Once verified, your coupons will print.
Note that clearing browser cache and history or using a different browser, will prompt your phone number to be provided again.
Q3. How to link a store card to your coupons account?
On the coupons website you can link your store card to redeem cash back offers and/or store-specific coupons. Note that not all stores support linking cards to both types of offers. With a linked store card, cash back offers activated prior to purchase, will be automatically redeemed when that store card is used at checkout. Within 7 days of the purchase date, cash back will be paid to your account with PayPal.
Follow the steps below to link your store card to redeem cash back offers:
1. Sign in to your coupons account
2. On the Cash Back Offers page click on the "Redeem" button located in the top right corner.
3. Under "Use a Store Card" click on "Link a Card"
4. Select a participating store or enter the store name in the search bar
5. Enter the card number of your store card
6. Click "Link Card"

With a linked store card, store-specific coupons can be added to that store card. Offers must be added to your store card prior purchase. During the time of purchase, the discount is applied at checkout for qualifying products when that store card is used.
Follow the steps below to link your store card to redeem store-specific coupons:
1. Sign in to your coupons account
2. On the Store-Specific Coupons page click on any store that has a card icon in the top left.
3. Click on the blue "Add Account" or the "Add My Loyalty Card" button
4. Depending on the store, enter the phone number associated to your account or the card number
5. Click "Add Card"
Q4. How are offers shown in your List?
On the coupons website, My List displays tabs for activated offers of Printable Coupons, Cash Back Offers and Store-Specific Coupons for each store. As you shop, you can check items off each list to help you track which items you still need.
Printable Coupons – Printable coupons you activate, will automatically be added here and are indicated with a blue dollar sign icon. You can add items to this that don't have a coupon at the top of that screen.
Cash Back Offers – Cash Back Offers you activate will automatically be added here and removed after they have been redeemed. Any offers that have expired are moved to the bottom. To redeem a Cash Back Offer, either link a participating store card prior to purchase or submit an itemized receipt. Within one week, cash back will be sent to your account with PayPal.
Store-Specific Coupons – After linking a store card, any coupons you add to your store card will be automatically added to that store's list. During the time of purchase, the discount will be applied at checkout.