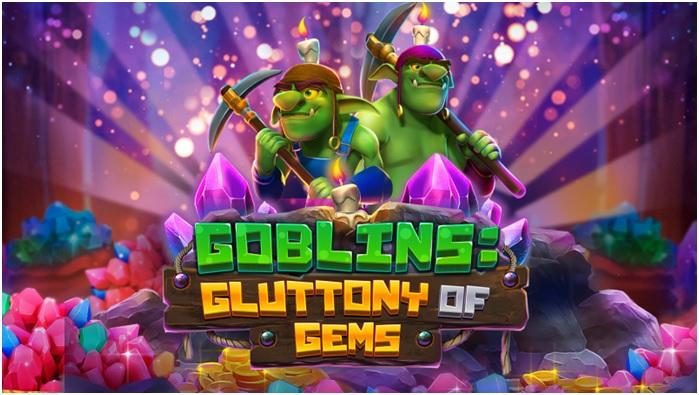 Goblins Gluttony of Gems is awesome slot game from Real Time Gaming. In this slot game you crave for the wealthy Goblins who have possessed rubies and gems as Goblins are attracted to anything that shines and love storing treasures.
Goblins are mythical creatures from European folklore. They are usually described in two different ways: as mischievous spirits or as diminutive humanoid creatures, similar to elves, gnomes and imps. As spirits, goblins tend to be relatively harmless, playing a prank or two. On the other hand, their humanoid variation is described as violent and vicious creatures. No matter what kind, you are probably better off avoiding them.
Goblins: Gluttony of Gems is a 5-reel slot game with pristine, high-definition graphics, suspenseful sound effects, plus bonus features with Free Games and excellent rewards.
The characteristics of Goblins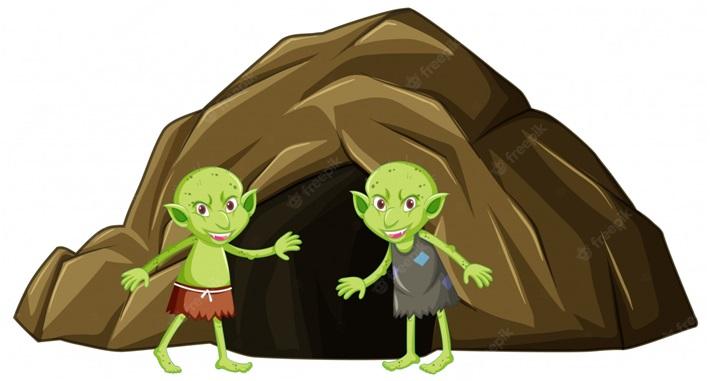 According to the texts and Wikipedia, a typical goblin is of short stature, grotesque in appearance and very sneaky – they enjoy playing malicious pranks on humans or other fairies and are also often bullies: frequent passtimes for goblins include scaring children, pulling people's hair, leading travellers astray and causing poltergeist activity in the homes of people they dislike.
Goblins are often greedy and territorial as well with nasty tempers, they love playing tricks but don't like being tricked themselves.
Goblins supposedly live in grottoes but attach themselves to households, where they are believed to bang upon pots and pans, snatch nightclothes off the bodies of sleeping people, move furniture at night, and flee after rapping on walls and doors.
It is said some Goblins are good natured and work as elfs.
About Goblins: Gluttony of Gems Slot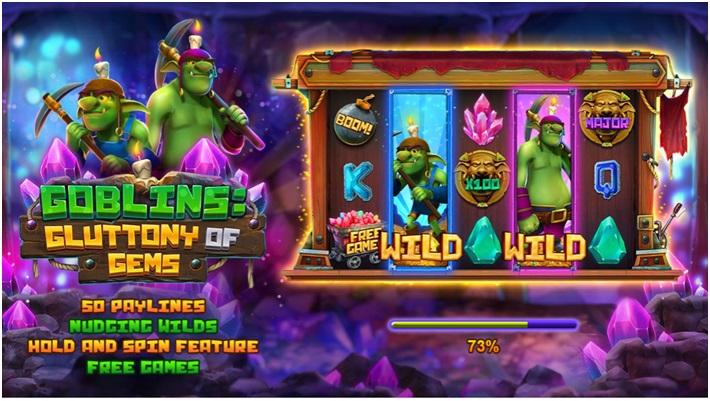 Goblins Gluttony of Gems slot is a 5-reel game with 50 paylines. The loading screen greets you with a duo of charming pick-axe-wielding candle-topped helmets worn by goblins in search of eponymous gems. The art direction is great, and the colors are lively and vibrant against a matted board, making it really easy to read the playing field.
As the game is played across 50 paylines with the addition of unique features, like Nudging Wild Goblins, Hold & Spin, and Free Games, that all increase both your chances to win and potential earnings drastically when playing online.
Game Symbols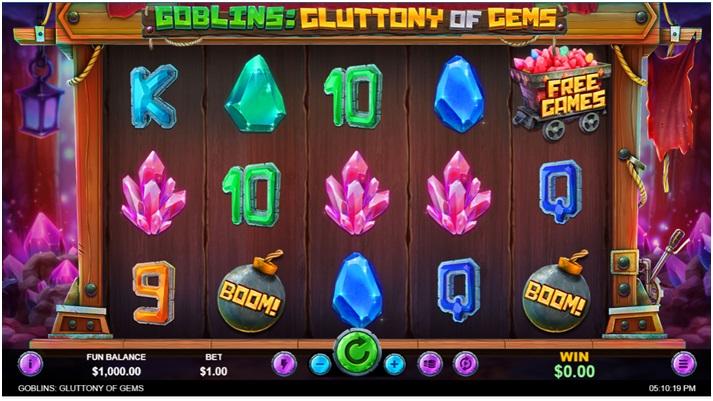 In this slot game every spin of this 5-reel, 50-payline game delivers next-level action, enjoyment, and prizes. As you spin the reels and venture further into the mine of these creatures, you'll need to line up symbols like multicolored gems, crystal shards, lit-fused bombs, coins, and sparkling card suits and turn them into winning combinations to trigger payouts and the game's several epic bonus rounds.
The scatter symbol is the Minecart. The scatter pays when three or more scattered Minecarts appearing on a base game triggers a choice of two features.
The Wild Symbol is the Goblins. Goblins are wilds on reels 2 and 4, respectively, that count for all symbols except scattered Minecart and Golden Coins. Note that the Goblins always nudge to cover their reel when any part of them appears on that reel.
Game Features
Re-spin feature with a Grand Jackpot prize available
Free games with two different options to choose from
Nudging Wild symbol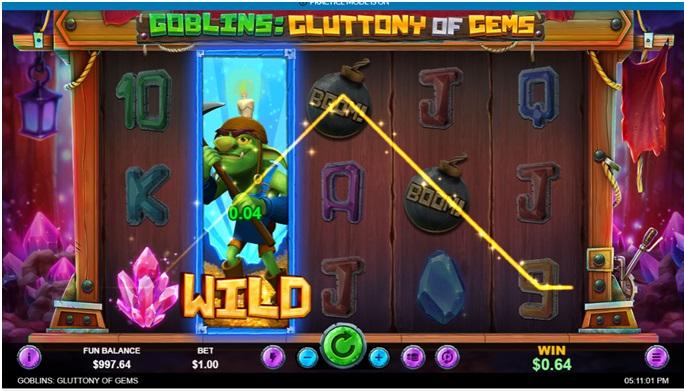 When playing this slot game you are obviously looking from a group of wealth-obsessed goblins, the biggest prizes to play for have been stowed away for players to locate in the bonus rounds. To trigger these exciting events, you'll need the assistance of the Gold Coins and the Minecart Scatter. One of two Free Games options that is the Gold Coins or the Wild Reels feature is made available to players when three or more of these shiny gem-filled Minecart icons appear.
Both features provide the player six Free Games instantly, along with the opportunity to accumulate additional rewards throughout the bonus round. A Hold and Spin feature may also be triggered during either Free Games round, giving players the chance to earn Re-Spins and win the game's Jackpot if 15 Gold Coins fill all positions on the reels.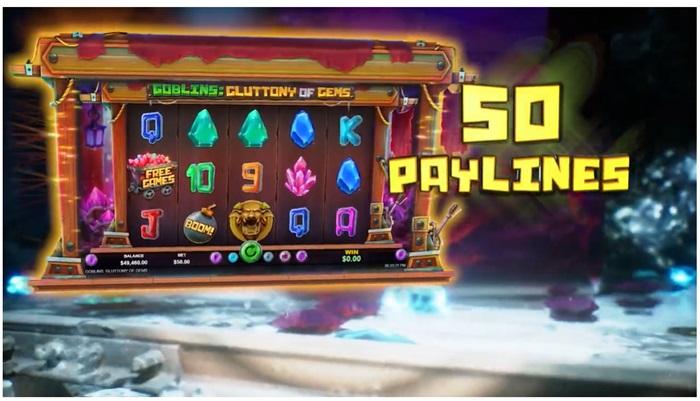 The Goblins Wild, which replaces all other symbols on reels 2 and 4 with the exception of the Minecart and Gold Coins, is the other magical symbol to keep an eye out for in this intriguing new slot. To aid gamblers in forming a winning combination, the Goblins will also nudge to cover the entire reel. The top award in this wonderful slot game is 50,000 times the bet per line.
Hold and Spin Feature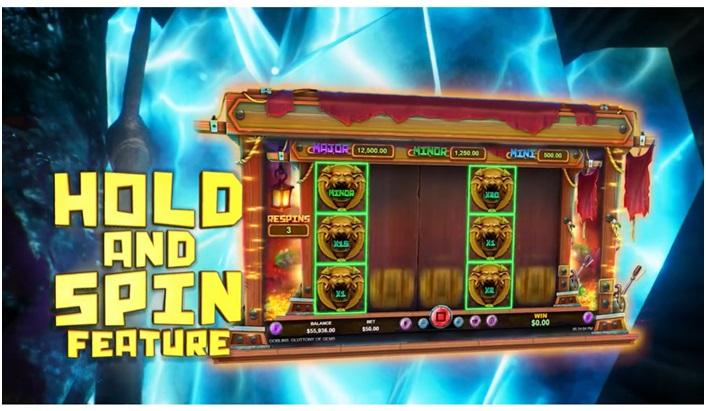 The Hold and Spin Feature is triggered when six or more Golden Coins appear anywhere. Three re-spins are awarded, with triggering Golden Coins held in position.
If a new Golden Coin appears in a spinning position, it is held for the remainder of the feature and the number of remaining re-spins resets to three. At the end of the re-spins, all prize values and/or Jackpots displayed on the Coins are awarded. A Grand Jackpot is awarded if all 15 positions have been filled by Golden Coins during re-spins.
Free Games Feature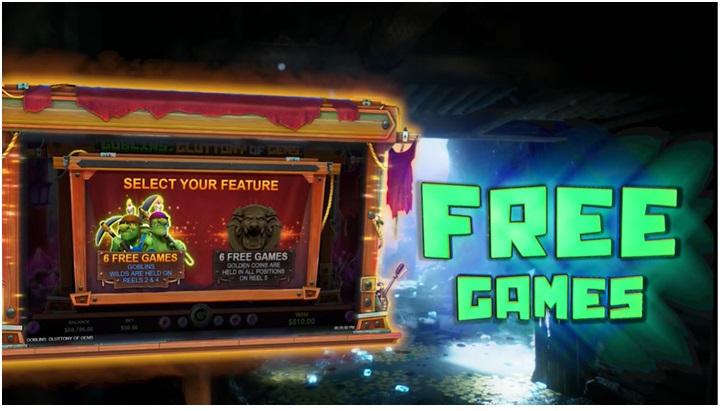 Free Games Feature is triggered when three or more scattered Minecart appearing on a normal game triggers a choice of two features.
Players may choose either Wild Reels or Golden Coins features. The Hold and Spin Feature can be triggered during free games. All free games are played at the lines and bet of the triggering game.
Wild Reels Feature
In the wild reels feature six free games are awarded, during which Goblins are held on reels two and four. The Hold and Spin Feature may trigger during these free games. The feature can be retriggered, with six extra free games added to the current feature.
Golden Coins Feature
Here six free games are awarded, during which Golden Coins are held in all positions on reel five. The Hold and Spin Feature may trigger during these free games. The feature can be retriggered, with six extra free games added to the current feature.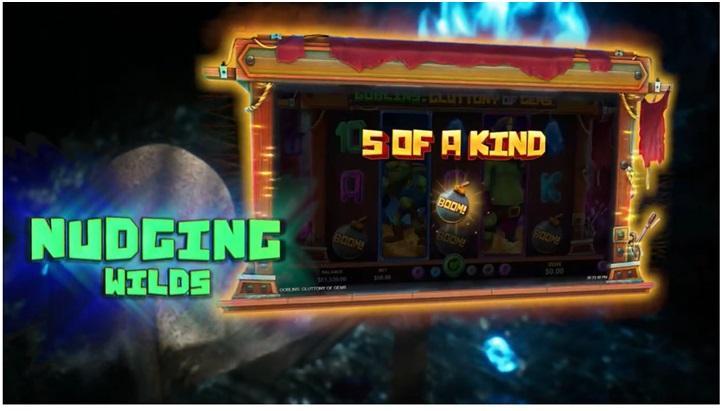 How to play Goblins Gluttony of Gems Slot Online?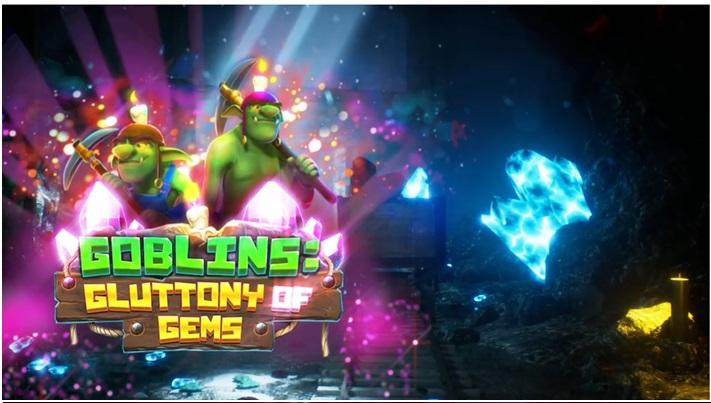 To play Goblins Gluttony of Gems Slot online you have to join any RTG powered online casino.
Play this slot game for free or for real money.
When playing for free you needn't make any real cash deposit.
But when you choose to play for real money you have to of course make a sum of deposit in USD or BTC.
Once you have done this payment, use the bonus code that the casino is offering on this slot game.
It can be free spins bonus or match deposit bonus.
Now go to games lobby and find the slot game Goblins Gluttony of Gems.
Tap or click to play
You can play the game on your mobile or PC or laptop.
Once you've loaded the game, select your bet amount by selecting the + and – symbols at the bottom of the game screen.
Betting starts at 50¢ and increases all the way up to $250, the perfect combination for casual bettors and risk-taking high rollers.
Once you've set your wager amount, click Spin. With a slot like Goblins: Gluttony of Gems, your best bet is to wager maximum coins. This sets you up for winning and being able to claim the game's top reward.
If you find yourself getting a bit tired from spinning the reels manually, just hit the Autoplay feature to get the reels spinning automatically. From there, you can simply relax and watch the reels do all the work.
Where to find Bonus codes to play Goblins: Gluttony of Gems?
If you are looking for bonus codes to play Goblins: Gluttony of Gems slot game from Real Time Gaming then you need to visit the RTG online casinos promotional pages. There you will find various types of bonus codes that are available to play the slot games. Right from no deposit bonus codes to match deposit and free spins, you will come across the bonus codes that are even related to your deposit options. For example if you make a deposit with cryptocurrencies like Bitcoins, Litecoins, Ethereum of Dogecoins you will be offer awesome bonus codes on this payment option.
Secondly you can find bonus codes to play this slot at winmenot site where we list latest bonus and coupons on offer by RTG online casinos that are US friendly.
All you need is to copy the code to redeem them on the online casino of your choice. When you make a deposit with real money (as bonus and coupon codes only work when you play real money slots) at the cashier or banking page, you simply paste this copied code on the box given to avail this bonus offer.
Note that bonus codes certainly add value to your bank roll and make your gameplay more worthy.
FAQs
Q1. What is the top prize to win in this slot game?
The top prize is 50,000 times the bet per line, and the game includes two Free Games features which players can choose from when three or more Minecart Scatters line up anywhere on the gameboard.
Q2. What is the wild symbol in Goblins: Gluttony of Gems?
The Goblin is the Wild which replaces all symbols in the game when it lands on reels two and four. It will also nudge to cover the entire reel and help players form a line win.
Q3. What is hold and spin feature?
The Hold and Spin feature, grants 3 Re-Spins with Coins held in place, is activated by six Golden Coins. Any new Coin resets your Re-Spins, allowing you to continue collecting. Place coins in each of the fifteen places to win the grand jackpot.
Q4. What is scatter in Goblins: Gluttony of Gems?
The Scatter is the shimmering minecart filled with gems; landing three of them triggers Free Games with either Wild Reels or Goblin Spins as optional extras. On certain reels, Golden Coins or Goblins remain in position, and Hold & Spin or further Free Games may be triggered.
Q5. When can the grand jackpot be won?
The Grand Jackpot may be won when all 15 positions are filled by the Gold Coins during the Hold and Spin feature. As said above the top award is 50,000 times the bet per line.
Q6. Can I play this slot game free?
Yes you can play this slot game free if you want without spending any real money.