I was watching a movie recently called " Risen" it is not because 'Easter' is near but historical movies have their own charm to represent what had happened thousands of years ago. It is great movie of action and theme taking us back to the time of 'Christ' and 'His' resurrection.
Do not hold on to me, for I have not yet ascended to the Father. Go instead to my brothers and tell them, 'I am ascending to my Father and your Father, to my God and your God.' Jesus Christ thus appeared and spoke to Mary Magdalene and his disciples.
This reminds me that again a time to rejoice and celebrate the most important holiday which is near to be celebrated all over the world with great enthusiasm. In context to this yesterday I received an email from my friend. She wrote," Spring is here my friend. Be well and soak in some sun. I want to hear that you are well and biking and rafting and all of that"
As Easter falls near the Spring Equinox it is my favourite season full of energy, new hopes, new life and fertility all around. So that means Easter is related to Spring?
The origins of the word "Easter" are not certain, but probably derive from Estre, an Anglo-Saxon goddess of spring. Legend claims that this mystical goddess found a wounded bird and turned it into a hare so it could survive the winter. When this very same hare found it could lay eggs it made a gift of its eggs to the goddess who had protected him. Thus the tradition of the Easter hare, or bunny, as it became, was born.
The celebration of Easter today is quite diversified and not confined to traditional rituals. It has become more of commercial than the religious and sanctified aspect of joy.
Did you know that over 90 million chocolate Easter bunnies are made each year?
You will see market flooded with the mounds of jelly beans and marshmallow chicks that appear in stores each spring. Easter baskets being sold having Easter eggs, bunnies and candies at high prices.
Eggs have long been seen as an important fertility symbol, and are associated with the 'rebirth' signalled by the coming of spring.
Many years back people first starting giving eggs as offerings and gifts at Easter time, they used birds' eggs. They were painted bright colours to echo the vibrancy of the colours of spring after the darkness of winter.
Early Easter eggs were usually duck, hen or goose eggs but now they are mostly replaced by artificial eggs as chocolate became a more widely available foodstuff, the first chocolate eggs began to appear, in the early 1800s. The fashion for exchanging chocolate eggs at Easter quickly spread across the world and is still widely recognised today.
Most of my Easter celebrations to celebrate Easter in your budget include DIY – right from making and designing my own eggs, preparing my own meals, collection of my own Easter baskets and having fun time playing games. It not only saves money but my frequent trips to the stores for buying things.
So how do you celebrate Easter…going to church for prayers, having chocolates, gifts, Easter eggs, picnics, parties, hosting Easter meals, bunnies and what more. But what about your budget, it can end up costing more than you ever thought of. Here find below 8 ways to celebrate Easter in your budget.
Ways to Celebrate Easter in Your Budget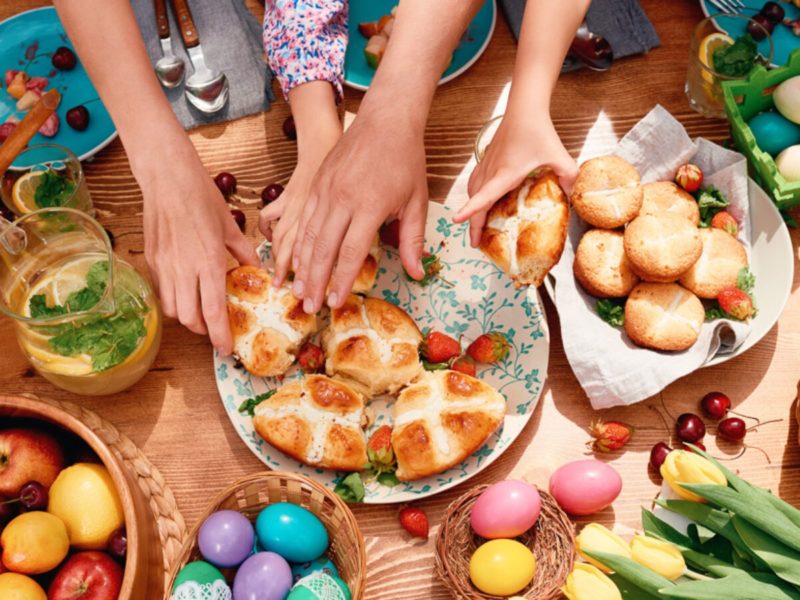 1. Decorate Easter eggs by yourself
Not only kids even adults love to see decorated eggs. It is very fun activity for all to decorate the eggs themselves.  To celebrate Easter in your budget no need to go to stores and buy egg decorating kits and spend $10-$15. All you need are a couple of bowls, containers, vinegar, food coloring, and eggs. Just mix 1 Tablespoon food coloring with 2 Teaspoons of vinegar in a cup. Then fill to the half-way point with water. Then you are ready to begin coloring Easter eggs.
If you wish to dye them then use crayons or stickers on the shell. Also for dying simply mix a few drops of food coloring, boiling water, and a teaspoon of vinegar and you've got 100 percent workable egg dye at virtually no cost to you.
You can stick beads of broken necklace, some wool as hair, beautiful stickers or anything you can imagine to decorate the eggs.
2. Make Easter baskets at home
I never buy baskets for gifts. It is easy to make with old newspapers. You can make one too.
Also if you have any old basket at home to ways to celebrate Easter in your budget, you can use that too by cleaning and dying it again. Use old wrapping paper for basket grass instead of purchasing the plastic stuff at the store. Either use a shredder to shred the paper or do it manually and then crinkle them a bit to line it in your basket.
If you want to have an Easter bunny, candy or toy you can either have it at your home by making them or else get some cheap from a local store. Fill the baskets with candies and chocolates Many stores or even at yard sales they give away their used baskets for free if you do not have any time to make one.
3. Try to save on Easter dresses
I personally do not prefer to have new dress for every occasion. Celebrate Easter in your budget, the concept of wearing clothes should be neat and tidy and to look nice rather than going for heavy costly dresses on each event.  Easter outfits can be made at home specially for kids like the bunny dress as these are costly in the market. But if you do not know stitching or sewing then look for a  thrift shop or consignment shop. You will often find new or gently used high quality, name brand clothing for just a fraction of the retail price. Also, if you are ordering online do not forget about using cash back websites like ebates or if you can afford a bit more go for Aliexpress or Sophiasstyle for girls clothing
4. Host Easter dinner at home
I have seen many people going out for dinner on holidays. It is not a bad idea if taken occasionally. Even many want to show their guests and impress them by hosting a luxurious, expensive dinner or meal.
But remember they are not impressed at all. They come, gossip, eat and leave as they didn't find any thing special about it. But they might appreciate if you have them taste your own hand made recipe.
Celebrate Easter in your budget, therefore instead of more than 10 dishes on the menu keeping your dinner and grocery budget simple and have some ideas of cooking different recipes and laying decent dinner table from cook books and recipe sites and tutorials.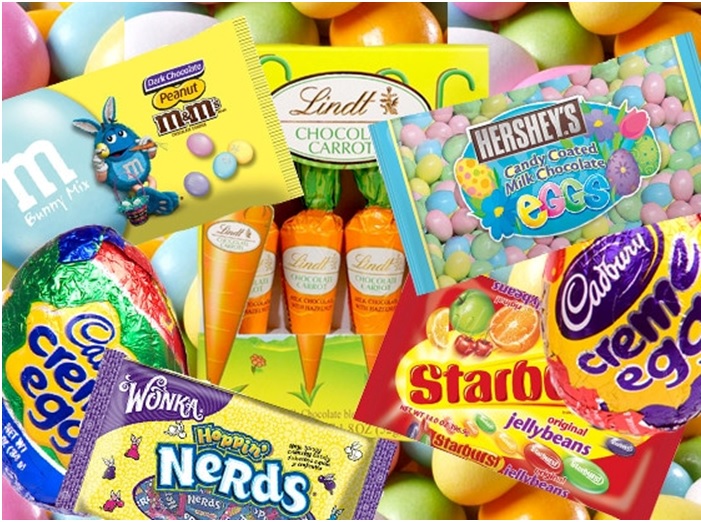 5. Wanna Candies- Make them or buy with coupons
If you need to buy Candies then do it last minute so that you pay less for them. Because buying your chocolate bunnies and Peeps ahead of time, you will have to pay too much for them. At the last moment the stores want to get rid of their stock and make room for the next holiday's decorations, and many will slash prices anywhere from 50-90% to do it.
Other thing can be let your kids some put some ideas for candies and other such stuff.
Celebrate Easter in your budget, go for candy coupons. You will find them in papers and you can cut these Easter candy coupons when you see them or print them online. Look for opportunities to combine them with a store coupon or sale.  In this way you can have several pieces of free candy for your Easter baskets this way. Look for Dove Candy Coupons, Mars Candy Coupons, Hershey Candy Coupons, M&M Coupons, Wonka Candy Coupons and More. Also you can look for coupons related to other Easter products
6. Opt for holiday sales and after holiday sales
Many stores have Easter holiday sales. A lot of clothing stores know that Easter is one of those holidays where people rush out to buy new spring clothing. Grocery stores also like to have sales on Easter related foods such as ham, eggs, and pies. The closer it gets to the holiday, the better the sales. If you need to buy a couple of pairs of Easter clothing or some items for your Easter dinner, celebrate Easter in your budget, try to find a store that's having a sale on the items you need.
After holiday sales have most items usually 25% – 75% off. If you're looking to stock up on non-perishable items for the next year, this is the time to buy them. If you need to replace you children's' Easter baskets or some holiday decorations, you're bound to get them for a great discount.
7. For fun have simple activities for guests at home
This is my favourite activity to enjoy Easter and celebrate Easter in your budget.  If you have lawn take your guests outside and if not then have them accommodate in your living room and where ever you want. Take out your move collection and screen some favourite movies on TV screen or projector if you have. For kids you can  start the Easter hunt show. Just hide eggs all over the house and in the yard and ask them to find them all. Have a small prize or toy as a gift to the one who collects more. It doesn't cost any to keep them entertained while you celebrate easter in your budget.
8. Wanna entertain- play Easter slots for free and expect a great win
There are many Easter related slot games that you can play for free and enjoy. Here are eight of such slots to play at home with your laptop, PC or mobile without money celebrate Easter in your budget.
1. Easter Surprise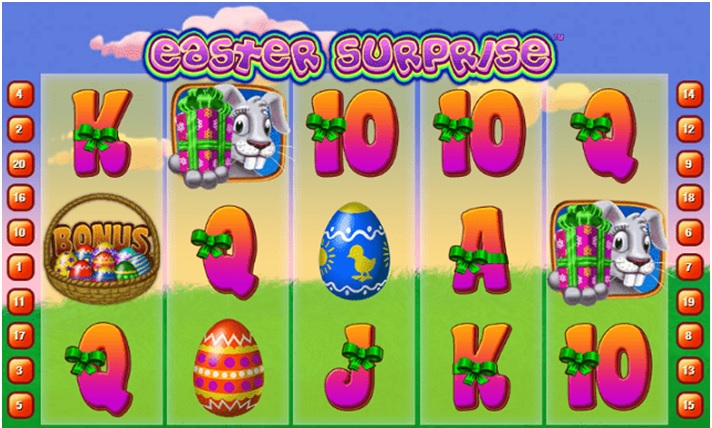 If you like eggs, bunnies, presents, then Easter Surprise from Playtech is probably the thing for you. The most significant bonus feature in this game is the "Easter Eggs Bonus. The Easter Bunny is the wild card but can also pay out a stunning 10,000 coins in its own right for five in a row, and the game's logo symbol pays out for two or more in view with three or more awarding ten free spins, each with a three times multiplier applied.
2. Easter Island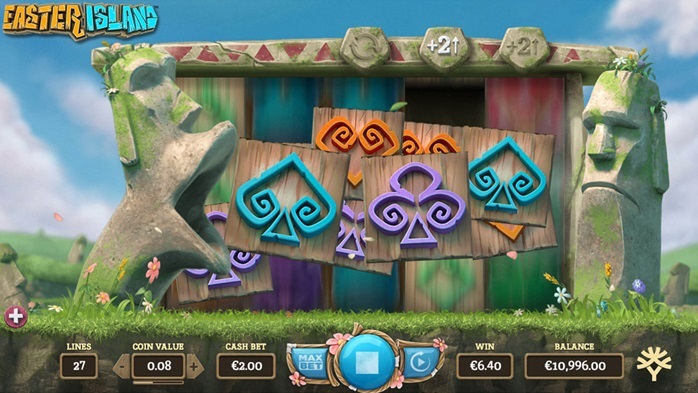 Easter Island is 25 lines over 5 reels of fun and adventure place where tribal bunnies live and play. They pinch the colorful Easter eggs of the fat little birds turning to excitement. Hunt for Easter eggs under the birds in the prize pick triggered when 3 or more reels in the Egg Symbols appear scattered anywhere. In the Free Games feature 3 or more bunnies appear anywhere in the reels. They dance you up to 25 games in this fun and free Egg-Citing feature Also challenge the Witch doctor bunny to double your wins in the exciting new features double up.
3. Easter Eggs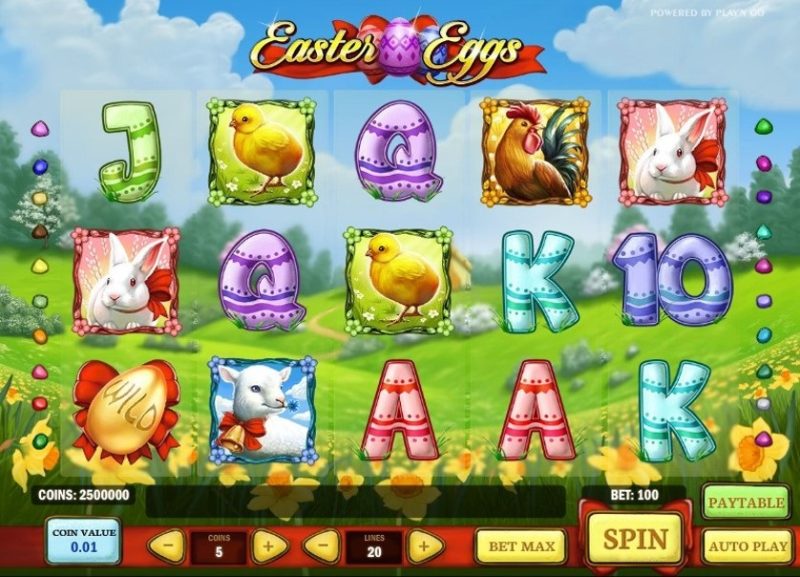 Easter Eggs by Play 'N Go is a 5 reel, 20 payline video slot filled with fluffy lambs, a golden rooster, a sweet little bunny rabbit and an adorable baby chick to make you smile. Golden Egg doubles as the Wild and the Scatter symbol also substitutes for all symbols except the Bonus and Scatter symbols. The Scatter symbol is a treat-filled Easter egg that multiplies all wins. Landing three or more of these yummy symbols activates the free spin feature. This will trigger a bonus game where you'll get to pick 3 special eggs. You could win up to 500 times your total bet!
4. Wonky Wabbits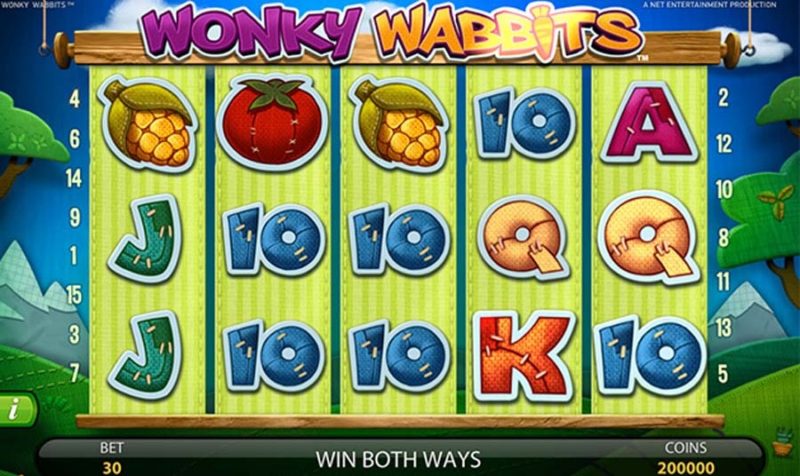 Wonky Wabbits by Net Entertainment has stitched symbols and adorable little birds in 5 reel, 15 payline video slot When the Wild symbols appears on the reels, it's duplicated to the position that will give you the highest possible win. The Wild duplication means that a maximum of 14 Wilds can appear on the reels at one time.
5. Rabbit in the Hat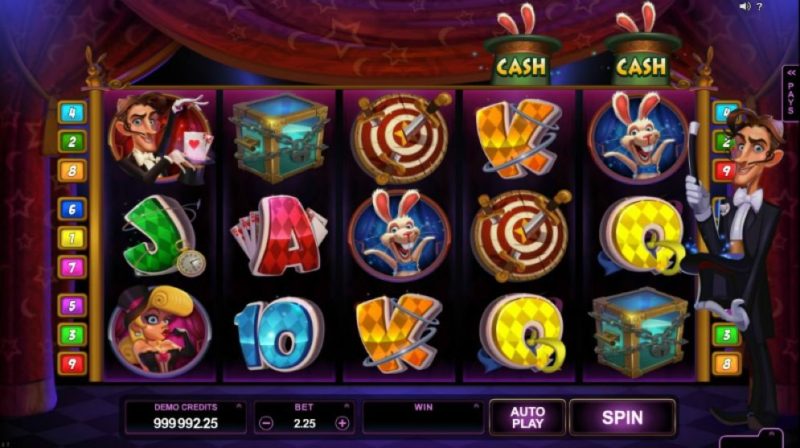 Micrograming's Rabbit in the Hat video slot is brand new 5 reel, 9 payline magic-themed set against the backdrop of a performance stage and a magician that aims to pull a winning rabbit out of his hat. The potential to land huge wins starts with a magic hat randomly appearing above the 5th reel. On each spin, the hat will move one reel to the left until a Wild appears below the hat and triggers a special prize. These prizes include a Wild hat that can turn a maximum of three reels into Wild symbols, a cash hat that awards cash prizes and free spins hat that rewards players with 10 free spins. The potential prizes are huge and you could win up to 90,000 coins.
6. Lucky Rabbit's Loot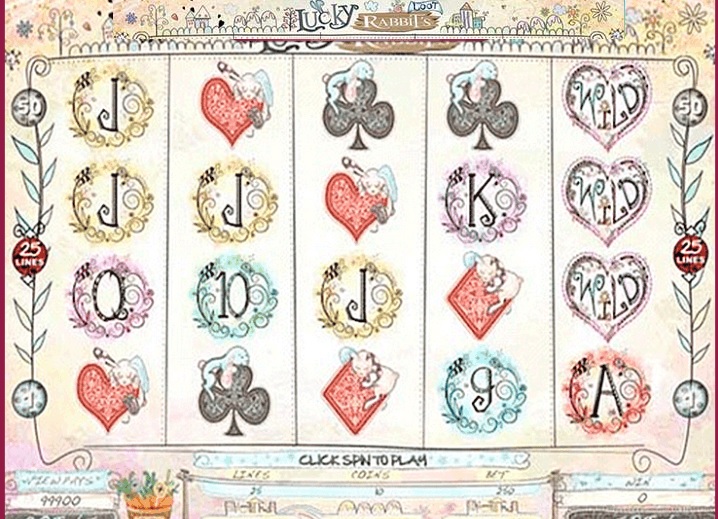 Created by Microgaming, "Lucky Rabbit's Loot" is a video slot machine with 50 bet lines and 5 spinning reels. The visual style certainly invokes the animated version of the beloved "The Velveteen Rabbit." But something this game does very well is have its own style. It feels like you're playing this game on a sheet of aged paper and that a child has hand-drawn all of the symbols. Lucky Rabbit's Loot is also a fun, fast-paced, and lucrative game.
7. Eggstravaganza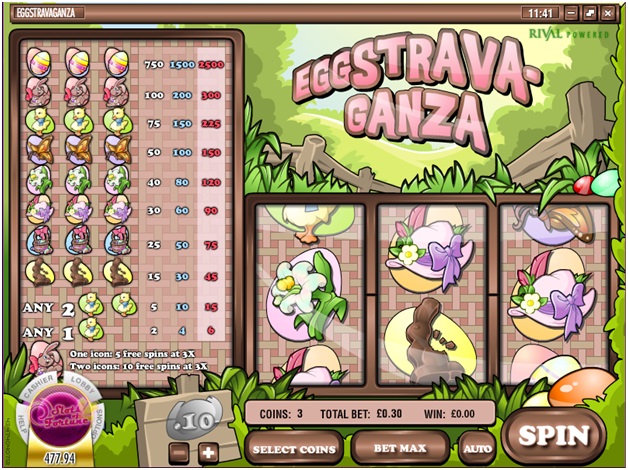 Rival's Eggstravaganza is a real classic, both gameplay and style-wise. Chocolate treats, baskets full of candy, bright pastel colours – everything that embodies Easter in the US is present on the three reels of this 1-payline game. Easy to grasp and play, this game brings together modern graphics and the classic no-frills gameplay.
8. EggOMatic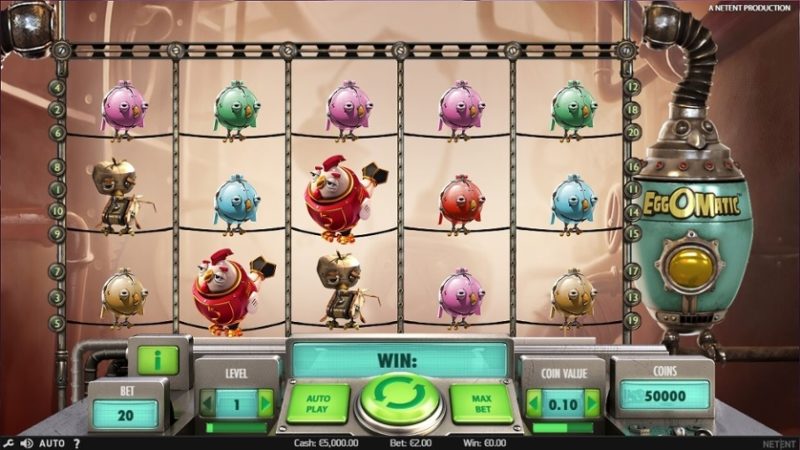 EggOMatic by Net Entertainment is a little game, where colourful robot chickens lay fancy Easter eggs and some of them turn golden to make it to the magic bonus conveyor on top of the 5 reels! This feature-rich slot machine guarantees hours of playing time, enjoying the graphics, the mechanics, and the bonus symbols that grace its 20 paylines! Wilds, Scatters, Free Spins with the payouts just keep rolling in.
Remember it is not necessary to play these slot games for real money play but you can opt for fun play among your friends, relatives and guest to enjoy the season of Easter. But if luck goes your side may be you can in too.
Look for some bonus coupons at WinMeNot for various casinos like the Prism Casino, Palace of Chance casino, Club Player Casino, 888 Casino and many others and redeem the offers to play variety of casino games.
With so much of fun and activities to do you will certainly  have a good time and celebrate Easter in your budget. Happy Easter!