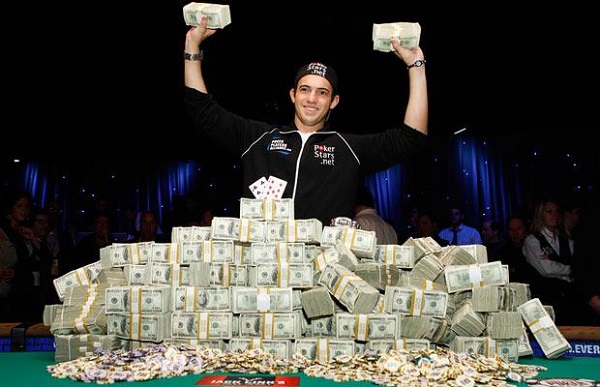 Even after decades Poker remains at the top of the list for one of the most played games around the world. Over the years it has evolved into a full blown sport and generates fans and serious players from all walks of life. The allure of poker is both its complexity and massive payouts showcased in televised tournaments. Playing poker is an art form, heavily rewarding the most audacious players who have gone on to become household names.
According to Wikipedia the largest tournament in the world has been the World Series of Poker Main Event. With the exception of 1992, the US$10,000 buy-in tournament increased in prize pool year-over-year from its start in 1970 until 2007. The first tournament to reach a million dollar prize pool was the 1983 WSOP Main Event. The WSOP Main Event of 2004 had the first prize pool of above $10,000,000.
The largest non Hold'em Tournament has been the 2008 WSOP $50K HORSE with a prize pool of $7,104,000 and the first prize of $1,989,120 going to Scotty Nguyen.
Currently, 14 of the 15 largest prize pools in history have been WSOP Main Events. The second largest prize pool outside of the Main Event is the 2012 WSOP event known as The Big One for One Drop. It featured a buy-in of US$1 million, the largest in poker history. Of the buy-in, $111,111 was a charitable donation to the One Drop Foundation, and the WSOP took no rake.
All 48 seats available for that event were filled, resulting in a prize pool of $42,666,672, with over 5 million dollars donated. The second largest pool for any event outside of the WSOP was the 2012 Macau High Stakes Challenge, with a HK$2 million (US$260,000) buy-in plus a rebuy option. The event drew a field of 73, of which 21 made a rebuy, resulting in a prize pool of HK$182,360,000 (slightly over US$23.5 million). All of the 30 richest tournaments to date were played in No Limit Hold'em.
The WSOP Online Circuit Event kicks off today and run through Nov. 20 ✨ This series features major GTDs,12 WSOP Gold Rings, and a chance to score a seat at the "Tournament of Champions" $1 Million Freeroll awarding a WSOP Gold Bracelet during the 2023 WSOP in Las Vegas, NV. pic.twitter.com/ER3mDkXELD

— WSOP – World Series of Poker (@WSOP) November 9, 2022
The biggest poker tournaments have been the Triton Million and the Big One for One Drop.
The Triton Million is a new tournament on the scene, having only taken place once, in 2019. It was won by Aaron Zang, however he earned less than second-placed Bryn Kenney. This is because Zang made a deal while in second place, and after making the deal, mounted a comeback to finish first. Bryn Kenney's win of over $20 million is the largest ever prize handed out at a poker tournament.
The Big One for One Drop started in 2012 and is one of the most exciting recurring events on the calendar. Entry is $1 million and over 10% of the entry fee goes to the One Drop Foundation. The biggest prize ever handed out at this tournament was given to Antonio Esfandiari, who scooped over $18 million for winning the 2012 tournament.
WSOP Main Event along with a priceless bracelet, the winner of this tournament can expect to add millions to their bank account, with the largest ever prize being $12 million, won by Jamie Gold in 2012. The same tournament also saw the highest ever prize pool at a tournament, worth over $82.5 million.
According to poker news site the biggest ever win in a live poker tournament was of Antonio Estandiari $18.35 million, who won the the 2012 WSOP Big One for One Drop. Beating a total field of 48 entrants, Esfandiari won over $18 million from one single tournament. In 2016, the tournament was held in Monte-Carlo, meaning the buy-in was €1 million. The Big One for One Drop was held annually until 2018. After the WSOP's return from COVID, it has been held in a smaller-buy-in format.
| | | |
| --- | --- | --- |
| Rank | Player | Earnings |
| 1 | Justin Bonomo | $59,182,835 |
| 2 | Bryn Kenney | $57,450,921 |
| 3 | Daniel Negreanu | $45,366,955 |
| 4 | David Peters | $43,215,374 |
| 5 | Stephen Chidwick | $43,057,783 |
| 6 | Erik Seidel | $40,876,110 |
| 7 | Jason Koon | $39,384,977 |
| 8 | Dan Smith | $39,112,601 |
| 9 | Mikita Badziakouski | $37,848,632 |
| 10 | Phil Ivey | $37,129,195 |
For full list of all time biggest poker payouts can be found here at poker news site.
Televised tournaments are directly responsible for this explosive new interest in poker. The staggering pay outs featured in these tournaments is enough to spark a new found interest in poker in anyone. In this article we will showcase the top 5 poker tournaments that had the biggest payouts of all time.
#5. 2012 World Series of Poker – This monumental event started on May 27, but the 2012 presidential elections forced them to reschedule the final table until October 29. The tournament received over 6,598 registrants. This was later widdled down to the top 666 players, which was then brutally cut to the nine final players with a guaranteed amount of prize money of at least $754,798. The total money prize pool was an impressive $62,021,200. US player Greg Merson rose to the top & walked away from the tournament with $8,527,982 in prize money.
#4. 2008 World Series of Poker – This tournament showcased the epic showdowns of 55 poker championships along with the coronation of special awards for the key players of the game. Erick Lindren won the highly coveted "Player of the Year" award. The main event was shrouded in controversy when it got suspended since the final battle for the last of the nine seats was fought the next day after the final nine event. Peter Eastgate became the champion of the 2008 WSOP with an impressive amount $9,152,416. The amount of total prize money was $64,333,600.
#3. 2011 World Series of Poker – This WSOP made history as it was covered by ESPN live, giving worldwide viewers an exclusive look at the inner workings of the tournament. Multiple celebrities like Jennifer Tilly of the film "30 Beats" & Shannon Elizabeth of the film "American Pie" participated in this legendary event. Unfortunately, none of the celebrities made it to the final nine which ended up being won by German player Pius Heinz with a whopping $8,711,956 of prize money. The total prize money pool consisted of $64,531,000.
#2. 2010 World Series of Poker – This historic event was held in the infamous Rio All Suite Casino and Hotel in Nevada. Each of the nine players on the final main event was given 30,000 chips to play for 10,000 dollars buy in. This event made headlines with its impressive prize pool of $68,798,600, making it the 2nd biggest WSOP of all time. A number of celebrities joined the tournament including Sara Jean Underwood from the film "The House Bunny" & Anthony Rapp from the groundbreaking TV show "The X-Files". In the end Canadian player Jonathan Duhamel was named champion with $8,944,310.
#1. 2006 World Series of Poker – This unforgettable event was highlighted by its HORSE tournament, which had the highest buy-in for a single WSOP event with 50,000 dollars. This tournament also set the registrant record with a shocking number of 8,773 registrants. The cameras were rolling and the stakes were high with a record amount of $82,512,162 money prize pool being dished out. American TV Producer Jamie Gold made history when he won $12,000,000 at the tournament. To this day this WSOP is remembered as one of the most infamous events in the history of poker.
Crazy hand between Brian Rast and Justin Bonomo at WSOP 2016 #poker #WSOP2016 pic.twitter.com/TidyYvwpKy

— PokerEternal (@PokerEternal) July 29, 2016
How much money do poker players win?
Poker players win minimum to maximum amount according to the stake they put in the game.
The two popular players from the all-time money list are Bryn Kenney who has won over $57.2 million. and Justin Bonomo who has won over $57.19 million. Kenney is ranked 4th on the Global Poker Index and 1st on the Hendon Mob All-Time Money List as of August 3, 2019. As of August 2020, his live tournament winnings exceed $55,000,000. At the World Series of Poker, Bonomo has 55 cashes, made 19 final tables, and won 3 bracelets and 1 circuit ring for $14,292,554 in winnings. He temporarily overtook Daniel Negreanu as number one on the all time live tournament money list, until being surpassed by Bryn Kenney in August 2019 then surpassing Bryn Kenney again in July of 2022
Also there are many regular poker players who make a living traveling the circuit and making a career as a  professional poker player.
FAQs
Q1. What is the largest prize pool in online poker tournament?
The largest prize pool for an online poker tournament is $27,559,500 (£20,638,300) and was achieved by GGPoker at the World Series of Poker Online Tournament, from 16-30 August 2020.
5,802 participants competed for the record prize pool.
Q2. What is the largest prize pool in online poker tournament?
The largest prize pool for an online poker tournament is $27,559,500 (£20,638,300) and was achieved by GGPoker at the World Series of Poker Online Tournament, from 16-30 August 2020.
5,802 participants competed for the record prize pool.
Q3. What is the best poker site to play poker online?
Following are the best poker sites to play poker online
Americas Card room
Red Dog Casino
Sportsbetting.ag
Q4. Why to play poker at online poker sites?
Playing online poker for real money offers players certain perks and learning experiences that are difficult to replicate when there is no money on the line. There is a reason the best players play online for real money: it makes you a better player. It's estimated that over 40,000,000 people worldwide play poker online each year. Some play for money, some for prizes, some just for fun. Online poker is faster and less intimidating than live games, with more variations available any time of the day or night.
Q5. Can I play WSOP online for free?
Yes you can play WSOP poker for fun and for free that too even on your mobile with their app. You are offered 25000 free chips to play poker.
Q6. How is online poker different?
Online poker you play against any player in the world. There is a Multi-tabling with online poker, you can play multiple tables at the same time. Online poker operates at approximately 4 to 5 times the pace of offline poker. You may also be multi-tabling, which means you could see as many as 20 times more hands than you would see in a live casino! In a live casino, players can initiate or call a bet verbally, and it's binding. Online decisions are put into action with the buttons on your screen. There are no take-backs once you press the button, so make sure to keep track of that.
Also online poker comes in video format to make things easier to navigate and learn.