When it comes to Poker on Facebook, World Series of Poker (WSOP) reigns supreme. The game's cutting edge graphics & cornucopia of options have seduced a staggering amount of followers. Over the years they have accumulated a cult following of over 1 million monthly players.
One of the biggest attractions is the sheer diversity of this app. Cash games, huge tournaments & fast paced gameplay are offered to every new member. There are free chips every 3 hours, so there's no excuses not to play. You can even win WSOP rings by competing in their numerous multi-tiered tournaments! They even provide extensive stats tracking, so you know exactly how you are progressing.
How to get started playing poker with WSOP app?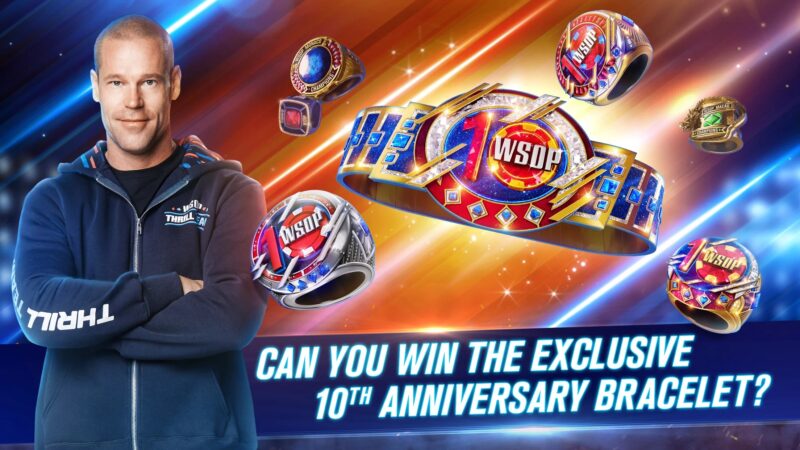 The official World Series of Poker App can be downloaded free on Android smartphone
Download free WSOP app on iPhone to play poker free
Once installed you can start playing with 1,000,000 free poker chips that you receive when you download the app.
Feel the rush as you join a Texas Holdem table and the dealer slides over your poker cards, the excitement before the flop, turn & river and the thrill as you decide to fold or go all in.
You can play one the most exciting card games in the world with poker players from all around the globe!
Play Texas Holdem poker & Omaha poker, compete in worldwide tournaments and dive into free poker games such as Beat the House, King of the Table, Ultimate WSOP and so many more.
Lots of awesome free game modes are included to spice up your Texas Holdem game! There's something for all you poker lovers out there and something new every day!
Also there are free tournaments as you welcome to the Champions Circuit! Travel around the world and compete in tournaments to win amazing prizes and collectibles and rule the leader boards! With WSOP app you can play poker online, anywhere, anytime! Connect your Facebook account to get a bonus and play with your friends or play anonymously.
Lucky Lounge in World Series of Poker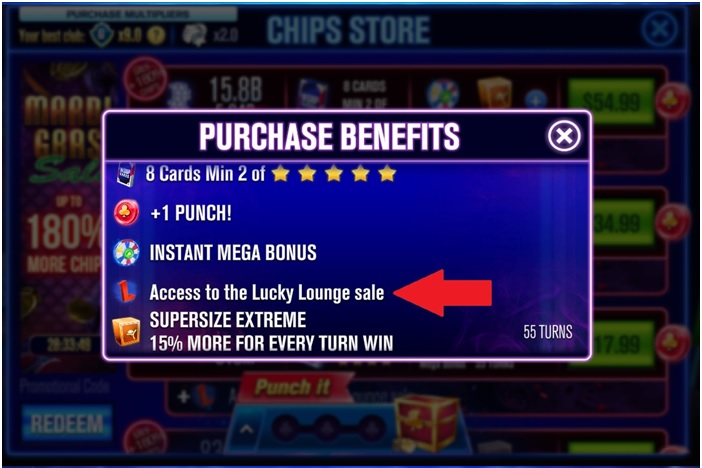 The Lucky Lounge with Hearts features a Poker Recall type mini game that pops up after a Chip Package purchase when the Lucky Lounge Sale is live in the Chips Store.
Rewards contain a Chip multiplier, but now you will also get Hearts currency which can be used to purchase new Avatars and Emotes for them!
By purchasing a chips pack when the sale is active, you will trigger the Lucky Lounge game and have the opportunity of matching or multiply your initial purchase by purchasing the Lucky Lounge as well.
Packages with the Lucky Lounge active will have a red "L" and "Gain Access" text in the package benefits and mention of access.
After completing a chips package purchase, the Lucky Lounge game is triggered and prompts you to multiply your purchase for the same price. This means that the Lucky Lounge will have the exact same price as the purchase of the chips that triggered it.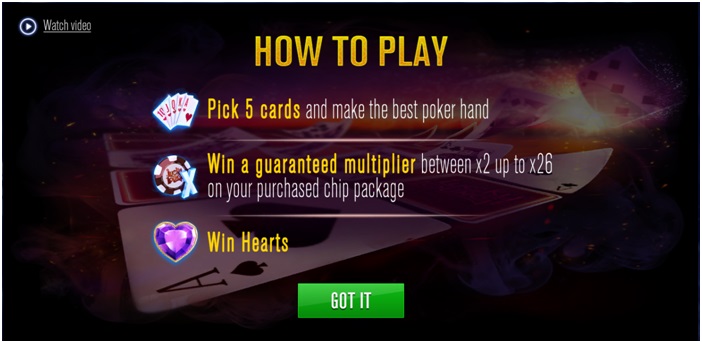 Note that the chips received for your initial purchase will be the base amount for the Lucky Lounge game.
The purchase can be made by clicking the green button, redirecting users to the purchasing platform.
Upon completing the purchase, the game can be played as follows:
Flip five cards and try to make the best hand (same as a regular Poker Recall game).
Once the 5 cards are flipped, you can collect your winnings or use your Recall for a shot at an even greater multiplied reward.
Clicking "How to play" on the lower left side will give you a short how-to about the game and the rewards.
If you accidentally click on Exit in the upper right side, you will be asked to confirm and be informed of what you can win if you play the Lucky Lounge game as well.
World Series of Poker Gameplay
This surprising versatility makes this game enticing to both beginners & elite poker players alike. It's no surprise that this game was created by Playtika. But after years of receiving constant praise, it's easy to get too comfortable. For this reason we decided to put this game to the test. Find out if this game still lives up to the hype with this jaw dropping review!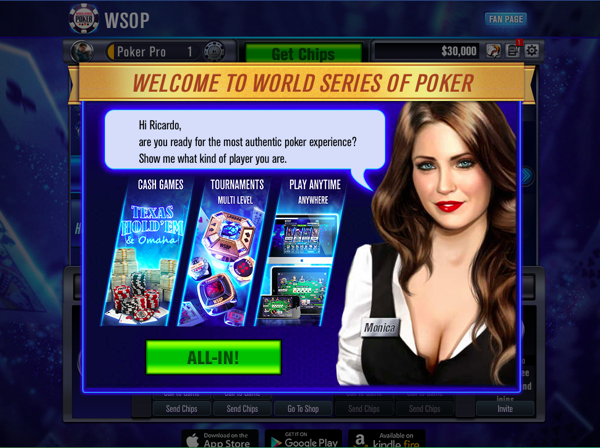 As the game loaded, I was greeted by a veluptious woman named Monica. She informed me that I was entering the most authentic poker experience online. Cash games, multi-level tournaments & non commitment games were all at my fingertips. She offered to send free chips to my friends, but I refused since I was in this solo.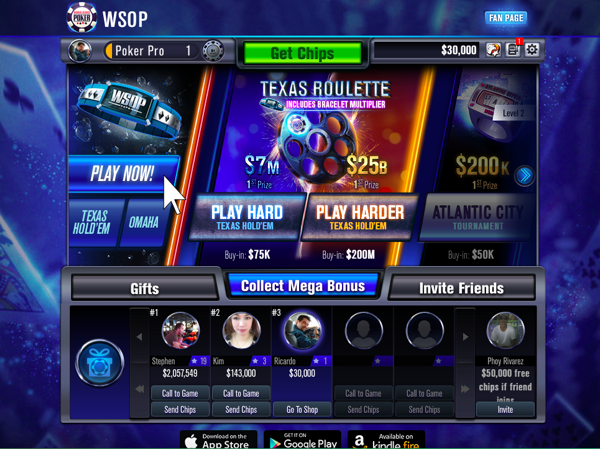 After this seductive intro, I was ready to hit the tables. Unfortunatley I still had to jump through a few hoops to get to the lobby. Once I politely declined to like their page & invite friends for free chips, I finally made it to the heart of the game.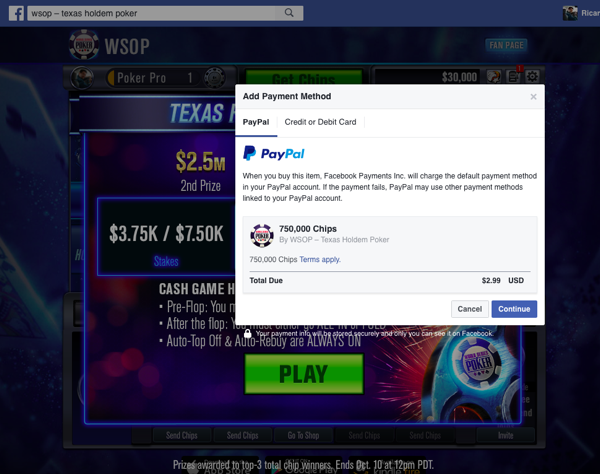 Armed with $30,000 in chips, I was ready to take on the world. I tried to join a Texas Roulette Tournament. But unfortunately you have to pay to enter. After declining to divulge my credit info, I was back on the hunt for a new game.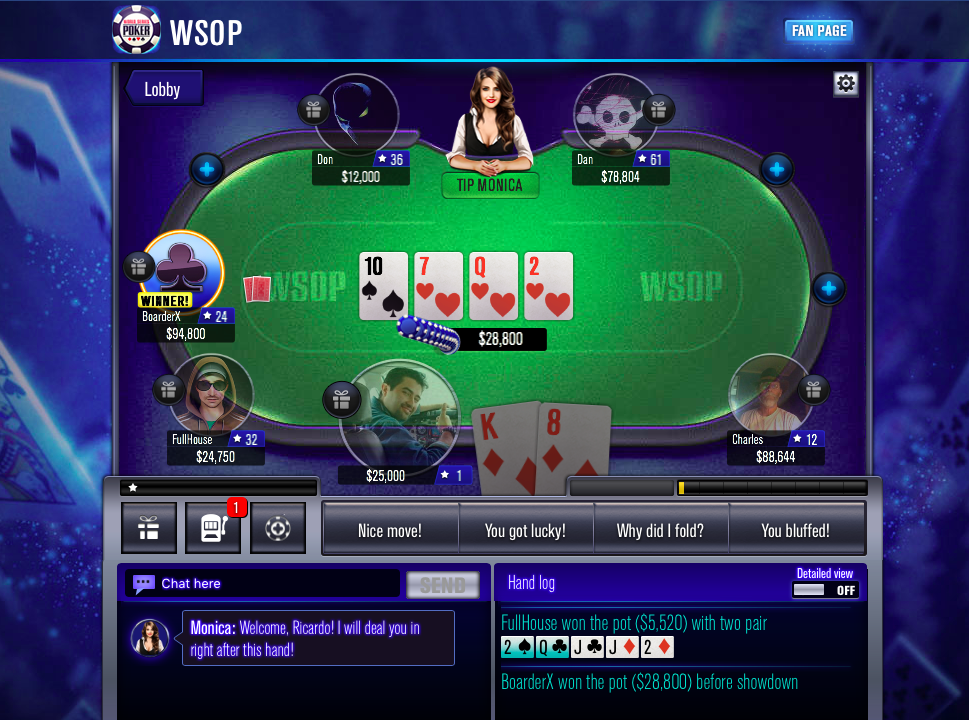 Fortunately, I was able to enter a Texas Hold'em cash game without paying a dime of real money. Once I entered, I quickly realized that this game was the real deal. There were players from around the world competing against me.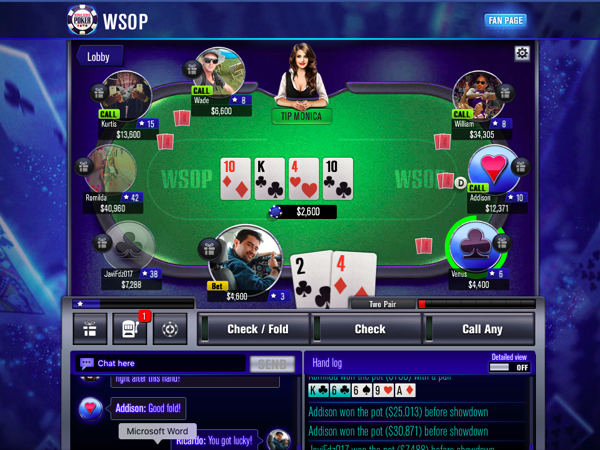 After a few rounds I ended up leveling up! Emboldened by this fresh twist of events, I made an epic mistake. I had a golden hand & decided to go all in. Unfortunately I was beaten by Persian & sent packing to the lobby. Since I lost 24,000 in one shot, I decided to be more careful. From there on out I refused to go all in. This solid advice let me continue playing for a few rounds. Unfortunately, these were seasoned players. So my luck ran out rather quickly. After winning & losing multiple rounds I decided to call it a day.
The Bet Modes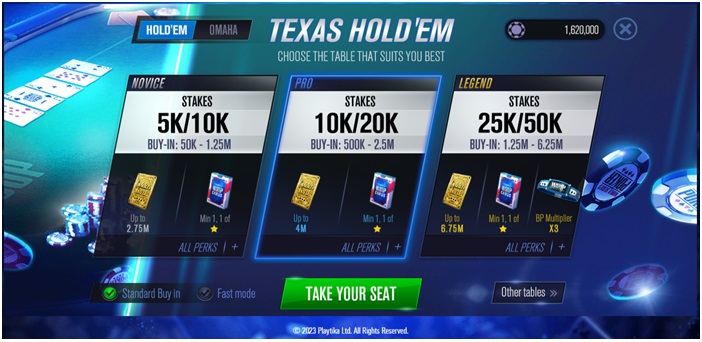 World series of poker offers you new feature the new "Choose Your Table" design is an upgrade to their Hold'em and Omaha tables selection.
In the new interface you will be greeted with 3 predefined stakes based on your Club Rank and play style.
You can select from this screen either the Hold'Em or Omaha mode in the upper left side.
In the lower left side, you can choose either the Standard Buy in or Fast Mode.
You can always change the predefined stakes to anything else by clicking on Other tables in the lower right side where you will be presented with the ever familiar slider.
It's good to keep in mind that the predefined stakes will change depending on how you play and your Club Rank.
What is the Bad Beat Jackpot?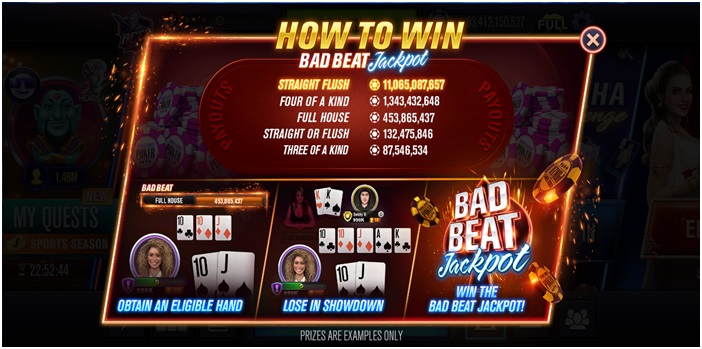 The Bad Beat Jackpot is a special kind of new Jackpot reward, similar to the well-known Powerhand Jackpot.
Once you form an eligible hand from the ones presented on the table, you will win the Bad Beat Jackpot if you lose to another hand, higher in strength than yours.
For example: if you form a Full House hand but lose to a Straight Flush, you will win the Bad Beat Jackpot, while the other player wins the chips from the hand. You can read more on how to play and win by clicking the small question mark underneath the choose your table section in the Lobby:
 Bad Beat Jackpot in table selection menu:
The "Up to X" amount of Chips refers to the maximum Jackpot amount that can be won, depending the stakes and hand combo strength.
Keep in mind that this Jackpot is only applied when you lose with a certain hand combo in the showdown phase.
If you fold the hand, you will no longer be eligible for the Jackpot for that round. This is also applicable if you lose your combo before the showdown phase.
What is Poker Bingo at World Series of Poker?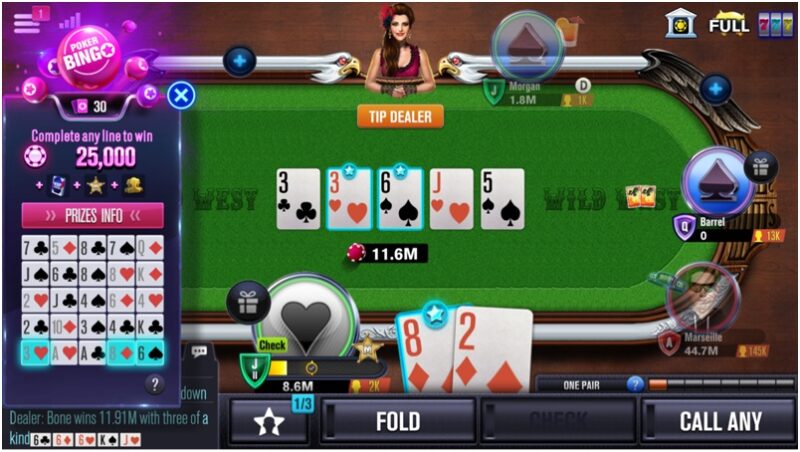 Poker Bingo is a new and excitingly fun way to earn more rewards while playing at the tables of World Series of Poker.

You will see the new announcement for Poker Bingo in the lobby.
Once you join a table, you must play a hand for the Poker Bingo board to be activated.
Afterward, you will see the Bingo board on the left side of the screen.
While playing, when a card on the table matches one on the Bingo board, it will be highlighted with a teal star.
Winning that hand will fill in the highlights on the board, which are called Daubs.
Complete a straight line of daubs, aaand BINGO! You'll be the proud winner of the board prize.
Each board has a limited number of available hands, displayed on the counter just above the prize.
Regardless of the outcome, each hand you play will be deducted from the available hands counter.
If the hand counter reaches 0, and you didn't manage to fill the board, don't worry! 
The current Bingo board will end, but once you play a new hand, a new Bingo board will be generated, and you'll be able to start over.

Note that better prizes await you at the higher tables. Second, more people at the tables mean better prizes and third, any daub you earn will increase your final reward.
What are the Daily Quests at World Series of Poker?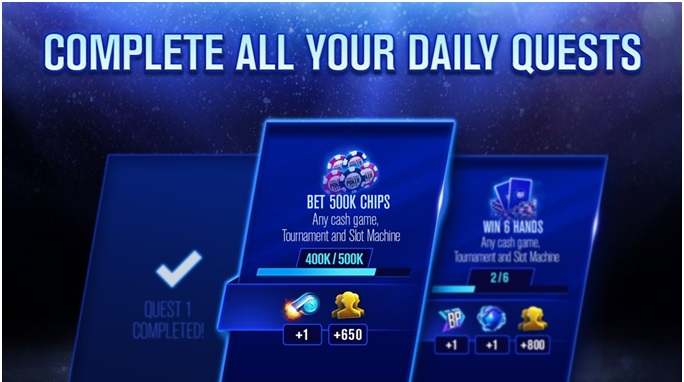 Daily Quests are a new type of challenge. Each day you will receive 3 quests. You must finish the first quest in order to unlock the next one, until all 3 quests are completed. The quests range from playing Cash Games, to winning chips at the Slot Machine, to competing in tournaments. Every completed quest will win you an exciting reward.
You can check your Daily Quests on the left side of the Lobby (MY QUESTS) or whenever you play at the tables by pressing the WSOP STAR QUEST button next to the chat & FOLD button.
Special active effects (such as momentum, turbo time, BP and much more) as well as followers (a new type of prize) will be rewarded for every Daily Quest completed.
The Weekly Quest is a challenge that is completed by gaining followers from your Daily Quests. The Weekly Quest starts on Monday and you'll have 7 days to finish it. You'll collect amazing prizes as you progress and hit milestones and you'll receive a huge reward once it's completed!
Overall Review
World Series of Poker is an app that throws you into some hardcore poker action. You can choose to play for cash or practice on the sidelines for fake chips. Either way you are pitted up against an interesting mix of players from around the world. The graphics are great & the pace is lightning quick. I can't find anything negative to say about this game, since you can't go wrong with a poker game of this caliber. Get in on the action to see for yourself!