This weekend I am going to play poker so I thought to share with you a secret which many of you would wish to know. That is how to get free chips on World Series of Poker. But before I tell you this secret let me also inform you that the WSOP game I am talking about is a free to play game for entertainment purpose and does not involve any real money gambling.
It is a social poker game app developed by Playtika and you can download this free app from the links provided below or from the app stores.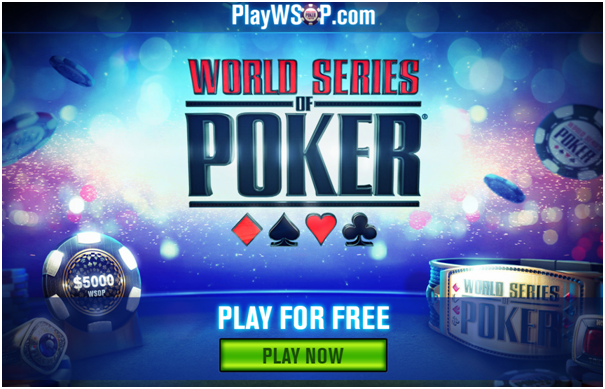 Also a little bit about who owns WSOP then let me also share that WSOP is owned by Caesars Interactive Entertainment (CIE), Inc., a subsidiary of Caesars Entertainment which is the largest online, mobile and social gaming company focused on casino entertainment.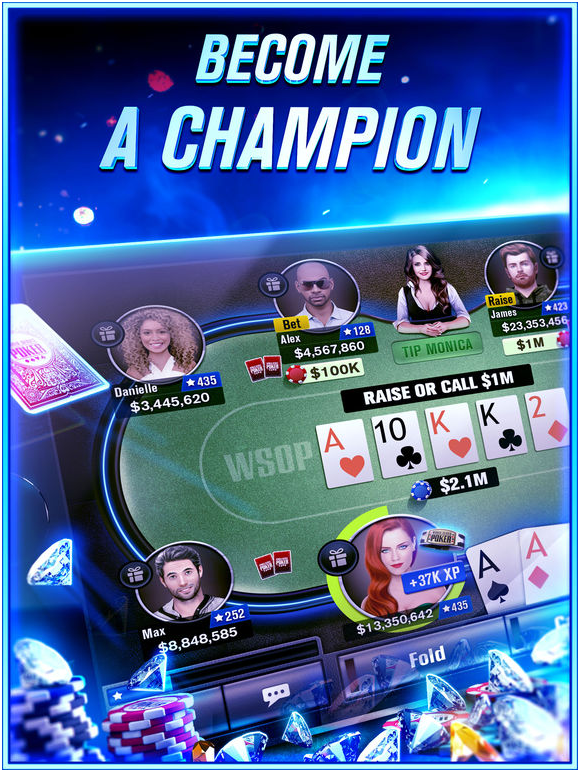 As a Caesars Entertainment Property, WSOP.com brings the excitement of the World Series of Poker online, to eligible visitors and residents of Nevada where you can enjoy Texas Holdem, Omaha, 7 card stud, and other great varieties of America's pastime, from the comfort and convenience of your home, or wherever your laptop may take you, within the borders of the Silver State.
A division of Caesars Entertainment, WSOP is uniquely positioned to offer players the best online/offline poker experience. Whether it's an online sit n go, cash game, or satellite to a live event, there's always something to satisfy players of all types at WSOP.
CIE owns the World Series of Poker; Playtika, a social games developer of popular titles including Slotomania and Caesars Casino; and also licenses its brands in legal real money gaming jurisdictions including the United Kingdom, France and Italy.
Play WSOP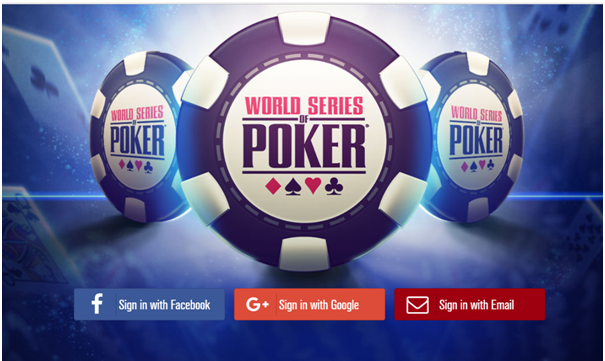 To play WSOP as a free and fun social poker game whenever you want you have the choice to download the WSOP social app or play with your web browser or on Amazon Kindle – Download it from Amazon.
If you own an iPhone then download from iTunes and if you are an Android player then download from Google play. It's all free so nothing to pay for it.
You need to be 21 years of age or above to have this app and play Poker games
Once you download the app on your cell phone you need to register yourself with WSOP or use your Facebook account or Gmail account to play.
If you do not wish to play on your cell phone the game is still available to play with your PC or laptop or even at Facebook
You will need to compete to win the ultimate prize in poker; your very own WSOP Bracelet.
This leading free-to-play poker game gives you access to free online poker with WSOP cash games and multi-level poker tournaments.
How to get free chips on world series of poker?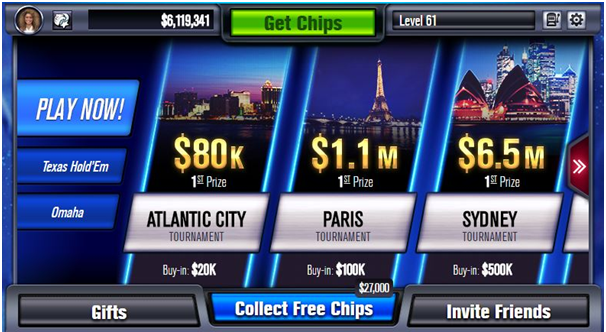 Free Chips On World Series Of Poker is what you want to know. Now comes the secret part that is how to get free chips on World Series of Poker. There are multiple options to get free chips on WSOP.
Once you download the game on your mobile you are offered 1,000,000 free poker chips to play poker.
Firstly free chips are offered every four hours of your play. To claim it, you'll need to log into the game and click on the "Collect Free Chips" button in the Lobby. The higher your level, the more free chips you'll receive in your 4-hour bonus.
If you opt to play with your Facebook account you are offered $250,000 additional free chips.
Get free chips by using promotional codes. Promo codes are seasonal codes that you can collect free chips with. Keep an eye on Facebook Page or join their Player Lounge for new codes. Using WSOP redeem codes as they are released can get you free chips.
Liking the Facebook fan page can also get you free chips. So follow the Facebook page closely and make sure your notifications are on to level up or secure those free chips from the WSOP.
You can also obtain free chips by watching the fan page World Series of Poker Game – WSOP, which offers free chips for answering questions, clicking a link on the page given a holiday or playing other games.
Once players start playing on WSOP, they are given a status which gives rewards on the basis of that status. Starting off at bronze, players get a welcome bonus of 20,000 with packages, status points and free chip bonuses operating on a multiplier of one. As you move up to silver and bronze, those multipliers change along with the welcome bonus amount. There are also other bonuses, gifts and support options for these statuses.
Spin the mega bonus wheel to get one-times your winnings. Use your free spin to get more chips, too.
Also inviting friends to play can also garner you some 50,000 WSOP free chips.
Players can also reserve their seats in specific tournaments on the Facebook page under the events tab. By going to the event page, you can grab some of the WSOP's free chips.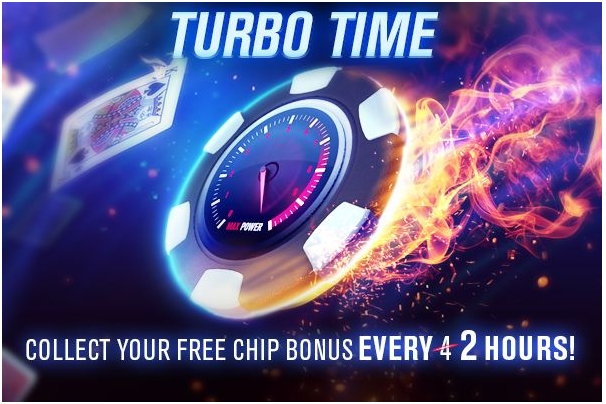 There are also periodic chips giveaways to enter players into prize drawings and multiplied based on the chips package purchased. During Turbo Time, players can collect the free chip bonus every two hours instead of four.
Also get free chips from game hunters. Click here to get free chips right now.
Get free chips from peoplesgamez gifts. Click here to grab them or click here to redeem and increase your bankroll to play poker.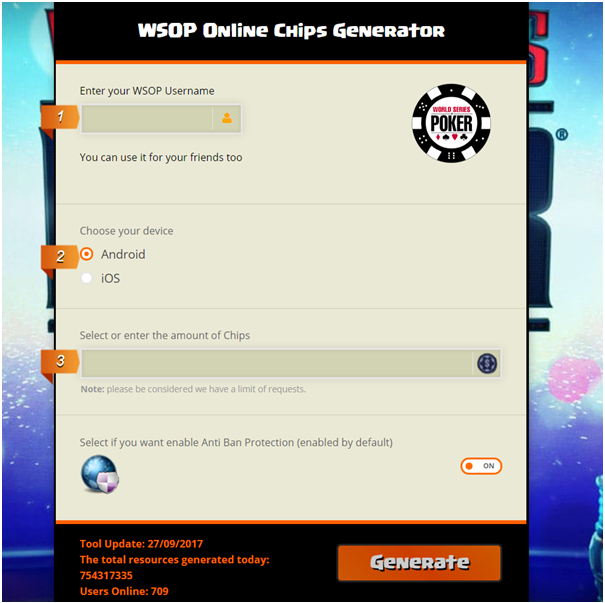 Also there are WSOP online Chip generators where you enter your WSOP user name, choose your gaming platform and enter the amount of chips you want and click on generate. This is a chips hacker sort of thing if you are really desperate to get chips. Otherwise the above given ways to get chips is sufficient.
WSOP Free Chips Mega Bonus
The WSOP Free Chips Megabonus can add up to 400,000 in chips to your stack in one click. But for this you need to know as how the WSOP mega bonus works. Much like it happens with the wonder wheel at 888casino, you need to spin a wheel to discover how many WSOP free chips the mega bonus is worth for you. If you are lucky, you get 400,000 free chips and if you are not so lucky then also you get 30,000 chips.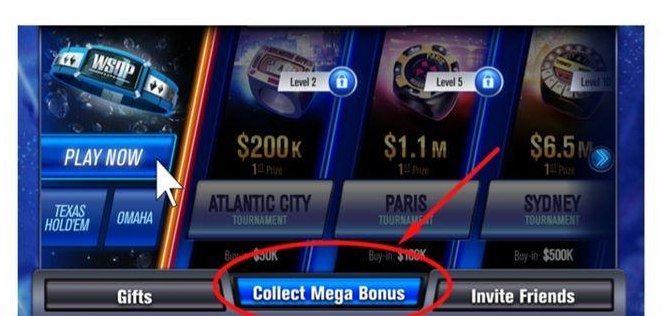 First, you need to launch the game and click on the big blue button highlighted in the image.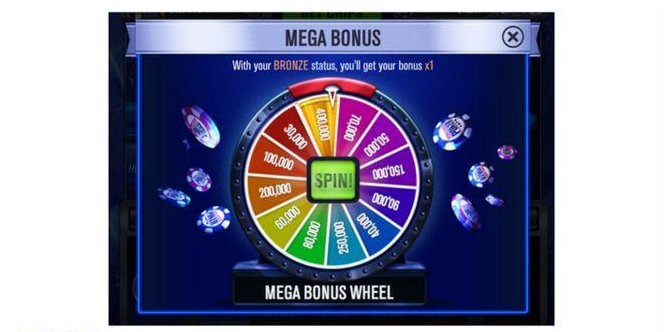 Now spin the megabonus wheel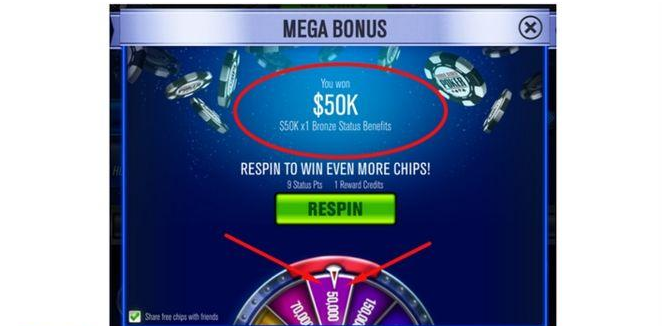 This is how many WSOP free chips the mega bonus gives you.
WSOP Mega Bonus Codes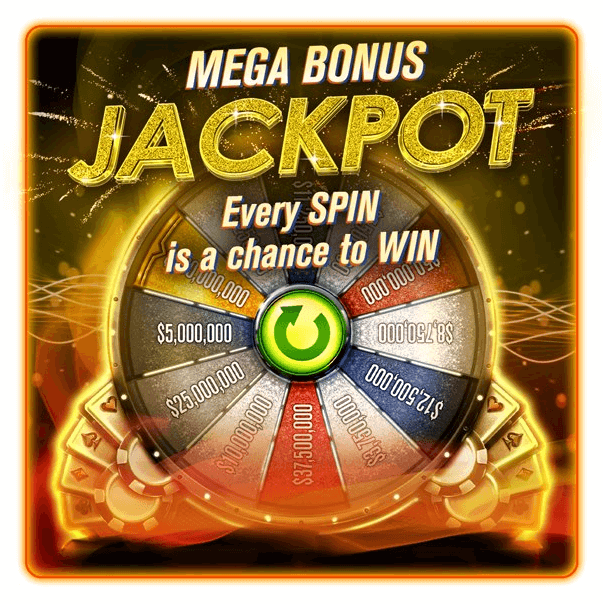 You will find that there are many sites on the internet that claim to offer you WSOP bonus codes or Mega Bonus Codes. But we don't ask you to trust those online sites because as often these sites give incorrect information. You need to only stick to the WSOP original bonus codes that are offered at their official Facebook Page where their daily, weekly codes are offered from time to time. Also it is necessary for you to join the WSOP Player Lounge Group to avail the codes. This is also available at Facebook which is a friendly poker community. You can take advantage of this VIP lounge to get more free chips and codes. You will get additional 15,000 poker chips when you connect your email or Facebook account to WSOP Series of Poker Game.
In Game rewards and Collection Chips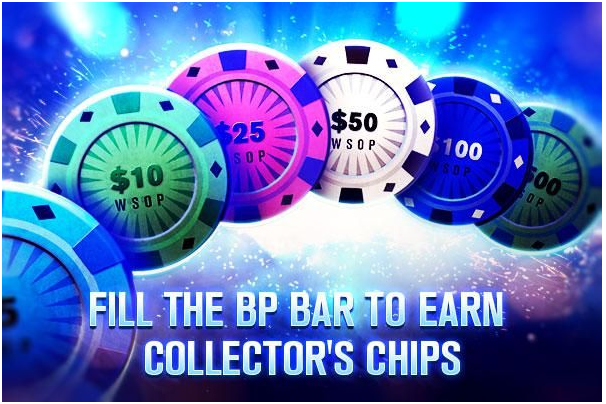 The games offered on WSOP do not provide an opportunity for its players to win real money or prizes. However, your win can snag you WSOP rings. See how close you are to grabbing a bracelet by keeping track of the bracelet points in the top left corner of the lobby under your profile.
You can receive a maximum of 20 gifts from your poker buddies every 24 hours. Poker Buddy is someone that you only connect with through WSOP. All of your Facebook friends will automatically appear in your WSOP friends list once they start playing the game. However, if you want to add people you meet in WSOP to your WSOP friend list, the poker buddy system lets you do that without changing your Facebook friend list.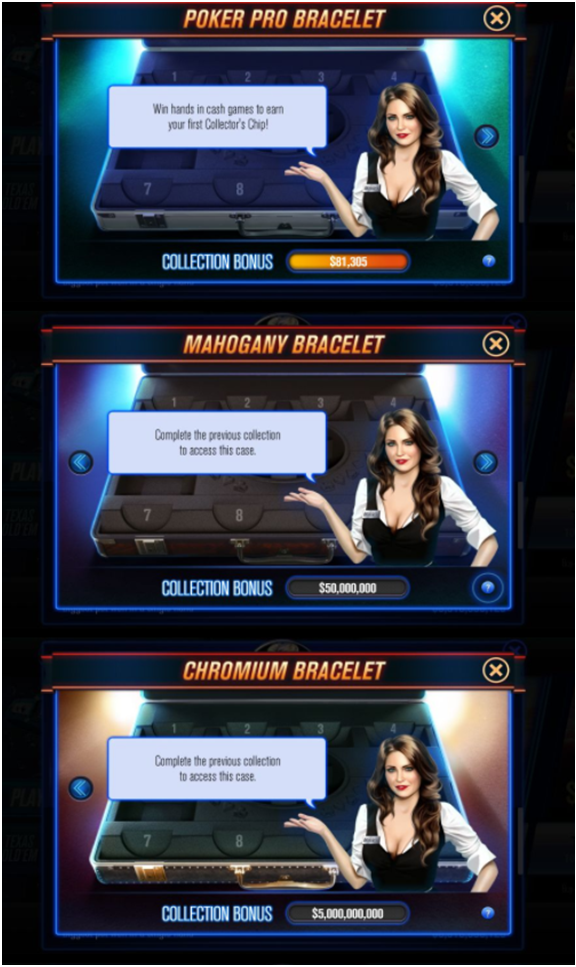 Collections are a set of Collector's Chips you need to complete to earn a Bracelet. There are 4 Collections available, each containing 10 Collector's Chips.
Available Collections are: Poker Pro, Mahogany, Chromium and Cobalt. You earn Bracelet Points (BP) with every hand you win on a Cash table. The higher the table stakes, the more BPs you can earn. You need to collect all the Collector's Chips in a Collection to receive a Bracelet. You can see your progression towards the next Collector's Chip in the BP Bar – you can find it in top left corner of the Lobby and at the tables when you win a hand. Once you complete a Collection by earning all the Collector's Chips, you will receive a Bracelet, and a new Collection will unlock.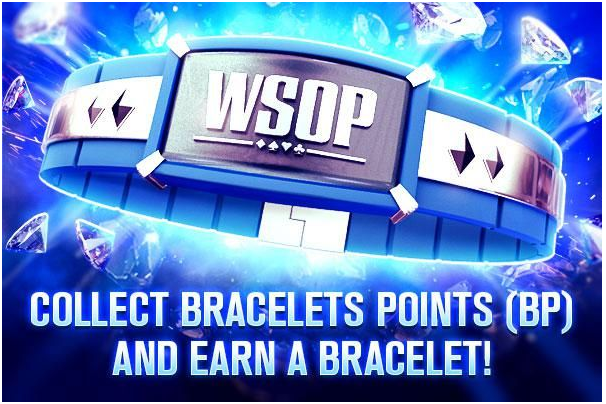 So when you fill up your Collectors' Chip collections you win the most prestigious prize in poker; the WSOP Bracelet. Now get set to enjoy and win multi-level Texas Hold'em tournaments to earn WSOP rings and climb the leaderboard by playing Omaha poker or play slots mini games where you spin and win chips in between poker hands. Get hands on experience on new game modes, free chip events and more and start your journey to become a World Series of Poker player.
If you are but interested in real money poker games then find the best of online casinos that offer wonderful poker games with great sign up bonuses and coupons to redeem.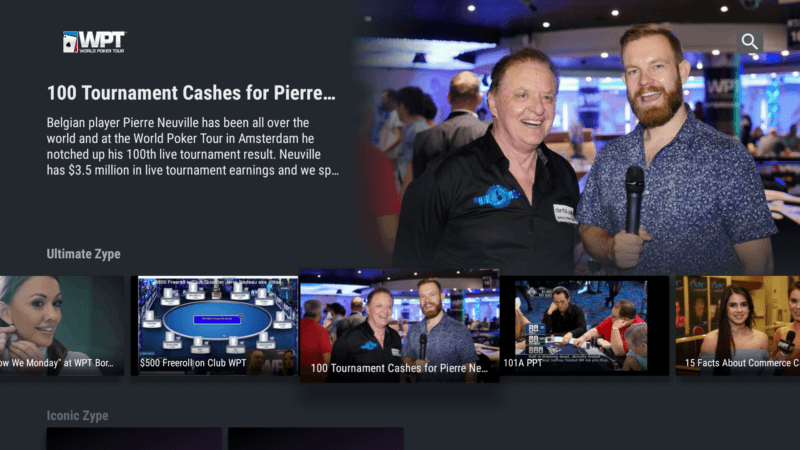 WSOP does not require any real money or cash to download and play, but it also allows you to purchase virtual items with real money inside the game. You can disable in-app purchases in your device's settings. WSOP may also contain advertising. You may require an internet connection to play WSOP and access its social features. You can also find more information about the functionality, compatibility and interoperability of WSOP in the above description and additional app store information.
What is the WSOP Album?
The WSOP Album contains 20 sets of 10 cards each – 9 regular cards, and 1 Legend Chip. Each card has a rarity between 1 to 5 stars, with some being easier to find than others.
There are 3 segments of 6 album sets, divided by the theme of highs, lows and pros. Every Legend Chip contains a unique video story of some of the best Poker players at the WSOP Tournaments, showcasing their best and worst hands, but also some amazing hands played by all-time pros.
Your goal is to collect all the cards in the album to win amazing chips rewards.
FAQs
Q1. What platforms can I play WSOP on?
WSOP is currently available on iOS, Android, Amazon Kindle, Facebook.com, PlayWSOP.com and Windows 10 store.
Q2. What are the login options?
On a mobile device or tablet:
Log in as Guest: This option doesn't require a password, just click on Play as Guest and you will be able to hit the tables! Your progress will be saved, however, the account is tied to the device and you will not be able to play with the same account on any other device*.
Play via Facebook: You need to sign in with your Facebook credentials. This option allows you to open the same account on any device.
On a computer:
Playing on Facebook.com: you need to install WSOP – Texas Holdem Poker on your Facebook account. You can play with this account on a mobile or tablet as well by signing in via Facebook.
Playing on PlayWSOP.com: You can sign in with your Facebook or Google account, or with any email address. Playing with your Facebook account will let you open the same account on any other device, while (for the moment), you will only be able to play with your Google or email accounts on PlayWSOP.com.
Q3. What exactly is the WSOP ID and how do I find it?
Your WSOP ID is your unique player identifier. If you're playing on a mobile device or tablet, the WSOP ID is located in the About WSOP section under Settings. You can access the Settings by tapping on the cog in the top right corner of the Lobby.
If you are playing on Facebook or Playwsop.com, simply scroll down to the bottom of the page and your WSOP ID will be there.
Q4, Is the card dealing fixed?
No the card dealing is not fixed. The app adheres to the online poker odds regulation that ensures fairness and accuracy in the game of poker.