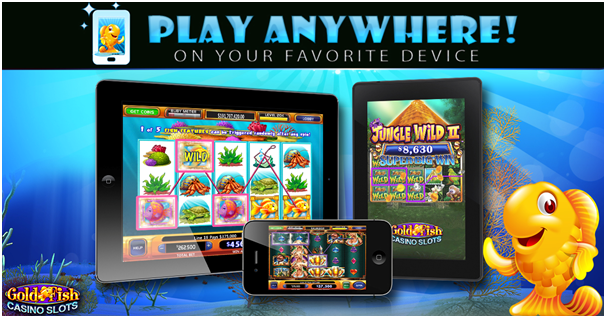 Gold Fish Casino is a great iPhone and Android app to play slot games from WMS. Besides spinning on hit G+, Colossal Reels, Money Burst, Double Money Burst, and other popular WMS slots, all for with no real wagering you can show your competitive side with Gold Fish Casino Tournaments! Spin against other Gold Fish Casino players to rank and win the ultimate prize. Also fill up your Ruby Meter to unlock Premium Slots, which are some of the top WMS Slot and enjoy daily and hourly bonus rewards. At present the casino offers over 120 slot games to enjoy with lots of bonuses.
Features of the Gold Fish Casino App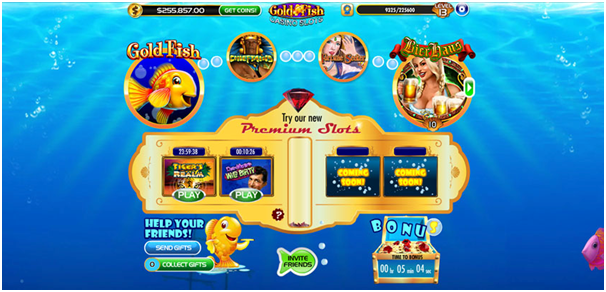 The Gold Fish Casino app offers some of the wonderful features.
You get to play more than 40 Authentic Casino Slots
Get daily Bonus Coins Mini Game
Win free Bonus Coins every 4 hours
Play with Mega Bonus Coin Multiplier
Also find Premium Unlockable Slots
Take part in Competitive Tournaments
Win exciting Bonus Rounds
Also connect to Facebook and interact with players!
Slot games to play with Gold Fish casino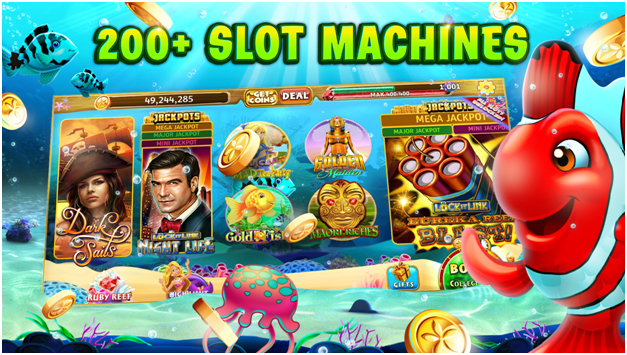 At Gold Fish Casino you get to enjoy the full Las Vegas slots experience with over 200 different free slots that include Lock it Link, Zeus slot, Kronos Unleashed, Fire Link and Ultimate Fire Link slots, Heidi from Bier Haus, Dancing Drums and many others.
Some free slots games, like Race for the Gold, Tropical Fish, and Gold Fish, and Gold Fish 2, The Jade Monkey, Great Eagle II, Lil red, Alice and the Mad Tea Party, Great Zeus Slots, Jungle Wild II with Money Burst and toms of other free slot games have special bonus rounds and more free casino games that will make your head spin! You'll get to choose fish tanks and win HUGE coin bonuses.
You'll never get bored with these free slot machine games, because new and hot Vegas slot machines are added all the time. With so many games, it feels like a huge casino filled with big win slots is just waiting for you. You can play games like Bingo and Keno and love the Lucky 777 slot machines as well.
How to get free coins at Gold Fish Casino?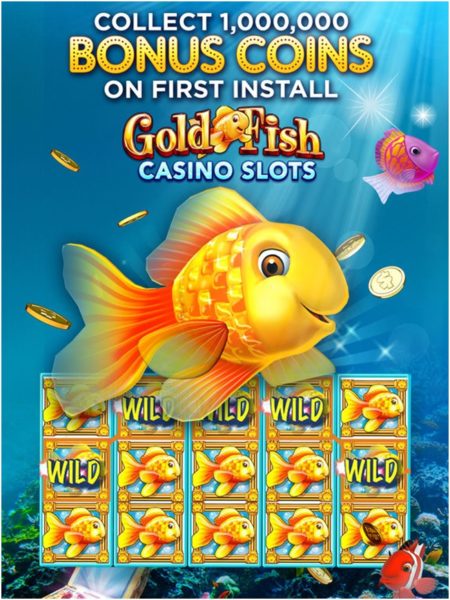 The gold fish slot machines offer you a sea of HUGE rewards, prizes & gifts! Spin the wheel of all Vegas casino slots free of charge and win rewards, win free slot machines bonus spins, and don't forget about the huge welcome 20 million free coins bonus you'll receive as soon as you start to play free slots.
As you play games the app offers you free coins every 4 hours. You may collect these Bonus Coins from the Lobby from the treasure chest.
In order to progress through the game and Unlock Slots to spin you must bet any number of coins to gain experience. In order to bet merely open any slot that you currently own and choose your bet, then spin! You may spin by hitting the spin button or the space bar.
1. Pearly Prize
Another FIN-tastic way to earn free coins is with every spin you make is a chance to win a Pearly Prize!
There are five tiers of pearly prizes available to win. When you bet big, you have a higher chance to win a higher tier of pearly prize. Pearly prizes can only be won by spinning on a slot machine.
After winning a pearly prize, it will be stored in your pearl bank. The pearl bank is in the bottom center of the screen. When in the game lobby or in the high limit room, the pearl bank will always be visible. You can also access the pearl bank while in a slot using the pearl bank button.
There are two ways to open a pearly prize: starting the prize's countdown timer or using rubies to open them instantly.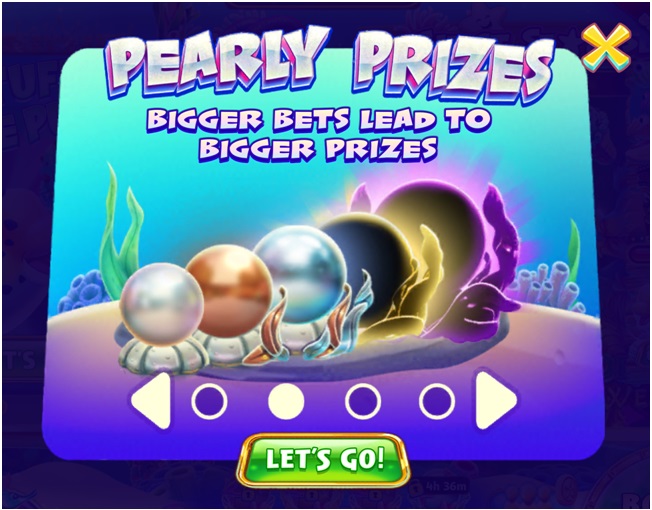 A pearly prize countdown timer is automatically triggered by tapping on the pearl if no other countdown timer is active. If you wish to bypass the countdown timer and use your rubies to open it instantly, tap on the same pearly prize again. A pop-up window will appear on your screen where you will be able to spend your rubies.
The maximum number of pearly prizes you can hold at any given time is four. If you have all four slots of your pearl bank full and you win a fifth pearly prize, a pop-up message will appear giving you the option to claim the pearly prize with your rubies or to decline it.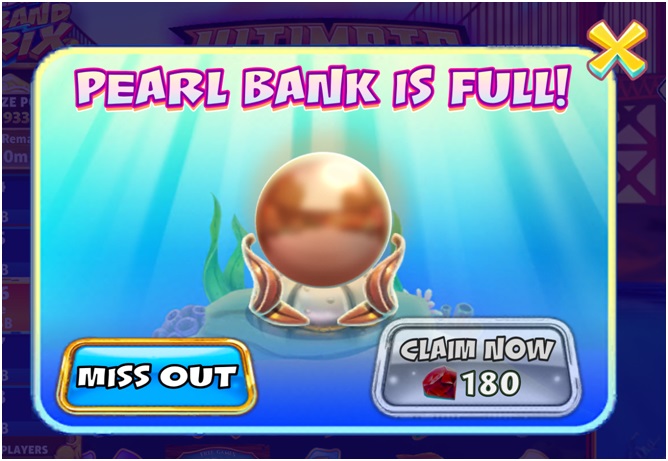 2. Level Up and Get free coins
You may see all Level Up Slots in the Slot Track. The Slot Track marks the progress of you and your friends through the game. This is where you can see what levels you get to unlock slots and how far away from unlocking the next slot you are. Arrows take you to the next track of levels and slots to unlock.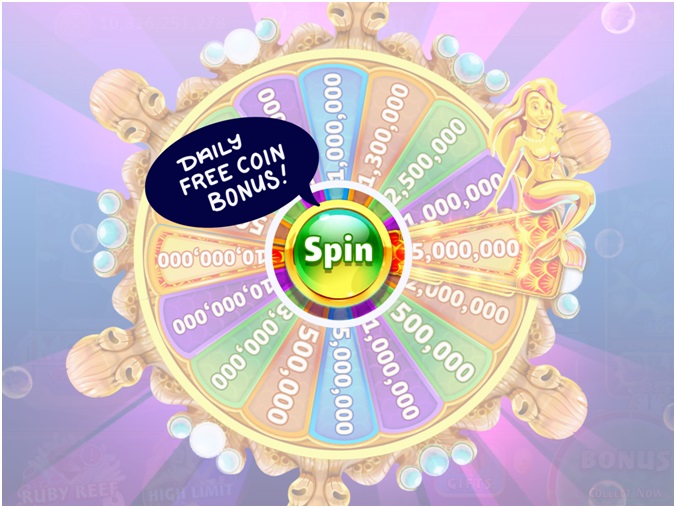 3. Daily Wheel Bonus
Every day when you log into Gold Fish Casino, you have the opportunity to win free coins!
Make sure to take advantage of the Daily Bonus Wheel—each subsequent day you log in, the better your free coin bonuses can get!
The Daily Bonus Wheel automatically triggers the first time you sign in for the day!
You may interact with friends in a number of ways in Gold Fish Casino app. You may Invite Friends, you may Gift current friends, and you may compare Achievements. There are other social interactions coming soon so keep an eye out for new ways to play the game with your friends and get free coins.
4. Timed and Mega bonus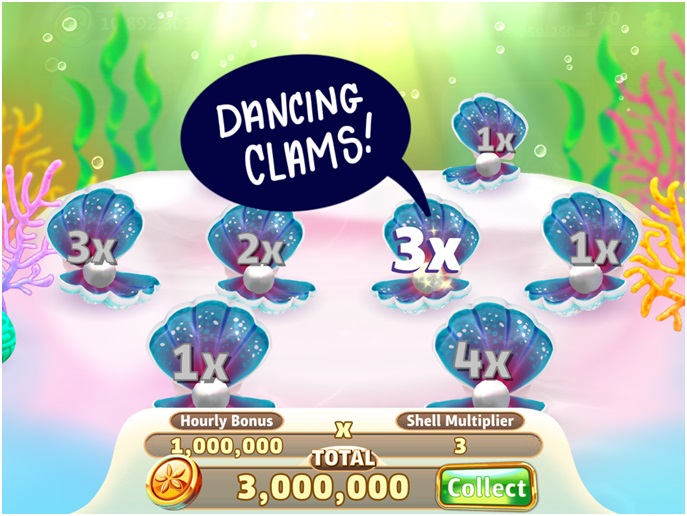 Are you looking for a way to win free coins? Make sure to collect your TIMED Bonus! It usually refreshes every 2 hours (or sooner), so make sure to log in and collect it!
After five TIMED Bonus collects, you will trigger the Dancing Clams MEGA bonus the next time you click to collect your timed bonus!
Dancing Clams hold the answers to what multiplier will be added to your bonus—pick a clam, any clam, to win yours!
Tournaments to enjoy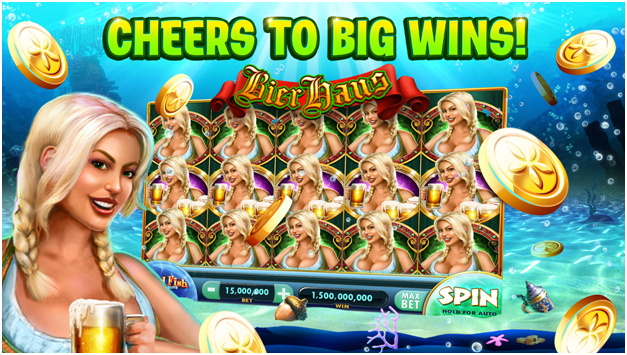 At the left of every slot machine is a Tournament. This pays out a portion of what all players in a Tournament contribute with their spins. There is no ante or fee to compete in the tournament, so you always have a chance to win!
To win, you must place in first, second, or third place by score. You increase your score by receiving line pays while you spin normally. The larger the win, the higher your score! Within the Tournament first, second, and third place each win a portion of the Winner's Pool displayed above the current positions.
Each Tournament lasts for 15 minutes, plus a calculating results phase after the timer reaches 0:00. This phase allows players who received a bonus round or other exciting features before the timer hit 0:00 to finish and have those wins count in the current Tournament. If you've won a Tournament, you will be directly notified by pop-up in the game!
Levelling up in the game play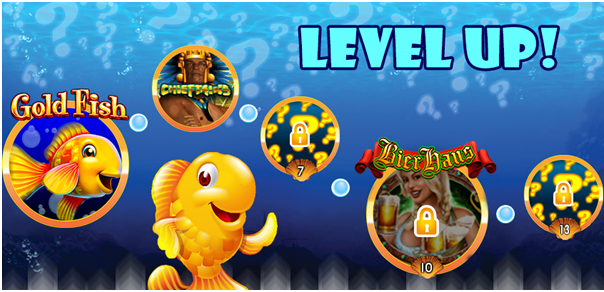 Level Up Slot Unlock is the first way that you may unlock new slots for play. In order to level up you must bet and spin on any machine that you currently have open. In betting on a machine you'll receive experience (XP). You may check your experience progress by the orange bar at the top of the game. Next to this bar is a number that indicates your current level – when you fill this bar you'll gain a new level. Current Level Cap is 200, meaning that you will not level up past then.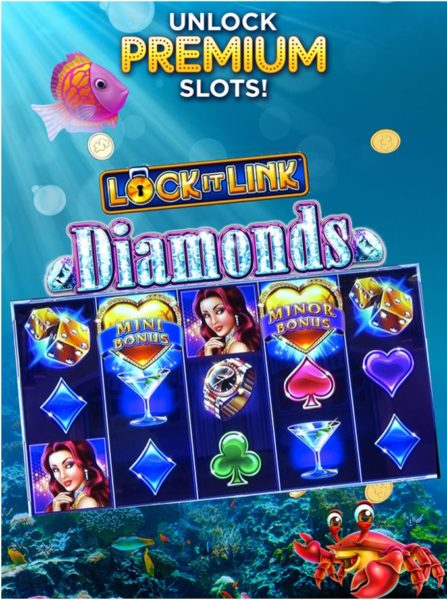 You may see your Level Up Slot Unlocks in the Slot Track. The order of the Slot Track is different for everyone so some slots remain a mystery until you reach the level to unlock it. The Slot Track marks the progress of you and your friends through the game. This is where you can see what levels you get to unlock slots and how far away from unlocking the next slot you are. Arrows take you to the next track of levels and slots to unlock.
Every few levels you'll get to Go Fish! This gives you a chance to unlock a new slot and to gain some extra coins. Go Fish! is only available at certain levels. Level Up Slot Unlocks occur at various levels starting at level 1, level 3, level 7 and level 10. On each slot track page you'll see that you get a new slot at comparable intervals, such as, level 13, level 17 and level 20.
How to get started to play slots at Gold Fish Casino?
All you need to do is to download the free casino app from iTunes store on your iPhone device.
Click here to download for android smartphones.
Click here to get free download from Amazon
Log in with your Facebook account once you have the app on your cell phone or login with your email and password that you need to create if you do not have one for this app.
You can start playing on your Windows PC as well. You can play as guest or play with your Facebook account.
Your player ID is a unique identifier for your game progress. It allows us to review your account when you report a problem.
You need to be sure to copy down your player ID in a safe space—especially if you play on a Guest Account!
Here is how to find your player ID in Gold Fish Casino:
Locate the gear near the top right-hand side of the screen.
Tap on the gear.
Find "Player ID" from the window that appears. Copy down that number
Now start to play slots and earn free coins as welcome bonus as well as coins every 4 hours.
To earn more coins you need to unlock and level up the gameplay and play more to win.
Also get free coins at Facebook community where liking or sharing can bring in more coins as well as gather from your friends in this social casino app.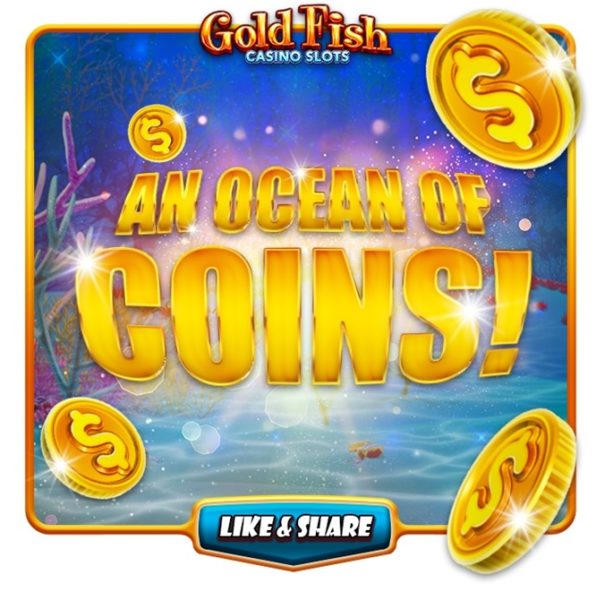 Note that this is a free casino app meant for fun and entertainment and do not allow real money gambling. You are given virtual coins to play and wins too in virtual money so no real money is involved. But there are in app purchases where you use your real money to buy virtual coins to play more in case you need them or just play with your free coins that is your choice. These virtual coins cost range from as low as $1.99 to Goldfish Advanced Pack 9 Coins cost $99.99.
Also this app requires iOS 11.0 or later iPhone to be compatible with the games to run smooth. For more details click here.