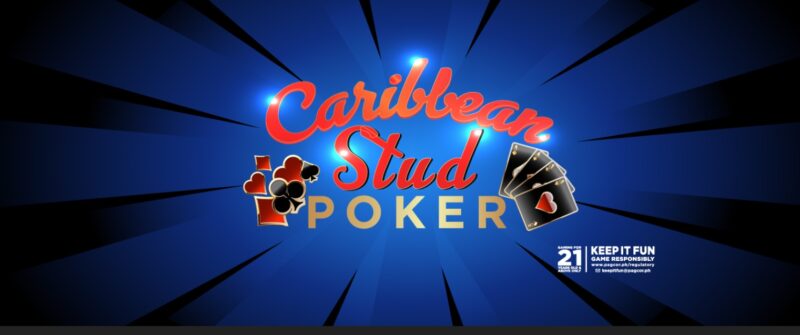 Caribbean Stud Poker is a popular card game played at real land casinos, online casinos, live casinos and at mobile casinos.   These days Caribbean Stud Poker has few tables at Las Vegas Casinos as well. Sister properties Venetian and Palazzo offer Caribbean Stud poker, the minimum bet is $15. Both offer a progressive jackpot that is triggered if the player makes a royal flush.
Caribbean Stud Poker is a pretty cool game of poker and is established on the base of traditional "stud" poker in which only one hand consisting of five cards is dealt to players who do not play against each other but against the house. The player's objective is to make a five-card poker hand that is higher than the one of the dealer. Players are also allowed to make a side bet in order to compete for a progressive jackpot. In case that they are dealt a Royal Flush hand, which is the highest hand in the Caribbean Stud Poker game, they are granted the entire amount of the progressive jackpot.
What we advise before you begin to play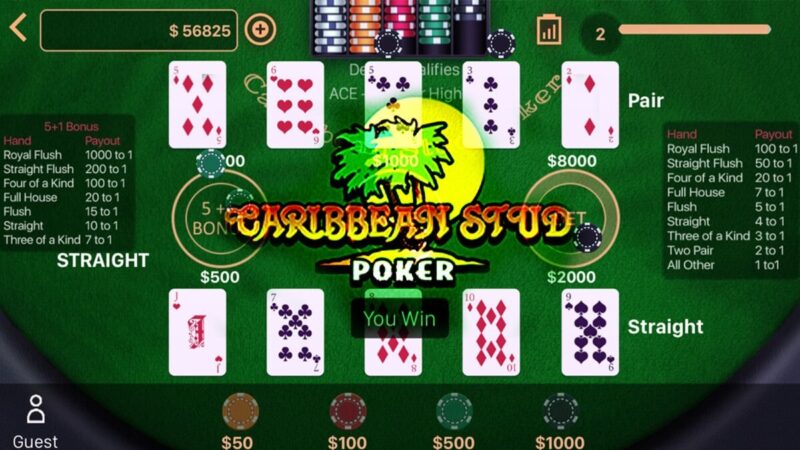 Always play at reputed online casinos of US
Grab bonus offers if playing for real money
Play for free first to be familiar with the game
When ready to play first examine the table layout.
You'll see a set of clickable chip icons in the corner of the screen, usually beginning with $1 chips and climbing in increments through $100, and these will be used to place your wagers.
Two betting circles are lined out in the center of the table, with one labeled Ante and the other labeled Raise. Your chips will be placed in the appropriate betting circles during each hand.
Also you'll see an array of buttons in the lower part of the screen, typically labeled Fold, Raise, and Deal. These will be used to control the game action during each hand.
Finally, you'll notice a side button labeled Progressive, and this is where you can place an optional wager to give yourself a shot at your online casino's progressive jackpot prize pool.
How to begin playing Caribbean stud poker?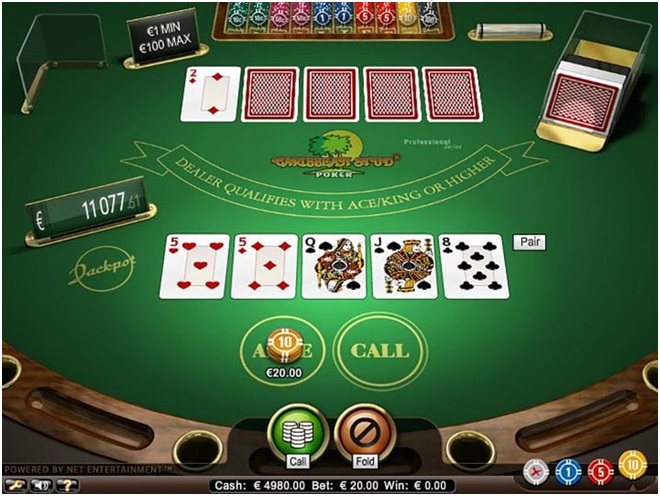 To begin a hand of Caribbean Stud Poker, you'll need to place a mandatory ante bet, say for example $5. Once you've anted up, click deal to begin the hand.
The dealer will distribute five cards face up in your direction, before dealing themselves five cards as well. The dealer's hand will have four cards face down at the beginning, with one card exposed to provide players with the partial information on which the game hinges.
The objective of Caribbean Stud Poker is simply to beat the dealer's five card hand with your own, according to the standard poker hand hierarchy. That means one pair beats high card, two pair beats one pair, and so on.
With no ability to improve your five card holding, Caribbean Stud Poker might seem a bit boring by that description, but the game actually hinges on a single decision as to whether or not to raise the stakes or simply fold out.
By comparing your five card hand to the dealer's lone exposed card, players can decide whether or not to up the stakes by raising, or to leave the ante bet as their only risk. In other words, after you've anted for $5, and assessed the strength of your five cards relative to the dealer's up card, you can opt to raise and place an additional wager. The raise bet will always equal double the amount of your original ante bet, so with $5 already in the pot, raising will cost you $10 more.
You can also elect to fold, or forfeit your cards and the ante bet, along with any side bets in play.
After you've made the game's only decision, raising or folding, the dealer will reveal their four down cards and complete their own five-card hand. Your hand is compared with the dealer's hand, and the highest hand is declared the winner.
One thing to remember about the dealer's hand, however, is that it must reach a certain level of strength to qualify for a win. In the case of Caribbean Stud Poker, the dealer must make a hand of ace-king high or better in order to qualify. To visualize dealer qualification, the worst qualifying hand a dealer can hold is A K 2 3 4, while the best non-qualifying hand stands at A Q J 10 9.
When the dealer fails to produce a qualifying hand, your ante bet will be paid out at even money, while your raise bet will be returned as a push. When the dealer does qualify and beats your hand, you'll lose both the ante bet and the raise bet.
On the other hand, when the dealer does qualify and your five cards outrank theirs, the real fun of Caribbean Stud Poker begins. By beating a qualifying dealer hand, you'll earn a payout of even money on your ante bet, along with an additional payout on your raise bet.
Hand Rankings and Payouts
| | | | |
| --- | --- | --- | --- |
| HAND RANK | DESCRIPTION | ANTE | RAISE ODDS |
| Royal Flush | A, K, Q, J, 10 of same suit | 1 to 1 | 100 to 1 |
| Straight Flush | 5 cards of the same suit in sequence | 1 to 1 | 50 to 1 |
| 4 of a Kind | 4 cards of same rank | 1 to 1 | 20 to 1 |
| Full House | 3 of a Kind, plus a pair | 1 to 1 | 7 to 1 |
| Flush | 5 cards of same suit | 1 to 1 | 5 to 1 |
| Straight | 5 cards in sequence, mixed suits | 1 to 1 | 3 to 1 |
| 3 of a Kind | 3 cards of same rank | 1 to 1 | 2 to 1 |
| Two pair | 2 pairs of different rank | 1 to 1 | 1 to 1 |
| One pair | 1 pair (2 cards) of same rank | 1 to 1 | 1 to 1 |
| High card | 3 cards of same rank | 1 to 1 | 1 to 1 |
Caribbean Stud Poker at Mobile Casinos is powered by Evolution Gaming, Microgaming, RTG, NetEnt, Betsoft, Playtech and many other gaming providers. You can click here to play this poker game now with your mobile be it iOS or Android.
How to play Caribbean Stud Poker Progressive Jackpot?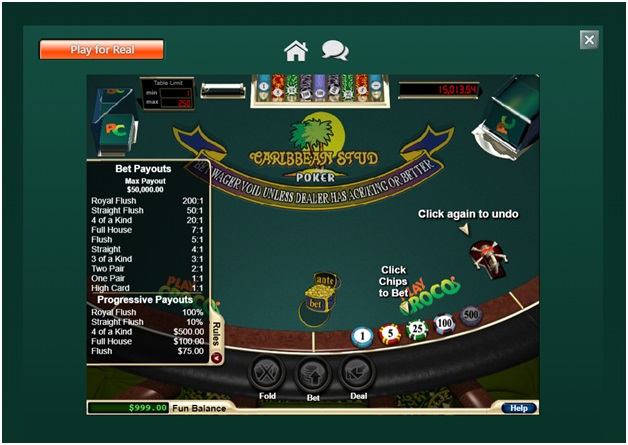 The game play follows a very basic Stud Poker style where it is one player against the dealer. You will each be dealt 5 cards and whoever has the highest scoring poker hand wins. There is a handy pay-table found at the bottom left of the screen which will give you a general understanding. To bet, you will need to place an 'Ante' bet; this is your initial bet before the hand is dealt. You are then able to call or increase your bet on the second bet when you have seen both yours and the dealers first card selection. The only difference is the betting circle called 'jackpot'. This must be bet in order to win the jackpot.
How to win the Caribbean Stud Poker Progressive Jackpot?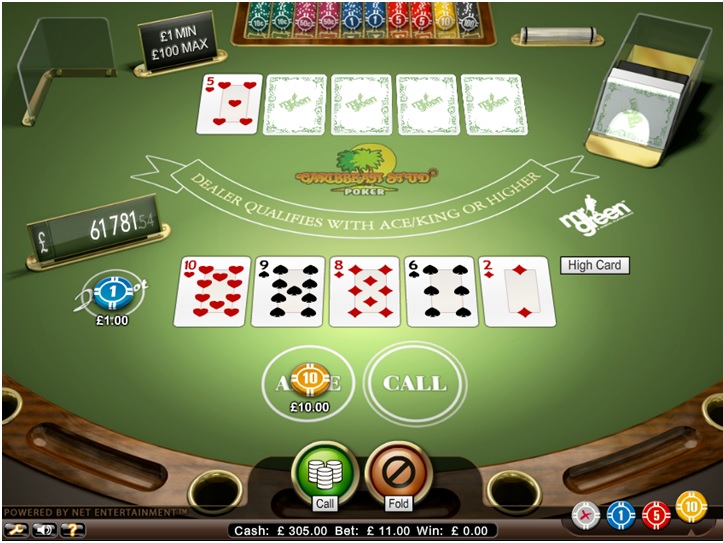 To win 100% of the progressive jackpot prize in Caribbean Stud Poker you must win with a 'Royal Flush' hand. This will be dealt in the first showing of the cards. You are able to win other percentages of the jackpot pool by winning with various other hands, depending on how good your hand will determine the amount. You can see the win table for the jackpot from within the game itself.
In order to win the jackpot, you will need to place the maximum 'ante'(initial) bet of $ 50. You will also have to place a bet within the jackpot circle. This amount will never change and to activate this, you only need to place $1 within. Simply be dealt the Royal Flush and the entire jackpot prize is yours.
FAQs
Q1. How do you determine a winning hand in Caribbean Stud?
If you're familiar with other variations of poker like Omaha, Five Card Draw or Texas Hold 'em, the hands rank from a high card hand to a royal flush. There's no difference in the suit of the cards.
So, simply put, the highest ranking hand that beats the dealer's hand will be determined the poker site. In the event of a tie, all bets push.
Q2. What is the house edge In Caribbean Stud Poker?
Every casino and casino game has a house edge, meaning the ratio of the initial amount bet to the expected player loss. It's never a perfect measure and each game is different, but it's useful in helping players understand potential losses and wins over time.
Caribbean Stud poker has a house edge of 5.224% using typical US rules as a return table, but some experts suggest that this number may be flawed, especially when taking into consideration optimal poker strategy.
Q3. What does it mean by Stud poker?
The term "stud poker" refers to poker variants in which players play multiple betting rounds with cards that are dealt as a mix of face-down and face-up.
Stud poker differs from draw poker in that players hands' consist of two kinds of cards—cards only the player can see and cards visible to all players. In Draw poker, player keep all their cards concealed from other players.
Q4. What are the other stud poker games to play?
Five card stud is probably the most popular of the stud games, but here are a few other varieties you may enjoy:
Seven-Card Stud- this was the most widely played poker game in the US when it comes to home games and tournaments, until Texas Hold 'em came along, that is.
Razz Poker – a variety of stud poker than is normally played with aces low. The object of the game is to make the lowest possible hand.
Mexican Stud – refers to various forms of Five Card Stud with stripped decks and wild cards included. Also referred to as Stud Loco.
Q5. Is there any free game app to play this poker game?
Yes there are many free game apps at app stores to play poker game on your iPhone or Android.
Q6. Where did Caribbean Stud poker originate from?
Some claim that Caribbean Stud Poker was invented in Aruba, which would seem plausible since Aruba is an island in the Caribbean. Many people also claimed that they're the inventor of the game, like author and gambling expert David Sklansky. According to Sklansky, he invented the game in 1982 under the moniker of "Casino Poker."
Furthermore, Sklansky claims he brought the game to Aruba and the name was changed. Dennis King is another person who claims to have invented Caribbean Stud Poker when he owned a hotel in Aruba. With everyone and their moms laying claim to the creation of the game, it's hard to pinpoint its actual origins.