Pontoon Gold is the British version of the internationally popular banking card game Twenty-one. To play Pontoon you need to understand that the game is played with a standard, 52-card, French-suited pack, without Jokers. The values of the cards are as follows: an Ace scores 1 or 11 as desired; court cards score 10 each and the pip cards score their face value. If the two cards dealt to a player (excluding any subsequently drawn) are an Ace and a court card or an Ace and a Ten, they score 21 exactly and the combination is called a natural or a natural vingt-un.
As online casinos are much appreciated by players because they give ease to play games at the convenience of your time and money and also with your mobile smartphones, the gaming software companies therefore developed all the land casino games suitable for online play.
The brand gaming developer well known for producing greatest slot machines at online casinos developed interesting Pontoon variation and you will find that the rules are familiar, but with a few twists and exceptions.
It stands to reason that as Microgaming is one of the leading online casino software developers in the world; they would come up with a number of different versions of blackjack. This game is played all over the world with slight variations and Pontoon is played in both the UK and Australia as a version of blackjack.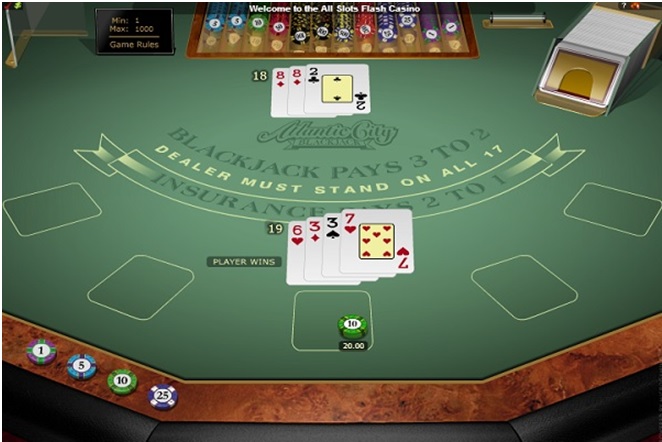 As said above Pontoon is an interesting variation and you will find that the rules are familiar, but with a few twists and exceptions. The most important exception is merely terminology, for example when you have a face card and an ace, in blackjack this is called a "natural" in this game it is called "pontoon". "Twist" is used instead of hit and "stick" instead of stand.
Microgaming Pontoon
Playing the Microgaming version of this game allows for specific features you may not find with other software. For example speed control – there are four speeds, namely slow, medium, fast and fastest. Sounds may also be manipulated and can be turned off. Auto-play and strategy cards may be used and this is in expert mode. The player completes a customizable strategy card which tells the software how the player wants his game to play optimally. Play is logged and can be statistically reviewed in real time or at a later time.
8 regular decks of 52 card packs are used in the shoe and these are shuffled after a hand is played. The player must twist on a 14, and hands may be split as in most versions of blackjack. There are 5 betting spaces and up to five hands may be played with a maximum bet of 200 and a minimum of 1.
How to play Microgaming Pontoon Gold game?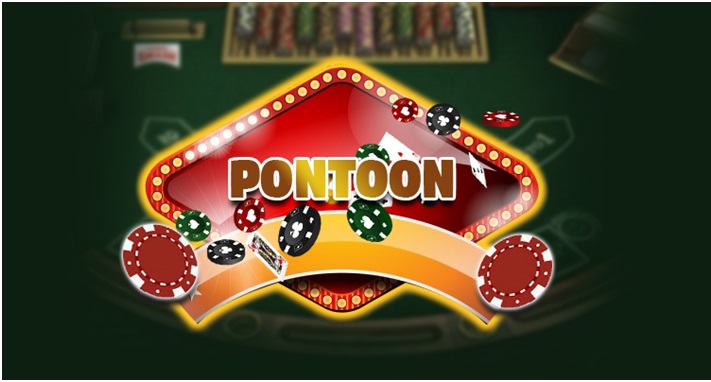 You can just log in to any Microgaming online casinos like Resorts casino or any friendly online casino and search for this game in the games lobby. If you are new to any Microgaming casino then you need to register yourself at the casino, make an initial deposit at the cashier with the deposit modes available at the banking page then grab the welcome bonus that the casino is offering and start to play Pontoon Gold.
With minimum wager standing at mere $1 and maximum bet being $200, Pontoon Gold is able to cater for a wide range of online gamers, who may have a small disadvantage due to the fact that dealer cards are dealt face down, but two ways to receive a 2 to 1 payout should prove enough to compensate.
If you have never played Pontoon Gold before, you might need some time to adjust to the different terms seeing as how Twist is used instead of Hit or Draw, and players need to press Stick when they do not want to receive any more cards. Clicking on Buy will double down your initial stake, but bear in mind this can only be done once per hand.
While the minimum bet is $1, available coin denominations are $1, $5, $10, $25 so select the preferred stake and place your wager on one of the five seats or bases. Click on deal to start the hand, with Auto-Rebet and Quick Deal options also supported. Move your cursor onto the black field located in the upper left hand corner to read important game rules.
The rules of Pontoon Gold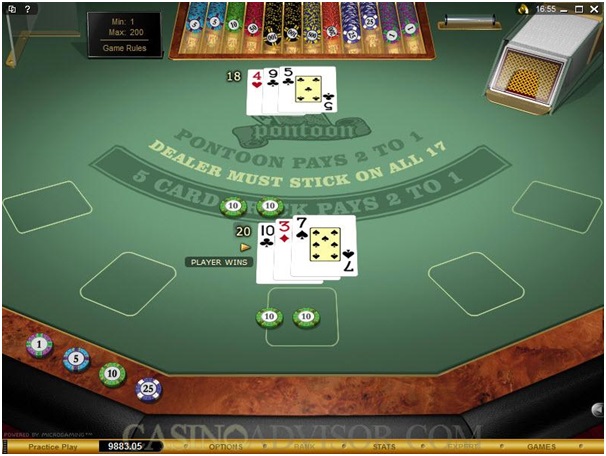 The game is played with eight decks of cards and while the dealer receives two cards, the player is not allowed to see either of those. The dealer, or banker, then checks for Pontoon gold, which is the same as Blackjack in the more conservative variations of the game. The good news is that the player's 21 or Pontoon gold is always a stronger hand than banker's 21 or Pontoon.
The player has three ways of winning the hand, with regular wins paying 1 to 1. A hand consisting of Ace and any 10 value card is Pontoon gold and pays 2:1, while 5 Card Trick features the same payout. This is any five card hand that has a value of 21 or less. While the banker must stand on all 17, the player is required to draw if the current card value is less than 15.
The dealer wins the hand in case there is a push, whereas the double down option can be used once per hand on 2, 3 or 4 cards. After the players' hands have been completed, the banker will play their hand and potential wins will be calculated.
Betting and Playing the Pontoon Gold Game in detail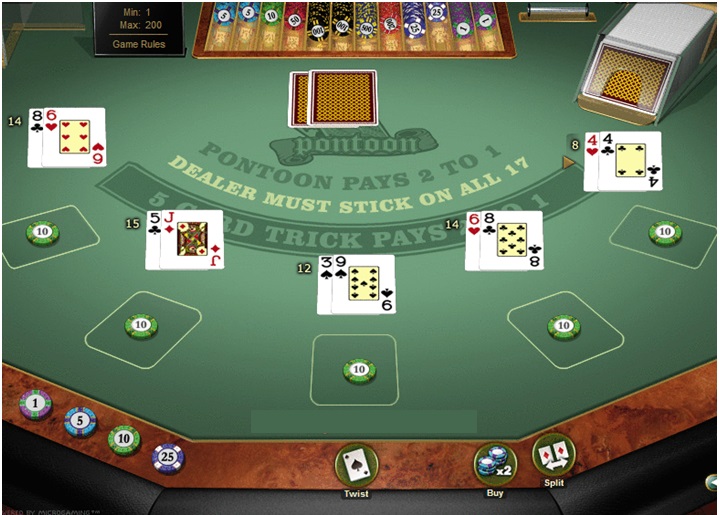 Playing Pontoon Gold as opposed to Blackjack online will see you having to be aware of the ever so slightly different playing and betting decisions that will be available to you, and you will also need to be aware of how the Dealer is going to be playing off his hands too with the following information:
Low House Edge – One of the most important aspects of you playing any casino card game is that you will always be best advised to stick to the games which when played perfectly and with the very best playing strategy will offer you a low house edge.
For reference the Microgaming Pontoon Gold games have a house edge with optimal play of just 0.38%, which is actually lower in value than some of Microgaming's Blackjack games!
Dealer Soft 17 – Once you have made all of your playing and betting decisions on your hand or hands when playing Pontoon it will then be the turn of the Dealer to play off his hand, and he will play his hand off until he reaches a Sot 17 valued hand or any high valued hand which he will then stand. If the Dealer has a 16 value hand or anything lower in value then he will keep on twisting his hand until it reaches a value of a Soft 17 hand or anything higher in value.
Ace Cards – You are going to be allowed to both split and re-split a pair of Ace that have been dealt out to you, when you do so you will be able to form up to three hands by splitting and re-splitting. However, if you have split any Pair of Aces then just one single additional card will be dealt out to each of them and you will not be able to twist those hands.
Buy a Card – Playing many Blackjack games will see you being able to Double Down your initial two card hand, well that betting decision is known as buying a card when you are playing Pontoon online, and you will be permitted to buy a third card no matter what your initial two card hands value is.
When you do buy a third card however the cost of that betting decision will be the same amount that you wagered on the base hand, and you will only be able to buy a card once per hand. You will however be able to buy a third card if you have split a pair of cards.
Winning Payouts – The final thing you will of course be interested to learn about Microgaming's pontoon game is just how much you are going to receive when you have been dealt out a winning hand combination!
A winning Pontoon gold Hand which is a base Ace and any ten valued card is rewarded with a winning payout worth 2 to 1, the same 2 to 1 winning payout is awarded to players if they are lucky enough to form a five card trick, even after initially splitting any pair of cards.
All other winning players' hands are paid out at the standard rate of even money one final thing to note is that a Pontoon 2 to 1 winning payout can also be achieved even after you have split a pair of cards.
FAQs
Q1. Who is the winner in Pontoon Gold?
The online version of Pontoon Gold means you play only against the dealer, but the overall concept of the game remains unchanged. Namely the winner is the player with the hand built from two initial cards and "twisted" cards that, when added together, is closest to the number 21. A player that builds a hand that, when combined, is greater than 21 is "bust" and loses.
The player and banker may twist cards until they are happy that their hand will be better than the dealers by sticking. However, in Pontoon Gold the player cannot stick before reaching 16 and the dealer 17. The dealer has the edge over the player in that he reacts last and can repsond to the players hand. Furthermore, in the result of a tie, the dealer wins.
Q2. What are the different values associated with certain cards?
There are a range of different values associated to certain cards, with aces representing both 1 and 11 and picture cards all representing ten. The overriding aim is to recieve the ultimate two-card hand, pontoon itself. Pontoon is formed by an ace and any 10 point valued card (10 or any picture card). It will beat any other hand unless the dealer has pontoon as well. Another strong hand is a number greater than 17, but no higher than 21, made up from 5 cards. This is known as a "Five Card Trick". For example, 5H, 5C, 4D, 4H & 3D. This will beat any other combination other than Pontoon.
Q3. What are two independent bets?
Pontoon Gold comes with the option to split your hand and to form two independent bets. A player can only split their hand if they have two equally ranked cards. Additionally, you can "buy" cards. This works like a twist, in that you receive an additional card, but it also increases your bet amount and your potential return and loss.
Now that you understand as how to play Pontoon Gold, it is but advised to play first for free or in demo mode to practice the game thoroughly and know the rules before indulging in real money betting.
Also keep in mind is that if you click on the options setting tab located at the foot of the Pontoon Gold game screen you will be then able to tailor your own unique playing session, so do spend a few moments playing around with those option settings to configure the game in such a way you find it preferable based on your own preferred option settings.