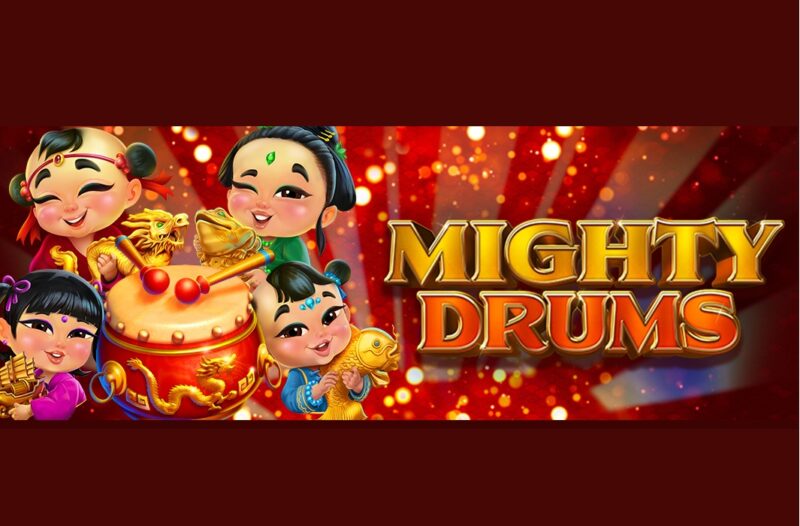 Mighty Drums is a slot game released by Real Time Gaming. Based on Chinese and East Asian culture Might Drums is an awesome slot in video format to play for free or with real money. Mighty Drums celebrates a traditional Chinese drum that dates back to the Northern Wei Dynasty.
The big red tanggu is played in opera orchestras, temple ensembles, and outdoor processional bands. Mighty Drums at online casinos can be seen with a bright and powerful golden interface and symbols against a crimson backdrop glistening like dragon's scales. In addition, the music is catchy, even though it can get somewhat repetitive, as any tune being played on repeat does. Fortunately, almost all of the game's features can be toggled through the in game menu.
Why are the drums so important in Chinese culture?
In China, red drums have always been a symbol of the power of the ruler and the destiny of the army. Drums are brought out whenever there were ceremonies or festivities. Weddings and funerals and all ceremonial occasions demand the insistent beat of drums. In keeping with tradition, the 19th century San Jose Chinese community had an oxhide drum as well as an iron bell.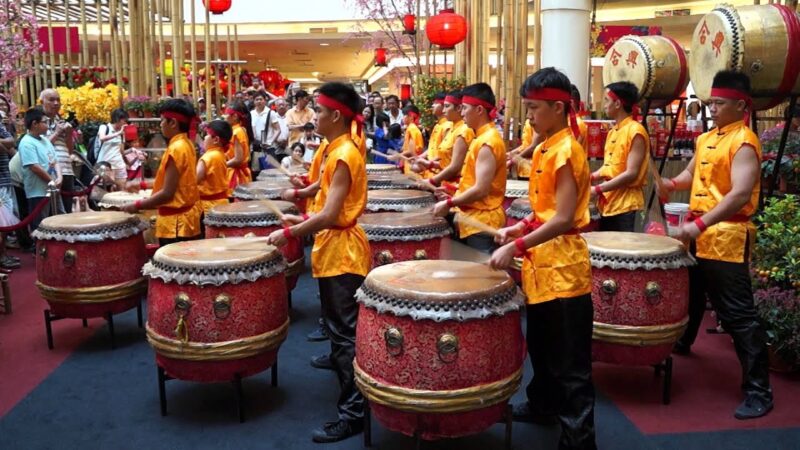 According to China, Empire of Living Symbols by Cecilia Lindqvist (Addison Wesley, 1991), the two oldest drums found in China came from the Zia dynasty, the first dynasty of China, approximately 4,000 years ago. They were found near the Yellow River at a place called Taosi.
One of the drums is a meter high and made of a hollow tree trunk. In its day, it had a skin across the upper opening and was painted red, as drums of China often continue to be. According to ancient writings, human blood was rubbed into drums for magical purposes, but the coloring on this ancient drum came from another source. Over time the Chinese drum was turned a half revolution and placed horizontally onto a low stand, and a drum skin was fastened over the other opening.
The other drum from Taosi is made of clay. A pot used as a drum was quite common in ancient times.
Mighty Drums Game Symbols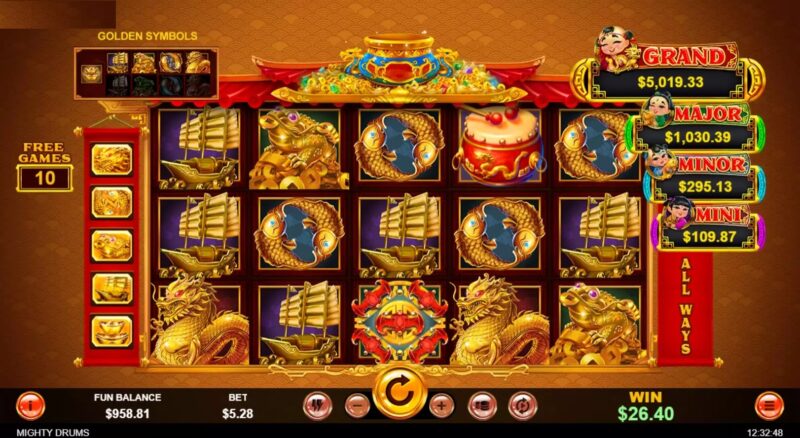 Mighty Drums is a wonderfully mysterious online slot has 5 reels and 243 ways to win, with symbols like golden dragons, golden boats, koi fish, water fountains, frogs and playing cards all aligning on the gameboard to score you a massive payout.
The aesthetic is instantly solidified by the icons on the reels with golden toad statuettes, stylized hieroglyphs, twin golden koi fish, imposing dragons, and the eponymous Mighty Drums. The great advantage of this particular title is that even the functional interface is stylized. Glistening with precious metals, leaving no place for mundane elements, and never breaking your immersion with stock fonts and images will strike your imagination hard.
Players who keep in time with the beat and bring out the magic of the Mighty Drums can look to take home a huge 50,000 times their initial wager if the luck of the gods is on their side. Spin the reels and start the fun on the Mighty Drums slot machine, now available at online casinos.
Game Features
Two Wilds are featured in this game, and both act as gateway triggers to the fun-packed bonus rounds where rewards and cash are a plenty.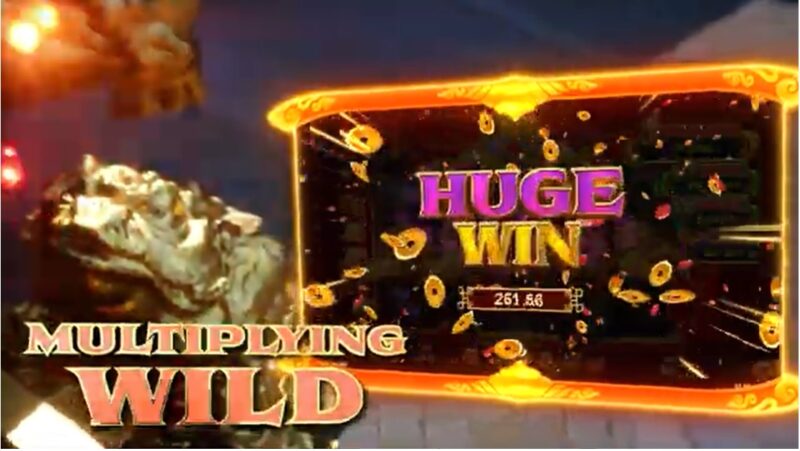 The Coin icon is the Multiplier Wild, and when it appears on reel three, all your prizes are multiplied by x1, x2, x3, x4, or x5 based on how many Coins make up a winning combination. As for the Bat Door, this only ever appears on reels 2, 3, and 4, and may trigger the exciting Jackpot Pick Bonus feature where players can get their hands on a mini, minor, major, or grand prize if they successfully reveal 3 identical Jackpot symbols. Both Wilds stand in place for all other symbols in the game apart from the Drums Scatter and Wilds.
Scatter Symbol: Drums
Substitute Symbol: Bat Door. Bat Door appears on reels 2, 3 and 4 and counts for all symbols except Wild Multiplier. Coins appear only on reel 3 and counts for all symbols except Bat Door and Drums. The prize is multiplied when Coins participate on a winning combination.
Bet Multiplier
1/8 = x1
1/18 = x2
1/38 = x3
1/68 = x4
1/88 = x5
Free Games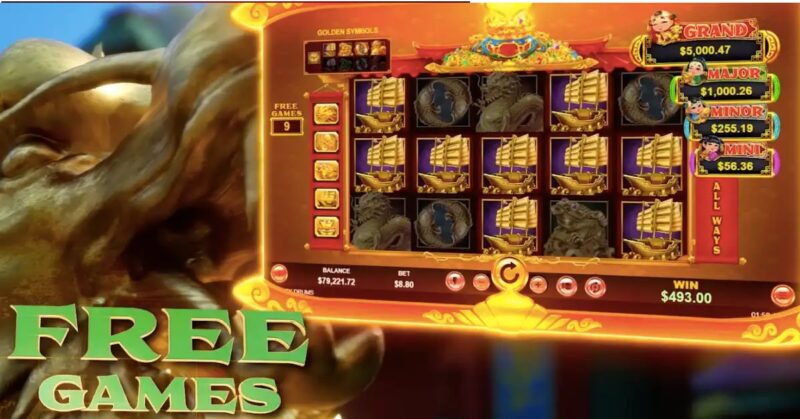 12 Free Games are immediately awarded if you line up 3 or more Drum Scatter symbols anywhere on the reels. During this feature, the weakest symbols in the game (the playing cards) are eliminated to make room for the higher-paying icons. This feature can also be retriggered at any time to score yourself another 12 Free Games!
During Free Games, A, K, Q, J, 10 and 9 symbols do not appear throughout the feature.
Jackpot Pick Feature
Jackpot Pick Feature Trigger: When a Bat Door symbol appears, the player may be awarded an available jackpot 12 magical coins appear on the screen. Touching a coin will reveal the symbol of an available jackpot When 3 matching symbols have been revealed, the corresponding jackpot will be awarded and the feature ends.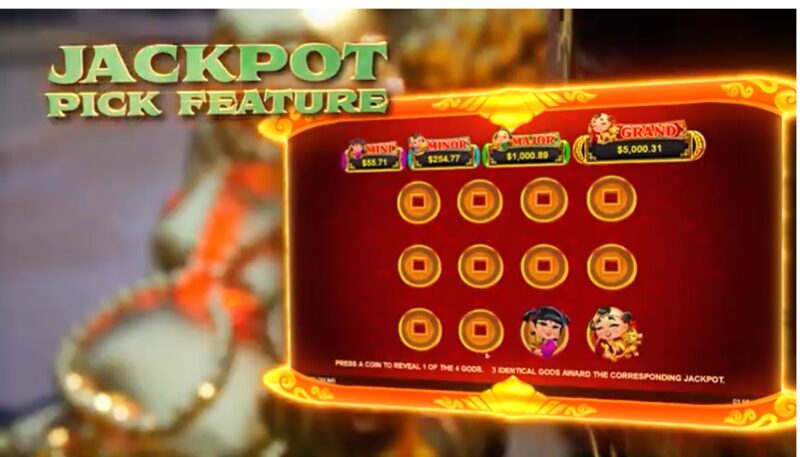 The Four Jackpots
The Mighty Drums slot game offers as many as four jackpots, as well as Golden Symbols Feature that transforms Dragon, Goldfish, Frog, and Boat symbols into gold to boost the winning potential. Indeed, Golden Symbols additionally increase Multipliers and the winning opportunity for players. They simultaneously facilitate more frequent jackpot wins, especially for players depositing until May 15. These players will be in a position to claim deposit bonuses that offer 50 free spins.
Jackpot Reset Amount: Expressed in USD and may vary for other supported currencies
GRAND: $5,000.00
MAJOR:$1,000.00
MINOR: $250.00
MINI: $50.00
Top Award: 50,000 times the base bet.
How to win the Jackpot?
The traditional Chinese drum, the big red tanggu played in opera orchestras, will start to bang at a faster tempo when Bat Doors Feature land on the middle reels. As the player's chances to win one of four jackpots, including the $5000 Grand Jackpot, emerge on the horizon, the drum beats and turns even faster, and the initially deep and mysterious sound of the ancient times gradually transforms into a continuous rattle of the golden coins ready to land into the player's pocket.
$5,000 Grand Jackpot
I
When the 12 Gold Coins symbols occur in the game, there is only one way to find out and the players are invited to select Coins and choose whether to run for the Grand, Major, Minor, or Mini Jackpots. Wilds landed on the middle reels will add coins to the Golden Pot and increase the jackpot win potential. In any of the four cases, three matching jackpot symbols will award the selected jackpot and make the awarded players fond of Chinese tradition, music, and casino games for a long time.‌
How to play Mighty Drums?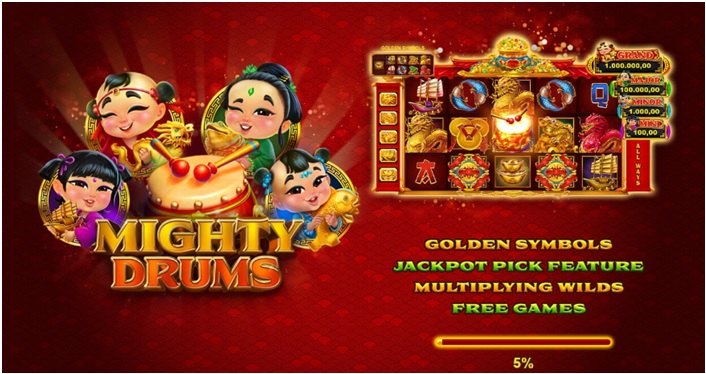 You can play Mighty Drums at any US online casinos with real USD or BTC or for free without spending any money.
Once you open your account at the online casino of your choice you are ready to play the game.
If you have opted to play with real money then make a deposit of $20 or more at the cashier. There are online casinos that offer you free spins or other bonus codes to redeem when playing this slot game. You can take full advantage of that.
Now head to slots lobby and find the game Mighty Drums slot.
Once you've loaded the game, select your bet amount by selecting the + and – symbols at the bottom of the game screen. Once you've set your wager amount, click Spin. With a slot like Mighty Drums, your best bet is to wager maximum coins. This sets you up for winning and being able to claim the game's top reward.
The game has a ton of various boosts, unique features, and bonus features to keep you coming for more and make that win all more memorable. Let's start with the substitute feature triggered by Bat Doors and Coin symbols.
On reels 2, 3, and 4, the Bat Door symbol substitutes for all other symbols excluding the Wild Multiplier. Coins are only present on reel 3 and are used in place of all symbols other than Bat Door and Drums. When Coins are included in a winning combination, the reward is doubled
If you find yourself getting a bit tired from spinning the reels manually, just hit the Autoplay feature to get the reels spinning automatically. From there, you can simply relax and watch the reels do all the work.
Using the best features of the game and getting the right winning combination helps you win the game and the Jackpot.
FAQs
Q1. How many paylines does Mighty Drums online slot have?
The game has 243 possible paylines across 5 reels registered in any direction. It's a low volatility slot machine with a separate dedicated Jackpot feature.
Q2. Can I play for free?
Yes you can play the slot game for free as Realtime Gaming allows slots to play in a free demo practice mode which you can access through the game menu or directly from the game selection screen on the site's main page. However, if you feel confident, of course, you can try Mighty Drums for real money.
Q3. Can I play Might drums slot on mobile?
Mighty Drums slots are playable directly from the browser on any modern device running iOS, Android, or Windows. You don't even need to download it.
Q4. What are the game features?
In Mighty Drums 5-reel slot game you will find the game featuring the two Wilds along with a Scatter that triggers the Free Games feature when 3 land anywhere.
Q5. What is the most thrilling feature in Mighty Drums slot game?
the most thrilling feature of Mighty Drums is the Jackpot Pick feature. This feature can be randomly activated at any time, and when it does, 12 gold coins will appear on the game board. Behind each coin, you'll reveal a unique god symbol for the Mini, Minor, Major, and Grand Jackpots. Match three gods, and you'll win the corresponding jackpot which is very simple.
Q6. When does the Jackpot pick bonus feature is triggered?
The Jackpot Pick Bonus feature is triggered when the Bat Door appears during the base game. Prizes are multiplied when the Coin Wild appears on reel 3. Both Wilds substitute all symbols in the game apart from each other and the Scatter.
Q7. What is the top reward in this game?
The top award is 50,000 times the base bet.
Q8. Any tip to play the game and win more?
As you start playing Mighty Drums, you'll notice that there are 243 possible winning combinations, giving you plenty of opportunities to hit it big. But that's not all as this game also features a range of bonus features that can increase your chances of winning even further.
As you play, you'll want to keep your eyes peeled for the various symbols and features that can lead to big payouts.