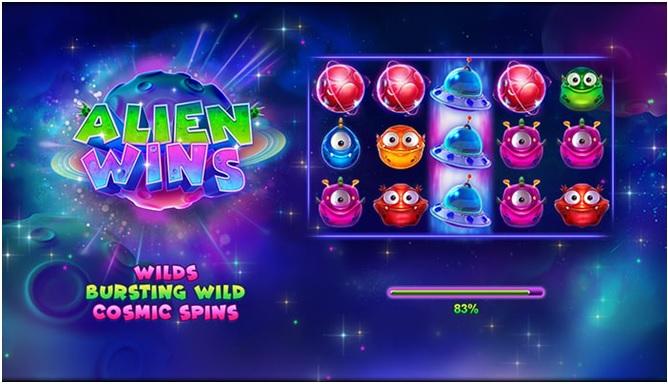 Alien Wins is the new slot game from Real Time Gaming. Alien Win slot comes in the form of a 5×3 slot, with theme about space and Astronomy.
Alien has many meanings and the amusing part is that Britannica encyclopedia defines the word Alien as a foreign-born resident who is not a citizen by virtue of parentage or naturalization and who is still a citizen or subject of another country.
Are there really Aliens?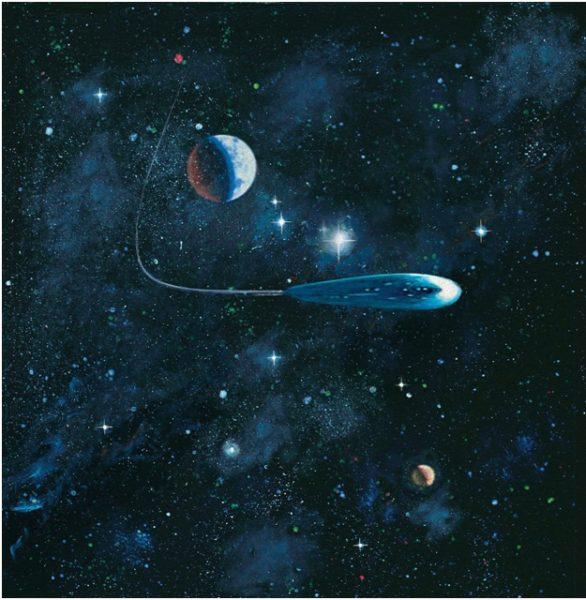 Well, if you haven't seen or met yet then it's a myth or a folklore. But if you have witnessed one then it might be true. In the 1940s and 50s reports of "flying saucers" became an American cultural phenomena. Sightings of strange objects in the sky became the raw materials for Hollywood to present visions of potential threats. Posters for films, like Earth vs. the Flying Saucers from 1956 illustrate these fears. Connected to ongoing ideas about life on the Moon, the canals on Mars, and ideas about Martian Civilizations, flying saucers have come to represent the hopes and fears of the modern world.
Extraterrestrial life, colloquially referred to as alien life, is life that may occur outside of Earth and which did not originate on Earth. No extraterrestrial life has yet been conclusively detected, although efforts are underway.
Did you know that the science of extraterrestrial life is known as astrobiology.
About Alien Wins Slot Game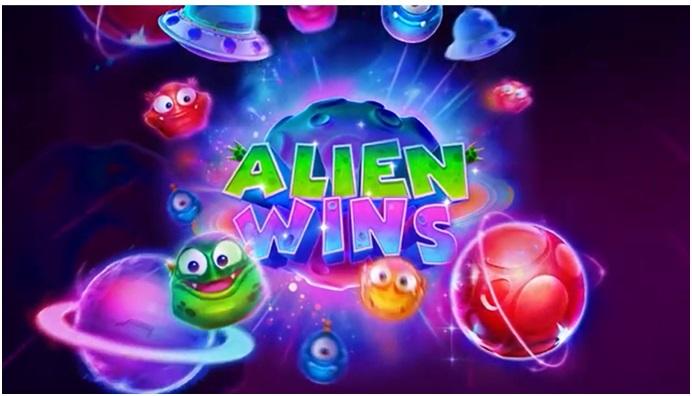 Instant Play slot game with multipliers, wild symbol, respin feature, expanding wild and more.
Alien Wins Slot is a video slot with 5 reels, 3 rows, 10 paylines, it is a colorful game that takes you to the extra terrestrial world with life in cosmos. This means this fantastic fantasy slot game invites players to a distant planet where spaceships zoom through the skies and cute little alien creatures mine the surface for cash and other precious rewards. As you spin the reels of this game you get ready for a stellar adventure through time and space and rack up the most unworldly payouts on the reels in this new Alien Wins slot game.
Alien Wins is a 5-reel slot game with pristine, high-definition graphics, celestial sound effects, plus bonus features with excellent rewards.
Game symbols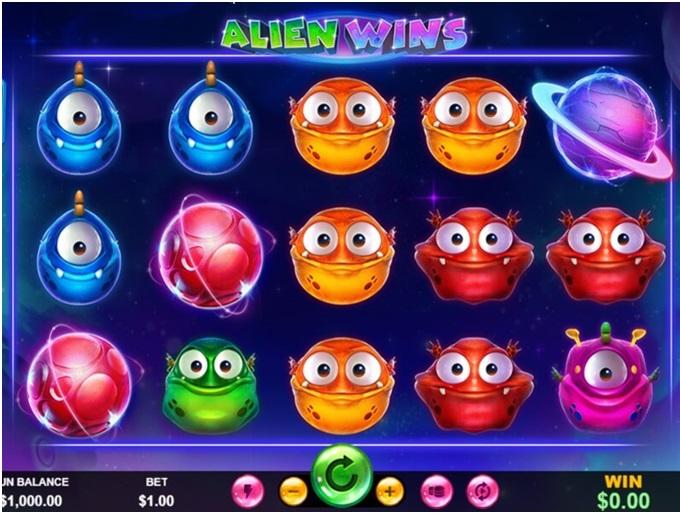 You will walk through the cosmic world alongside pink, blue, orange and red aliens. Spaceship is the wild symbol. This powerful symbol morphs to cover the entire reel when it takes up position on reel 2, 3, and 4, and makes up the highest-paying combination possible. You'll also trigger a Re-Spin for every new Wild that lands on the reels, during which time the reels lock in place whilst the others continue to spin and boost your chances of forming a winning line. Each Wild also awards a random Multiplier valued between 2x and x8.
Also that's not the Spaceship's only magical power. It can also randomly trigger the Bursting Wilds feature during a Re-Spin or after a spin during the base game. Here, up to 3 Wilds may randomly drop onto the reels to also increase your chances of hitting a winning combo.
Bursting Wilds can be randomly activated after any spin or re-spin, placing one, two or three Wilds on the middle reels.
All symbols in the game pay left to right and you can stand the chance to win the top award of up to 50,000 times your per line bet.
What are the rules to play Alien Wins slot?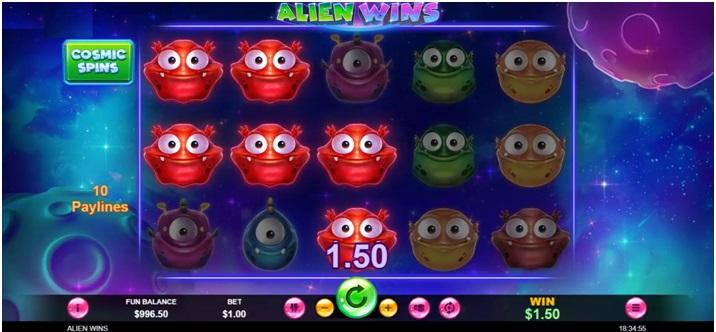 To play Alien Wins slot game you need to join any friendly RTG powered online casino.
You can play for free or with real money, that's your choice ultimately.
You can play on your mobile or PC or tablet.
If you play for free you needn't make any real money deposit but if you opt to play for real money you have to make a deposit in your own currency.
Grab the bonus coupon that the online casino offers when playing this slot for real money.
Now head to the slots games lobby of the online casino.
Find the game Alien Wins and tap or click to play.
Once you've loaded the game, select your bet amount by selecting the + and – symbols at the bottom of the game screen.
You will the game bets of $0.10 – $2.50.
Once you've set your wager amount, click Spin. With a slot like Alien Wins, your best bet is to wager maximum coins. This sets you up for winning and being able to claim the game's top reward.
If you find yourself getting a bit tired from spinning the reels manually, just hit the Autoplay feature to get the reels spinning automatically. From there, you can simply relax and watch the reels do all the work.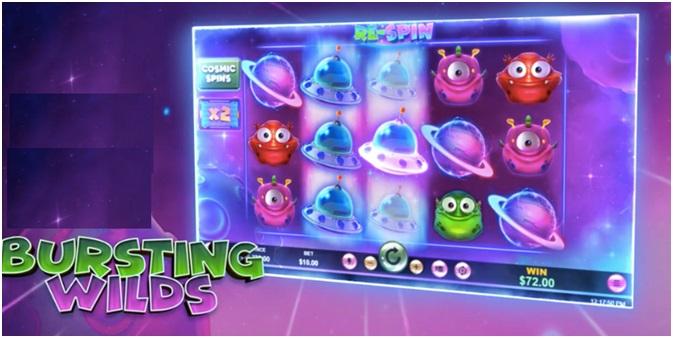 As said above the wild symbol in this game which is the spacehsip is a real magician, because the wild symbol can expand, activate respins, multiply winnings and appear anywhere on the playing field!
The substitute symbol is the Morphing Wild (Spaceship) and the rule is that Wild symbol can appear only on reels 2,3 and 4. Wild symbol substitution pays the highest possible winning combination on a bet line according to the pay table. One or more Wild symbols appearing on the reels expand to cover the entire reel and award a Re-Spin Any additional Wild symbol appearing on the reels during the Re-Spin also expands and awards another Re-Spin.
During the Re-Spins, the reels covered with Wild symbols are locked while the other reels spin. Re-spins end when no additional Wild symbols appear on the reels during the Re-Spin Re-spin are played at the same bet as the round activating the Re-Spin At the end of Re-Spin, the total win from Re-Spins is added to any wins from the round that activated Re-Spins.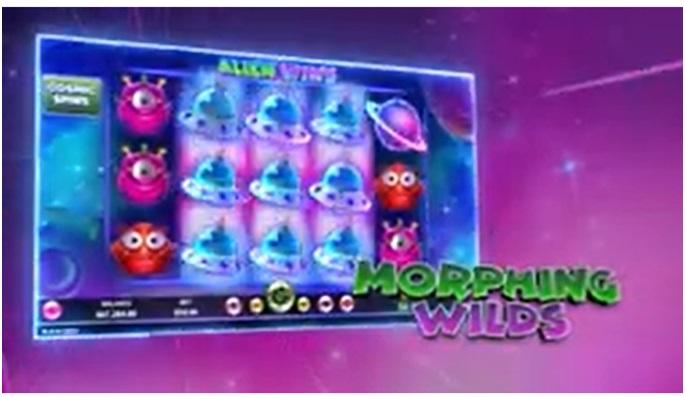 Each Wild symbol awards a random Multiplier of the following value: x2, x3, x5, x8. The Multiplier applies to the bet line win of the spin during which it was awarded and the Re-Spin. If more than one Multiplier is awarded during the spin and Re-Spins, any bet line wins from this spin and the following Re-Spin are multiplied by the multiplication of these Multipliers.
The wins are evaluated at the end of each spin and each Re-Spin. If Wild symbols appear on the reels, the wins are evaluated at the end of each spin and each Re-Spin, after Wild symbols expand and Multipliers are awarded.
Note that Bursting Wild is triggered randomly.
Game Features
Following are the Alien Wins Game Features to explore:
1. Cosmic Spin Feature
If you want to increase the odds of Wilds crash-landing on the reels even more, you can also activate the Cosmic Spins feature, which guarantees the appearance of Wilds on reels 2, 3, and 4 in exchange for a larger bet. To guarantee a single Wild, simply place 10x the required bet amount on your next spin. For 2 Wilds, place a bet of 95x the required bet amount. This is a fantastic way to solidify your chances of scoring the game's top reward, which is a whopping 50,000 times the bet per line.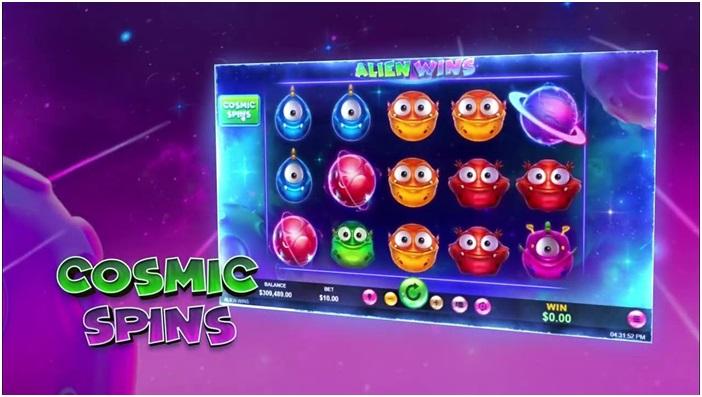 2. Random Wilds Feature
The Random Wilds feature can be randomly activated after a spin or a Re-Spin. When this feature is activated, 1 to 3 Wild symbols randomly land on reels 2, 3 and 4. In this feature, Wild symbols cannot land on top of other Wild symbols.
3. Player activated feature
Alien Wins slot game also includes a player-activated feature, Cosmic Spins, allowing users to guarantee a Wild will appear for a cost. This feature guarantees 1 Wild for 10x your bet, or 2 Wilds for 95x your bet and remains active until the player deactivates the feature.
Where to play Alien Wins slot game?
There are many top notch RTG powered online casinos to play Alien Wins slot game. You can sign up with any of the online casinos like Cool Cat, Slots of Vegas, Win A Day and many others to play this slot game. Most of the online casinos are now offering no deposit free spins and other coupon codes to redeem when playing this slot game which will certainly add value to your bankroll.
FAQs
Q1. Which feature in Alien Wins slot costs 10 times the bet?
Player can activate Cosmic Spins to guarantee the appearance of Wild symbols on reels 2, 3, and 4 for a higher bet. Activating this feature costs 10 times the bet for 1 guaranteed Wild symbol per spin and 95 times the bet for 2 guaranteed Wild symbols per spin. Cosmic Spins remain active until and you can even deactivate them.
Q2. Which symbols pays the highest possible wins?
Wild symbol substitution pays the highest possible winning combination on a bet line according to the pay table. For another chance to play with the cute extra-terrestrials find the Bursting Wilds on your screen. It can pop up anytime in the game by randomly landing on the reels.
Q3. How random multipliers are triggered?
Every new Spaceship will retrigger the feature at the end of the round with random multipliers of up to eight times applied to each wild. If more than one multiplier is awarded, any bet line wins are multiplied by the multiplication of these multipliers.
Q4. What happens during resins?
During re-spins, all the reels containing wild symbols are locked into place while the remaining reels continue to spin. Re-spins will continue until no new wilds appear on your reels. Each re-spin is played at the same bet as the round activating the re-spin. When your re-spins come to an end, the total win from re-spins is added to any wins from the round that activated re-spins.
Q5. When are Morphing wilds triggered?
Morphing Wilds are triggered whenever Wild symbols appear on any of the three middle reels. They expand to cover the entire reel and trigger a re-spin. The expanded Wild locks in place for the re-spin. Each Wild multiplies wins by up to 8x.
Q6. What is the top prize in Alien wins slot?
The top prize is 50,000 times the bet per line. The game features Morphing Wilds, Bursting Wilds, plus a Cosmic Spins bonus feature where players can increase their chances of forming a line win in exchange for a higher bet.