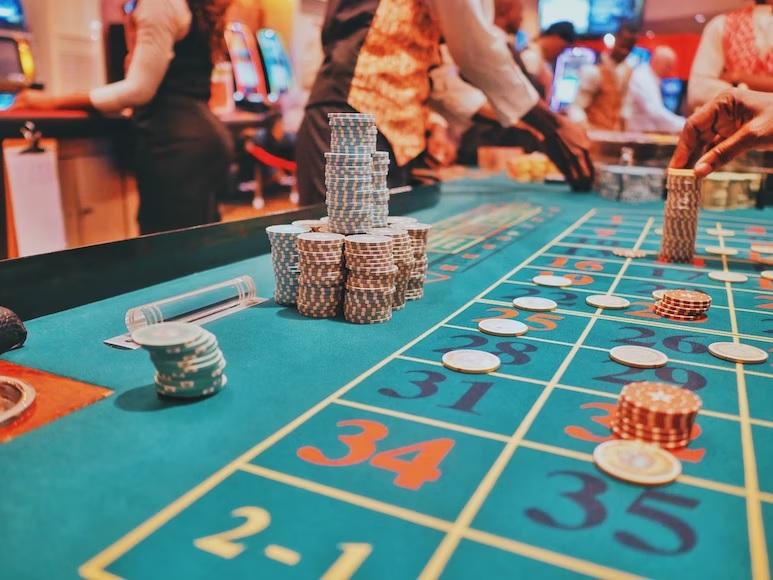 Roulette is a wonderful game available to play for free or with real money at US friendly online casinos. Roulette is a classic, simple casino game where all you need is to place your bets, spin the wheel and if it lands on one or more of your selections then you win a payout. Also there are a number of different variants of online roulette games – the Europeans and the Americans each have their own way of playing, and the options available to roulette have increased ten-fold in the past few years courtesy of the ingenuity of iGaming software developers.
Roulette Tables You Find at Casinos
At almost all the casinos in the world standard roulette table has 36 squares, numbered one to 36, with the addition of a single or also double zero square on top.
You can bet on any of these squares, or a combination of them, linked by the grid lines that form between them – rows, two neighboring squares, four squares, for example.
Further, 18 of the numbers are red, with the remainder are black. You can place 50/50 bets on the winning number being red or black, or odd or even. You can also bet on the number being 1-18 or 19-36 plus on the winning number being in a particular section of the table.
Your win is determined when you spinning the white ball within the rotating roulette wheel. The wheel is made up of all the corresponding numbered segments, including the zero(s), and wherever the ball lands, that's the winner.
1. European Roulette Table layout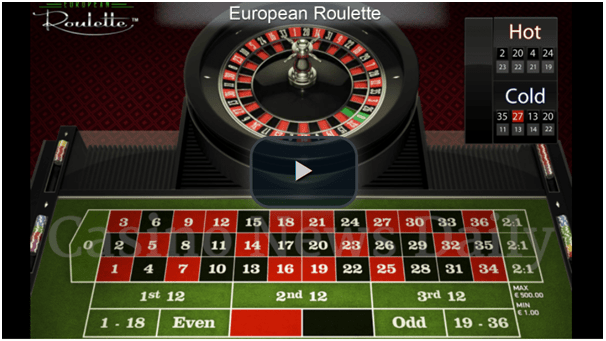 European Roulette online roulette games is perhaps the most popular version of roulette in land-based and online casinos. You have the 36 regular numbers, split into columns of 12, and sitting on top is a single, green zero. So while you can get 35/1 odds on hitting one of your numbers, the chances are actually 36/1 when you add the green zero segment because there are 37 segments in total. This is what gives the casino its house edge.
Here, you can place a chip on the zero and back it at 35/1. But the key thing is if zero comes in, then everyone who bet on any other number, red or black, or odd or even, loses their money.
2. American Roulette Table layout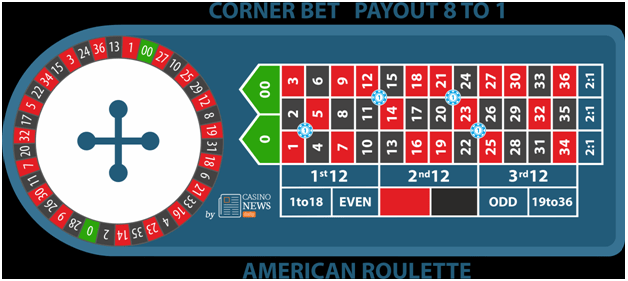 The American roulette, online roulette games table added a second green zero segment, with a double zero this time. But while it's bigger, this table is not necessarily better.
From a player point of view, the odds in American roulette are worse. Now you still get 36 numbers to choose from, but you also have the two zero segments to get in the way. Your odds of hitting a number are now not 35/1 but 37/1, a significant disadvantage.
One other noticeable difference to European Roulette, although it does not alter the odds, is that the order of the numbers on the wheel is different in American roulette.
3. French Roulette Table layout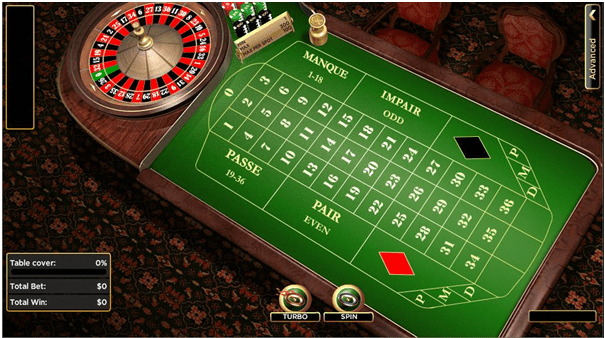 Here like European roulette online roulette games, there is only one green zero segment. But the players have an advantage on French roulette because if the green zero comes in, they do not necessarily lose their 50/50 bets (so red or black, or odd or even bets).
Instead, depending on the local rule played, these bets might count for La Partage, which means if zero comes in, the player receives half of his losing 50/50 bet chips back.
Alternatively, there may be the En Prison rule. Here, all the chips are locked in place on red or black, or odd or even for another spin. If you win that, then you get your chips back. Lose it and, well, there's always another day.
4. Triple Zero Roulette table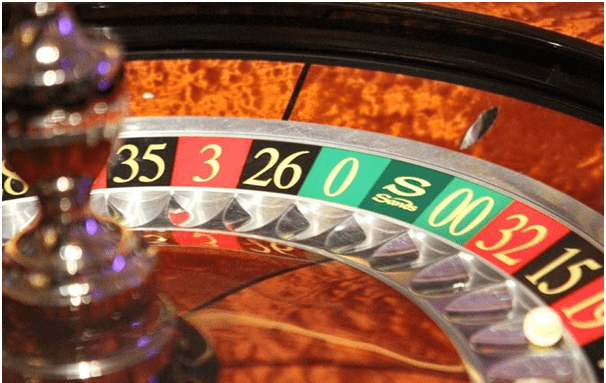 The triple zero roulette online roulette games table layout adds yet another green zero segment, with a triple zero on it, to the table. Naturally, this makes your odds of winning in the long run even worse than the double zero option in American Roulette.
At first, triple zero tables were added, so the extra juice could go to some casino charity or other.
5. Mini Roulette Table Layout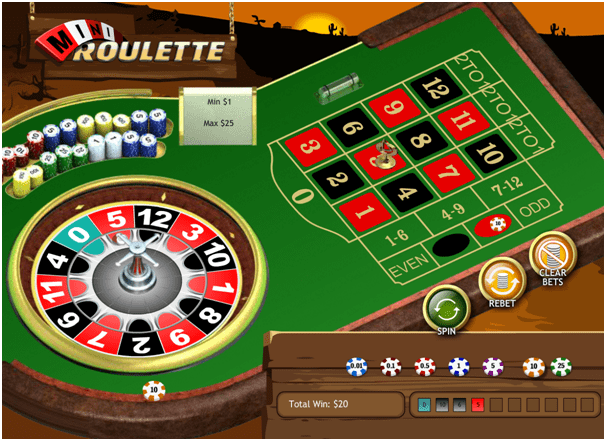 In this online roulette games table there are only 12 numbers on the wheel in this game. All bets pay 2: 1 and a total of 3 betting options are offered. The extremely casual game is a great option for beginners and works well with all gaming devices.
Here are wonderful Roulette games you can play at casinos online or even free with your mobile
1. Lucky Star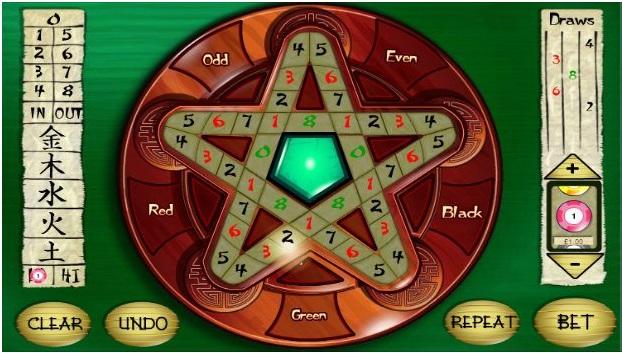 The roulette variant with an Oriental twist, Lucky Star's rules are exactly the same as those of the European and American versions of the game but with one key difference: the board is shaped like a star. Numbers range from zero to eight, with two, four, five and seven black; one, three and six red; and zero and eight green. Players can bet on colours, even/odd and individual numbers as they wish, as well as the various paylines as highlighted by the Chinese symbols on the gameboard. It's a very straightforward variant to understand once you've spent some time getting used to the unique winning combinations.
2. Pinball Roulette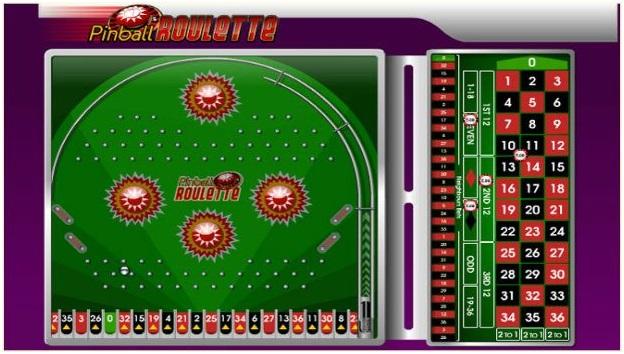 If you're a fan of pinball, which was a cult hit in the 1980s before being eschewed somewhat in favour of the dazzling possibilities offered by the Amiga 500 and similar games consoles, then you will love this mash-up of the famous ball game and roulette.
The premise behind Pinball Roulette is easy enough to understand: you place your bets as normal on your preferred numbers, groups and colours, and as you press 'Bet' a second screen will appear featuring a pinball machine. The ball is released, bumps into the usual buffers and flippers, and the numbers scroll across the bottom of the board horizontally. Should the ball eventually land upon a number you've chosen then you pocket a prize. There's even a bonus round where players can achieve multipliers of up to x10.
3. Double Ball Roulette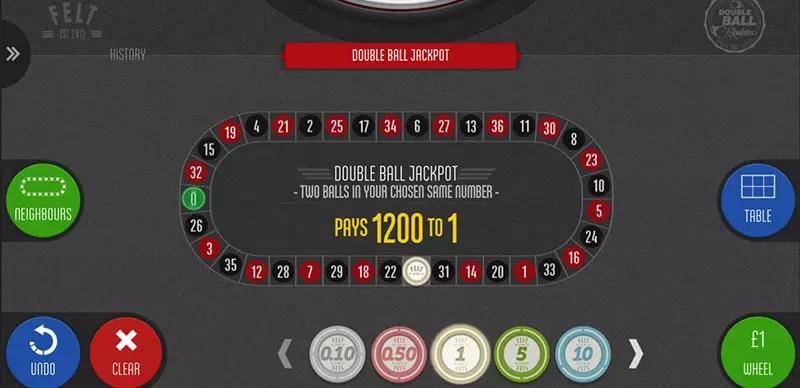 When one ball isn't enough, try Double Ball Roulette. The rules are exactly the same, with the obvious exception that two balls do the rounds, giving you a 100% greater edge in creating profit-making spins of the wheel.
There are two additional wagers to consider with double the fun too. Firstly, players can bet that both balls will land on the same number, which pays at 35/1 your stake. Secondly, there is also the option to bet that both balls will land on a specific number, which pays a fantastic jackpot prize of 1200/1. Double the balls could mean double the winnings.
4. 3D Roulette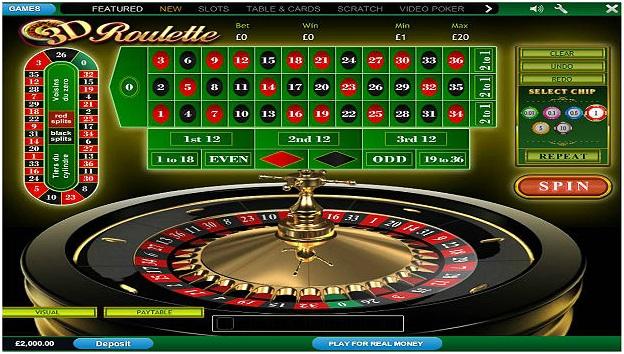 This is roulette reimagined for Generation Y: gorgeous graphics and inspired animations really add to the look and feel of the action. Watching the ball inch towards your chosen number just got a whole lot more realistic and aesthetically pleasing. Free play of 3D Roulette and a catalogue of similarly-engaging casino titles can be enjoyed at US friendly online casinos.
5. Multi Wheel Roulette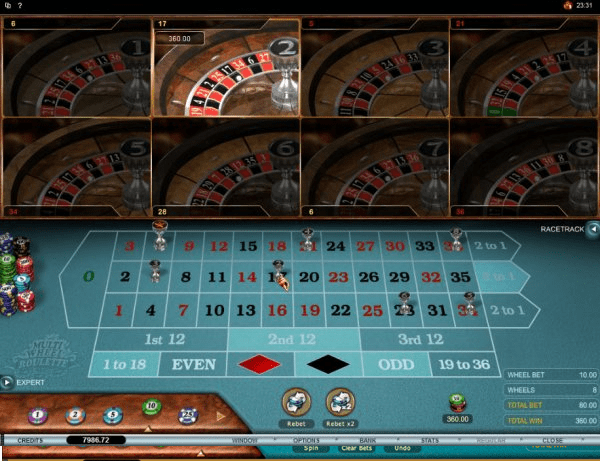 Where one wheel doesn't offer enough excitement or the opportunity to snag those big wins, then each player can utilise up to eight wheels here as they see fit. The total number can be modified simply by enabling and disabling a wheel at your discretion; clearly, the possibilities offered by all eight wheels are rather mouth-watering.
The most important feature of this game is that it has 8 wheels in total. So you can spin 8 wheels at the same time. As a result, your chances of winning are increasing too. But of course, betting limits also increase. Still, you can play to have fun and practice as much as you like.
This game comes from Microgaming and can be played online.
6. Marvel Roulette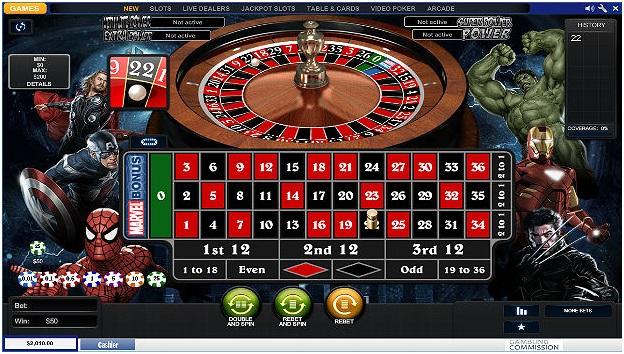 This roulette game variation is powered by Playtech where the gaming brand has roulette and the Marvel character base – and brought the pair together in a happy marriage of casino gaming action.
In truth, Wolverine and the gang bring very little to what is a pretty straightforward reimagination of classic roulette, but the one differentiator that makes the Marvel variant stand out from the crowd is that awesome, dedicated progressive jackpot.
Fire up the gameboard and you will see it just nestled in nicely next to the '0': the blue Marvel Bonus icon. If you select this when placing your bets – and the ball lands – then prepare yourself for a life-changing sum of money that's about to head your way.
7. Monopoly Roulette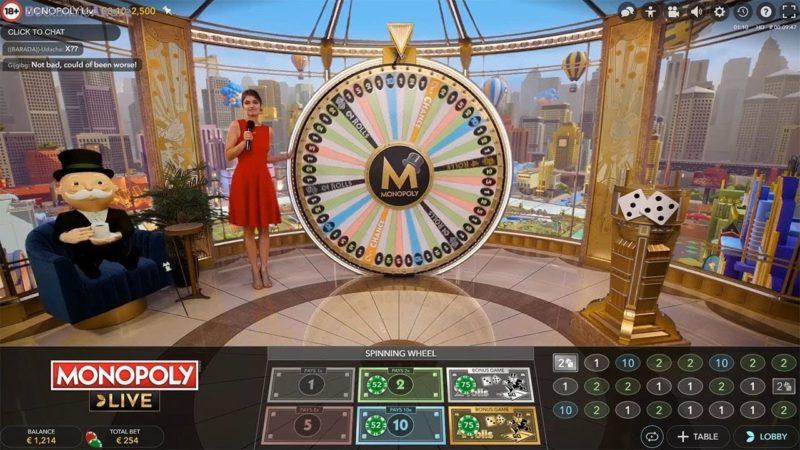 You can play Monopoly Roulette at online casinos. This game is developed by Barcest gaming company. Despite having 38 numbers on the wheel, the house edge of the game is not high because it has a bonus round. As you can guess from the name, you are playing not only roulette but also a simplified version of the Monopoly game. You can win 100 times your bet during the bonus round.
8. Astro Roulette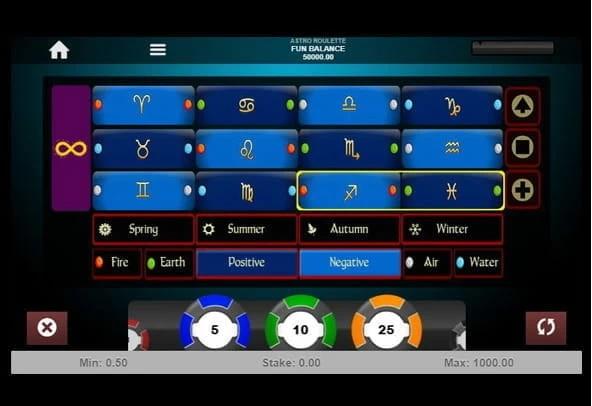 Astro Roulette is another interesting game to play. Developed by 1X2 gamin this roulette game is enjoyed by all types of players. Astro Roulette is quite similar to the game developed by Netent. There are only 12 numbers on the wheel. However, there are much more betting options, and the payouts are higher. As a matter of fact, there are even bets that pay 35: 1. If you are looking for a game that you can play eve on your mobile phone, Astro Roulette will be one of the best choices.
9. Spingo Roulette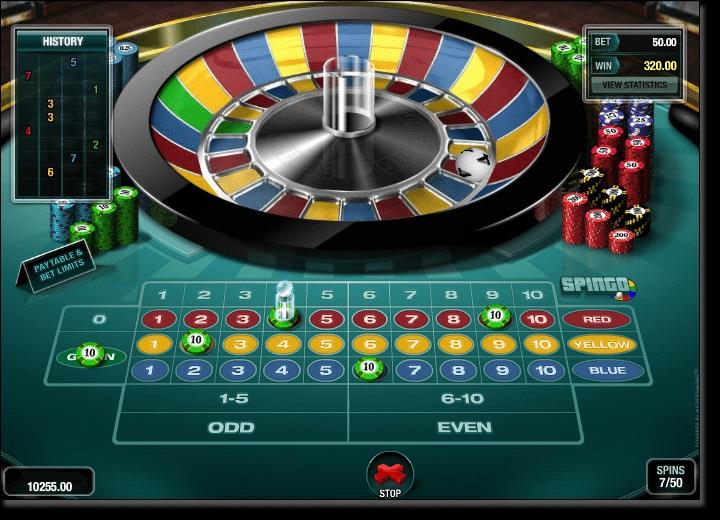 Spingo roulette is available at Microgaming Casinos. Spingo is a very interesting game because it combines bingo and roulette. There are colors on the wheel, not numbers. The numbers are placed on the ball. Having a 32: 1 payout, Spingo can be preferred for casual gambling.
10. Super Wheel Roulette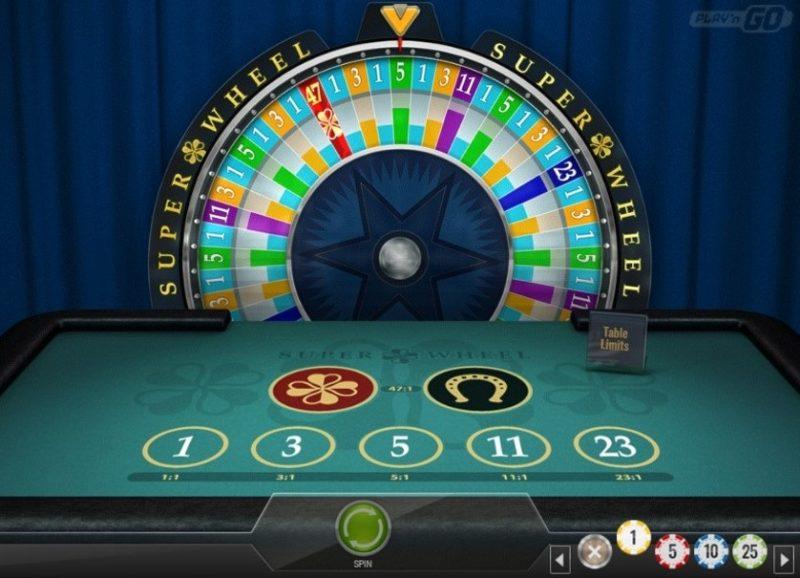 Super Wheel Roulette is interesting roulette game from Play n Go available at online casinos. There are 47 numbers on the wheel, and you can bet on a total of 4 numbers: 1, 3, 5, 11, and 23. In other words, it's a kind of a wheel of fortune variant entirely based on luck. But it has impressive payout values like 23: 1 and works on all mobile devices.
Where to play Roulette online?
You can play roulette online at US friendly online casinos. You can play at 888 casino; Rich casino, Slotocash casino, Superior casino and others. The free chips bonus at Fair Go Casino and others is the best bonus to play roulette online. There are hundreds of coupon codes to redeem when playing roulette online that add value to your bankroll.