EverMerge is a very interesting and fun free game app. I started playing this game a few days before and I really feel excited about it. The interactive story unfolds about the sleeping beauty queen and her gnomes. EverMerge is developed by Big Fish Gaming which is the founder of the popular Big Fish Casino.
With a rating of 4.7 at the app store, this app is a bit different from other types of games. Here you need to merge three identical objects and keep on playing leveling up in the game.
So match, merge, and combine your way through quests to roll back the fog and learn the real stories behind these fictional titans. Within its magical world exists all sorts of fantastical characters, such as Peter Pan, Sleeping Beauty, and Cinderella.
EverMerge – What's in the game?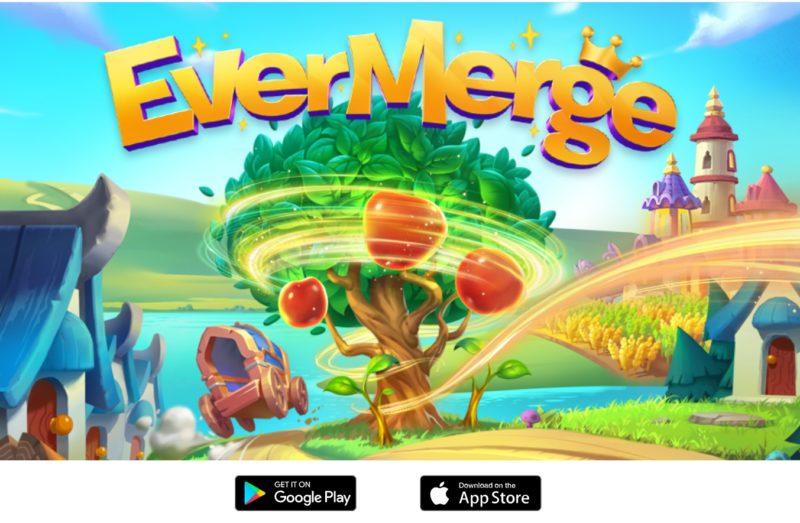 EverMerge combines matching and merging with simulation for casual entertainment that is bursting with tasks to complete. Match and merge anything with everything to create characters who jump off the screen. Snow White has more sass and Puss in Boots can't wait to let you in on his latest scheme.
EverMerge has creatures of the adorable woodland variety, but they're less about helping princesses in distress and more about maintaining their fur care regimen. The only thing to expect is the unexpected!
Just like matching, drag and merge combos of three or more for a surprise like candy raining down from trees, wheat fields exploding with resources like a busted piñata, and storybook heroes! Combine axes to add Paul Bunyan to the mix or use a watering can to summon Thumbelina. Wooden shacks become cozy cottages or even castles fit for royalty. Also remember, in EverMerge, it's your head that wears the crown.
With more coins, newly unlocked land, and best of all you get to share your new magical world with all of your favorite storybook heroes!
As this is a free game app, all is free play and there is no real currency involved. The game itself provides you coins, energies, stars and diamonds or gems to play the game. So when coins, energies, stars, and diamonds get exhausted either you have to wait to get more free coins and diamonds within the game or you need to buy with in-app purchases. Here are some EverMerge cheats, and hacks to get more of the game currencies in the game.
12 Cheats and Hacks you would like to know about EverMerge
1. For Free Objects Pop the Yellow Shining Bulbs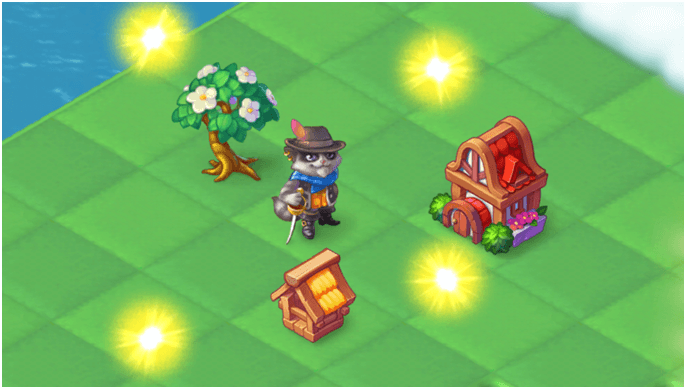 What I love in the game is when yellow bright shining stars or bulbs that fly pass your wood and you tap them to get more objects to merge and earn coins. So make sure to pop them to get free goodies like plant saplings that you can merge to help you progress through the game.
Also watch out for special events, when you can pop them for energy or seasonal currencies.
2. Go For Multipliers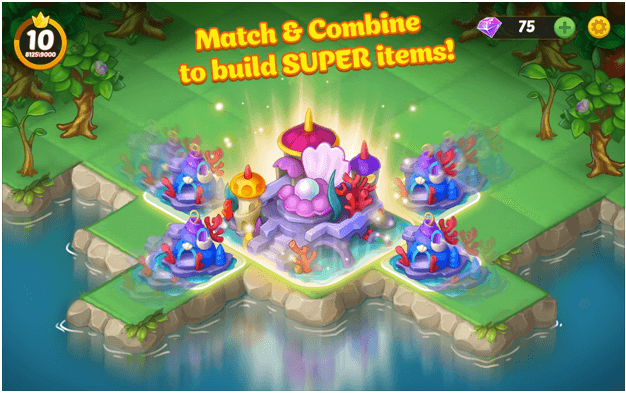 In the game you will find that many items like logs of woods, diamonds, Apple trees, candy trees or any stone lock or bee hives you need to merge them in three but if you have more than three on the ground, merge five or more to get a free bonus item and more coins.
This merge scheme will not only have the advantage of fabricating 2 better objects instead of one, but will also provide you with more XP. XP is a very important ingredient in EverMerge, as it's basically the driving force behind your progression. In order to advance to the next stage, you have to reach a certain XP level.
3. Don't Forget to Visit the Market Daily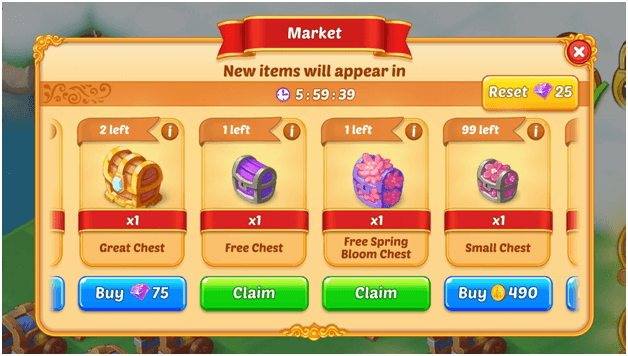 Though market given at the right hand side down below the game will prompt you to buy more free coins or objects, there are some free chests to claim every day.
So visit the market daily i thie EverMerge Cheats and Hacks to get your free chests. The chests can include useful things such as plant saplings, coins, gems and other ingredients, that will help you unlock new characters and reward more coins and energy.
To merge chests, make sure you're merging chests from the same branch. To check which branch a chest follows, just tap on your Discoveries and tap on the chests tab. You should be able to see which chest belongs to which branch!
4. Play the Instant Scratchie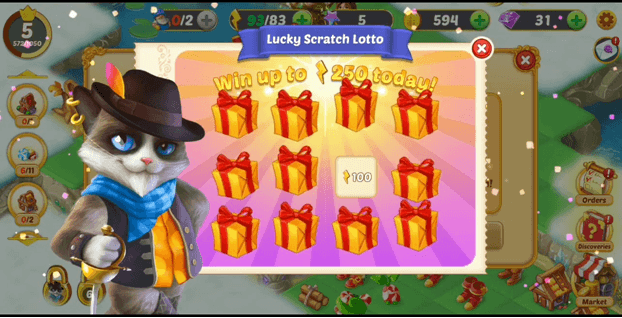 Every four hours, players can play a daily scratch ticket for a chance to win up to 250 free energy. This lotto is offered to all players of EverMerge to get your free energy. All you need to do is pick one of the gift boxes from the 12 given boxes and scratch to get free energy to play the game.
Thus free energy can be collected in this EverMerge Cheats and Hacks four times per day via the Scratch Ticket. After claiming a Scratch Ticket, you'll see a countdown until the next one is available. Know that the amount of Energy claimed will vary by each ticket.
Energy replenishes over time. Make sure to check the timer underneath your energy supply to see how long is left!
5. Complete the Given Tasks and Quests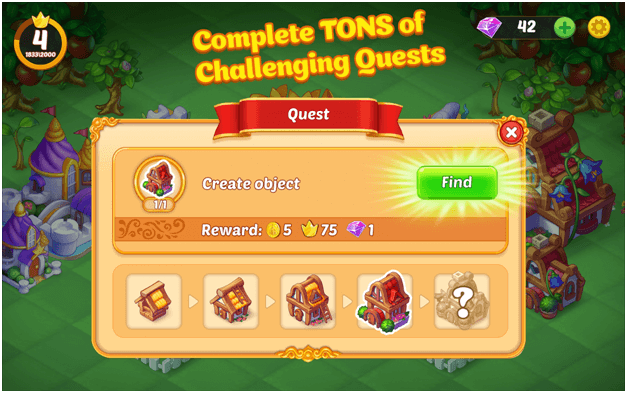 Occasionally there are events which may award you a 30-minute infinite energy if you complete the appropriate tasks, so keep an eye on that. Whenever they happen, make sure to participate for a chance to get your hands on unlimited energy.
Remember to always browse through the available quests to see which are the easier ones and set out to complete them. This way you gain extra resources and move things along in the game so that you can get closer to your goal of leveling up and unlocking more land.
6. Get Magic Wands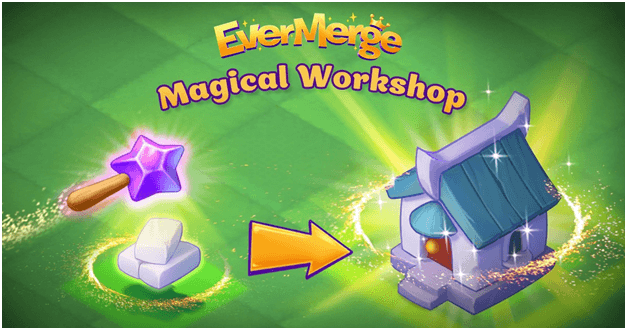 You require magic wands to clear the fog on the next available piece of land. Magic wands are rewards that come from completing Orders. Your storybook characters have a passion for sweets and so they will demand you bake them certain desserts. New and more complex recipes are added to the menu with each level.
Like make Jam you need to harvest Apples and Candy from your fields. These are resources supplied by plants which you are required to grow. Therefore, in order to make sure you always have a healthy supply of wands at your disposal, it's essential to cultivate all kinds of plants in your garden. What you get in return is more valuable than just clearing the fog and expanding your field.
7. Harvest your Produce Daily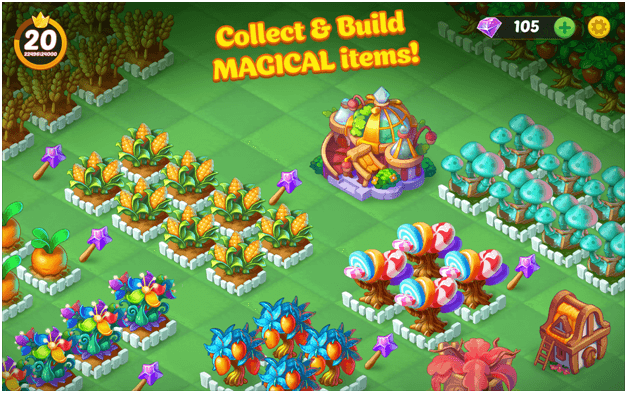 Daily Harvest your produce and keep on earning coins and do the merge. You need to harvest the wheat, candies, apples and more. Merge up pieces until you can fill the castle foundation. Then assign a gnome to build the castle. Then, once per day, you can harvest rewards such as seeds, coins, gem dust, and hammers to create red gnomes.
When you complete orders of the queen and the puss you are offered Bronze dust. Merge three of these items and you get a Bronze coin which is worth 1 gold coin in the game. Merge 3x Bronze coins and you will get a Silver coin worth 3 gold coins. The maximum you could get is 90 gold coins. So keep on merging to supplement your in-game finances and maybe use the amount to get yourself some extra energy!
8. Make Full use of Red Gnomes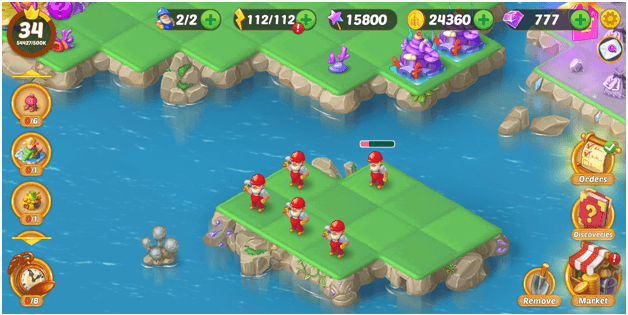 Red gnomes or instant workers are precious resources in EverMerge as they can they significantly decrease the time needed to make a building. These gnomes can be used on any item that requires less than an hour of building time, although they won't work on cutting trees or mining. Red gnomes speed up the game considerably, so get as many of them as you can onboard, especially if you are preparing to build a castle.
You also get those gnomes when you reach your objective faster is closely tied to luck. Sometimes as you clear new ground, already formed Red gnomes will be waiting for you as the fog lifts. Occasionally they will be blocked by trees or other items, and you'll need to cut the obstacles down before using the workers.
To use an Instant Worker, just drag them to the task you want them to work on. Tasks that are available should light up on the board when you start dragging the worker around. But you can only use an Instant Worker once. Once you use him, he'll disappear as soon as he's done working.
9. Use Magic Crystals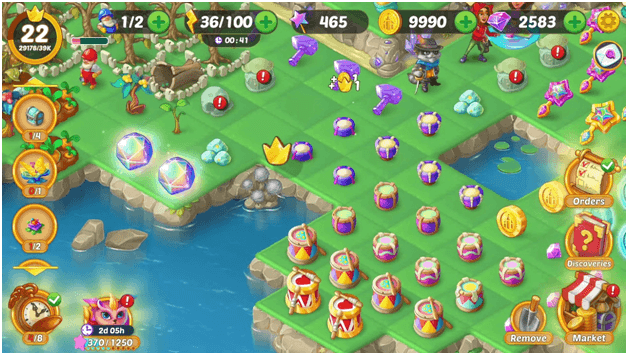 Magic crystals are another super useful resource which allows players to create better items by merging just two pieces. So for example if you have two Professional Hammers, just drag a magic crystal to them and they should merge to create a Red gnome, sparing you the time you would waste otherwise in creating a third Professional Hammer.
Players can procure Magic Crystals from the Market, but unfortunately, they cost quite a lot of gems. The better bet would be to start making them from scratch. The good news is that there are only 4 progression levels you need to complete in order to get your hands on a Magic Crystal. The process starts with Crystal Splinter and then evolves to Crystal Piece->Crystal->Magic Crystal.
10. Watch an Ad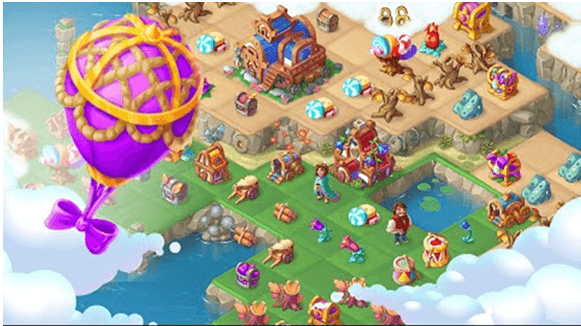 When you run short of coins, energy watch an ad. This is best option for players who cant wait to get free coins in a certain time duration. Like the creation of a Wooden frame requires 15 seconds with the help of standard blue worker gnome, but higher tier buildings can take a lot longer than that – a Wooden Mansion is the result two whole hours.
The feature is seldom available, so it is advised that you keep your eyes open and this is EverMerge Cheats and Hacks and whenever you notice the option, use it! Within the game this will help you to complete any build that is lower than 30 seconds instantaneously and you can do that by tapping on the Free button when it shows up.
11. Start Longer Builds at Night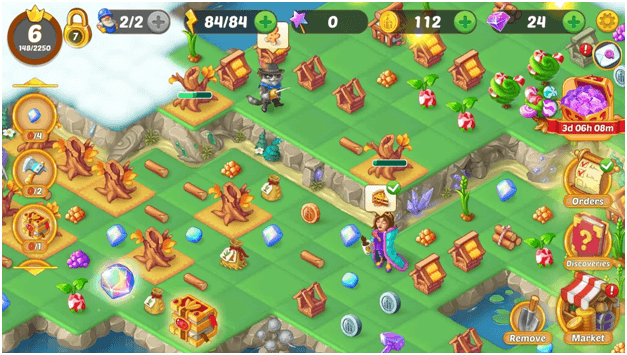 Its better to start moderately longer builds before you go to bed in this EverMerge Cheats and Hacks, as to avoid having to go through the wait during the day. As you wake up in the morning, the new structures will be ready for you. As for builds that last 24 hours and up, there's extra help at hand.
12. Look for Discoveries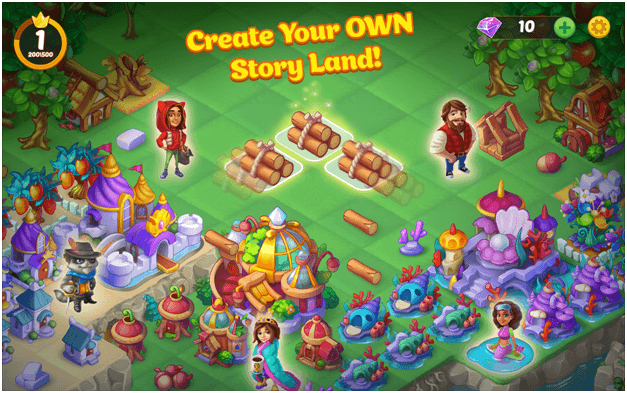 As the last EverMerge Cheats and Hacks make sure to check your Discoveries page every time you discover new items or characters: there will be a gift box waiting for you as a reward for each new item you unlock! Just tap on the gift to claim your reward.
Every time you make a new merge, the item is recorded in your discovery book. The discovery book shows you every single item you have created in the game, and everything is categorized by type of item. If you ever forget how to make a specific item, this is a good thing to reference.
Even better is that if you have made a new item for the first time, you can collect a one-time reward of a few coins from it. Keep merging new items and you will be rich!
How to Get Started with EverMerge?
Its simple to get started. Pick your gaming device, cell phone, PC or Tablet
Download the game from app stores
Click here to download for iPhone
Click here to download for Android
Now begin to play as guest or play with your Facebook ID.
You are offered free coins and free energy to begin.
Reveal hundreds of items to drag, merge and match together! Create multiple combos to reveal new evolutions and fill up your Discoveries book!
Remember again this game is free game and doesn't cost anything. If you want to buy more free coins then there are in-app purchases within the game. Interested in casino games then join a legit online casino. Goodluck!
FAQs
Q1. What is the benefit of signing in, in EverMerge?
Signing in allows you to link your game to either a Big Fish account or Facebook account (or an Apple account if you are on an iOS device).
By signing in, you save your progress, allowing you to:
Play the same profile across multiple devices
Restore your progress after:
Getting a new device
Uninstalling and reinstalling EverMerge from your device
Resetting your device
Q2. How do I Sign in?
Just follow these steps to sign in to the game:
Open EverMerge
Tap the golden gear icon in the top-right corner
On the Settings screen, tap the blue Connect button
On the next screen, you'll see 4 options (from top to bottom):
Sign in with Facebook
Sign in with Apple (again, this will only appear if you're on an iOS device)
Register with Email – Create a NEW Big Fish account to Sign In with
After selecting your preferred Sign in option, follow the prompts that appear
Q3. What if you don't see the 'gear' icon?
If you recently installed or reinstalled EverMerge, and find yourself back at the initial game tutorial, keep in mind that you will not immediately see the 'gear icon' mentioned above. Instead, you can tap the purple Restore Progress button in the bottom-left corner, to jump straight to the Sign in screen.
Q4. What is merge and how to merge?
Merge means put together. Merge identical items together to upgrade them, unlock magical fog, and rescue the Fairy Tale characters!
To combine items, just drag them together on the map. At least 3 of the same item need to be combined, to merge and upgrade them.
If you combine 5 of the same together, you'll create 2 upgraded items!
You can make an unlimited number of merges, but you'll want to manage your resources well to be able to rescue new characters as quickly as you can!
Once you've cleared away a patch of fog, it will reveal obstacles beneath, like dead trees, logs, and more. These will need to be removed before you have access to the land beneath.
Once you have the Candy Tree, it will produce candy, which can be used to fill recipes, requested by your characters.
Q5. How to build castles?
Castles are the final phase for each building type. You can only build 1 Castle of each type.
Unlike most other types of items in the game, which require 3 identical items to merge and upgrade, Castles require 4 items.
You can upgrade your Castles. Feed them lower tiered pieces from the same family of buildings until you've unlocked all the Castle stars.
Note that each main building family has its own specific pedestal. Castles need to be built on the specific pedestal from that building family.