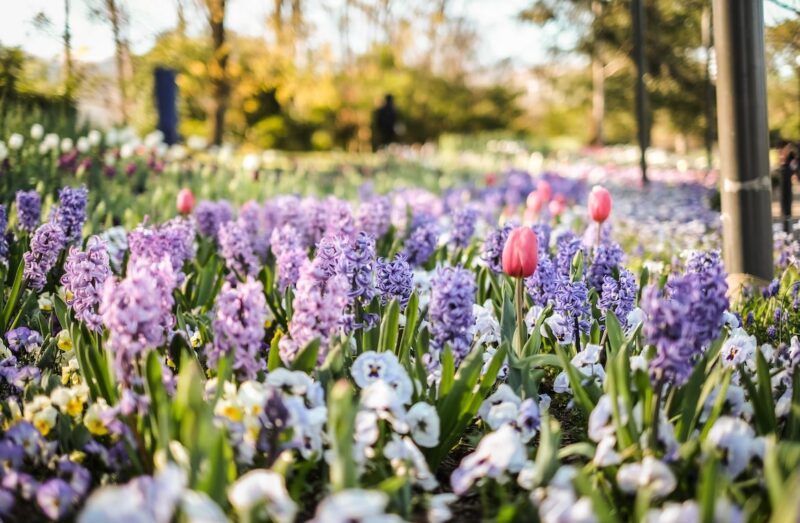 Places to visit this spring reminds me of the following poems:
"From you have I been absent in the spring,
When proud-pied April dress'd in all his trim
Hath put a spirit of youth in every thing,
That heavy Saturn laugh'd and leap'd with him.
Yet nor the lays of birds nor the sweet smell
Of different flowers in odour and in hue
Could make me any summer's story tell,
Or from their proud lap pluck them where they grew;
Nor did I wonder at the lily's white,
Nor praise the deep vermilion in the rose;
They were but sweet, but figures of delight,
Drawn after you, you pattern of all those.
Yet seem'd it winter still, and, you away,
As with your shadow I with these did play"- William Shakespeare (Sonnet 98)
Spring has sprung and everywhere the creator has spread beautiful vibrant colors in nature's landscape. Flowers, fruits, new leaves and the sunshine hue on them is awesome to watch. There is spring beak at the colleges and universities even extended to the Easter holiday in some institutions.
According to a scientific fact, Spring brings growth back to plants and trees. A successful spring leaf growth ensures a cool canopy to relax under during the hot summer.  It's amazing what a little sunlight, moisture and warm soil can do for plants and grass. Plants convert sunlight into energy and produce the pigment chlorophyll, which turns them green. Also it's not just nice to look at—a study found that people who saw green before a challenge came up with more creative solutions. Spring's green plant life will hopefully do the same.
8 Most Beautiful Places To Visit This spring
Spring is the ideal time to visit most popular vacation destinations. Before the peak summer crowds roll in, travelers can often find pleasant temperatures, fewer tourists and affordable lodging and airfare rates. In fact, the season's just kicking into gear, seeing as the cherry blossoms haven't blossomed, and that magical sundress day remains imminent here are the eight most beautiful places in the country to visit this spring.
1. Washington DC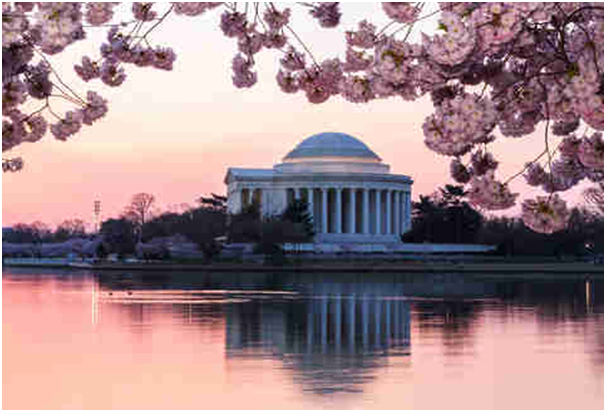 Washington DC is most beautiful places to visit this spring and this destination you can visit when it is blanketed in pink when each of its thousands of cherry blossoms comes into bloom. Around mid-April, you'll glimpse over 3,000 cherry blossom trees accentuating the capital's impressive monuments.
You can attend the National Cherry Blossom Festival, which takes place from the last week in March to the second week in April. You can view the flowers up close, or participate in the cherry blossom parade, the blossom kite festival, or the Pink Tie Party fundraiser. You'll want to start your tours early, as the festival brings some 1.5 million visitors to the nation's capital.
2. Savannah Georgia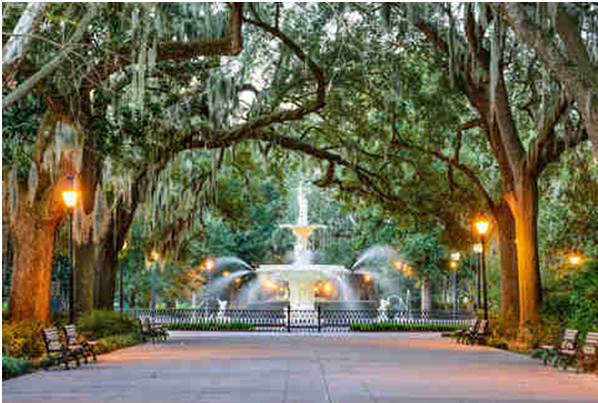 Springtime brings Savannah at its best, with friendly people, and plenty of sweet tea to slake your thirst. You can adore these places to visit this spring and the architecture from conservative Victorian Regency and Federal houses to grandiose Italianate and Greek Revival mansions. With 22 town squares overflowing with Spanish moss, colorful azaleas, spectacular fountains, and historic monuments, you can grab a drink on the riverfront and watch the ships come in, or hop on a trolley for an informative tour of the city's historic district. Also it's pretty cheap to fly there from a number of big cities, so you'll see a charming Southern city at a pretty price point.
3. Holland Michigan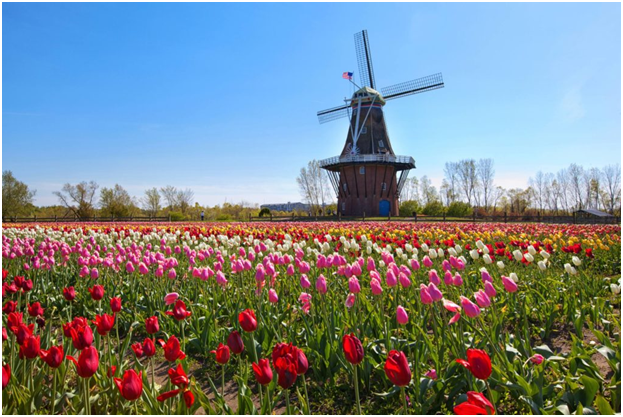 Holland, Michigan, is another awesome places to visit this spring. It is an outpost of Dutch culture and tradition in the midst of the American Midwest, home to dikes, canals and even an authentic Dutch windmill. Proud of its heritage, the city purchased 100,000 tulip bulbs from the Netherlands back in 1927, and these colourful flowers still fill the city's gardens and parks with colour annually, just in time for the famous Tulip Time Festival, attended by over half a million people every year. The festival celebrates the state's Dutch heritage and features three parades, carnival rides, and traditional Dutch food. You don't want to miss this stunning spring getaway do you?
4. The Grand Canyon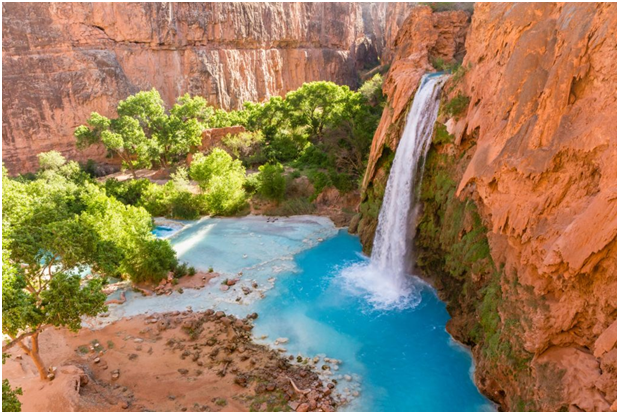 After compiling data on traveler and expert recommendations, the U.S. News & World Report named the Grand Canyon the number one best places to visit this spring and the spring escape. Because spring is the offseason, you'll enjoy shorter lines and better views. Most visitors spend three nights/two full days and then go to other parks such as Bryce (where it could be snowy) or Zion( where it should be very nice). There is a smooth water raft trip there in April.
You'll likely find a slew of seasonal deals and festivals, as well as discounted airfare and lodging, too. Plus, it's never cold (during the day) here, making it the perfect place to go in those early weeks of spring where the weather is still iffy.
5. Ennis Texas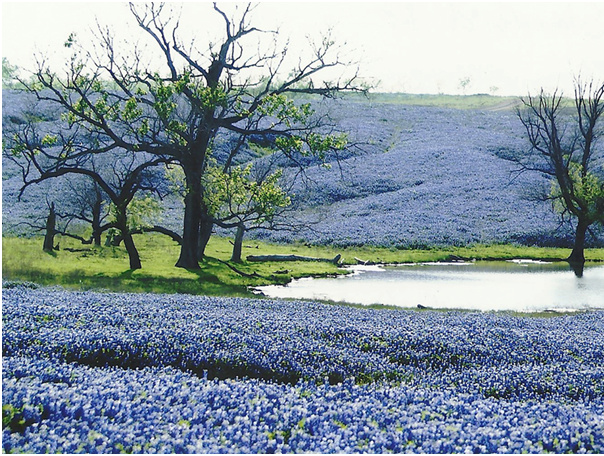 Ennis is a city in Ellis County, located south of Dallas another best places to visit this spring. It is the official Bluebonnet City of Texas. Head here in mid-April to view the prairie in its most beautiful form covered in wildflowers. Because the flowers are such an attraction, the city's visitor's bureau keeps tabs on where the best flowers are on the trails at all times.
6. Charleston South Carolina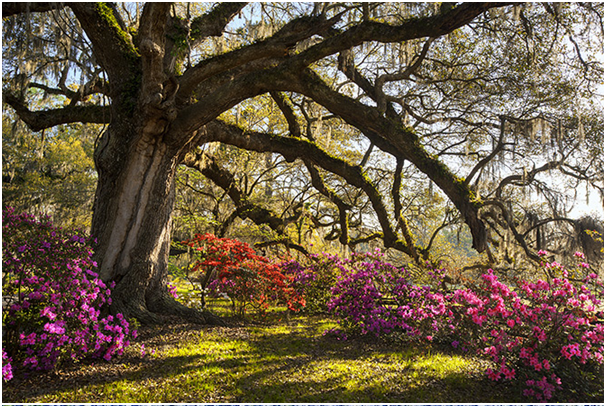 Live Oak trees dripping with Spanish Moss hang over the spring flowers of the azalea bloom at Magnolia Plantation along the Ashley River near Charleston SC. Spring in Charleston offers a stunning array of colorful blossoms nestled in historical settings that evoke visions of scenes long forgotten. Delight in hanging moss, cobblestone streets, and historic mansions. Also because of year-round pleasant temperatures, this places to visit in Spring as you might even hit a beach day in March or April. At the very least, take a stroll through Charleston Waterfront Park for lovely views of the Cooper River.
7. Branson Missouri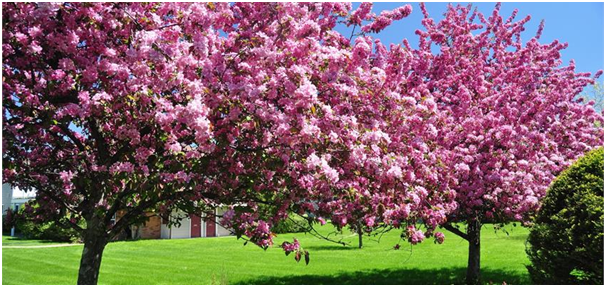 Tucked amid the Ozark Mountains another best places to visit this spring, Branson's Table Rock Lake, Bull Shoals Lake, and Lake Taneycomo boast some of the clearest water in the region, while lush green, lakeside grounds have made the area a prime golf destination. But it's got more than just resort good looks; there's a rustic feel to its Twin Peaks-style wood cabins, dotted about forestland full of pine trees.
Branson has been described as the Midwest's answer to Las Vegas before, which might not be the best compliment on Earth, and the real charm is found away from its tacky tourist "strip."
8. Coeur d'Alene, Idaho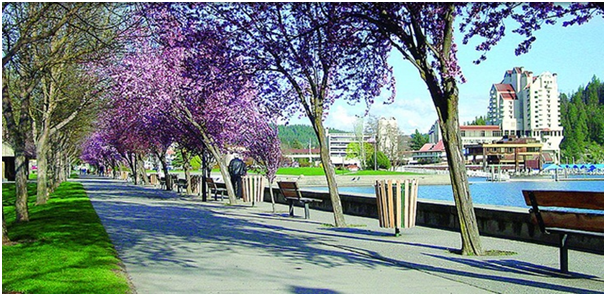 Swing into spring at one of the world's top golf destinations and places to visit this spring. Coeur d'Alene is home to the famous floating green and several other beautiful and challenging courses. As the weather starts to warm, it's time to head outside. In the city, don't miss the Downtown Art Walk, the Wine Extravaganza, the weekly Downtown Farmer's Market, Live After 5, and Car d'Lane.
Advantages of Spring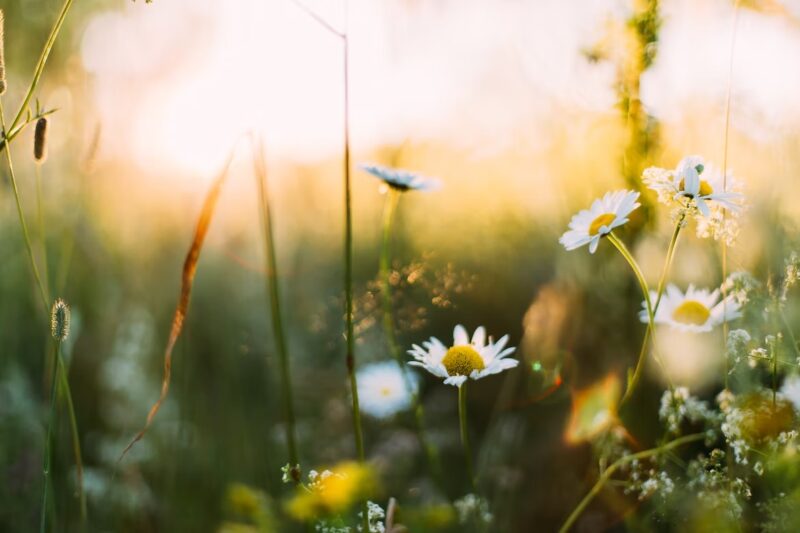 You get more time as the day is longer. You can stay out till late evening and discard the winter layers. It also gives people the opportunity to play outside after dinner with their children or take relaxing evening nature walks among the trees. Longer days are just one of the many good things about spring.
There is more sunshine. Spending time in the sun doesn't just feel good physically; it also has many health benefits. The sun's rays help your bodies produce vitamin D, improve sleep patterns, and produce serotonin in the brain, which can boost your emotional well-being.
The nature is at its best. Animals hibernating in winter come out in sun and those who flew south for warmer climates are finally back. Hearing the happy chirps of birds or catching the first glimpse of your local wildlife are certainly reasons to love spring. Not only that, but spring is the season when many animals reproduce. If you're lucky, you may get to see a baby rabbit, deer, or skunk during one of your nature walks.
Similarly the flowers are at bloom. One of the best parts of spring is that beautiful flowers begin to bloom again. It's wildflower season in many places, with hills and canyons dotted with bright florals. It's also cherry blossom season, and it's a joy to experience the beauty of those delicate pink flowers in full bloom.
While what's in season varies by region depending on climate, most people can expect to find apricots, arugula, beets, asparagus, cherries, and other delicious fruits and veggies at their peak in spring. Spring is a great time to head to your local farmer's market to pick up old favorites and find new things to try.
Besides these beautiful places to visit you can also enjoy lots of spring festivities going on in the country like the New York sounds of spring international music festival or the Spoleto Festival or the Tucson Tango festival being celebrated in Casino Del Sol.
Also enjoy various spring coupon codes exclusively offered by US online casinos for you to enjoy some great casino slot and table games while you enjoy your spring season.