Most of our land based casinos in US have started enrolling their online presence over the internet. Many have their own online casinos and most of them have started developing social casino or free casino or free game apps for mobile players. Coronavirus is one cause that land casinos are making a switch towards online gaming so that punters are at ease visiting and playing real money land casino games now with their PC or cell phone.
If someone asks you which is the Guitar casino in the US, at once many will say Seminole Hard Rock casino. It's a hotel and resort with a casino near Hollywood Florida in the United States. The property currently has one hotel tower, a 140,000 sq ft casino, a large poker room, a 4 acres lagoon-style pool facility with a center bar, and many private cabanas, restaurants, shops, spa, bars and nightclubs, and the Hard Rock Event Center. Lately, a large expansion was completed in October 2019.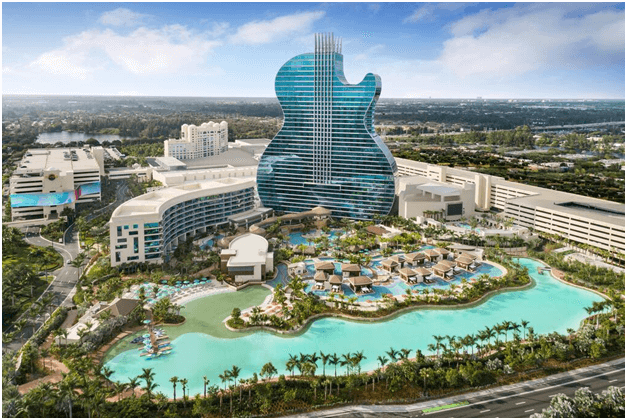 The games are simply awesome as the casino has a number of slot machines and various table games including blackjack, baccarat, mini-baccarat, Pai Gow poker, Let It Ride and three-card poker. The casino does not have live craps and roulette, although there are electronic versions of those games available.
The Hard Rock has 12 casinos in the U.S., and it was on schedule to open three more this year.
Here find the best 3 Wonderful Hard Rock Casino Free Apps to play and win. Recently this year in March 2020 the casino released its new Blackjack and casino app in alliance with Kama Games. Below are given the links to download these free apps and play awesome casino and puzzle games as long as you want.
1. Hard Rock Bubble Shooter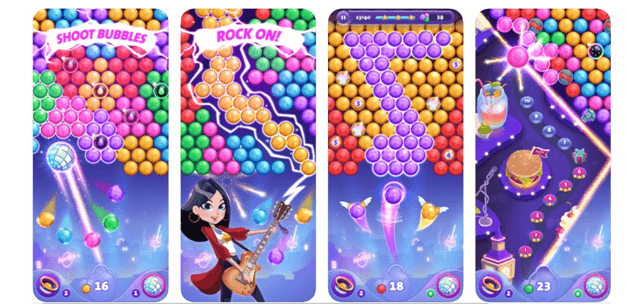 Hard Rock Bubble Shooter will obviously entice you with colored bubbles all around to blast them. This is puzzle sort of game app available at app stores to download on your cell phones and play for free. Like any other game app you keep on playing and moving up in the game levels.
Each new level has a different target you need to reach, so plan your moves carefully and fire away. With plenty of awesome brain-teasers and quests, Hard Rock Bubble Shooter provides endless hours of excitement and fun!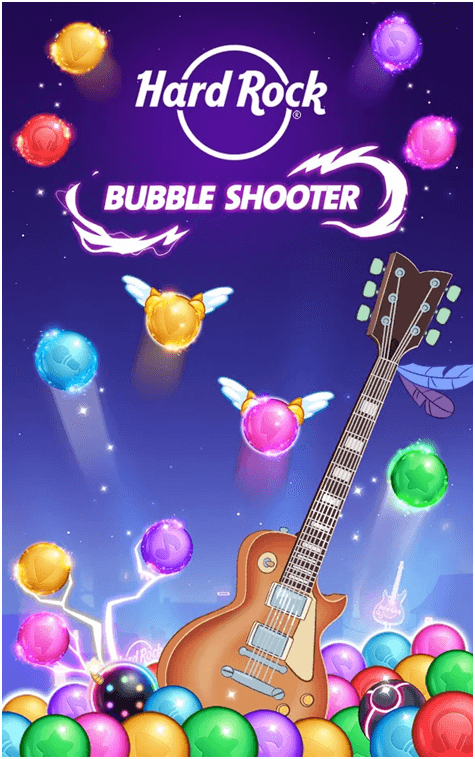 If you match 3 or more balls of the same color to pop and smash your way around tricky challenges. Train your brain and color matching skills as you advance along the map and unlock more fun puzzles.
The best feature of this game app is that you can even play offline or online that's your choice. All you need is to tap on the screen to shoot balloons, make combos and plan your moves to clear the board. There is no time limit so you can play at your own pace and enjoy the most relaxing arcade game.
All you need is to drag your finger to move the laser aim and lift it to smash bubbles. Match at least 3 balloons of the same color to pop the combo and win points. Blast and crash all the balls to level up. You can swap bubbles and plan your moves in this exciting worldwide adventure. As you play you can unlock power-ups and match them with each other to generate big explosions. Drop 10 bubbles in a single shot to get a Disco Ball that will burst the surrounding bubbles. Pop 7 bubbles in a row and to get a Sonic Cannon that will cut through a pass.
Click here to download Hard Rock Bubble Shooter for iPhone
Click here to download Hard Rock Bubble Shooter for Android
As free coins are awarded to play this game, the game app offers in app purchases if you want more.
2. Hard Rock Crush & Pop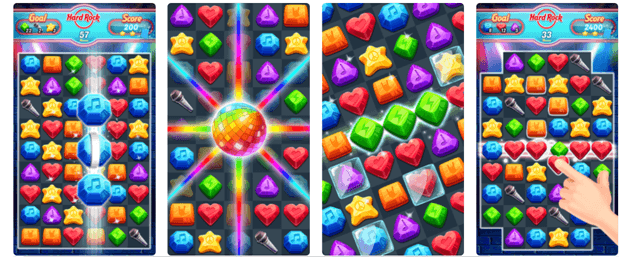 This is another wonderful puzzle game from Hard Rock Casino to join the worldwide adventure through amazing locations around the world! With beautiful graphics and designs, cool collection items and exclusive boosters, you simply won't put it down.
Play the most addictive match 3 puzzle game for free, travel along the map, collect awesome items and complete your card collection. Indulge yourself in this extremely addicting match 3 puzzle journey, swap and crush your way through hundreds of fun levels, beat the challenges and clear levels.
Play now and test your puzzle-solving skills as you progress through the game. Clear levels to unlock additional puzzles and surprises as you explore exciting landmarks and cities around the world. This you can do by making rows of at least 3 items to remove them and clear the board. Overcome the obstacles and collect awesome collection pieces. Make special matches and combinations to unlock unique boosters that will help you blast through the challenges. Also if you solve all the puzzles and collect quest cards on your exciting journey!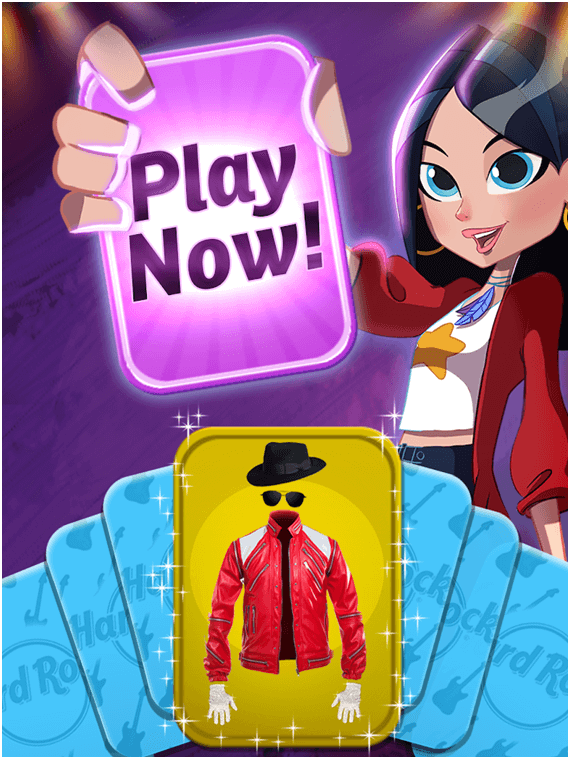 There is map to visit the different cities and complete the challenges. From London to Las Vegas, New Delhi and Barcelona, visit all the famous locations and find out what each city has in store for you! Even you can book your stay at the Hard Rock Hotel and Casino. Each city has a special set that you have to complete, match the items, win levels and claim the card.
Spin the wheel and win awesome daily bonuses, power-ups and gifts. Also slide and match amazing items, make powerful combos and master the challenges! This game app allows you to play with your Facebook friends.
Click here to download Hard Rock Crush & Pop for iPhone
Click here to download Hard Rock Crush & Pop for Android
As free coins are awarded to play this game, the game app offers in app purchases if you want more.
3. Blackjack and Casino
Hard rock casino offers two such casino apps: one is social casino and other is Blackjack and casino. In collaboration with Kama games this app is a must for every player to play free Blackjack.
Hard Rock Blackjack also includes a fully comprehensive and market-leading social poker game based on the Pokerist Texas Poker model, currently the third-largest social poker game in the world.
Here you discover the world of online Hard Rock Casino games: blackjack, slots, video poker, roulette, Texas Hold'em poker and many more! Invite friends to play online for free and enjoy amazing 3D graphics and smooth gameplay!
In total there are 10 games to choose from. Play Blackjack and Roulette with a stunning 3D interface. Play the game every day to get free chips and get rewards as you up the stakes, win hands, go all-in and unlock achievements. Also, you can try your luck at craps, video poker and baccarat. Challenge the dealer in Split Bet Poker and Set Poker!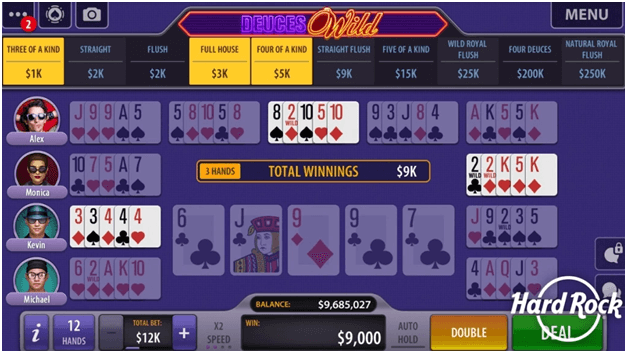 You can participate in WEEKLY Sit'n'Go and Shootout tournaments, where you can WIN unique trophies or millions of chips and top of the Leaderboard! Mix up your Texas hold'em poker game with unique game modes and get amazing combinations! The most popular offline tournaments are now available online! Play at several tables with lots of worthy competitors and reach the final table!
Social interaction between players will be made possible via a range of creative chat options such as in-game instant messenger, animated emojis and the ability to send gifts back and forth throughout the many highs and lows of a game.
To get more free chips to play you have to complete daily quests to get free chips! If you don't know any of the table game to play simple-to-follow tutorials given in the app and it will help you take the first steps. Quickly learn everything you need to know about blackjack, roulette, slots or poker, from the game rules to winning combinations.
Click here to download Blackjack and casino for iPhone
Click here to download Blackjack and casino for Android
As free chips are awarded to play this game, the game app offers in app purchases if you want more.
Note that all these best 3 Wonderful Hard Rock Casino Free Apps to play and win offers no possibility of winning money or anything of value. You play with virtual currency that is coins and win free coins to play more.