Hitting jackpots is every gambler's fantasy regardless of the payout amount. With the introduction of the new Re-spin feature by renowned software providers like Microgaming and RTG, the possibility of getting a winning symbol combination is now much better. Players will find the re-spin button at the bottom of each reel in re-spin feature enabled games with bearing extra money to get the advantage of it. It is similar to the spin button and can be useful while other reels have stopped rolling and you are away from only one symbol to make a winning sequence. It's another modernization that brings more pleasure to online slot game lovers. Here are 10 Slot Machines with Re-Spin Feature.
Before making use of re-spins, reviewing the game rules once is essential. Re-spins, often activated just once, although some fruit machines allow up to 20 re-spins.
10 popular re-spin feature enabled slot games
1. Battlestar Galactica Slot – 10 Slot Machines with Re-Spin Feature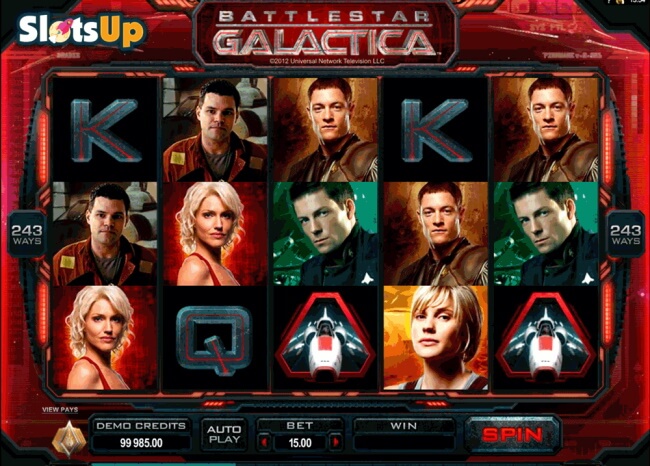 This slot is one of the visually impressive slot titles with amazing graphics, sounds, and animations.
It has five reels and a whopping 243 ways in which to win on them, and as ever you are looking to match three or more to scoop some main game prizes.
You can use Run and Fight games modes which are lucrative in their own right. You can even unlock additional game content via the Ranking Achievements feature, where the opportunity to work your way up from Civilian to Admiral awaits.
Space Invader
For a 1.50 total bet, you will earn 0.25, 0.50, and 2.00 for spinning three, four or five of the Ten symbol on your reels, while the Jack and Queen pay 0.35, 0.75, and 3.00 respectively.
The King and the Ace pair earns 0.50 for spinning a treble, 1.00 for a quadruple and 4.00 for the full quintuple.
Coming to the characters who are going to help you make some serious moolah. Tyrol and Ellen are the major ones, and this deadly duo delivers 1.00, 1.50 and 5.00 for three through to five. And then the pairing of Helo and Colonel Tigh get involved and help you to blast your way to 1.25 for three, 2.00 for four and 10.00 for five.
The penultimate pair is Six and Baltar, and these guys are in a particularly generous mood. When you spin three and you'll earn 1.50, four pays 2.50 and five rewards players with 15.00. And finally there's the big two: Apollo and Starbuck. This handsome duo returns even more handsome payouts; 1.75, 3.00 and 20.00 to be precise.
Star Spotting
You will find 15 free spins when three or more of the scatter symbol appears on the reels in any formation, with a x3 multiplier just the icing on the cake.
It also has two special features that separate Battlestar Galactica from the other Microgaming slot games on this stratosphere. There's the Run mode, which creates an effect on your symbols. The FLT symbol on the middle reel will cause any of the Royal symbols to leap from the screen and create additional rewards.
Spectacular Galactica
The major game prizes are pretty lucrative, with a top prize of 20.00 on offer for a mere 1.50 bet offering a decent return. The scatter and wild features will keep your pulse racing, and those two special bonus games are a fabulous inclusion and a credit to Microgaming.
2. The Finer Reels of Life Slot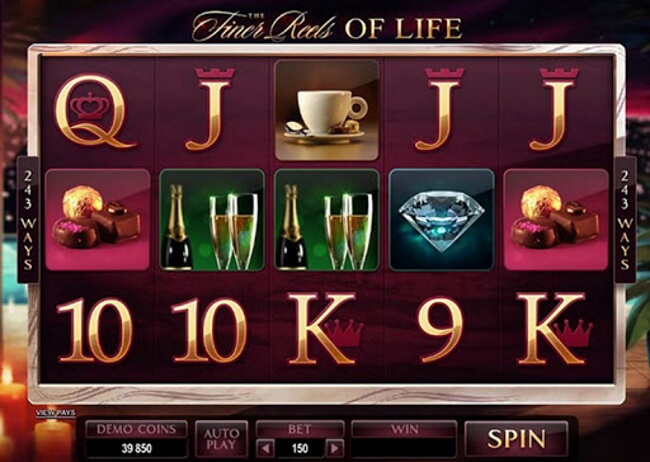 Spin one or two of The Finer Reels of Life, the amazing themed slot machine from the prestigious software developers, Microgaming. The game has 243 ways to win over its 5 reels and there are loads of tasty bonus features.
Learn the correct etiquette
Before start playing this lavish game, you better learn the appropriate slot machine etiquette. After all, you are going entering in to a world of pure opulence and sheer splendour.
In actual fact, there's not really a lot to it just you will need to change the size of your total bet before you spin the reels. This is easily done by simply toggling the arrows that appear underneath the "Bet" tab. This will only add or subtract the amount of coins that are in play, but you can also change the coin size by clicking on the "Bet" tab itself to reveal more options. You can select up to 5 coins of three denominations: 0.01, 0.02, and 0.05.
Because this is a 243 way to win slot, you don't have to worry about any particular pay lines.
Coffee & Chocolate: You can select from the first activation of the feature and it will give you 10 free spins with all wins multiplied by 5x.
Whisky & Cigars: This will give you 20 free spins with burning wilds which randomly turn other symbols into 2x or 3x multipliers. A 6x multiplier might appear when two symbols burn. This is available after the tenth round.
Wine & Cheese: You can take this after the fifth trigger of the bonus round and it will give you 15 free spins with a wild wine symbol which will randomly change other symbols into wild substitutes.
Champagne & Diamonds: After the fifteenth round, players can choose 25 free spins with a rolling reels feature. This means that all winning symbols will collapse to allow the above icons to drop. Each consecutive win will add a multiplier up to 5x.
You can also keep a look out for the wild celebration feature, which will randomly turn up to 5 reels into wild reels.
3. Jason and the Golden Fleece Slots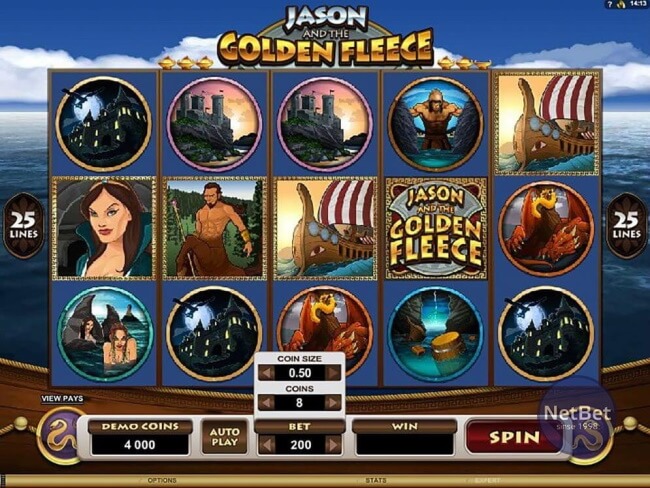 This will take you with the Argonauts and embark on one of the greatest adventures ever told – the mythical epic Greek legend of Jason and the Golden Fleece. It is an age old story of honour and bravery is recounted on the 5 reels and 25 paylines of this Microgaming slot machine in vivid graphical detail.
All wins are calculated by multiplying the value of the bets per line with the relevant pay out values of each winning combination, except for scatter wins which are offers irrespective of paylines.
5 coins is the game's lowest valued icon, so it is only going to get better from here. In fact, all location symbols offer an increasingly rewarding pay out up to the 750 which is given by Colchis. After that, five Argo symbols will pay 3,000 coins, five Argonauts will reward 4,000 and five Chiron icons will offer 5,000. Medea and Jason will pay out 7,500 and 10,000 respectively.
The Adventure
The objective of this quest is to find the Golden Fleece itself. And you might just do that if you stumble across three scatter cards – as depicted by the fleece. This will take you to the game's locations where you will be able to play different bonus games.
There are also some free spins to grab.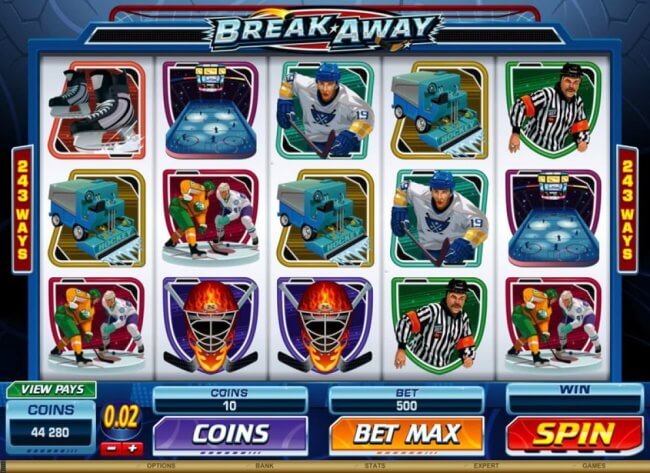 Give this slot a try if you are the biggest ice hockey fan on the planet. Inspired by sports, these slots have swept across the realm of online casinos much like Cleopatra once did and Break Away is one such slot.
This 5-reel slot features 243 Ways to Win and actually utilizes some nice technology in its almost photorealistic graphic renderings.
The animation and graphics are top-notch. Symbols include the Hockey Rink, Hockey Masks, Ice Skates, Sticks, Biscuit in a Basket, and Flaming Pucks, all classic ice hockey icons.
Wild Feature
This feature is randomly triggered, and it can occur within a spin or at the end of any spin. When triggered, a player might skate his way to the middle of the reels smashing it down, or 2 players might skate and crash in the middle, turning the middle reel into an expanded wild.
Best for High Rollers
Break Away is an online slot that will most likely appeal to mid-budget bettors, as its betting range runs from 0.50 to 50.00. if you enjoy a little risk, but not too much, will find the betting range comfortable in Break Away.
5. Enchanted Beans Slots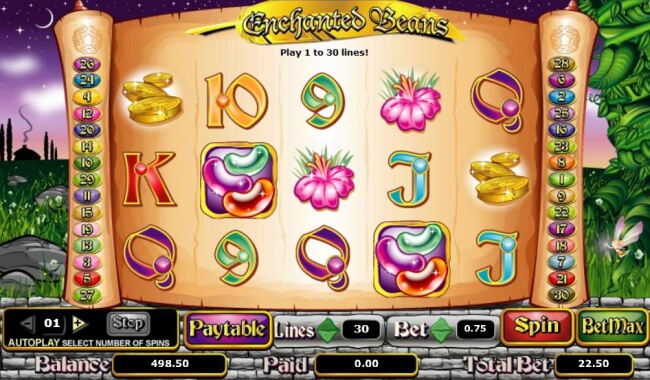 You can bet on up to 30 lines set on 5 reels and hope to find the boy who triggers the big-earning Re-Spin Feature in this enchanting Mac-friendly online slot game with lots of rich features and loose fun!
If you are a high rollers, take note-the maximum bet for this game per spin is a whopping 600.00 coins! It has great potential to payout a life changing amount of money to a high-stakes slot player who likes to bet big on online slots like this one.
Classic Fairy Tale
This slot tells the story of a young boy who acquires some magic beans that grow a massive beanstalk that reaches to the sky. When he climbs up the stalk, he discovers a giant's castle atop the clouds and then begins an adventure to capture a golden treasure and take it home.
All of the symbols come from this classic tale, and the highest-valued one depicts the giant's red-roofed castle nestled on a cloud. Next in value is a pink-winged fairy playing a golden harp, then a pink flower and three golden coins share the third-highest denomination.
Scatter Symbol
It features three magic beans that look rather like jellybeans in green, purple, and orange. Though the scatter often opens free spins in video slot games, in Enchanted Beans, it simply serves to award extra coins.
Bonus Games
A boy wearing a red shirt, blue hat, and cheeky grin appears on the substitute symbol, which acts as a wild by substituting for all symbols except for the Scattered Beans and the Golden Axe.
6. Wizard of Oz Slots -10 Slot Machines with Re-Spin Feature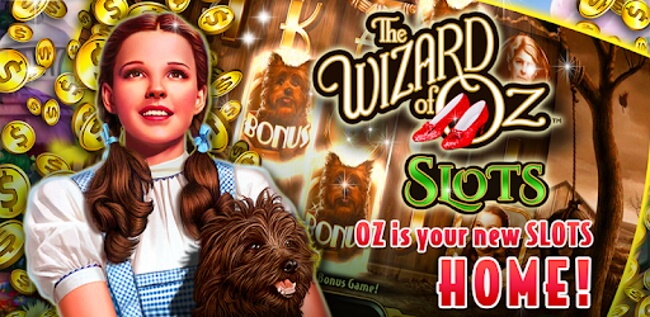 It is a free Vegas-style casino slot machine game from The Emerald City! Spin casino slot machines with the magic of The Emerald City! You can play slot machine games with huge wins and incredible pay-outs.
Unlock casino slot machines on your journey down the Yellow Brick Road with your friends and send FREE GIFTS.
This game is meant for an adult audience and does not offer real money gambling or an opportunity to win real money or prizes.
7. Cosmic Fortune Slot Game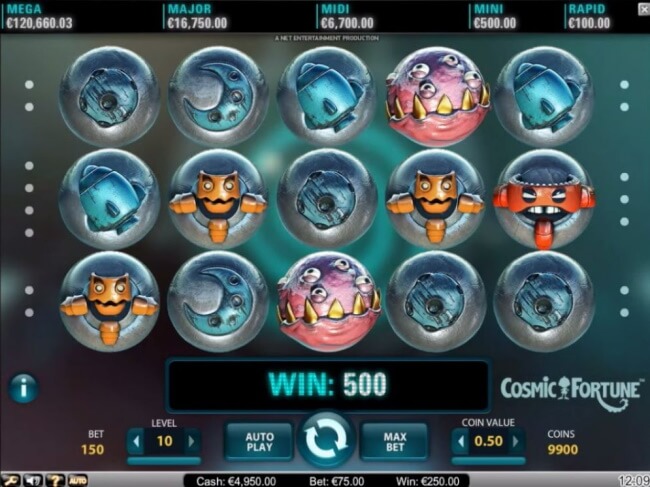 It is a fun game based on an alien invasion, with 5 reels and 15 paylines. The game is packed with jam packed with features and one of the best progressive jackpot slots online.
Graphics and Animations
It has impressive symbols which included a few monsters, a gold colored character, the moon, and other space themed items. Animations are plentiful and the game moves smooth as silk. It does well with the 15 pay lines mixed in. Overall gameplay was very smooth, with no lag experience.
Gameplay
It is a 5 reel, 3 row, 15 payline video slot that includes scatter symbols, wild slots symbols, and progressive jackpots.
8. Rain Dance Slots – 10 Slot Machines with Re-Spin Feature.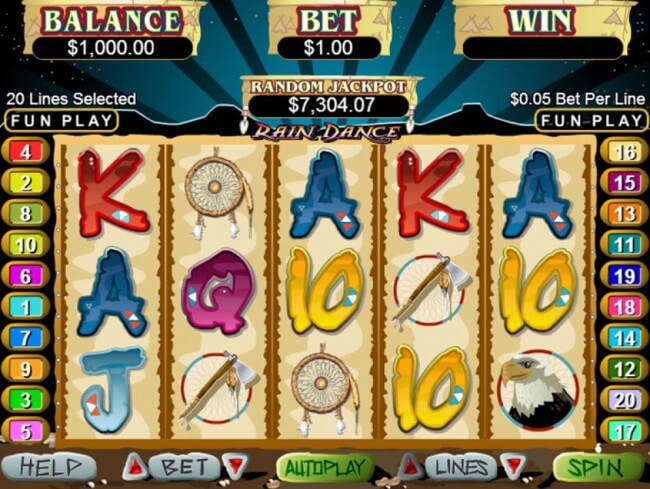 It is a slot machine by RTG – you'll be handsomely rewarded. You can also win prizes for finding lots of tribal artifacts including tomahawks, shields, and Wigwams.
There are bonus games to enjoy which include Scattered Coyotes which can award big instant wins, free spins, and prize multipliers, whilst there's also Wild Chief and a Random Progressive Jackpot.
Moonlit Madness
The Chief thinks the best time to perform a rain dance is night time under the gaze of the moon.
Rain Dance Rewards
The chief will offer you a load of letters and numbers if you want to try and come up with a winning formula, and doing so could win you up to 200 times your line bet. All other prizes also multiply your line-bets with tomahawks up to 250x, shields up to 500x, vultures up to 1,000x, and wigwams up to 2,500x.
9. Ronin Slot – 10 Slot Machines with Re-Spin Feature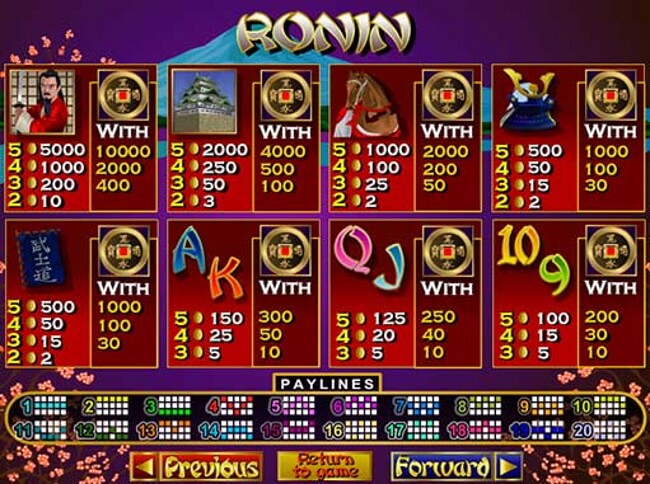 You can reap rewards by hunting down rogue Ronin Samurais. As a Real-Time Gaming product, this is a great game to play on a big screen like those you'll find on a desktop computer or laptop whilst, with spin-stakes starting at just 0.01 coins a spin, you don't have to be too brave to undertake this epic quest.
Ronin Rewards
You'll receive rewards of up to 500 coins for finding numbered and lettered clues to the Ronin's whereabouts, up to 1,000 coins for stealing their horses, and up to 2,000 coins for finding their hideout.
10. Pinocchio Slot Machine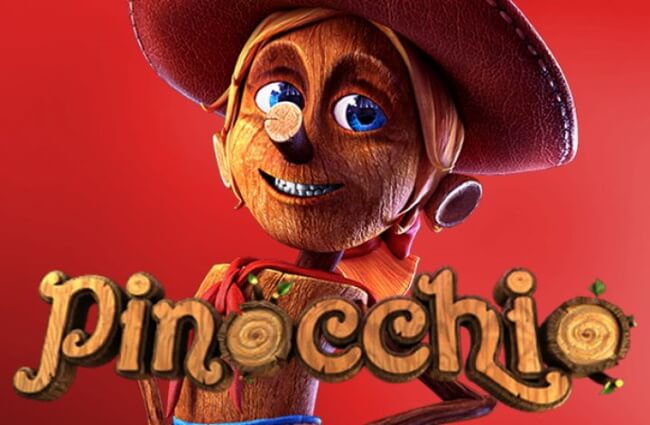 It is an online video slot game developed by Betsoft with a re-spin feature. It is based on the popular 19th-century book by Italian author Carlo Collodi and the even more popular Walt Disney Film.
The game has 5-reels which offer a choice to play with a variety of winning lines. These including 1, 3, 5, 7, 9, 13, and up to a maximum of 15. It also features a free spins bonus game.
Features
The lowest payout for three matching symbols is 5 for some of the letters; with the maximum three symbol payout being 20. Four symbol payouts vary between 15 and 75; whilst five symbol payouts range from 60 to a maximum of 500 for five matching Pinocchios.
Synopsis
Play these slots with re-spins feature available for free or real in America's top online casinos with no obligation.