Best shopping Apps are not just for Christmas and the New Year celebrations but for every time shopping for yourself, family and friends. Many enthusiasts still venture out no matter what may be but not to worry for those who want to be warm inside their homes as you know you can even shop online. Also if you want some discounts, rebate, best deals and want to compare the prices of your gifts then here are the 17 best shopping apps for you to explore.
Best shopping Apps
1. Shopkick (Android, iOS- Free App)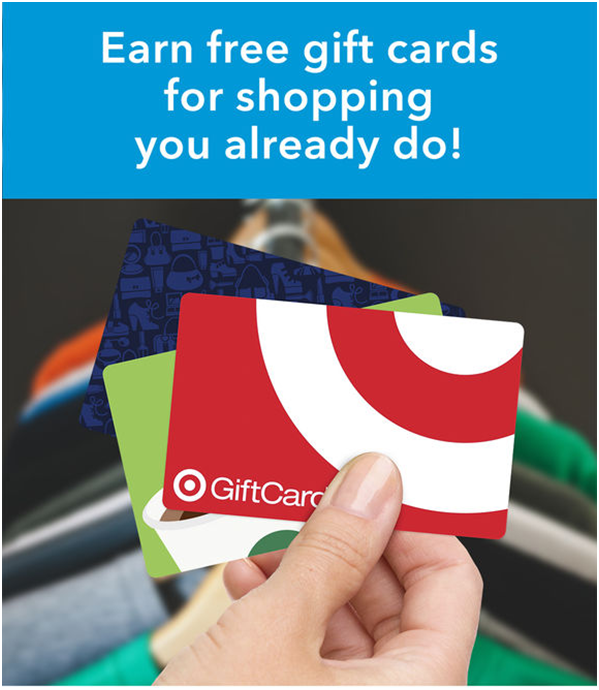 This addictive best shopping apps and rewarding app for local mall and participating store shoppers sends "kicks" whenever you visit stores, like Target, Walmart, Macy's, Best Buy, American Eagle and more. Also get more kicks when you scan items or make a purchase. You can then redeem kicks for gift cards, discounts and other promotional items. Even earn kicks by inviting friends or linking a Mastercard or Visa credit card. In addition to its reward points system. Shopkick features a variety of deals and collections of products to provide you even more savings.
2. WikiBuy (Chrome, iOS- Free App)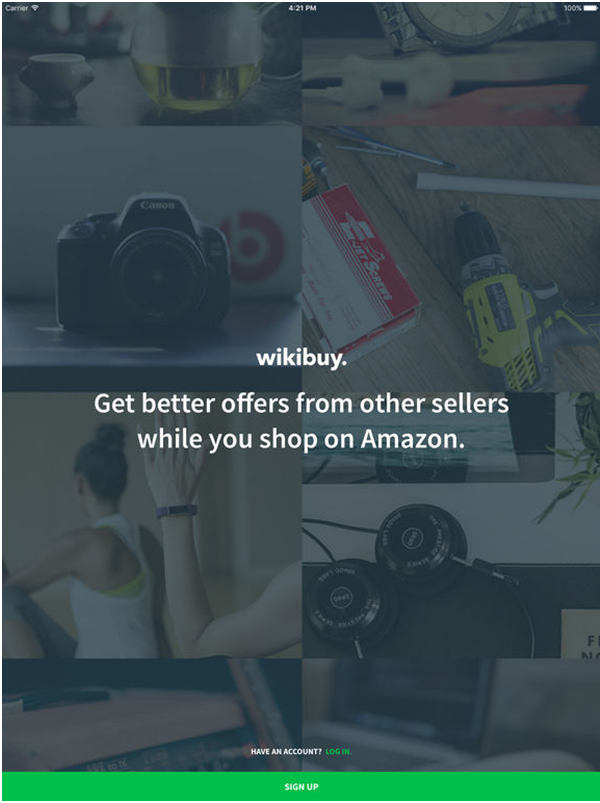 If you want to compare the prices then Wikibuy is the best shopping apps that sits neatly in the corner of your browser, scouring the web for the best possible deal based on which product you are looking at. While you shop on Amazon, Wikibuy gets better offers from other sellers like Walmart, Target, eBay, Jet, and others you might find with a Google search. Also get cash back at 2,000+ stores and automatically check coupons on supported sites. Within 15 seconds after you browse a product on Amazon, Wikibuy gives you a guaranteed offer – a delivery date, total price, and free shipping.
3. Temu App (Android, iOS- Free App)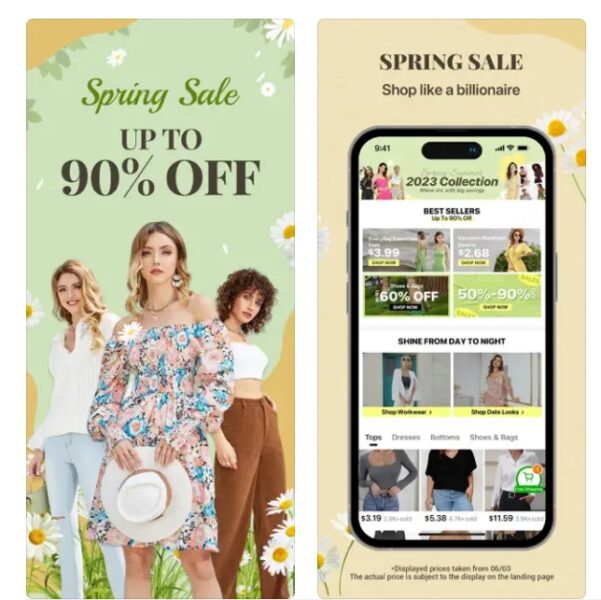 You can shop on the best shopping apps, Temu app for exclusive spring sale and enjoy up to 90% off.  From fashion to home decor, handmade crafts, beauty & cosmetics, clothing, shoes, and more, the products you'll love are just a tap away. You can always count on the Temu app to have the perfect things for you to live the life you desire.
You can discover thousands of new products and shops daily. Download Temu from Google Play for Android and install for iPhone.
4. Key Ring (Android, iOS- Free App)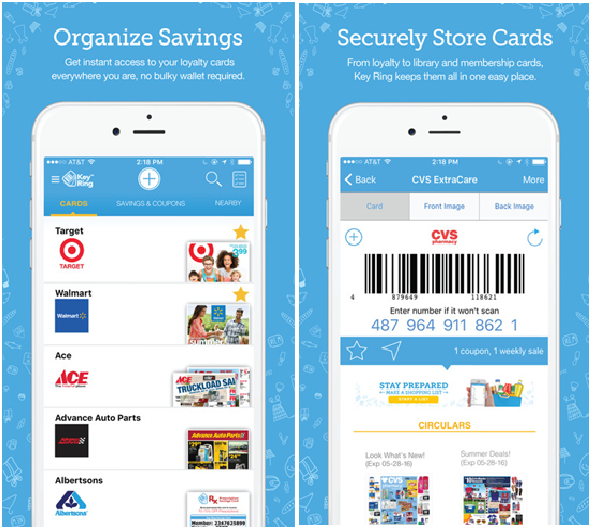 Key Ring boasts that you'll never need to carry another coupon, loyalty or membership card again. You can scan or input their reward card numbers, which can then be displayed in-store or shared to friends and relatives. In addition to scanning cards, you can also access a treasure trove of coupons, weekly sales and other rewards. Other great features in this best shopping apps include a shopping list function, the ability to sign up to a growing list of rewards programs, and back up reward and membership card data to the cloud for cross-device syncing.
5. Affirm (Android, iOS- Free App)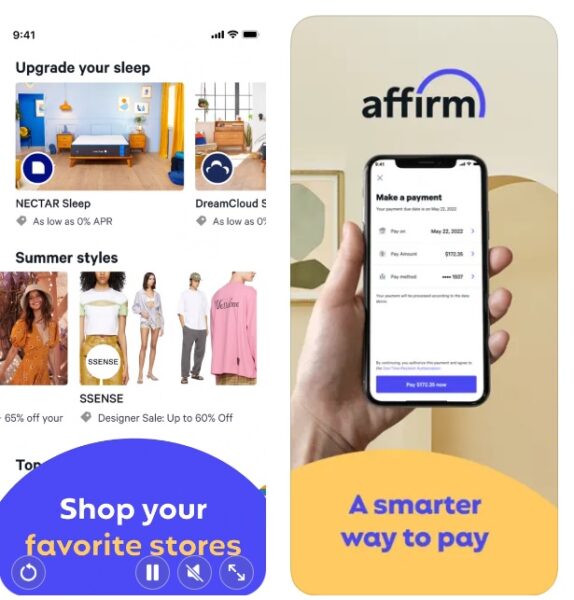 With Affirm best shopping apps you can shop stress-free at any store and pay over time with flexible payments. There are no late fees, hidden fees, or surprises—ever. This means buy now and pay over time at almost any store. Also you get access to exclusive deals and rates as low as 0% APR, Manage your account and make payments as well as open a high-yield savings account with no minimums and no fees.
Download for iPhone
You can shop your favorite store, find what you want, and choose the payment plan that works best for you and your budget. Complete your purchase online or at a physical store with Apple Pay or Google Pay. Your rate will be 0–36% APR. Payment options through Affirm are subject to an eligibility check, may not be available in all states, and are provided by these lending partners: affirm.com/lenders. Options depend on your purchase amount, and a down payment may be required CA residents: Loans by Affirm Loan Services, LLC are made or arranged pursuant to a California Finance Lender license. Affirm savings accounts are held with Cross River Bank, Member FDIC.
6. TTPM (Android, iOS- Free App)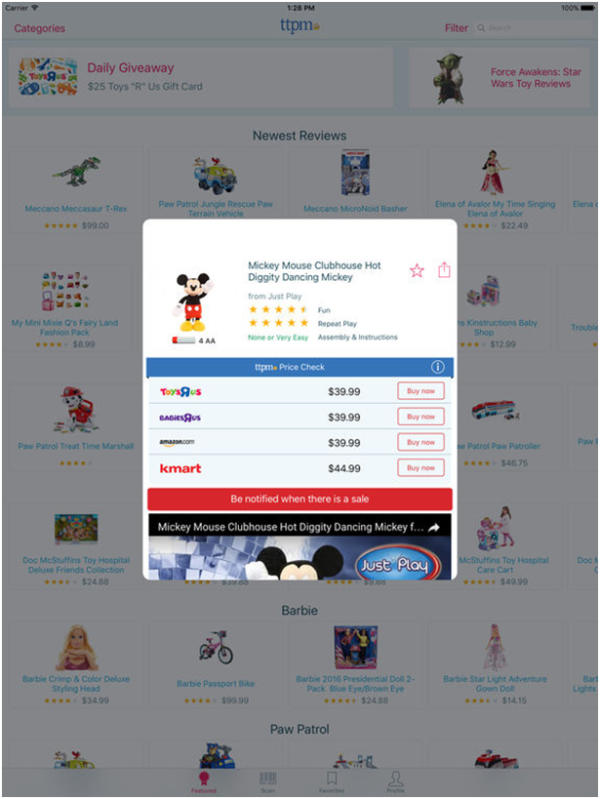 Now this best shopping apps is for toy shopping. If you are interested in gifting kids some toys then sure to go with this app. You can scan a product's bar code to look up reviews, price comparisons, and click-through links to major ecommerce sites. You can bookmark items at TTPM, check out trending products, and even create profiles for kids so you can separately track birthdays, gift ideas and more.
7. Flipp (Android, iOS- Free App)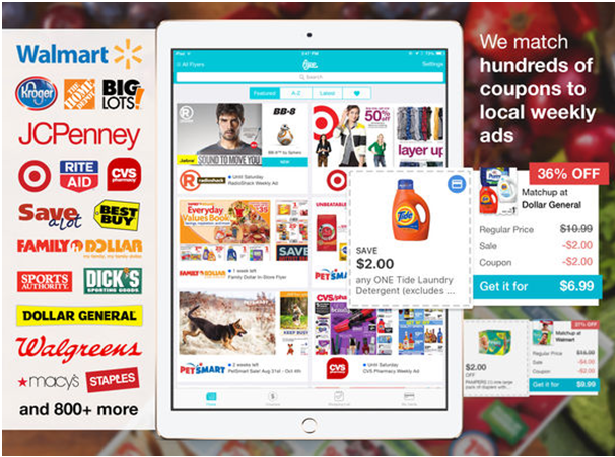 Flipp App is a handy shopping companion and best shopping apps, with the ability for shoppers to scan bar codes or search for an item to look up the best prices at top retailers and shops nationwide. Tag-based searching and also a sales tab also keep it easy for users to find and track the latest sales relevant to them, with daily updates on promos. You can even set a "SmartAlert" that notifies you of special deals that fit a particular profile for products that you're looking for.
8. ScanLife (Android, iOS- Free App)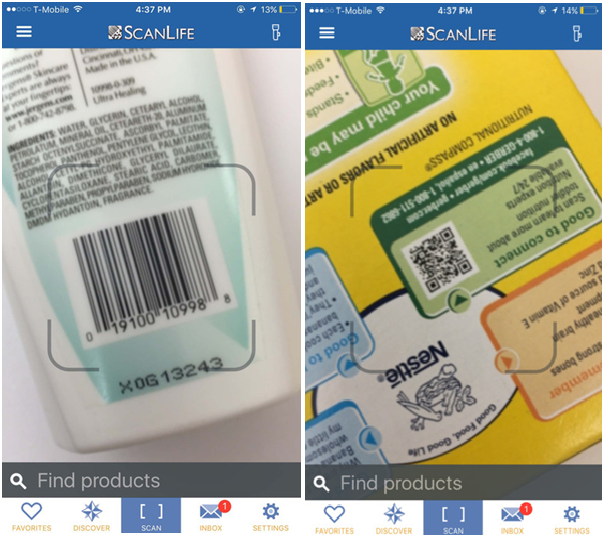 ScanLife lets you scan barcodes, QR codes or Microsoft Tags to quickly get your hands on a wealth of information useful to you. The app lets you look up online and storefront prices, as well as relevant price matching programs and product reviews. You can look up nutritional information, where available, as well as nearby locations carrying the same item. You can earn points for scanning items, and those points can be redeemed for gift cards.
9. ShopSavvy (Android, iOS- Free App)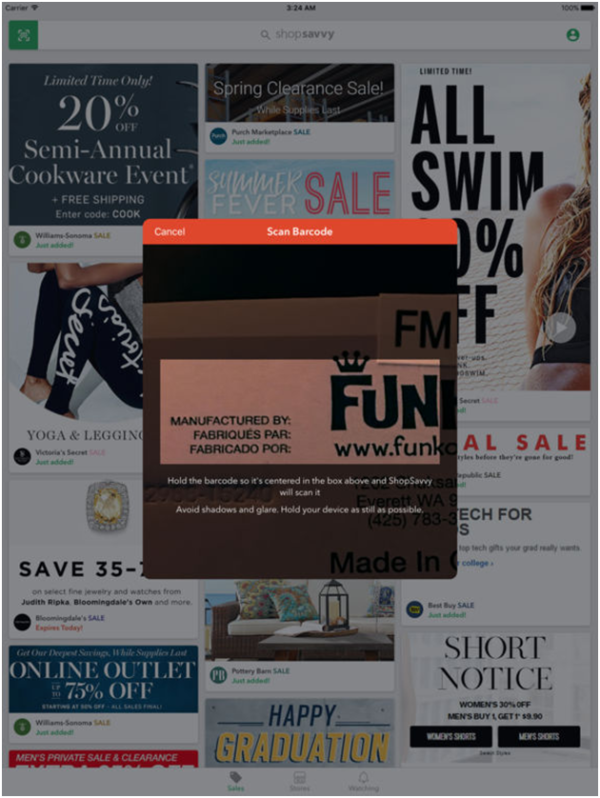 With ShopSavvy you can get daily sales, deals, coupons, and cash back from your favorite online and local stores including: Macy's, Kohl's, Kmart, Nordstrom, Walmart, Target, Overstock, Best Buy, CVS, Walgreens, H&M, Forever 21, Express, Old Navy, Gap, Costco, Toys-R-Us, Newegg, Groupon, Steve Madden and more. You can scan barcodes to compare prices, find cash back retailers, and watch for price drops.
10. Afterpay (Android, iOS- Free App)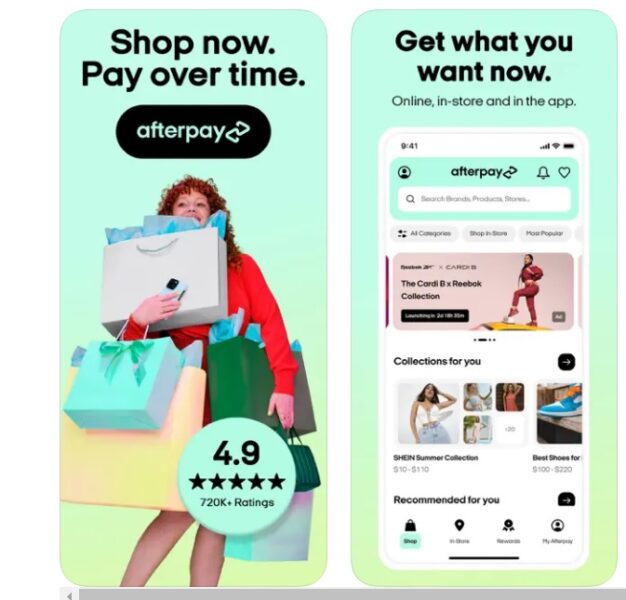 Afterpay lets you buy today, get it straight away and pay in 4 simple bi-weekly installments. Their shop directory lets you browse the latest stores and get all the shopping inspiration you need. New brands are added weekly! Plus, see an ever expanding list of retailers now accepting Afterpay in stores.
All you need is to download & sign up: the app is your key to unlocking our shop directory. Browse stores & brands: search for your go-to brands, browse to find new favorites and see brands now accepting Afterpay in stores. Shop fashion, beauty and lifestyle and spread the cost: pay the installment straight away – then the remainder every two weeks. Remember – there's no fee when you pay on time.
You can take control manage your order and make instant payments when you want! Pull out your phone and use the app to shop and keep track of all your orders and your payment schedule. The Afterpay app puts you in control of your spending.  You'll pay 25% up front and the rest over the next six weeks and, you'll take your purchase home today.
11. Gilt (Android, iOS- Free App)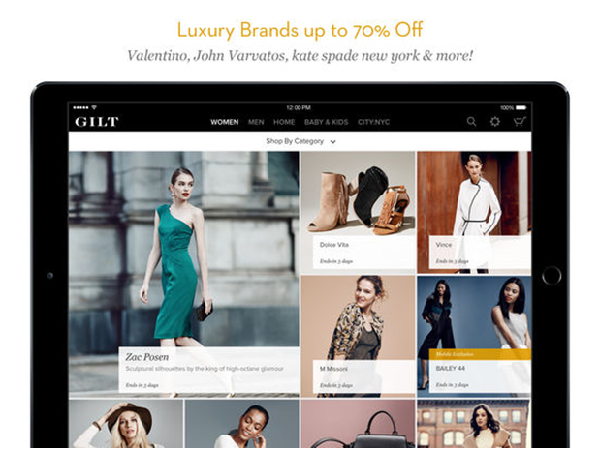 Gilt offers you a variety of sales and special offers for designer goods such as apparel, bags, and jewelry. You can get up to 70% off on designer brands as well find something new each day. Deals are short-term, limited inventory offers, and there's always something as brands bring up new deals for users. You can be notified of the latest sales, take advantage of mobile-only offers,
12. Offer Up (Android, iOS- FreeApp)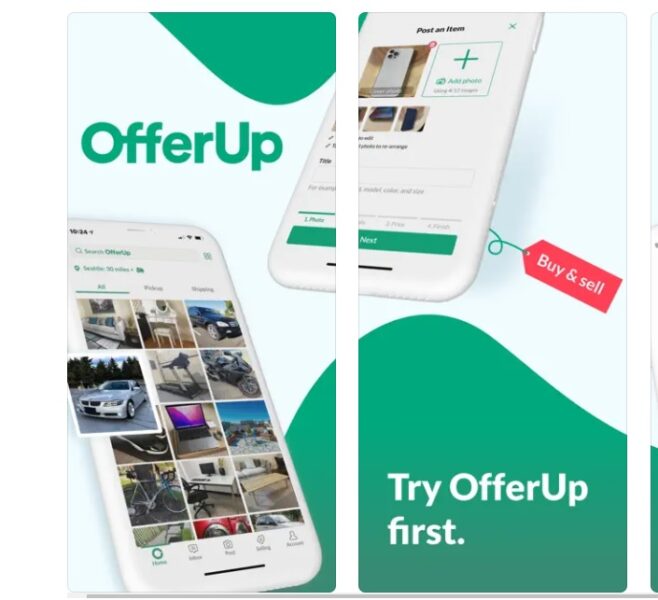 Offer up is the biggest mobile marketplace for local buyers and sellers. You can list an item using your phone or tablet in as little as 30 seconds. Know who you're dealing with through reputation and safety features. Browse local items with thousands of new postings daily. Message buyers and sellers securely from within the app. You can build a reputation with your unique seller profile page. Browse items by image and sort by category or location.
13. BuyVia (Android, iOS- FreeApp)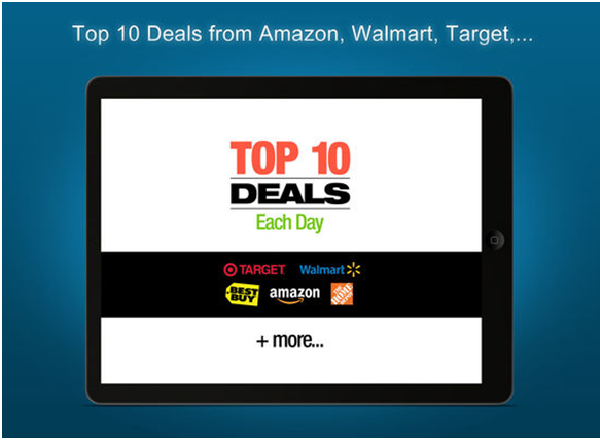 Another great price comparison option is BuyVia's app, which combines mobile couponing, deal searches and price comparison features into a single app. Users can scan bar or QR codes to easily look up a product's prices, as well as related deals, specs and reviews, with BuyVia look for the best prices from online and local retailers. You can also set the app to give you alerts when deals or price drops occur on items in your watch list.
14. Ebates (Android, iOS- Free App)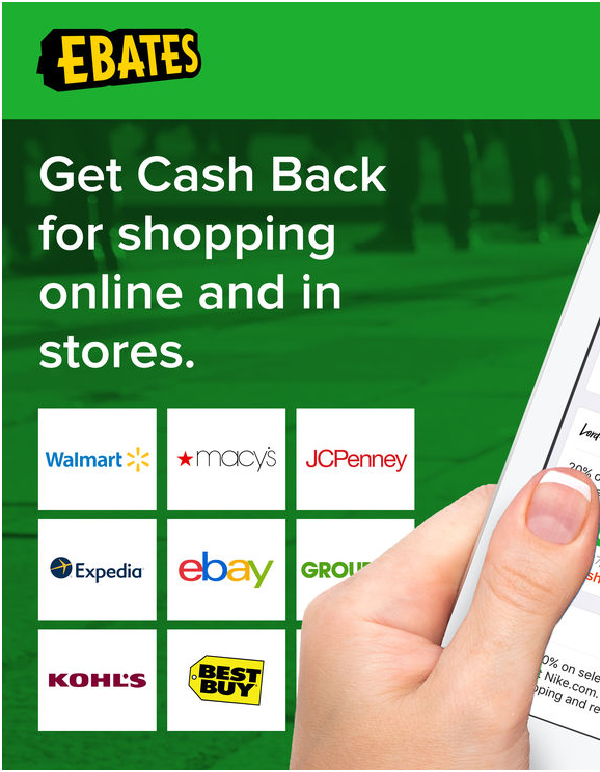 With Ebates app you can shop and save with online offers, coupons and promo codes this holiday season for more than 2,000 stores – all while earning Cash Back rewards! Ebates makes it fast and easy to shop online for the perfect holiday offers and sales. Browse hot deals, coupons or promo codes and click "Shop" to immediately activate your offers. There's no rebates, no mail-in deals and no mileage tracking needed. Sign up for a free account and start earning up to 40% Cash Back! Plus, get a $10 bonus now when you make your first purchase through the app. Save more this holiday season with offers and deals available exclusively for Christmas and New Years.
15. SHEIN (Android, iOS- Free App)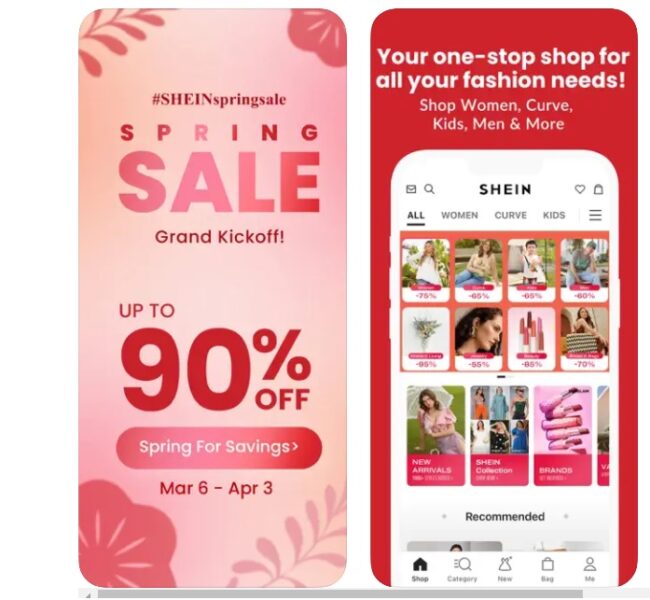 SHEIN mobile app is a fun, ultra-affordable online shopping platform featuring styles for women, men, kids, curve, plus over 20,000+ styles including dresses, tops, swimwear, shoes and accessories. You can get an extra 10% off on your first order and free shipping on orders over $49 & free returns. Browse by New Arrivals, Trends, Category, Best Sellers and more and with daily Flash Sales: Score up to 80% off countless styles.
16. Shopular (Android, iOS- Free App)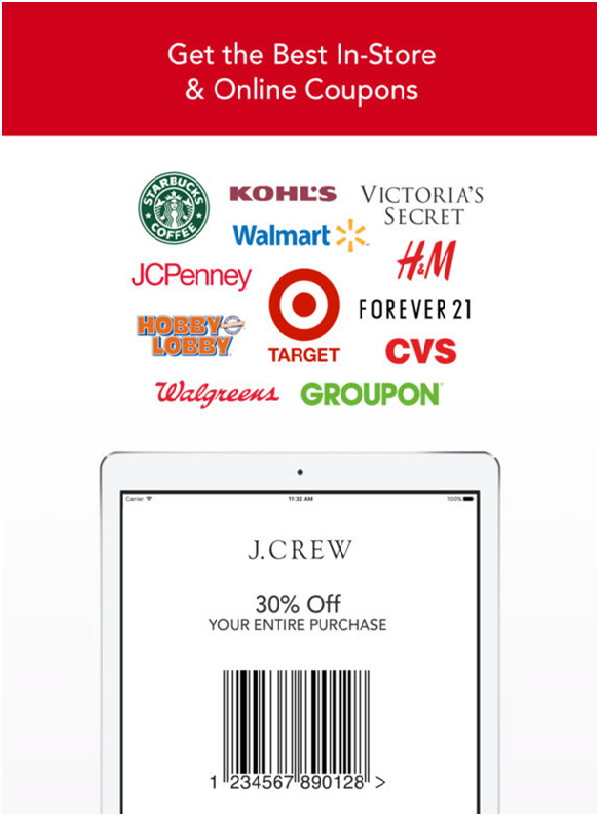 Shopular now known as Rakuten sorts deals based on the stores closest to you, allowing you to quickly filter by proximity, and the app even brings you the latest deals when you enter a store or mall. In addition, users can filter their favorite stores or product categories. With coupons, deals and weekly offers from the likes of Target, Walmart, Macy's and more, Shopular has something to offer to every shopper looking to save a few bucks. Earn up to 25% Cash Back when you shop online using the app.
17. SlickDeals (Android, iOS- Free App)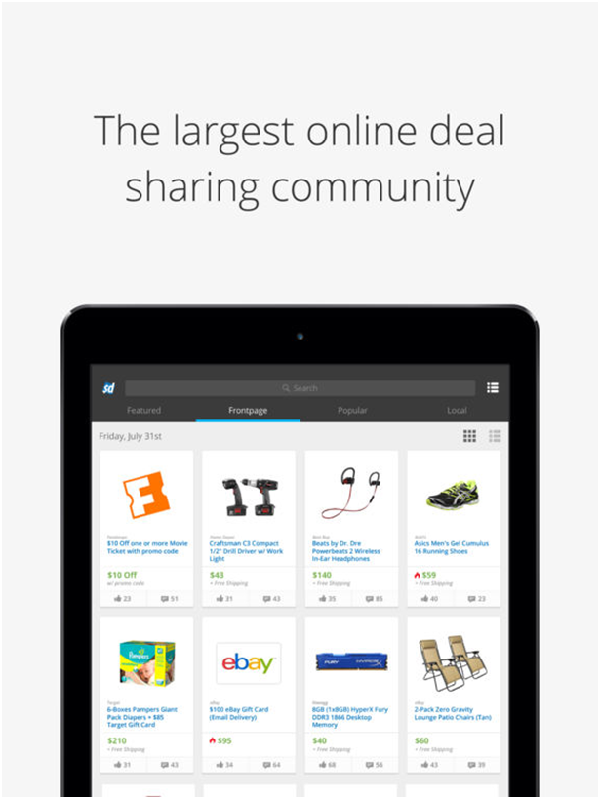 Slickdeals is the largest deal-sharing community on the Web. Millions of people regularly use the app for shopping and to share and rate the best deals and coupons for their favorite stores like Kohl's, Walmart, and Macy's. If there's a deal, coupon, rebate, promo or freebie out there, this app have it on the frontpage. Since the app covers everything from electronics and clothing to groceries and local deals, there's a good chance that you will get what you are looking for.
Some other shopping apps which already might know are Groupon, eBay, Amazon and of course winmenot. Now enjoy browsing the best for your shopping and share which app you found the best.